White Russian is a classic creamy cocktail with a rich coffee flavor. The classic White Russian recipe is made with Kahlua, vodka, and cream make a delicious mixed drink to enjoy for any occasion.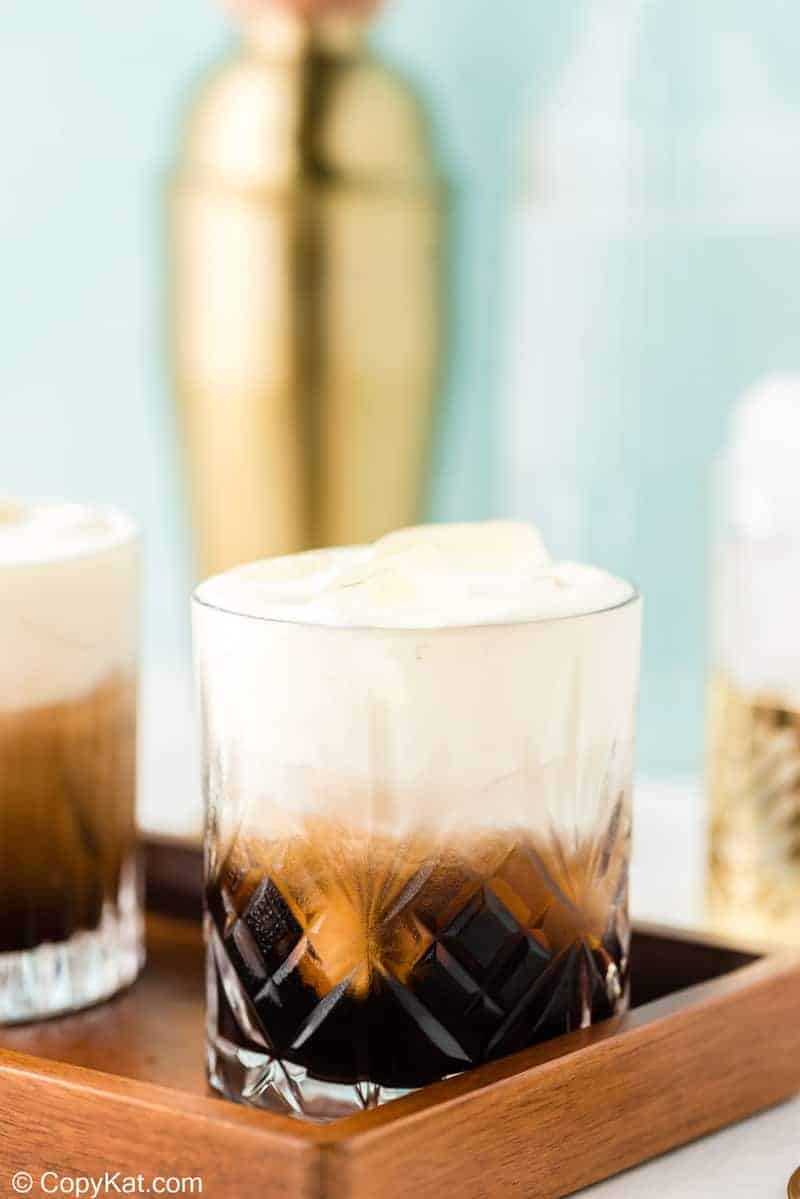 This simple, dangerously delicious drink was immortalized by The Dude in the film, The Big Lebowski. Even if you are not a fan of this classic movie, it is difficult not to fall in love with such an easy-to-make vodka cocktail. A White Russian drink is something that you definitely want to savor by sipping. It's the perfect way to cap off an evening with friends, so skip dessert and mix up a batch of this White Russian recipe.
Is the White Russian From Russia?
The only connection a White Russian drink has to Russia the country is vodka. In fact, the White Russian cocktail was first mixed in 1949 by Gustave Tops, who worked at the Hotel Metropole in Brussels. Tops created the drink in honor of the U.S. ambassador to Luxembourg. However, it wasn't immediately a hit. It wasn't until 1965 that the recipe first appeared in print when the Oakland Tribune newspaper published a recipe for it.
Making the Perfect White Russian
The White Russian recipe is simple enough. It is just one part each of vodka, coffee liqueur, and heavy cream, and you can build it in the glass, but there is a technique to help you get the best results. Start off with a chilled rocks glass. Add some fresh ice. Avoid smaller cubes or crack ice to slow down the dilution of your drink. Pour the vodka and coffee liqueur into the glass and give it a quick stir. Then slowly pour in the cream. You can serve it like this and let your guest stir it, or you can do it.
Getting Creative with the White Russian
With only three ingredients, the White Russian drink is just begging for a few twists. Yeah, you can change the heavy cream for half & half, or even milk, if you want to, but there are so many other things you can do to make this classic cocktail really stand out. Here are some popular variations of the drink to get you thinking:
Use rum instead of vodka. Since Kahula, a popular coffee-flavored liquor most commonly used in a White Russian, already contains rum, why stick to the same type of spirit?
If you tend to enjoy less sweet cocktails, skip the coffee liqueur's sweetness, and use cold brew instead. You can always add a little simple syrup if you need a touch of sugar.
Make it a shake. Blend two ounces each of vodka and coffee liqueur with two scoops of vanilla ice cream for the ultimate adult milkshake.
Tips For Making and Serving a White Russian
Use a spoon to help you "float" the heavy cream. Pouring the heavy cream slowly over the back of a spoon will help you keep the cream separate and make for a fancy presentation.
Make it a Black Russian instead. You can save a lot of calories and fat by leaving out the cream altogether. You can mix up a carafe of Black Russians in advance and let your guests choose whether they want to add cream to make it a White Russian.
Check out all of our other great cocktail recipes on YouTube.
Ingredients
Here's a list of what you need:
How to Make a White Russian
Fill an old fashioned glass with ice and pour the vodka over the ice.

Pour Kahlua into the glass.

Pour cream into the glass.

Stir and serve.
Recipe Variations
Cream too heavy? Use half-and-half or milk for a lighter and lower-fat cocktail.
No Kahlua? Use Tia Maria, Kapali, Mr. Black Cold Brew Coffee Liqueur, or other coffee liqueurs instead of Kahlua.
Don't like coffee? Use Bailey's Irish Cream instead of Kahlua.
Want a holiday drink? Use eggnog instead of cream.
Garnish this coffee cocktail with whipped cream!
Enjoy making drinks? Try these easy cocktail recipes!
Favorite Non-Alcoholic Coffee Drinks
Be sure to check out more of my easy cocktail recipes and the best drink recipes here on CopyKat.com!
Ingredients
1

ounce

Vodka

1

ounce

Kahlua

1

ounce

Heavy cream
Instructions
Fill an old fashioned lowball glass with ice.

Pour Kahlua over the vodka.

Pour cream over the Kahlua.
Notes
Recipe Variations
Substitute half-and-half or milk for the cream a lighter and lower-fat cocktail.
Substitute Tia Maria, Kapali, Mr. Black Cold Brew Coffee Liqueur, or other coffee liqueurs instead of Kahlua.
Substitute Bailey's Irish Cream for the Kahlua if you do not enjoy the coffee flavor.
Substitute eggnog for the cream to make a Christmas holiday cocktail.
Nutrition
Calories:
197
kcal
|
Carbohydrates:
15
g
|
Protein:
1
g
|
Fat:
1
g
|
Saturated Fat:
1
g
|
Cholesterol:
5
mg
|
Sodium:
26
mg
|
Potassium:
74
mg
|
Sugar:
16
g
|
Vitamin A:
90
IU
|
Calcium:
64
mg