Chocolate Pancakes are rich, fluffy, and perfect for a special breakfast. Topped with chocolate sauce, whipped cream, and berries, these are a chocolate lover's dream.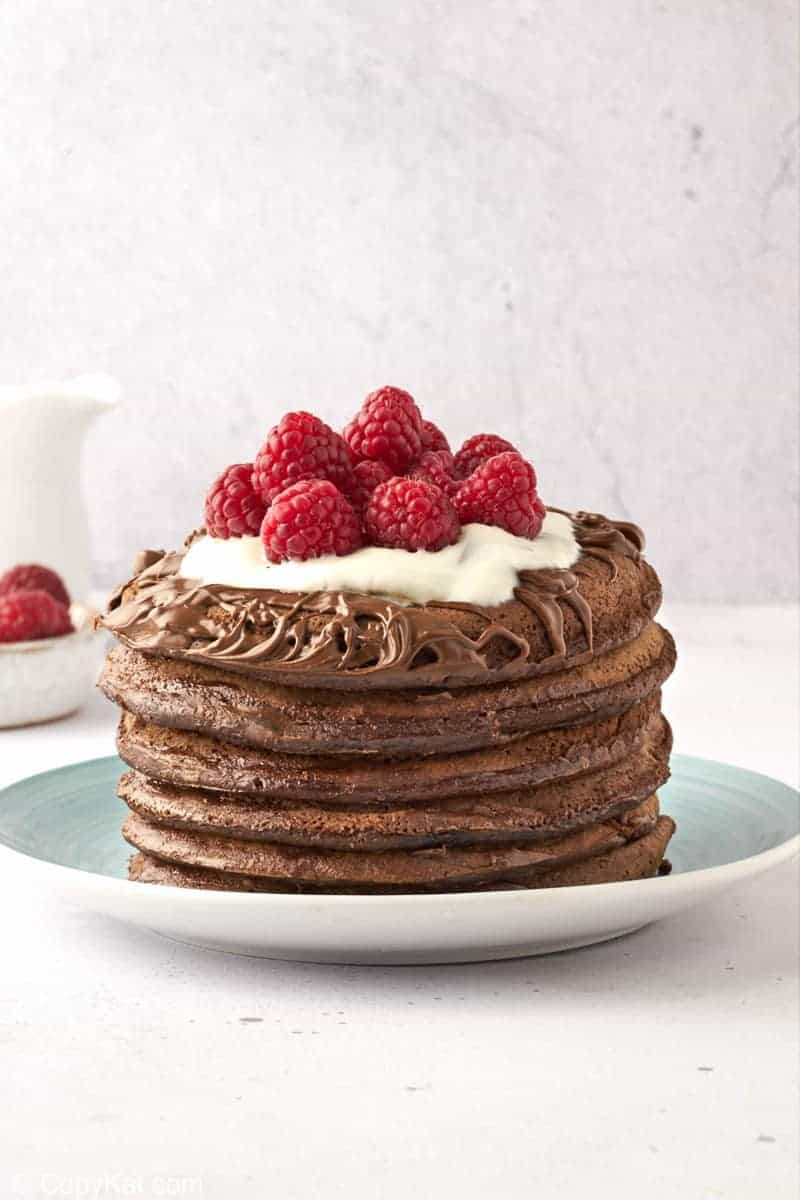 Chocolate is one of the ultimate comfort foods. So why not start your day with a stack of chocolate pancakes? It's like getting a big hug for breakfast!
Throughout the week, busy schedules mean it's almost impossible to have sit-down family breakfasts. But come the weekend, everyone will want to make time to eat together when you are serving up these homemade chocolate pancakes from scratch. Once you try these light, fluffy pancakes with just a hint of chocolate flavor, there is no way you will want to go back to the dull boxed mixes. Fast and easy to prepare, this chocolate pancake recipe will quickly become your new family's favorite.
Toppings For Homemade Chocolate Pancakes
These chocolate pancakes cocoa powder are great on their own or with just a sprinkling of powdered sugar, but you can make them legendary with the right toppings. Here are three unique pancake toppings that you may want to try:
Macerated strawberries. Who doesn't love strawberries and chocolate? Sure, you can slather on the strawberry jam or even slice a few fresh strawberries to plop on top, but with just a little more planning, you have the sweet, juicy deliciousness of macerated strawberries. Trim, core, and quarter a cup of strawberries. Combine well with a tablespoon of sugar and cover. Leave on the countertop for about an hour, stirring occasionally.
Bananas, walnuts, and cream. Transform a hearty breakfast into a delectable dessert with these toppings. Let the pancakes cook slightly before adding a dollop of whipped cream. Sprinkle on a few chopped walnuts (try candied walnuts if you can find them), and top with slices of bananas.
Lemon curd. Fans of anything sweet and sour will love this unique topping idea. If you have never tried lemon curd before, you are in for quite a treat. It can be powerful stuff, so all you need is a thin layer to provide a powerful flavor punch. If you can't find lemon curd in your supermarket, then you can make your own using this recipe.
Cooking the Perfect Chocolate Pancakes From Scratch
Cooking pancakes isn't rocket science, but there are a lot of ways to mess them up. Here are a few tips:
Some lumps are okay. Trying to get out every lump will probably lead to overmixing your batter resulting in flat, not fluffy pancakes.
Use a griddle. If you have one of those removable stovetop griddles, now is the time to drag it out. A wide, thick-bottomed pan will do in a pinch.
Make your batter in ahead of time. The baking powder needs about 15 minutes to work its magic, so don't rush it.
Forget the butter. Butter burns at a much lower temperature than cooking oil. Use a paper towel to coat the cooking surface with a neutral oil like canola before every pancake batch.
Don't flip too often or early. Flip once after the first few bubbles start to pop, and the pancake's edges begin to dry out.
Tips For Preparing and Storing Homemade Chocolate Pancakes
Keep pancakes warm in the oven. Are you cooking for a crowd and need to make several batches of pancakes? Place cooked ones on an oven-safe platter and put in a 200-degree oven.
Freeze leftovers. If you have leftovers, you can freeze them for a quick mid-week meal. Let cool entirely on a parchment paper-lined baking sheet. Freeze for about an hour. Store in a freezer bag with a piece of wax paper between each pancake. Reheat in the microwave in a single layer for about 30 seconds for two pancakes.
Keep up with what we are doing on Facebook.
Ingredients
Here's a list of what you need:
All-purpose flour
Unsweetened cocoa powder
Sugar
Baking powder
Salt
Eggs
Butter
Milk
How to Make Chocolate Pancakes
In a large mixing bowl, combine flour, cacao powder, sugar, baking powder, and salt.

Form a well in the center, break in the eggs and add melted butter.
Add a third of the milk and beat.

Gradually add the remaining milk.

Beat until you have a smooth batter.

Heat butter over medium heat in a non-stick pancake pan.
Pour batter on the pan, about 1/4 cup or to desired pancake size.
When bubbles start to form, flip the pancake and cook the other side until set.
Serve with chocolate sauce, whipped cream, and berries.
Love pancakes? Try these recipes!
Favorite Breakfast Recipes
Be sure to check out more of my easy breakfast recipes and southern comfort food recipes here on CopyKat.com!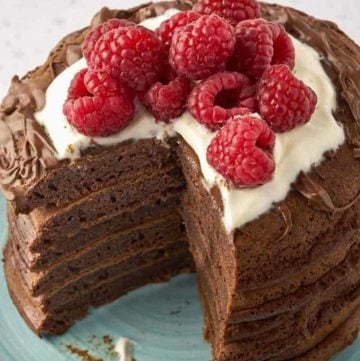 Chocolate Pancakes
Homemade Chocolate Pancakes are a special breakfast. Get the easy recipe and find out how to make the best chocolate pancakes from scratch with cocoa powder, flour, baking powder, eggs, and milk. Serve these fluffy pancakes with chocolate syrup, whipped cream, and fruit.
Print
Pin
Rate
Add to Collection
Go to Collections
Ingredients
1 1/2

cup

all-purpose flour

1/3

cup

cocoa powder

2

tablespoons

sugar

2

teaspoons

baking powder

1/4

teaspoon

salt

2

eggs

1/4

cup

melted butter

more for greasing the griddle

1 1/4

cup

whole milk
Instructions
In a large mixing bowl, combine sieved flour, cacao powder, sugar, baking powder and salt.

Form a well in the center, break in the eggs and add the melted butter. Add a third of the milk, beat. Gradually add the remaining milk and beat until you have a smooth batter.

Heat the stove top to medium heat, or the griddle to 350 degrees. Heat a little of the butter in a non-stick frying pan or a griddle.

Pour a layer of batter. When bubbles start to form, flip the pancake and cook the other side until set. The center shold be slightly soft.

Keep the pancakes warmed on a plate with aluminum floil.

Serve with some of your favorite toppings, chocolate spread, yogurt, whipped cream, or some fresh fruit.
Nutrition
Calories:
392
kcal
|
Carbohydrates:
51
g
|
Protein:
12
g
|
Fat:
18
g
|
Saturated Fat:
10
g
|
Cholesterol:
120
mg
|
Sodium:
315
mg
|
Potassium:
492
mg
|
Fiber:
4
g
|
Sugar:
10
g
|
Vitamin A:
597
IU
|
Calcium:
205
mg
|
Iron:
4
mg