Denny's Pancake Puppies have to be the only breakfast appetizer I have ever seen. Yes, Denny's has called these their breakfast appetizer before. I think these are a cross between funnel cakes and beignets.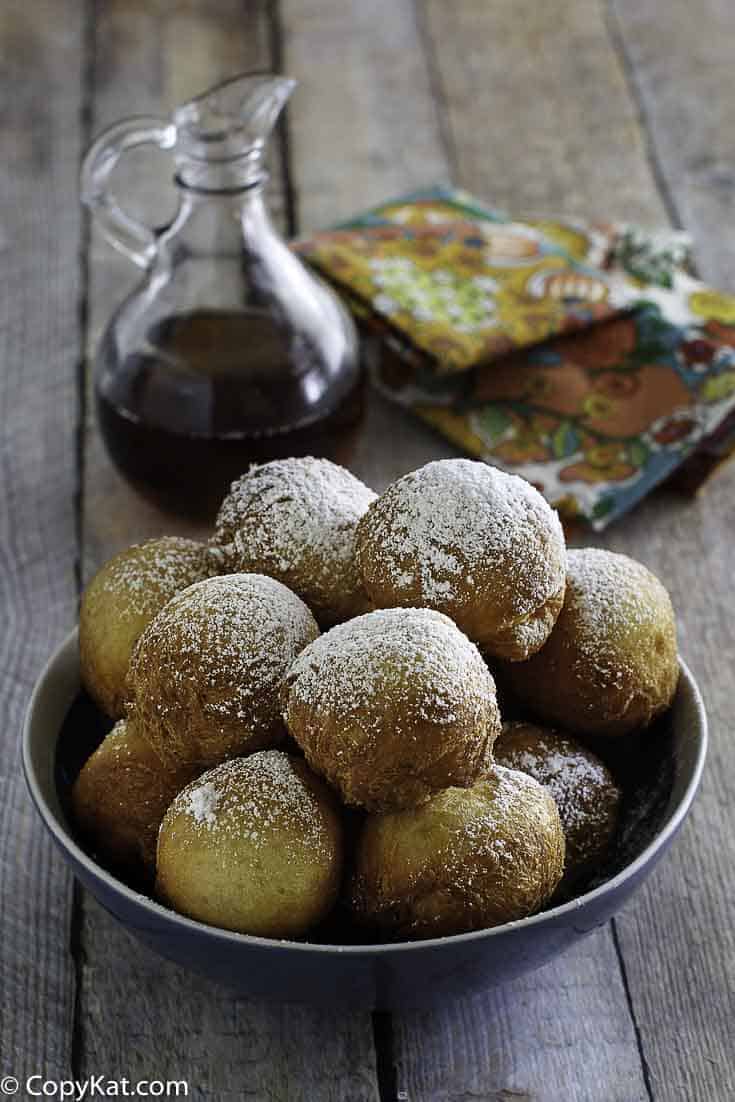 They're not New
Denny's Pancake Puppies have been on Denny's menu for several years now. If you have missed out on them, basically they're small, round pancakes fried in vegetable oil and served hot and fresh. So think a donut, a funnel cake, or even a beignet. While these may seem more like a dessert, Denny's serves them up for breakfast. They vary with the seasons – currently, you get the cinnamon and sugar version served with cream cheese icing, but in the past, they have served up blueberry ones, as well as Red Velvet Puppies (see the links below for these recipes).
Why are They Called Puppies?
If you take your kids for breakfast at Denny's, a favorite question is: "Why are they called puppies?" A good one, yes? The most well-known type of food puppy is, of course, the hushpuppy, so any other similarly-shaped, fried-dough-type food is also called a puppy. Plenty of people have tried to explain the origin of hushpuppies, which is why there's a whole catalog of entertaining ideas, including:
Hush, Dog!: The most common explanation is that fishermen would be cooking their catch, and their hounds would yap and howl in anticipation. Then the cooks would fry pieces of dough and toss them to the puppies to hush them.
It Was Back in the War: Confederate soldiers making dinner on their campfire thought they heard Yankees approaching, so they threw their barking dogs some fried cornmeal bits and commanded them to "hush puppies!"
Leaping Lizards: This is likely the most bizarre origin story. Cajuns in Southern Louisiana used to take mudpuppies (a type of salamander), and deep fry them in a batter. Since eating salamanders ranked low on the social scale, the eaters kept hush about it.
If you want to read more stories about food "puppies," click here.
Denny's Pancake Puppies
This recipe is very, very, simple. You simply need to take some pancake mix that you only need to add water to and make it very thick. I use a ratio of two parts of dry pancake mix, to one part water. Thin batter means you are making funnel cakes, and, quite honestly, that isn't a bad thing either. You can serve these up with maple syrup or even a good dusting of powdered sugar.
Deep Frying
I fry these in basic vegetable oil that I buy at Costco. Most restaurants are using a blended oil, and I think vegetable oil seems to work very well. I really enjoy deep frying in my T-fal fryer. Why? It has a feature that means you can strain the oil and use it again. It also has a great basket, and it makes the occasional deep frying a snap.
Love Denny's? Check out these copycat Denny's Recipes
Denny's Strawberry Pancake Puppies
Copycat Moons Over My Hammy
Denny's French Toast
Denny's Blueberry and White Chocolate Pancake Puppies
This blog post contains an affiliate link

Ingredients
2

cups

pancake mix

use the kind where you only need to add water

1

cup

water

oil for frying
Instructions
Heat vegetable oil to 350 degrees.

In a medium-sized bowl combine pancake mix and water. Stir until well blended.

Use a 1-ounce cookie scoop to drop the batter into the oil. Cook until browned on the bottom, and flip over and cook for another 30 seconds.

Remove from oil, and drain. Sprinkle with powdered sugar if desired. Serve with maple syrup.
Nutrition
Calories:
265
kcal
|
Carbohydrates:
18
g
|
Protein:
5
g
|
Fat:
19
g
|
Saturated Fat:
2
g
|
Cholesterol:
46
mg
|
Sodium:
331
mg
|
Potassium:
129
mg
|
Fiber:
1
g
|
Sugar:
0
g
|
Vitamin A:
165
IU
|
Vitamin C:
0.4
mg
|
Calcium:
140
mg
|
Iron:
0.8
mg