Get the best of donuts and pancakes together in one with Denny's Blueberry Pancake Puppies with Cheesecake Dip! Learn how to make them at home with this easy copycat recipe. They taste like donut holes and are fluffy like pancake puffs. These tasty round pancake balls with blueberries and white chocolate chips are a hit with kids of all ages, especially with sweet cream cheese icing dipping sauce.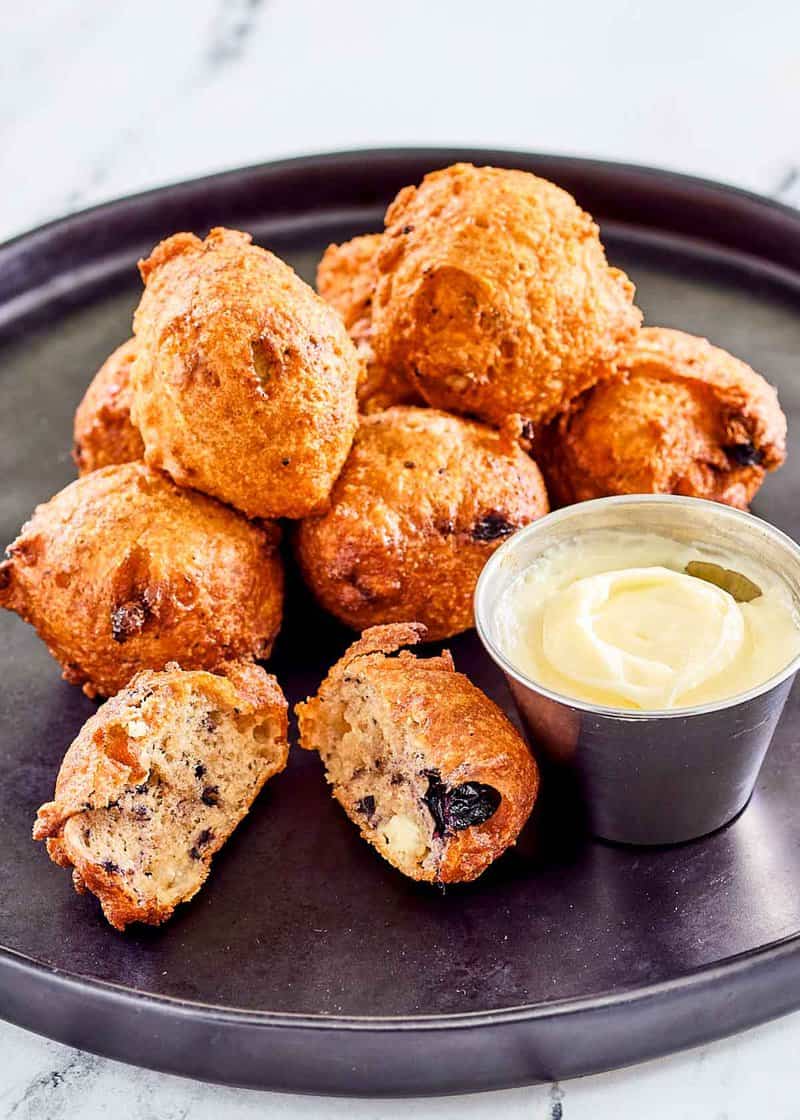 This post contains affiliate links. As an Amazon Associate, I earn from qualifying purchases.
What Are Pancake Puppies?
Denny's Pancake puppies are balls of pancake batter that are fried until crispy and some are rolled in powdered sugar. There are several flavors – plain, double chocolate, red velvet, strawberry, and then this one, the blueberry white chocolate pancake puppies.
Denny's Blueberry Pancake Puppies with White Chocolate Chips
If you like fresh hot donuts, you will enjoy these pancake puppies. While you may feel completely guilty eating these, it won't be too hard, these are crispy, sweet, and most likely the most unusual way you will ever prepare pancakes.
What Makes Denny's Blueberry Pancake Puppies So Good?
What could be better than blueberry pancakes? How about deep fried pancake hush puppies? Although this recipe may not be the ideal breakfast for anyone who's trying to eat healthier, there's no denying Denny's Blueberry Pancake Puppies are insanely delicious.
And if the crunchy exterior and soft interior loaded with real blueberries and white chocolate chips still isn't decadent enough for you, there's always the Cheesecake Dipping Sauce that will satisfy the most demanding sweet tooth.
Why You Should Try This Recipe
Blueberry and white chocolate chip pancake balls are real showstoppers and are sure to impress at your next brunch. So, why tell them just how easy they are to make? Serve these deep fried pancakes for breakfast, a snack, or dessert!
Blueberry Pancake Puppies Ingredients
For the fried pancake batter, you'll need:
Vegetable oil
Blueberry pancake mix
Water
Powdered sugar
White chocolate chips
Krusteaz is a good brand, but you can use any instant blueberry pancake mix you prefer. You can also make the pancake batter from scratch and add fresh or dried blueberries.
For the Cheesecake Dipping Sauce, you'll need:
Butter
Cream cheese
Powdered sugar
Salt
Vanilla extract
How to Make Deep Fried Pancakes With Cheesecake Dipping Sauce
To prepare the fried pancake batter:
In a mixing bowl, stir together the pancake mix, water, powdered sugar, and white chocolate chips until you can't see any dry ingredients. Do not overmix. Some lumps are okay.
Cover the pancake batter and let it rest in the fridge.
Place paper towels on a wire rack set on a rimmed baking tray.
Add about two inches of vegetable oil to a heavy-bottomed pot or deep fryer and heat to 350°F over a medium flame. Use a clip-on deep-fry thermometer for the best results. You can also use a deep-fat fryer if you have one.
Use a large cookie scoop to portion the pancake batter and carefully release the batter into the hot oil. Don't crowd the pot. Keep an eye on the temperature to ensure it doesn't drop too low.
Fry the pancake dough ball until one side is golden brown, and then gently flip the pancake balls over using a long-handled slotted spoon or skimmer.
Transfer the fully cooked pancake hush puppies to the paper towel-lined wire rack. Dab the top of them with a paper towel.
To prepare the Cheesecake Dipping Sauce:
Remove the butter and cream cheese from the fridge and leave them on the counter for at least 15 minutes until they begin to soften.
Put the softened butter and cream cheese into the bowl of an electric mixer and mix on low until smooth.
Add the powdered sugar in stages while the mixer continues to run.
Add the salt and vanilla extract.
Increase the speed of the mixer to medium and mix until fluffy. To thin out the dipping sauce, add a small amount of cream or milk while mixing until you reach the correct consistency.
What to Serve Them Deep Fried Pancake Balls
In addition to a side of warm cream cheese icing, you can try sprinkling powdered sugar over the top, serving the deep fried pancakes with fresh fruit, a scoop of vanilla yogurt, or a dollop of whipped cream.
How to Store Denny's Blueberry Pancake Puppies
Cool the pancake batter hush puppets and transfer them to a paper towel-lined airtight container. Keep in the fridge for up to three days. Or freeze them in a single layer for up to a month.
What's the Best Way to Reheat Them
The best way to reheat refrigerated pancake balls is in a 350-degree Fahrenheit preheated air fryer for about four minutes. If they are frozen, double the time.
You can also reheat Denny's Blueberry Pancake Puppies in a 375-degree Fahrenheit preheated oven. Set the thawed puppies on a baking sheet, cover, and cook for about three minutes per side or five minutes per side for frozen.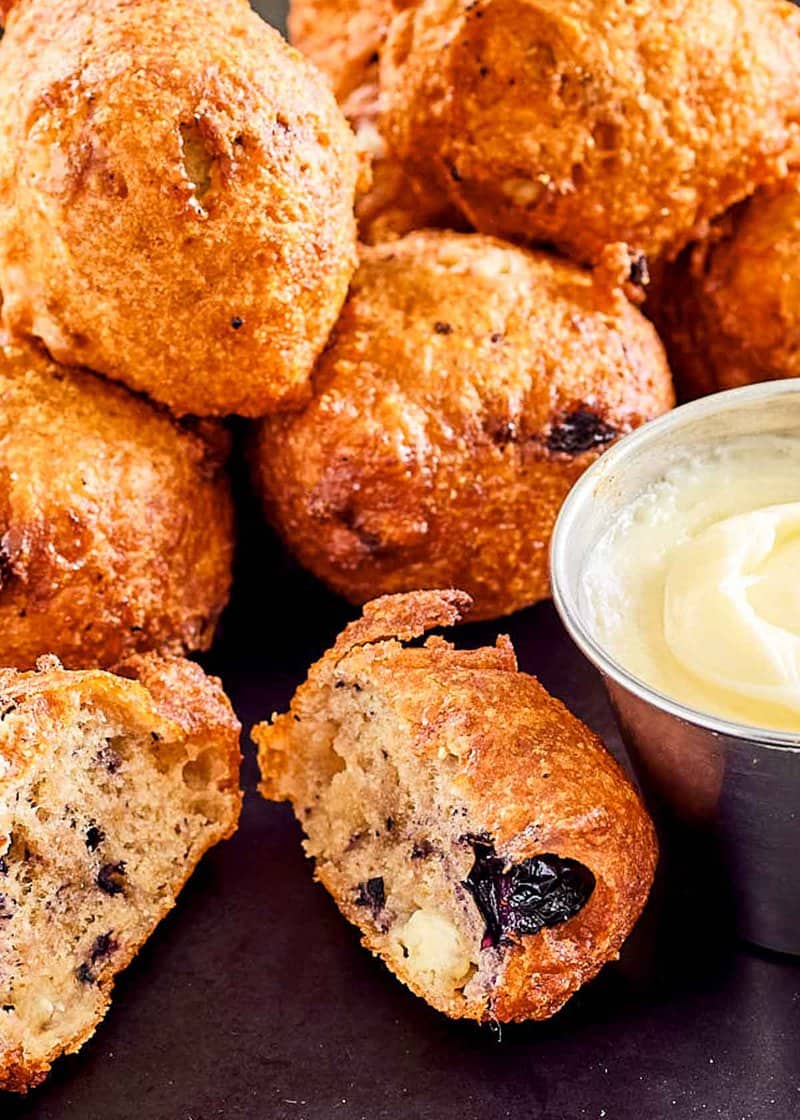 More Denny's Copycat Recipes
Favorite Pancake Recipes
Check out more of my easy breakfast recipes and the best copycat restaurant favorites on CopyKat!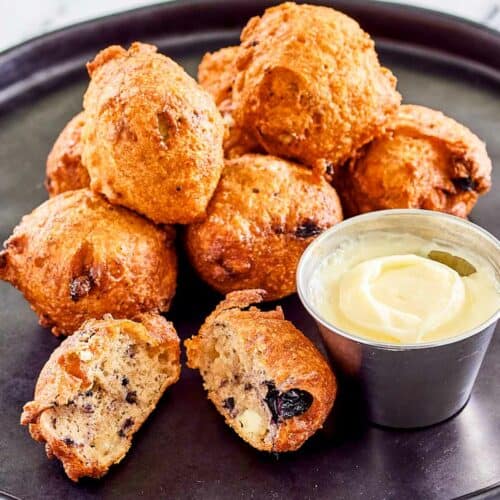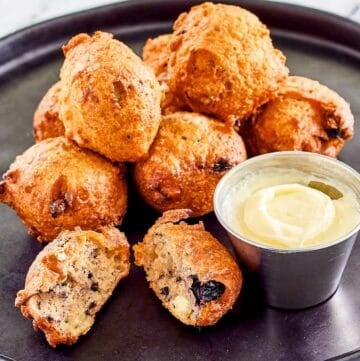 Ingredients
Pancake Puppies
4

cups

vegetable oil

2

cups

Krusteaz blueberry pancake mix

1

cup

water

1/2

cup

powdered sugar

1/3

cup

white chocolate chips
Cheesecake Dipping Sauce
3

tablespoons

butter

softened

3

tablespoons

cream cheese

softened

2

cups

powdered sugar

1/8

teaspoon

salt

1/4

teaspoon

vanilla extract
Instructions
Pancake Puppies
In a heavy-duty pot over medium heat, heat the vegetable oil to 350°F.

In a medium bowl, combine the pancake mix, water, powdered sugar, and white chocolate chips. Mix until blended.

Use a cookie scoop to scoop balls of pancake batter and drop them into the hot oil.

When the pancake balls turn brown on the bottom side, flip them over with a slotted spoon and cook until the other side has browned.

Remove the cooked pancake puppies from the oil and drain them on paper towels.
Dipping Sauce
Place the softened butter and cream cheese in a bowl. Mix with an electric mixer until smooth and creamy.

Gradually add the powdered sugar, mixing on low speed until fully incorporated.

Add the salt and vanilla. Increase the speed to medium and beat until it is light and fluffy.

If you want a thinner dipping sauce, add a little cream or milk until it reaches your desired consistency.
Nutrition
Calories:
414
kcal
|
Carbohydrates:
52
g
|
Protein:
6
g
|
Fat:
21
g
|
Saturated Fat:
8
g
|
Polyunsaturated Fat:
6
g
|
Monounsaturated Fat:
5
g
|
Trans Fat:
0.2
g
|
Cholesterol:
60
mg
|
Sodium:
437
mg
|
Potassium:
179
mg
|
Fiber:
1
g
|
Sugar:
32
g
|
Vitamin A:
303
IU
|
Vitamin C:
0.5
mg
|
Calcium:
176
mg
|
Iron:
1
mg