Dunkin Donuts Pancake Wake Up Wrap is a delicious breakfast of fried eggs, bacon, and cheese wrapped in a pancake. There's no need to go to the restaurant when you can easily make this pancake breakfast sandwich wrap at home to enjoy anytime you have a craving.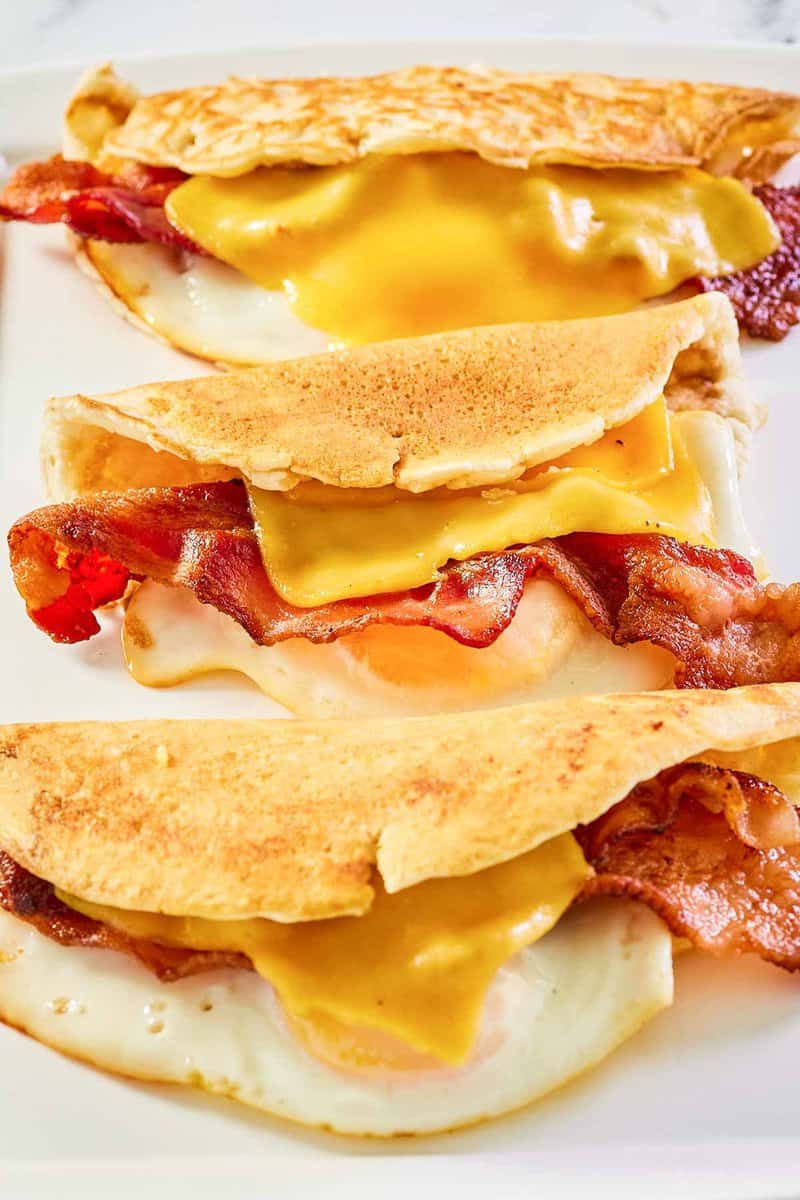 This post contains affiliate links. As an Amazon Associate, I earn from qualifying purchases.
What Makes Wake Up Wraps So Good?
Everyone should eat a healthy breakfast, but less than half of all Americans actually do. With our hectic schedules, finding time for a traditional morning meal just seems impossible for many folks.
This Dunkin Pancake Wake Up Wrap recipe makes it easy to enjoy the tasty combination of classic pancakes, eggs, and bacon. Fuel yourself and your family for even the busiest days with this uniquely delicious breakfast sandwich.
Why You Should Try This Recipe
Do you need a morning meal that is quick and convenient and that everyone in your family will love? Say hello to this copycat Pancake Wraps recipe.
Warm them at home and eat them on the go, or heat them up when you get wherever you are going. One wrap is plenty for a child, and two or three make a substantial breakfast for even the hungriest adult.
Ingredients For Dunkin Pancake Wake Up Wraps
For these wraps, you'll need:
Pancake batter mix
Water
American cheese
Bacon
Egg
Vegetable oil
Salt
Ground black pepper
Don't use a buttermilk pancake batter mix in this recipe because they tend to cook up too fluffy.
To cook the components for the Wake Up Wraps:
Whisk together the pancake batter mix and the water. Don't worry if the batter looks thinner than usual; that is what you want. The pancakes for this recipe should be more like thick crepes than fluffy flapjacks. Cover the pancake batter and stick it in the fridge for at least 15 minutes to fully hydrate.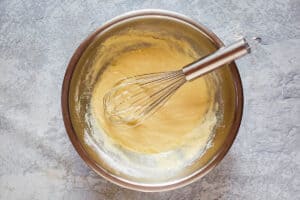 Meanwhile, cook the bacon however you like, but here is a great foolproof method for baking bacon in the oven. Place the cooked bacon on a wire rack over a rimmed baking sheet and place it in the oven on the lowest setting to stay warm.
Heat a griddle or a large, thick-bottomed pan over medium heat.
Lightly oil the cooking surface and ladle out enough batter to form a six-inch diameter pancake. You can use a griddle ring to keep things neat.
Cook the pancake on the first side until the sides start to dry and small holes begin to form on the top.
Flip the pancake and add a piece of American cheese on top. Cook until the other side of the pancake is golden brown. Keep the pancakes warm in the oven with the bacon.
To assemble the wraps:
Place the pancakes cheese-side up on the counter.
Cut the cooked fried eggs in half. Place one-half of the fried egg on the pancakes.
Cut the bacon strips in half. Place two halves of the bacon strips on top of the fried egg.
Fold the pancake in half over the fried egg, bacon, and melted cheese.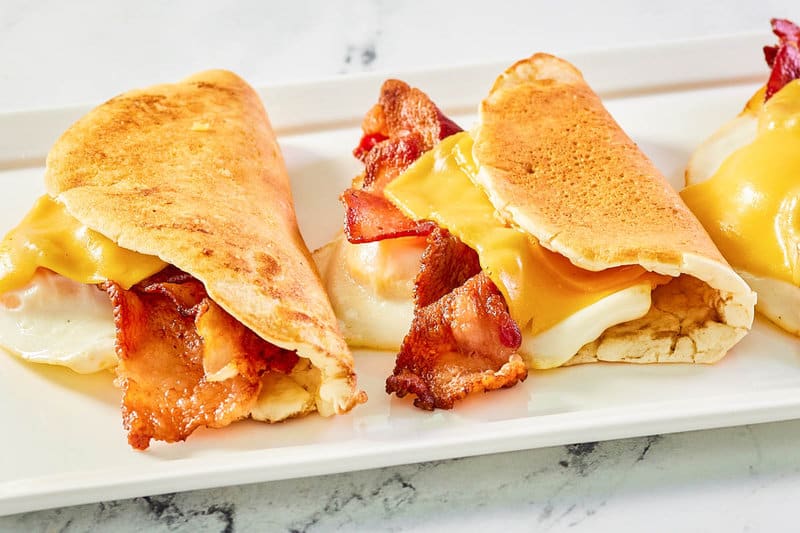 Recipe Variation
Instead of bacon, you can make this wrap with sausage patties.
You can also use just egg whites instead of whole eggs with the yolk.
How To Store a Pancake Wrap
Keep each cooked component of this dish in a separate airtight container in the fridge for up to three days. To keep the Pancake Wraps for longer than that, try freezing them.
To freeze:
Place each assembled wrap in a sealed sandwich bag and store it in a freezer-safe container with the other wraps.
Frozen wraps will last up to a month.
How to Reheat Wraps Dunkin Donuts Wake Up Wraps
The best way reheating method is using the microwave:
Wrap one thawed Wake Up Wrap loosely with a paper towel.
Microwave for 40 seconds. Let the wrap rest for one minute before eating.
If reheating a frozen wrap, heat it for 90 seconds at 50 percent power. Let the wrap rest for one minute before eating.
What To Serve With Pancake Wraps
A side of syrup or packet of maple-flavored syrup makes a great dipping sauce for these breakfast sandwiches.
How You Can Make These Wraps Ahead of Time for the Whole Week
You don't need to wake up an extra hour before heading out just to make a homemade breakfast. It is effortless to whip up a bunch of these wraps in advance. Make a double batch of this recipe and freeze them as described above.
More Dunkin Copycat Recipes
Popular Pancake Recipes
Check out more of my easy breakfast recipes and the best copycat fast food recipes on CopyKat!
Ingredients
8

slices

bacon

8

eggs

2

cups

Pearl Milling Company Pancake Mix

do not use the buttermilk variety, as it fluffs up too much

1 3/4

cups

water

8

slices

American cheese
Instructions
Preheat the oven to 400°F.

Place the bacon on a

wire rack

resting on a rimmed baking sheet and bake for about 8 to 10 minutes or until crisp.

In a non-stick skillet over medium heat, fry the eggs sunny-side up until they are hard and no longer runny.

Mix the pancake batter and water together. These will be thinner than your standard pancake, which gives them the flexibility you need to turn them into a wrap.

Heat a griddle to 350°F and spray with non-stick spray. Ladle 1/2-cup portions of pancake batter onto the hot griddle. Cook until the tops are bubbly and the edges begin to cook. Flip and cook for about 60 seconds. Remove the pancakes from the griddle.

To assemble the wraps, place a piece of American cheese, a fried egg, and a piece of bacon on each pancake. Fold the pancakes over and eat them like tacos.
Nutrition
Calories:
303
kcal
|
Carbohydrates:
11
g
|
Protein:
15
g
|
Fat:
22
g
|
Saturated Fat:
9
g
|
Polyunsaturated Fat:
3
g
|
Monounsaturated Fat:
8
g
|
Trans Fat:
0.3
g
|
Cholesterol:
222
mg
|
Sodium:
726
mg
|
Potassium:
197
mg
|
Fiber:
1
g
|
Sugar:
1
g
|
Vitamin A:
525
IU
|
Vitamin C:
0.2
mg
|
Calcium:
317
mg
|
Iron:
1
mg