Have you ever wanted to have bacon that was cooked perfectly crisp and flat? Baked bacon is perfect for use in recipes, and in making a bunch of bacon for a large gathering. Scroll down to find out how to bake bacon with ease.
Have you ever wondered how you could bake bacon?
I normally have breakfast out, I am not a morning person, and making coffee and wearing matching clothes is pretty much all I can do in the morning. I have breakfast at the same place every day, it is in the building where I work. Every day they have perfectly crisp, and perfectly flat pieces of bacon. So I asked them what do you do? They bake bacon, and so can you.
Baking Bacon is Easy to Do!
Preheat your oven, grab a jelly roll pan and a wire rack and you place slices of bacon on the wire rack, and you can cook bacon in no time at all.
Honestly, there are many advantages to cooking bacon in the oven. Cleanup is easy. Maybe you can cook bacon without it splattering everywhere, but I cannot, bacon for me goes, pretty much everywhere.
Flat pieces of bacon are no problem, sometimes cooking bacon in a frying pan means uneven pieces. Cook a whole package of bacon at once! Excess grease simply drips away.
Give baking bacon a try soon!
Use your perfectly cooked bacon for these recipes: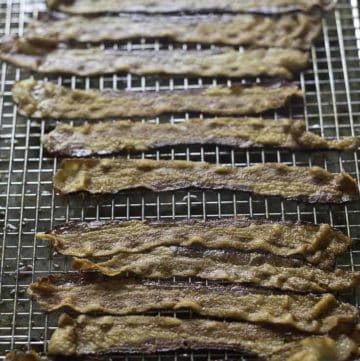 Instructions
Preheat your oven to 400 degrees. Line a cookie sheet with foil, you can leave the foil a little crinkled so the grease doing pool under the bacon.

Do not use a flat cookie sheet, use a bar pan. A flat cookie sheet will get you a mess in your oven, as the grease forms it will drip down the pan.

Lay out bacon one strip at a time on the cookie sheet. The bacon should not touch. You can leave about a quarter inch between of space between each slice of bacon.

Place cookie sheet with bacon into the oven and bake for 15-17 minutes. When the bacon is browned and crispy, you will drain it on paper towels. Now wasn't that easy?
Notes
What to do with all of this bacon goodness
You can precook bacon for a whole week on the weekend, and simply reheat just before serving.
Store cooked bacon in an airtight plastic bag, and use as you like
Be sure to save the bacon grease for cooking in other recipes.
Nutrition
Calories:
236
kcal
|
Carbohydrates:
0
g
|
Protein:
7
g
|
Fat:
22
g
|
Saturated Fat:
7
g
|
Cholesterol:
37
mg
|
Sodium:
375
mg
|
Potassium:
112
mg
|
Sugar:
0
g
|
Vitamin A:
20
IU
|
Calcium:
3
mg
|
Iron:
0.2
mg