The IHOP Bacon Temptation Omelette is perfect for bacon lovers. It's a big fluffy omelette that is loaded with crispy bacon and has a creamy cheese filling. So delicious!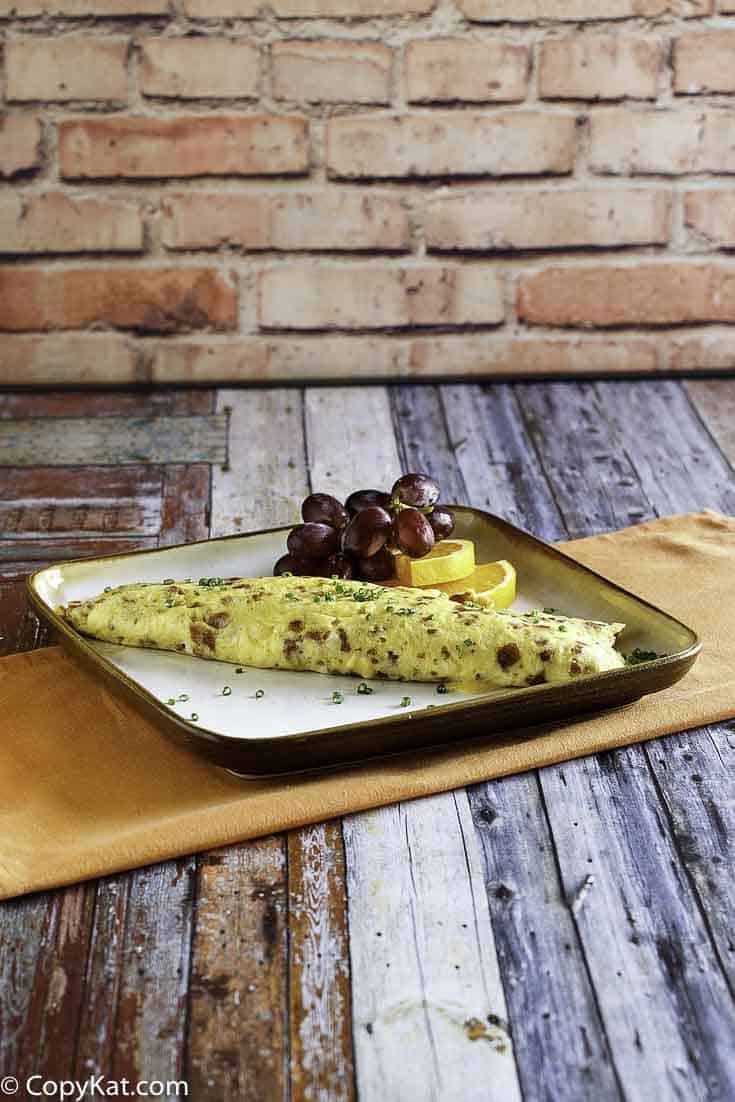 Bacon omelettes are perfect for any meal!
The IHOP Bacon Temptation Omelette is perfect for breakfast, brunch, lunch, or even dinner. This bacon and cheese-filled omelette is hearty enough to carry you through the day, and makes a great dinner.
One special ingredient in the IHOP Omelettes
The IHOP uses one not so traditional ingredient in their omelettes. They add a little pancake batter to their omelets to make them light and fluffy. If you are making this recipe in your own house, and you need to be gluten-free you can omit the pancake batter from the recipe. I think it does help if you use the pancake batter to get it just right. You can use my recipe for the buttermilk pancakes if you are making the pancakes. If not, it will work well if you use some pancake dry batter.
To make this Keto and Low Carb Friendly: 
The IHOP keto menu may not be super large, but you can always ask for modifications to your food there, ask them to omit the pancake batter. You can eliminate the pancake batter, and this trims back the carbs considerably.   The net carbs are reduced to 13.4 carbs for the whole recipe.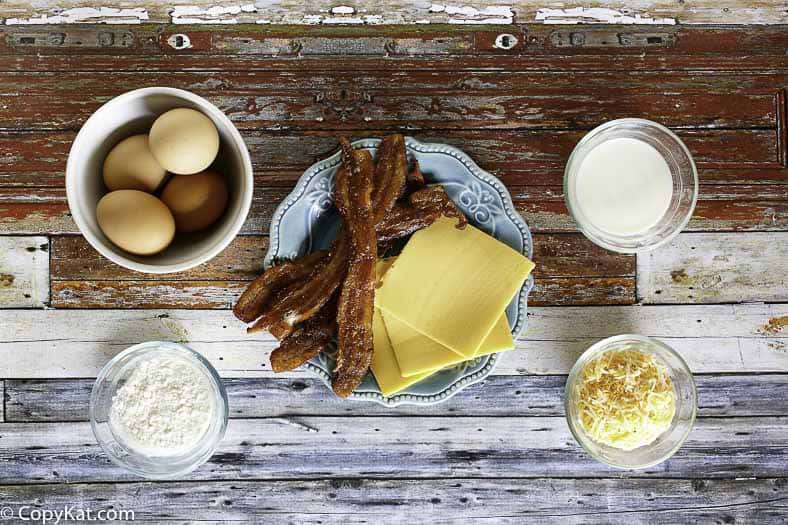 Ingredients you will need
For the Ihop Bacon Temptation Omelet recipe, you will need eggs, crisp-cooked bacon, American cheese, milk, dry pancake batter, and shredded cheese.
You may want to cook the bacon in the oven so you get the bacon strips in long strips. American cheese is crucial in making a perfectly smooth cheese sauce which is a critical part of this recipe. My favorite American cheese is Land O Lakes, which you can buy in the Deli section of your local grocery store, don't worry if you can't buy that brand, you can buy another brand of cheese to make this bacon and cheese omelette.
What to cook on
It's easy to make this bacon omelette on a griddle, but if you don't have a griddle, grab your largest non-stick skillet, and you can make one of your copycat IHOP omelettes at home. If you don't have either one of those, I find that a seasoned iron skillet will also perform beautifully.
No doubt about it, bacon lovers will rejoice in your house if you prepare the IHOP Bacon Temptation Omelete. This is hearty enough to enjoy for any meal of the day!
More IHOP Copycat Recipes
Ingredients
4

ounces

American cheese

2

tablespoons

milk

divided use

2

tablespoons

pancake batter

prepared (note, you will need to prepare a small amount of pancake batter, you may omit this if you desire)

4

eggs

6

slices

bacon

cut into small pieces cooked, divided use

1/4

cup

Monterey Jack Cheese

shredded
Instructions
Preheat a griddle or skillet to 350 degrees. In a small saucepan over medium heat, melt the American cheese with 1 tablespoon of the milk. Stir constantly, the cheese will melt and form a cheese sauce. When the cheese sauce forms reduce the heat as low as you can.

In a medium bowl combine the eggs, bacon pieces from 4 slices of bacon, pancake batter, and the remaining 1 tablespoon of milk. Whisk vigorously until well blended. Spray the griddle with nonstick spray and pour the omelet over in a rectangular shape. As the eggs cook they will form up.

When the eggs are almost done pour over half of the cheese sauce onto the eggs. Roll the omelet into a roll. Top the omelet with sprinkled cheese and remaining bacon. You can serve the omelet with the remaining cheese sauce on the side.
Recipe Tips for the Cook
To make this Keto Friendly: 
Eliminate the pancake batter, and this trims back the carbs considerably.   The net carbs are reduced to 13.4 carbs for the whole recipe. 
Nutrition
Calories:
1473
kcal
|
Carbohydrates:
27
g
|
Protein:
69
g
|
Fat:
119
g
|
Saturated Fat:
50
g
|
Cholesterol:
883
mg
|
Sodium:
3560
mg
|
Potassium:
741
mg
|
Fiber:
0
g
|
Sugar:
8
g
|
Vitamin A:
2240
IU
|
Calcium:
1581
mg
|
Iron:
5.4
mg