Whataburger Breakfast On A Bun is one of the most frequently ordered items when I am on the road. In fact, when I moved out of Texas for a few months, I wanted a couple of things, breakfast tacos, and Whataburger.
What makes Whataburger so great? Good quality ingredients and the fact that what should be hot is served hot. I know, its a minor quibble, but I really like hot french fries and a burger that doesn't have that feeling that parts of it were prepared long before I ordered it.
I feel like I could be a Whataburger commercial. When in doubt about where to get a lunch, this place often comes in mind. They will customize your order any way you like it.
It doesn't matter what you request is, they will do it right. I also love the fact that they have some of the best iced tea around. At one point in my life, I think I used to have to carve out a place in my budget for this restaurant.
Their Breakfast On A Bun is a great example of their menu, this has a few ingredients in it, but they go together so well. I prefer mine with bacon, but this could also be served with a nice sausage patty instead of the bacon.
I use a wide mouth canning lid to keep the egg nice and uniform. While I have seen those really nice egg forms in stores, I thought they were a little overpriced for me. The wide mouth canning lid works very well. I have read you could use a tuna can with both ends cut off and use just the ring portion.
If you want to serve your egg sunny side up, you will want to spray your ring with a little bit of non-stick spray. If not, flip the egg, and when the egg is done, run a knife around the rim of the lid, and this will set the egg free.
Now let's get cooking.
Love Whataburger? Get more Copycat Whataburger Recipes
Whataburger Chicken Strips
Whataburger Honey Barbecue Chicken Strip Sandwich
Whataburger Chicken Strips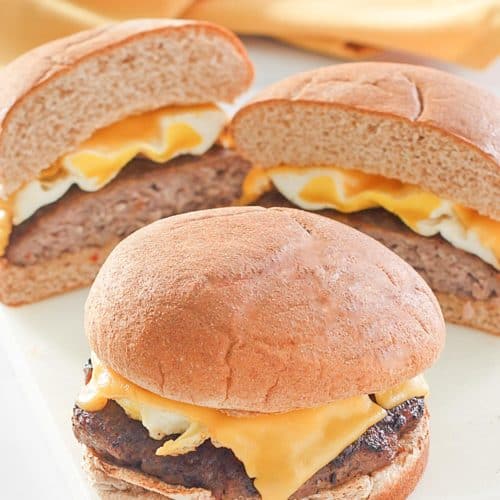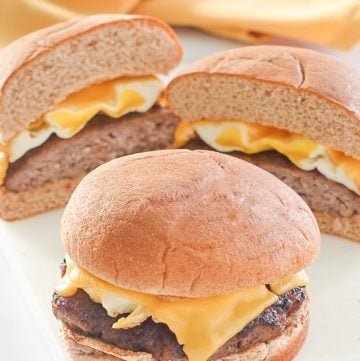 Ingredients
1

breakfast sausage patty

or 2 slices of bacon

1

egg

1

slice

American cheese

1

hamburger bun
Instructions
Place a skillet over medium heat and cook the sausage or bacon in the skillet.

Once the sausage or bacon has started to release some of the grease, place a wide mouth canning ring onto the skillet.

Crack one egg and place the egg inside of the canning ring. 

Continue to cook the sausage or bacon and remove it from the skillet when done, draining on paper towels.

Flip the egg over and allow the other side to cook. The sandwiches are served with solid, not runny yolks. When the egg has finished cooking (it should take about 30 seconds once you have flipped it over), remove it from the pan. 

To assemble the sandwich, place the sausage or bacon on the bottom bun. You can break the bacon in half so it will fit the hamburger bun.

Add the egg, and then top with cheese. Place the top bun on top of the cheese.
Nutrition
Calories:
442
kcal
|
Carbohydrates:
22
g
|
Protein:
22
g
|
Fat:
28
g
|
Saturated Fat:
10
g
|
Cholesterol:
227
mg
|
Sodium:
1009
mg
|
Potassium:
264
mg
|
Fiber:
0
g
|
Sugar:
3
g
|
Vitamin A:
435
IU
|
Calcium:
319
mg
|
Iron:
2.9
mg