French Toast is my second recipe from my old home economics book. This recipe is the perfect easy french toast recipe. You can make French toast with crispy edges, In no time at all, you clean learn how to make the best French Toast.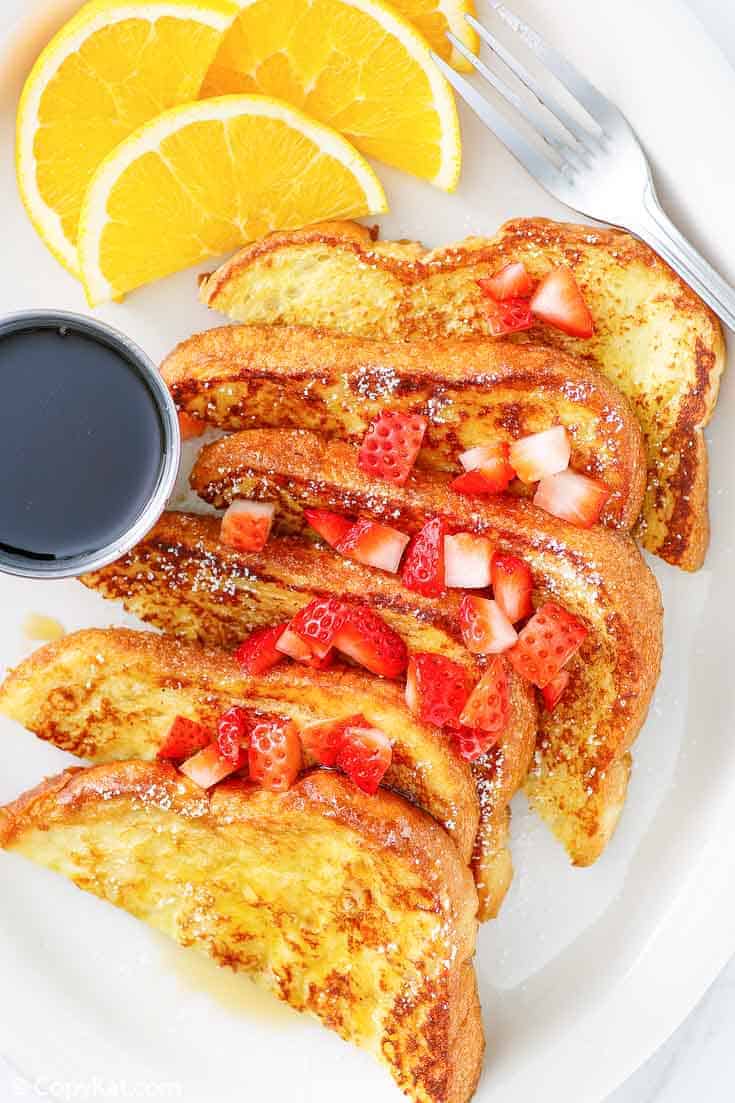 Ingredients in French Toast
French toast is a great way to use up day-old bread. In fact, some bread makes better French toast than others. If you have some old cinnamon raisin bread, Challah, or perhaps even some Texas Toast, you are in business to make French Toast. Heck, you may even want to make it from this delicious French bread recipe.
Essentially old bread (old does not mean moldy, don't eat moldy bread), is dipped into an egg batter and the bread is cooked with butter in a skillet or in a pan. This batter turns into a lovely concoction of eggy bread that you can serve with almost anything.
What to Serve with French Toast
You can serve French Toast with butter, syrup, powdered sugar, or even fruit. I have even had this done Russian style and it was served with smoked fish and white fish spreads. Making up a batch of French Toast is a great way to use up bread that is just past its prime, it is economical and best of all it is a very easy recipe to make.
What should you serve with French Toast?
Are you looking for dishes to serve with this breakfast? Since this is such a starchy food, I suggest that you go for something that is high in protein. Here are some ideas for you.
Fresh sliced fruit
Eggs – poached, scrambled, fried, etc.
Meat – sausage, bacon,
Picadillo, Mexican-Style ground beef
What bread is good for French Toast?
The best bread for making French toast is the bread you have at home. Here are some ideas for making your own French toast.
Brioche
Sourdough
Cinnamon bread
Raisin bread
Banana bread
whole wheat french toast
Croissants
French bread
Italian bread
What toppings are good for French Toast?
You can serve all sorts of toppings with this breakfast dish. You are ready only limited by your imagination. Here are some of my favorites. You can go sweet or savory.
butter
maple syrup
powdered sugar
ground cinnamon
cinnamon sugar
fried bacon and cheese
smoked salmon
cheese spreads
smashed avocado
Why is my French toast soggy
There can be two reasons that French toast is soggy. It could have soaked up too much of the egg batter, and it is undercooked, it may remain soggy, after cooking. You should not allow the bread to soak in the egg batter for too long. So to stop this, you need to place the bread into the egg batter press it down lightly and then flip it over and then place it into the skillet. You should take care to cook to cook the bread until it is firm.
Looking for more great breakfast recipes? Be sure to try these
More Learn to Cook Series
Get more easy breakfast and brunch recipes and simple recipes for beginners to learn cooking.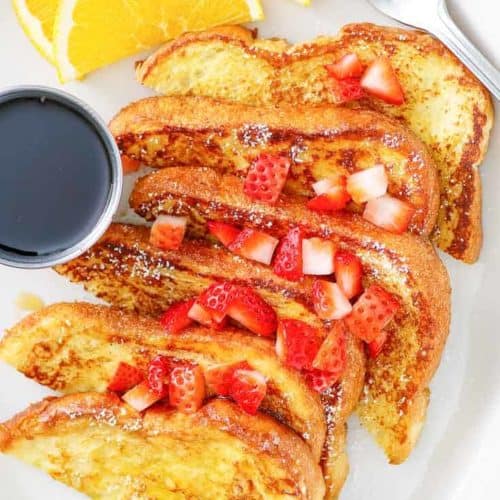 Ingredients
1

egg

beaten

1/4

cup

milk

1

tablespoon

sugar

1/8

teaspoon

salt

4

slices

stale bread

2

teaspoons

butter

to grease the skillet or griddle
Instructions
Combine beaten egg, milk, sugar, and salt in a bowl.

Melt butter in warmed skillet and make sure the bottom is covered with melted butter.

Dip slices of bread into the egg mixture. Don't soak, simply dip and remove.

Place the dipped bread in a preheated skillet or on a

griddle

.

Cook until it is browned on the underside. This should only take a minute or two.

Use a spatula to flip over the bread and cook the other side until browned.

Serve immediately.
Nutrition
Calories:
260
kcal
|
Carbohydrates:
35
g
|
Protein:
9
g
|
Fat:
9
g
|
Saturated Fat:
4
g
|
Cholesterol:
95
mg
|
Sodium:
516
mg
|
Potassium:
172
mg
|
Fiber:
2
g
|
Sugar:
11
g
|
Vitamin A:
295
IU
|
Calcium:
124
mg
|
Iron:
2.4
mg