This fluffy omelet is the perfect way to impress someone at breakfast. Take your omelet to new hieghts when you make your eggs this way. Learn how to impress your family and guests when you make an ordinary omelet fluffy.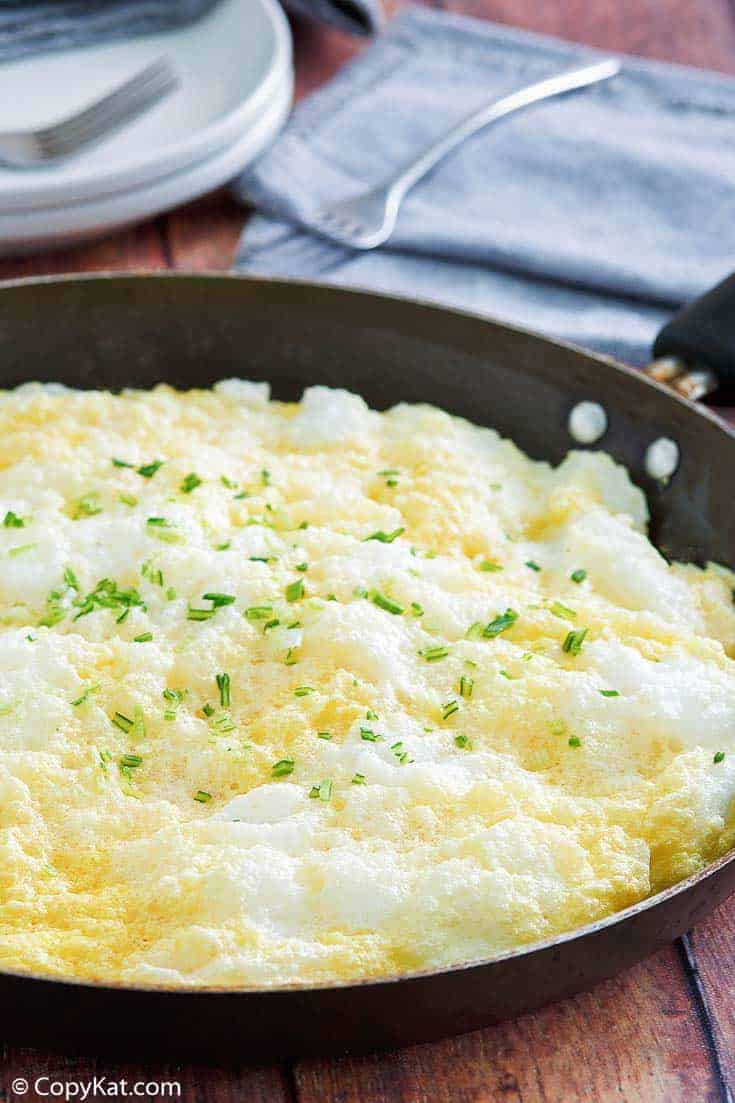 Fluffy Eggs
Who doesn't love fluffy eggs? This omelet is made extra fluffy by whipping the egg whites together and carefully blending them in with the yolks. This will give you super fluffy eggs.
This fluffy omelet is also known as souffle eggs. No matter what you call them, this is a decadent breakfast you are going to love.
This recipe is part of my Learn to Cook series. The series features simple recipes straight out of my junior high school cookbook.
So you know if I was being taught how to cook like this in junior high this recipe is bound to be easy.
Ingredients
This is what you need to make a fluffy omelette:
Large eggs
Water
Salt
Flour
Butter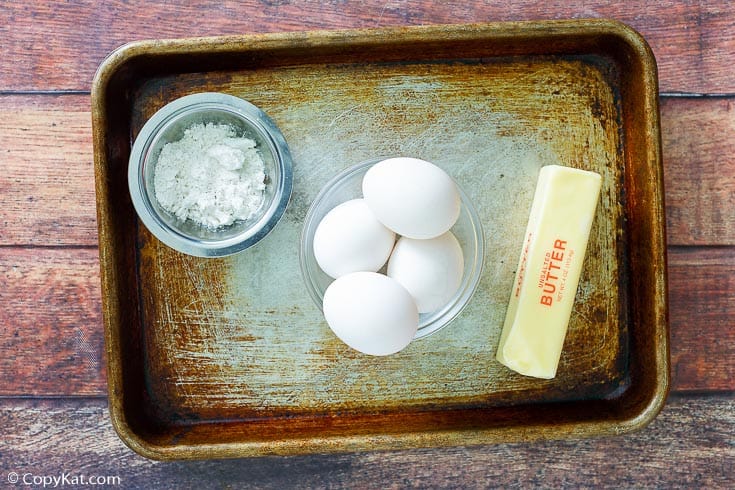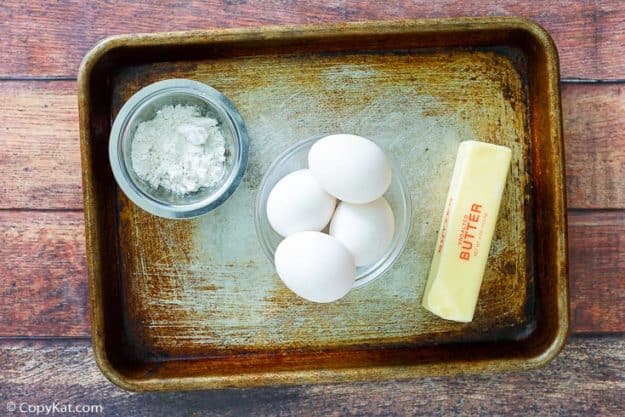 How to Make Fluffy Omelet
This omelet is different than most you have eaten. This technique will teach you how to make fluffy eggs.
Egg whites are beaten until they have stiff peaks. This gives this fluffy omelet its height. I love to use a good stiff whisk to beat the egg whites.
You need to gently fold and incorporate the beaten egg whites and the yolks together with a spatula. You do not want to stir out the air you have carefully whipped into them.

You will then cook this on the stovetop for just about 1 minute.
Then you will place this fluffy omelet into the oven so it can finish its cooking.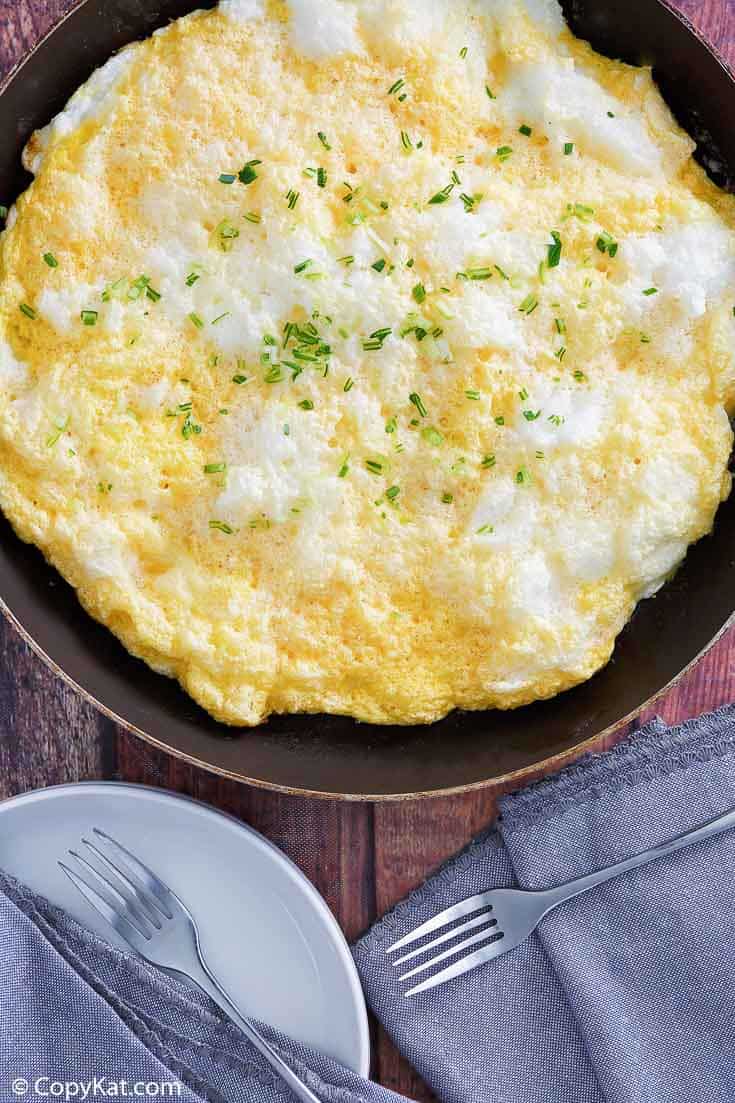 Cooking Tips for a Fluffy Omelette
You want to use eggs that are very fresh. I like to make this omelet with eggs I have just purchased from the store. I believe the fresher the egg, the more the whites will fluff up.
Make sure the bowl where you beat the egg whites in is perfectly clean. If there is a little extra oil or grease in the bowl where you beat the egg whites they may not whip up as full as you need them to be.
Recipe Variations
There are a few different ways you may want to top this omelet. You may want to add some salsa, or fresh herbs, or even sprinkle some cheese on top.
You could also saute 2 tablespoons of chopped onions in 1 tablespoon of butter to top this omelet.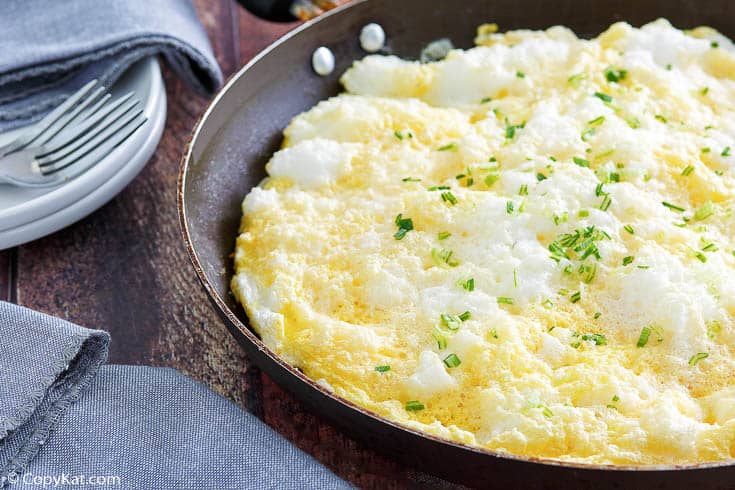 More Tasty Breakfast Recipes
Great Bread for Breakfast
Be sure to check out all the easy breakfast and copycat bread recipes.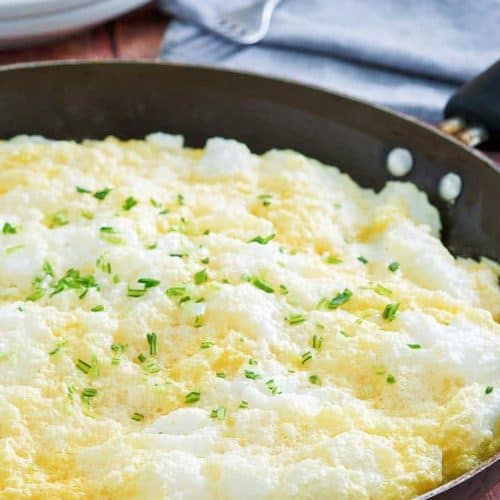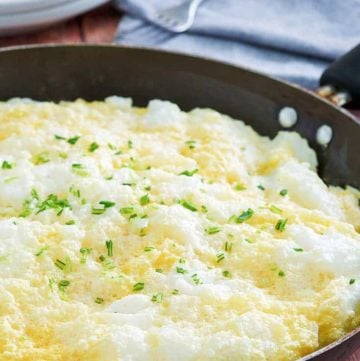 Ingredients
4

eggs

¼

cup

water

¼

teaspoon

salt

1

tablespoon

all-purpose flour

2

tablespoons

butter
Instructions
Preheat oven to 350 degrees.

Separate egg yolks and whites.

Beat the yolks until they are thick and light colored.

Add flour to the egg yolks. Mix in the flour well into the egg yolks.

Add salt and water to the egg whites.

Beat egg whites until they have stiff peaks.

Gently fold the beaten egg yolks into the egg whites.

Add two tablespoons of butter to an 8-inch oven-proof skillet over medium heat.

After the butter has melted, spread the egg mixture in the skillet.

Cook for 1 minute

Place the skillet in the oven.

Bake at 350 degrees for 10 to 12 minutes or until the omelette has set.

Serve immediately.
Nutrition
Calories:
479
kcal
|
Carbohydrates:
7
g
|
Protein:
23
g
|
Fat:
39
g
|
Saturated Fat:
19
g
|
Cholesterol:
714
mg
|
Sodium:
1034
mg
|
Potassium:
242
mg
|
Sugar:
0
g
|
Vitamin A:
1650
IU
|
Calcium:
99
mg
|
Iron:
3.4
mg