Creamed Eggs on Toast is the perfect breakfast or brunch for when you have a bunch of hard-boiled eggs on hand, or when you don't have a lot in your pantry. Hard-boiled eggs are served in a creamy flavorful sauce and poured over crisp hot buttered toast. A comfort meal never tasted so good.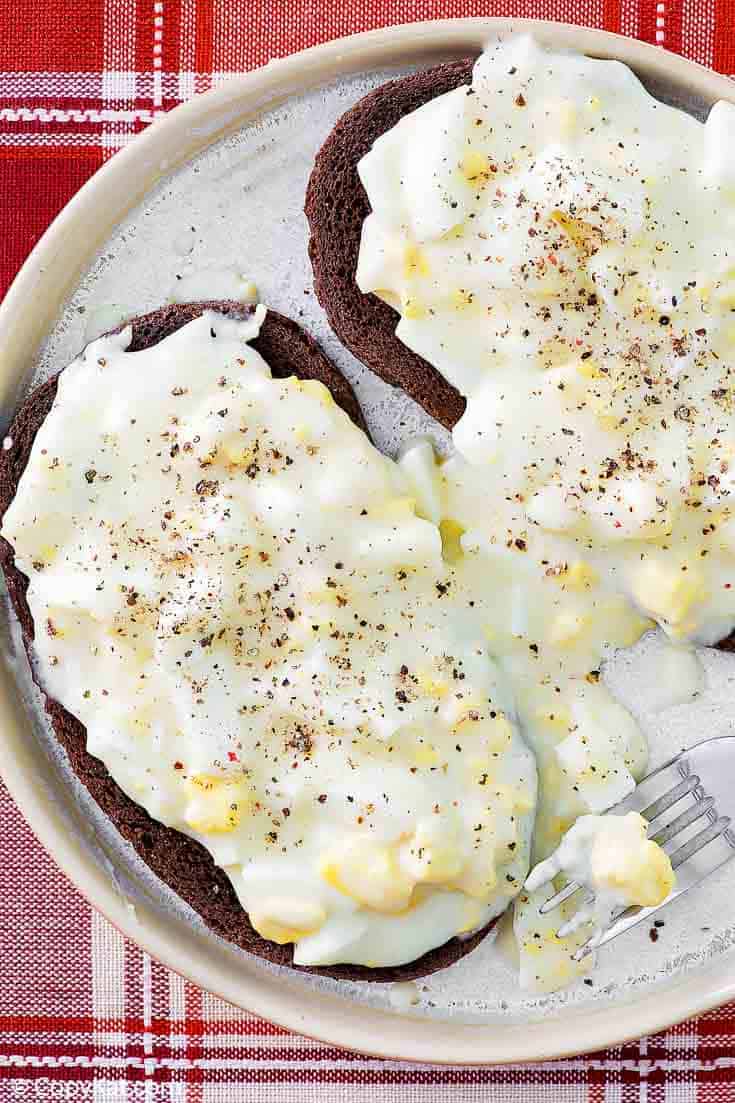 Creamed eggs on toast is a super easy meal to make. This recipe is also known as goldenrod eggs. The egg yolks give the sauce a lovely golden color. Best of all this recipe can be made when there isn't a lot in your pantry. So in a matter of about 10 minutes, you can have a delicious and hearty meal!
How do you make creamed eggs?
If you have never had creamed eggs on toast, hard-boiled eggs are chopped and placed into a white sauce, or even a bechamel sauce, and then this is spooned over toast. For me, this is comfort food.
Ingredients
Butter
Flour
Salt
Milk
Eggs
Toast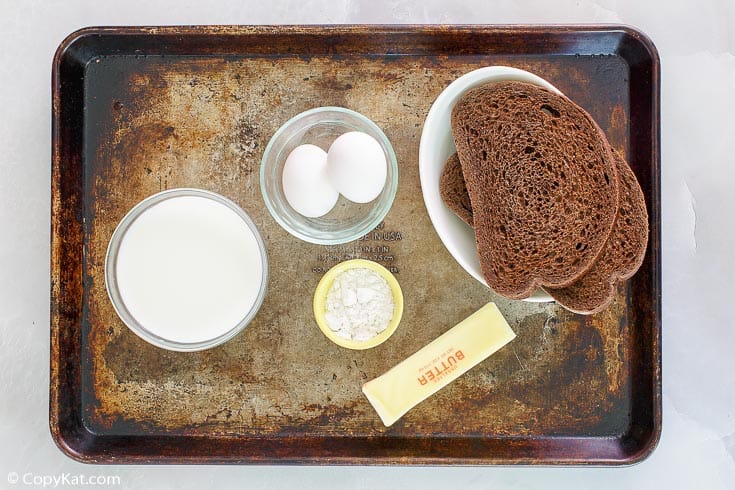 It is a great way to use up leftover Easter eggs, or even when you don't have a lot in the kitchen, this is one of those dishes you should be able to put together.
Recipe variations on creamed eggs on toast
There are many variations on this dish, and honestly, I think they are good. You might have heard this dish is referred to as Eggs A La Goldenrod. Here the cooked egg whites are chopped up and added into the sauce, and then the egg yolks are chopped and sprinkled on top.
You can season the sauce with cayenne pepper, paprika, Worcestershire sauce, sherry, chopped onions, or anything else you may like.
If you like, you could add leftover ham, bacon, or turkey to this dish. You may even want to add a touch of cheese to the sauce. I think you will find you can change this sauce into just about anything you like.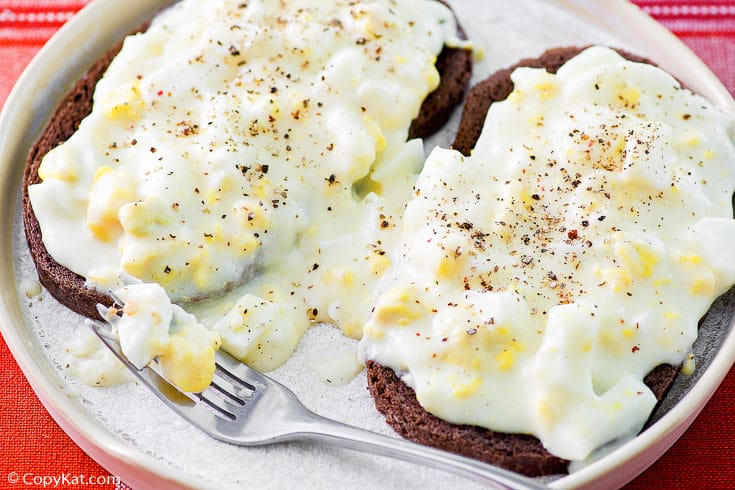 If you enjoyed this recipe be sure to check out my many other Learn to Cook Recipes. This recipe is from my learn to cook series where I am making every recipe from my old home economics cookbook.
Looking for more great egg recipes? Be sure to check out these
More toast recipes
Be sure to take a look at all the tasty breakfast recipes and homemade bread.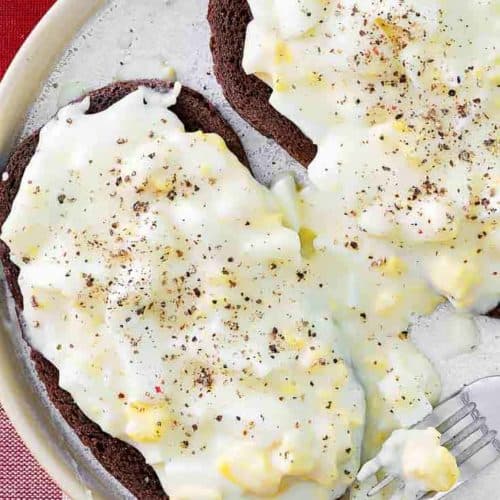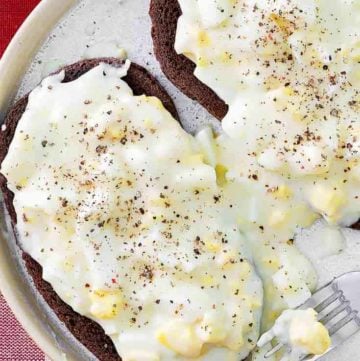 Ingredients
2

tablespoons

butter

2

tablespoons

flour

1/4

teaspoon

salt

1

cup

milk

2

hard

boiled eggs

2

slices

toast
Instructions
In a small pot over medium heat add butter and stir until melted. Sprinkle flour and salt in pan and whisk together with the butter. Cook flour and butter for about 1 minute or until the flour and butter become fragrant. Add about 1/2 of the milk and stir until the mixture becomes thick. Add the remaining milk and stir until the mixture becomes thick. Add chopped egg, reserving some of the chopped egg for garnish. Pour sauce over toast and garnish with remaining chopped egg.
Nutrition
Calories:
536
kcal
|
Carbohydrates:
47
g
|
Protein:
13
g
|
Fat:
32
g
|
Saturated Fat:
19
g
|
Cholesterol:
92
mg
|
Sodium:
1149
mg
|
Potassium:
379
mg
|
Fiber:
1
g
|
Sugar:
14
g
|
Vitamin A:
1095
IU
|
Calcium:
328
mg
|
Iron:
2.2
mg