Pasta with Egg and Cheese is a dish I have been making for over 20 years now. If you don't have a lot in your pantry, I bet you can make this dish. You only need a few simple ingredients: dry pasta, garlic, eggs, Parmesan cheese, and a bit of olive oil.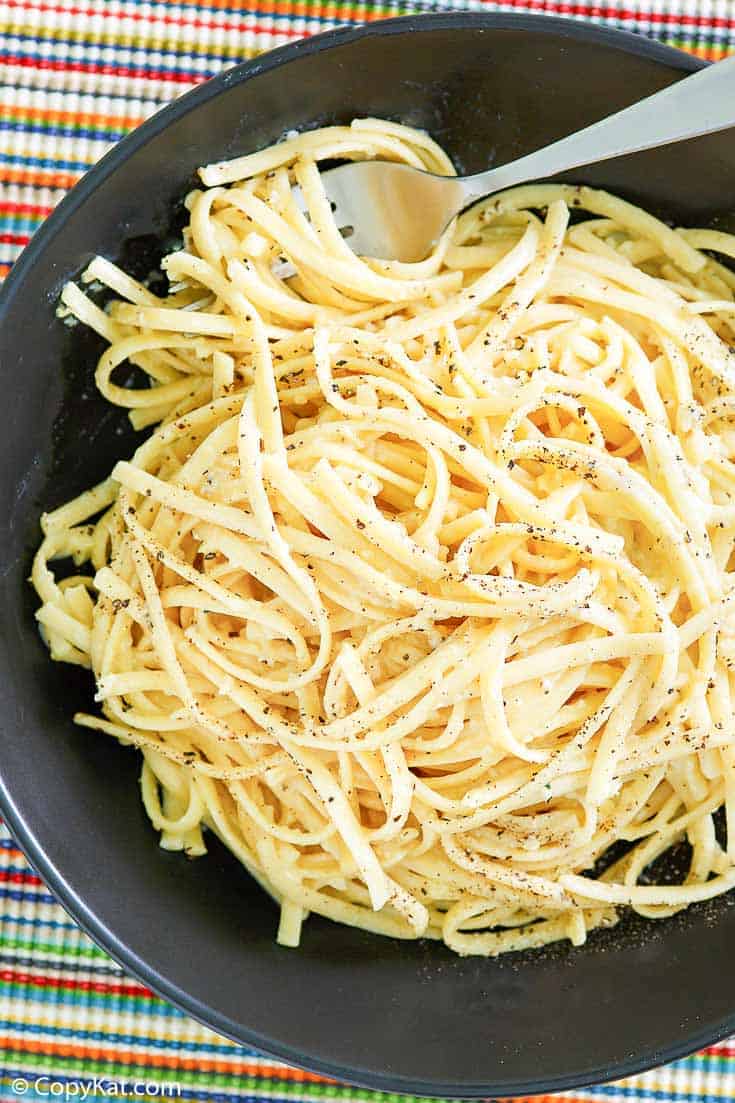 This egg and pasta dish is basically a carbonara recipe without any meat. It's easy, tasty, and the garlic adds quite a bit of flavor. It's also a great budget-friendly meal. In fact, I originally found this simple egg recipe years ago on the Frugal Gourmet show. If you are looking for a meatless pasta recipe or one that is inexpensive to make, this pasta and eggs dish is ideal for you.
What I really like about this pasta with egg sauce is that it takes no time to make – by the time you've boiled the pasta, the meal is practically done.
What Is the History of Spaghetti Carbonara?
Like many things connected with traditional recipes, there is some dispute over this.
Some believe that pasta carbonara wasn't invented until the 1940s in Rome when the Allies distributed food to the starving Italians. These food rations included large amounts of powdered eggs and bacon, which came to be the main ingredients in this pasta with egg sauce dish.
A rough translation of carbonarais in the manner of coal miners, and spaghetti carbonara may have earned its name because the flecks of black pepper resemble sprinklings of coal dust against the creamy white of this egg spaghetti.
If you are interested, you can read about more interesting theories by clicking here.
Variations on this Spaghetti and Eggs recipe
Add some fresh herbs such as parsley and/or oregano.
Throw in a few leftovers you already have in your refrigerator.
Include some sautéed mushrooms.
If you want to add meat, pancetta or bacon adds a delicious salty flavor.
What Wine goes best with this Egg Pasta dish?
This is rich comfort food is made with eggs and pasta, and the full-bodied flavors of the eggs, cheese, and garlic should be allowed to take center stage. Therefore, don't overpower them with robust red wines. The best wine pairings are crisp fruity whites such as Pinot Grigio or Gris.
Pasta and Eggs – make it for dinner
Serve this simple egg recipe up with some garlic bread and blanched broccoli or a fresh salad.
Pasta with Eggs Ingredients
Here's what you need to make this garlic egg pasta:
Pasta – spaghetti, fettuccine, linguine, or even pastina
Large Eggs
Olive Oil
Garlic
Salt and Pepper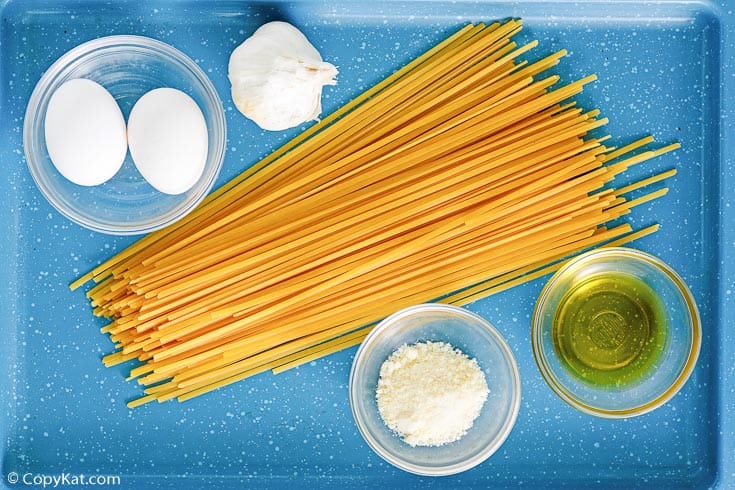 How to make Eggs and Pasta
Prepare pasta according to package instructions in a large pot.
While the pasta cooks heat the olive oil in a large skillet and add the garlic.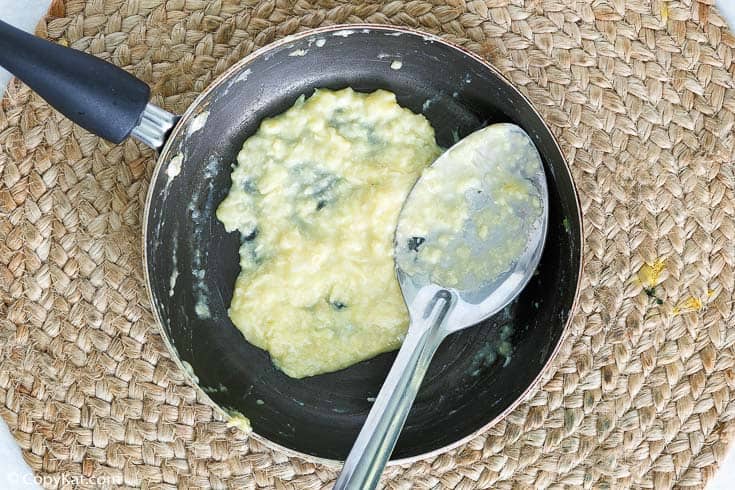 3. Sauté just for a moment and then add the eggs and cheese. Cook until the eggs are done.
4. Drain the pasta and toss the egg mixture and the pasta together.
5. Add salt and pepper to taste.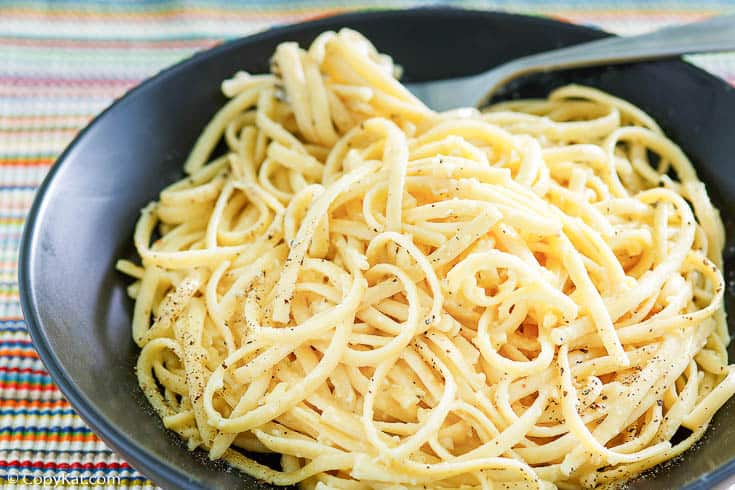 Love Quick and Easy Pasta Meals? Check out these recipes:
More Vegetarian Recipes
Be sure to take a look at more of my easy pasta dishes and tasty vegetarian recipes.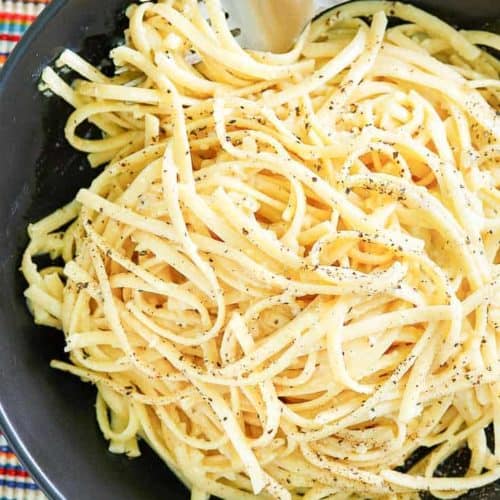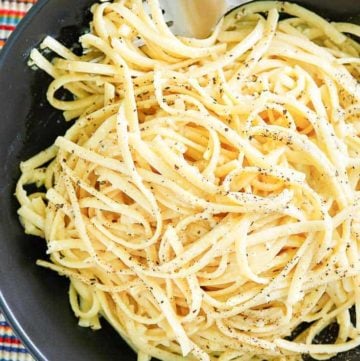 Ingredients
1/2

pound

pasta

2

eggs

beaten

2

teaspoon

olive oil

4

cloves

garlic

2

tablespoons

Parmesan cheese

freshly grated

salt and pepper to taste
Instructions
Put the pasta onto boil in plenty of salted water.

While your pasta is cooking, heat the oil in a large skillet. Add the garlic and sauté just for a moment (do not overcook).

Remove the skillet from the stove. Add the pasta, eggs, and cheese to the frying pan.

Stir and mix well. The residual heat will cook the eggs. The cheese will melt, and the eggs will make a thick sauce.
Nutrition
Calories:
547
kcal
|
Carbohydrates:
87
g
|
Protein:
22
g
|
Fat:
11
g
|
Saturated Fat:
3
g
|
Cholesterol:
167
mg
|
Sodium:
150
mg
|
Potassium:
337
mg
|
Fiber:
3
g
|
Sugar:
3
g
|
Vitamin A:
275
IU
|
Vitamin C:
1.9
mg
|
Calcium:
118
mg
|
Iron:
2.3
mg