Olive Garden's Capellini Primavera Pasta is a light and wonderful dish if you are watching what you eat. It's full of vegetables and not overly heavy.  Fresh carrots, mushrooms, and broccoli help make a healthy dinner.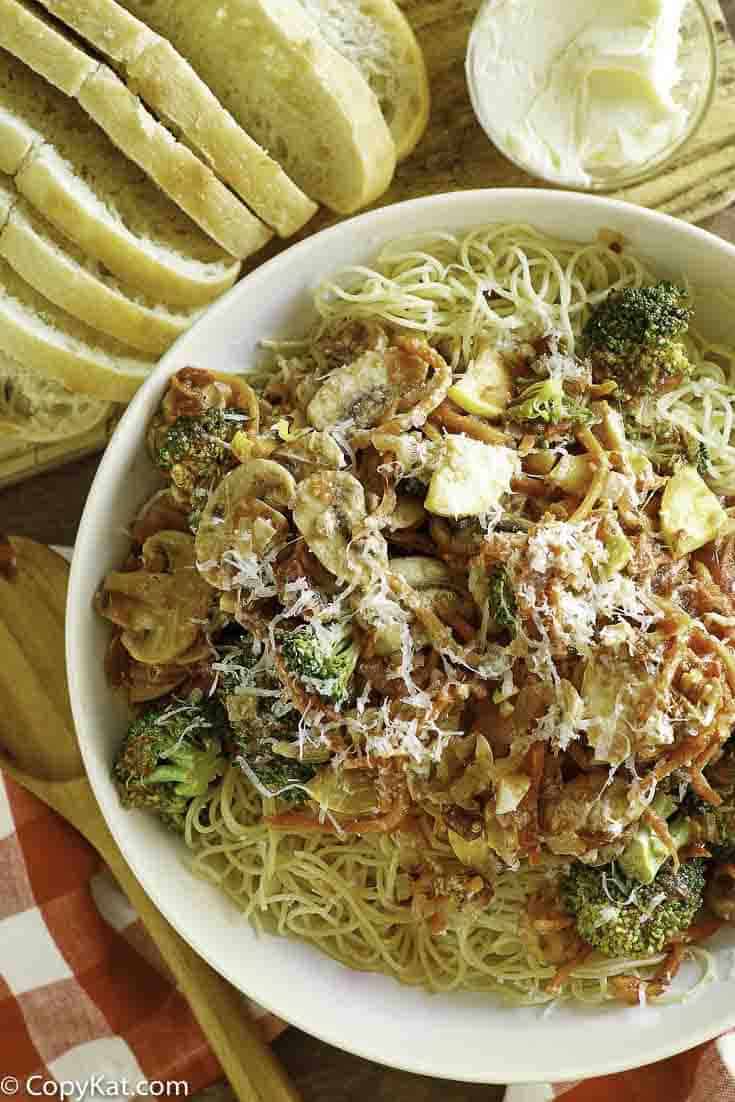 As its "Never Ending Pasta" slogan implies, the Olive Garden is famous for its larger than life pasta bowls. However, if you want a lighter pasta recipe option, go for the capellini primavera. But, honestly, what kind of superhuman can resist those free breadsticks?
Are You Watching What You Eat?
Olive Garden's capellini primavera is a light and colorful dish that's not overly heavy. It's full of vegetables including fresh carrots, mushrooms, and broccoli, making for a very healthy dinner that won't weigh you down. I love this recipe, and it tastes just like going out to eat at the Olive Garden.
Pasta Sauces
There's not much that's more satisfying than a bowl of deliciously sauced pasta when you sit down to dinner. Few meals can give you as much pleasure. Italian pasta sauces have a rich history that goes back all the way to ancient Rome.
Today, the decision to use more than one type of meat in your ragu, put cheese in your seafood pasta, or make your carbonara with cream, can create just as much passionate dinner conversation among Italian families as the latest political brouhaha. You can read more about the history of pasta sauces.
Pasta Primavera
Primavera is a fairly new addition to the vast pantheon of pasta recipes, and it wasn't created in Italy. In fact, it was the inspiration of Sirio Maccioni, founder of the famous Le Cirque restaurant in New York City. In 1977, he whipped up a new pasta dish featuring cream sauce, fresh spring vegetables, and garlic.
Primavera (which means springtime in Italian) caught on and soon became one of the most talked-about dishes in town. However, Maccioni hadn't intended to rise to new culinary heights. He was simply improvising when he found out that he had nothing but vegetables with which to garnish his pasta.
Olive Garden's Capellini Primavera
The Olive Garden's version is lighter than Maccioni's – it leaves out the cream sauce. You can make the Olive Garden capellini primavera at home with this CopyKat recipe. You'll be surprised by how fresh and simple it is. Keep in mind also that this recipe can be made vegetarian or vegan by switching out the butter for olive oil and leaving out the cheese.
Get the full collection of Olive Garden Recipes here on CopyKat.com.
Love Olive Garden? Be sure to try these copycat recipes
Ingredients
4

ounces

butter

1 1/2

cups

chopped onions

3/4

cup

julienne-cut carrots

(1/8"-by-1/8"-by-1/2")

5

cups

broccoli florets

cut into 1" pieces

3

cups

sliced mushrooms

about 8 ounces

1 1/4

cups

thinly sliced yellow squash

cut squash in half lengthwise before slicing

1

teaspoon

minced garlic

1 1/2

cups

water

1

tablespoon

beef bouillon granules

1/4

cup

sun-dried tomatoes, oil-packed, minced

1 1/4

cups

crushed tomatoes in puree

1

tablespoon

finely chopped fresh parsley

1/4

teaspoon

dried oregano

1/4

teaspoon

dried rosemary

1/8

teaspoon

crushed red pepper flakes

1

pound

cooked fresh angel-hair pasta

1/2

cup

grated Parmesan cheese
Instructions
Melt butter in Dutch oven over medium heat. Saute onions, carrots and broccoli in butter for 5 minutes. Add mushrooms, squash and garlic. Saute 2 minutes. Add all remaining ingredients except pasta and cheese; stir well. Bring to simmer, then cook 8 to 10 minutes or until vegetables are tender and flavors are well blended. Serve over cooked angel hair pasta.
Nutrition
Calories:
814
kcal
|
Carbohydrates:
111
g
|
Protein:
28
g
|
Fat:
30
g
|
Saturated Fat:
17
g
|
Cholesterol:
72
mg
|
Sodium:
885
mg
|
Potassium:
1443
mg
|
Fiber:
11
g
|
Sugar:
14
g
|
Vitamin A:
5960
IU
|
Vitamin C:
130.4
mg
|
Calcium:
282
mg
|
Iron:
4.4
mg