Onion Soup Gratinee is a rich soup with caramelized onions in a flavorful beef broth and topped with toasted bread and melted cheese. It's a classic French onion soup au gratin and perfect for lunch or dinner.
This post contains affiliate links. As an Amazon Associate, I earn from qualifying purchases.
French Onion Soup Au Gratin
What's better than a piping hot bowl of onion soup topped with melted cheese? Maybe two bowls of the same?? Onion soup gratinée is the perfect way to warm up on a chilly day. This onion soup au gratin will never fail to please your family or your guests.
What Is Gratinée?
Gratinée is a French cooking term for a topping of cheese (or breadcrumbs and butter) browned until crispy. A crispy surface is a must, and shallow ovenproof crocks made especially for gratins allow for a generous amount of topping.
Why You Should Try This Recipe for Onion Soup Gratinée
If you've never tried to make French onion gratin soup, you'll love how this recipe turns out. You get the comfort of a rich broth, the ooey-gooeyness of the cheese pull, and the plus of bits of crispy cheese stuck to the edge of the bowl.
An other advantage is the exquisite presentation this soup makes for your guests! You'll also love its warm conviviality. It's impossible not to smile and make mmmm sounds when eating French onion soup gratin. Your guests just can't take themselves too seriously when they're in ecstasy over gobs of cheese!
Onion Gratin Soup – Ingredients You Will Need
Although French onion soup au gratin sounds like a fancy soup, in reality, it has simple ingredients as follows:
Onions
Unsalted Butter
White wine
Chicken stock
Beef stock
Thyme
Bay leaf
French bread
Gruyère cheese
Salt
Black pepper
What Are the Best Onions for French Onion au Gratin Soup?
Caramelized onions do vary somewhat in taste as follows:
Sweet onions: Perfect blend of sweetness and mellowness.
Red onions: Deeper flavor, with less sweetness and a slightly bitter edge.
Yellow onions: very mild bitterness, lots of bright flavor, and a sweetness backing it up.
Shallots: Excellent sweetness with just a hint of bitterness. Bright flavors and deep, rich ones.
The bottom line is that none of these onions are wrong for making French onion soup. However, why not try using a blend of different varieties?
How to Make Onion Soup Gratinée
This onion soup is not difficult to make though you need patience waiting for the onions to caramelize. Here are the instructions in brief:
Melt butter in a large saucepan or Dutch oven.
Add the onions and cook until they are caramelized.
Deglaze with wine and reduce.
Add the two stocks, thyme, and bay leaf. Stir to combine.
Bring to a boil over medium-high heat, then reduce the heat to low and simmer for 30 minutes. Adjust taste as desired. Discard the bay leaf.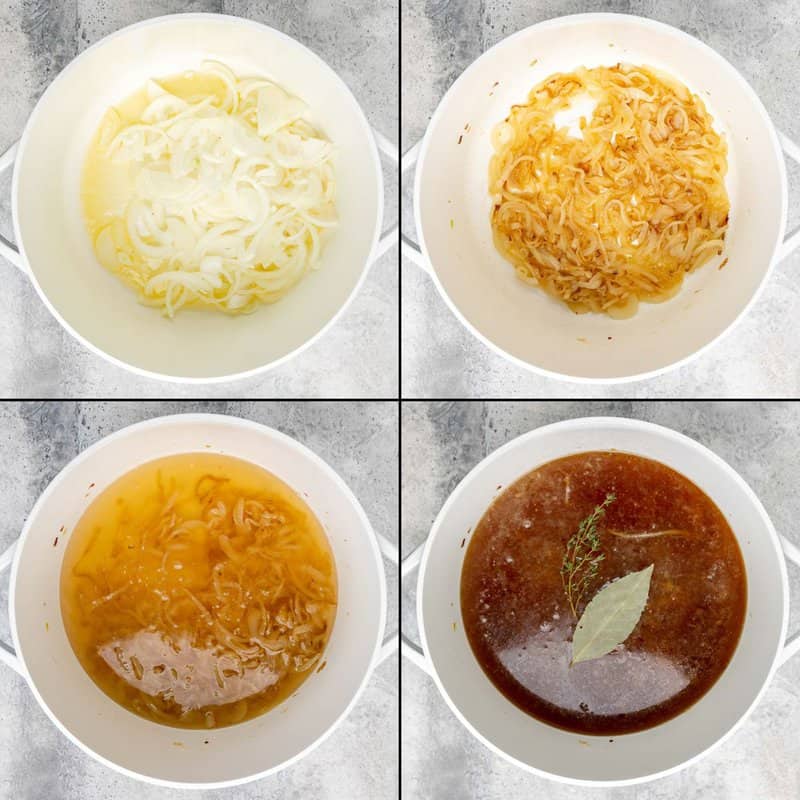 Pour soup into individual bowls.
Toast the bread and place it on top of the soup.
Cover with cheese.
Place under the broiler until the cheese is golden brown.
Serve it with a sprinkle of chopped fresh herbs or place sprigs of fresh thyme on top.
French Onion Soup Gratinée – Variations
Wine: This onion gratin soup recipe uses white wine. However, you can choose to go with red wine or a blend of vermouth (a fortified wine) and brandy.
Note: Vermouth is great to have on hand. It's perfect for deglazing or making a quick sauce. It also keeps well, which means it's not necessary to open a bottle of wine when you need wine in a recipe.
Cheese: Instead of gruyère, you could go with Swiss, mozzarella, or Asiago.
Bread: Slices of baguette or Italian bread work just as well as French bread. You can also use croutons.
How to Get the Best Caramelized Onions
Let's start with one immutable fact: onions do not caramelize quickly! This is because the aim of caramelizing onions isn't just to brown the surface; it's to transform the onions so they're soft and sweet to the core. So, if you want the best caramelized onions, take it slowly – at least an hour!
Butter produces much more delicious caramelized onions than oil and also kicks off the browning reaction more quickly.
As for cooking vessels, you will get the best results in cast iron or carbon steel, with stainless steel a close second. Onions are much slower to brown in an enameled pot.
Make ahead tip: Caramelize your onions the day before and refrigerate.
Tip for Toasting the Bread
Preheat your oven's broiler and set a rack about 6 inches under the heat source. Arrange the bread slices on a baking sheet and broil, turning once, until well toasted on both sides (about 3 minutes).
How to Fill Soup Crocks
For individual portions, ladle the hot soup into the crocks until they are almost full. Allow enough space at the top so that when you add the bread, it's flush with the top of the bowl.
Place 2 slices of bread on each crock to fully cover the top (it may be necessary to break up the pieces). Arrange cheese slices or grated cheese so that the cheese fully covers the bread and hangs somewhat over the sides.
Double up the cheese for an extra decadent cheese pull – you won't regret it!
What to Serve With Onion Gratin Soup
French onion soup au gratin is so rich and hearty that you might wonder what to serve with it. Here are some ideas:
The holy grail of entrées is steak, which is perhaps the best thing you can serve after a bowl of French onion au gratin soup.
If you want something a bit lighter, scallops are big meaty chunks of heaven that taste great.
Baked salmon also goes well with French onion gratin soup. This fatty pink fish is not too heavy and perfectly balances the soup's richness.
Pork tenderloin is a simple but super-effective dinner to serve after a hearty bowl of French onion soup.
How to Store Onion Gratin Soup
As it has a strong odor, store French onion soup in an airtight container (minus the bread and cheese). It will last in the fridge for around 3 days.
You can freeze French onion soup (minus the bread and cheese topping) for up to 3 months – portion it out into thick freezer bags, seal the bags, and place them in the freezer. Feel free to make some extra in your next batch of soup and save it to eat on a rainy day.
When ready to use, defrost in the refrigerator overnight. Heat in the microwave or warm through on the stovetop.
More French Onion Soup Recipes
French Onion Inspired Recipes
Favorite Soup Recipes
Check out more of my easy soup recipes and the best recipes for winter on CopyKat!
Recipe source: Le Cafe Ile St. Louis
Ingredients
1

pound

onions

sliced

2

ounces

butter

4

ounces

white wine

1/2

gallon

chicken stock

1/2

gallon

beef stock

1

sprig

thyme

1

bay leaf

1

teaspoon

salt

1/2

teaspoon

black pepper

1

loaf

French bread

sliced and toasted

1/2

pound

Gruyère cheese

shredded
Instructions
In a large pot over low heat, cook the onions in the butter until caramelized, about 1 hour. Deglaze the pot with the white wine and allow the liquid to reduce.

Add the chicken stock, beef stock, thyme, bay leaf, salt, and pepper to the pot and bring to a boil. Lower the heat and simmer for 30 minutes. Taste and adjust the seasoning if necessary.

Pour the soup into serving bowls. Cover each bowl with the toasted bread and top with shredded cheese. Place under the broiler until the cheese is melted and golden brown.
Nutrition
Calories:
370
kcal
|
Carbohydrates:
36
g
|
Protein:
20
g
|
Fat:
15
g
|
Saturated Fat:
8
g
|
Cholesterol:
42
mg
|
Sodium:
1202
mg
|
Potassium:
692
mg
|
Fiber:
1
g
|
Sugar:
7
g
|
Vitamin A:
370
IU
|
Vitamin C:
3.9
mg
|
Calcium:
281
mg
|
Iron:
2.6
mg