TGI Friday's French Onion Soup is a favorite at the restaurant and you can make it at home with this copycat recipe. This delicious homemade French onion soup is made on the stovetop and then quickly baked to melt the cheese on top.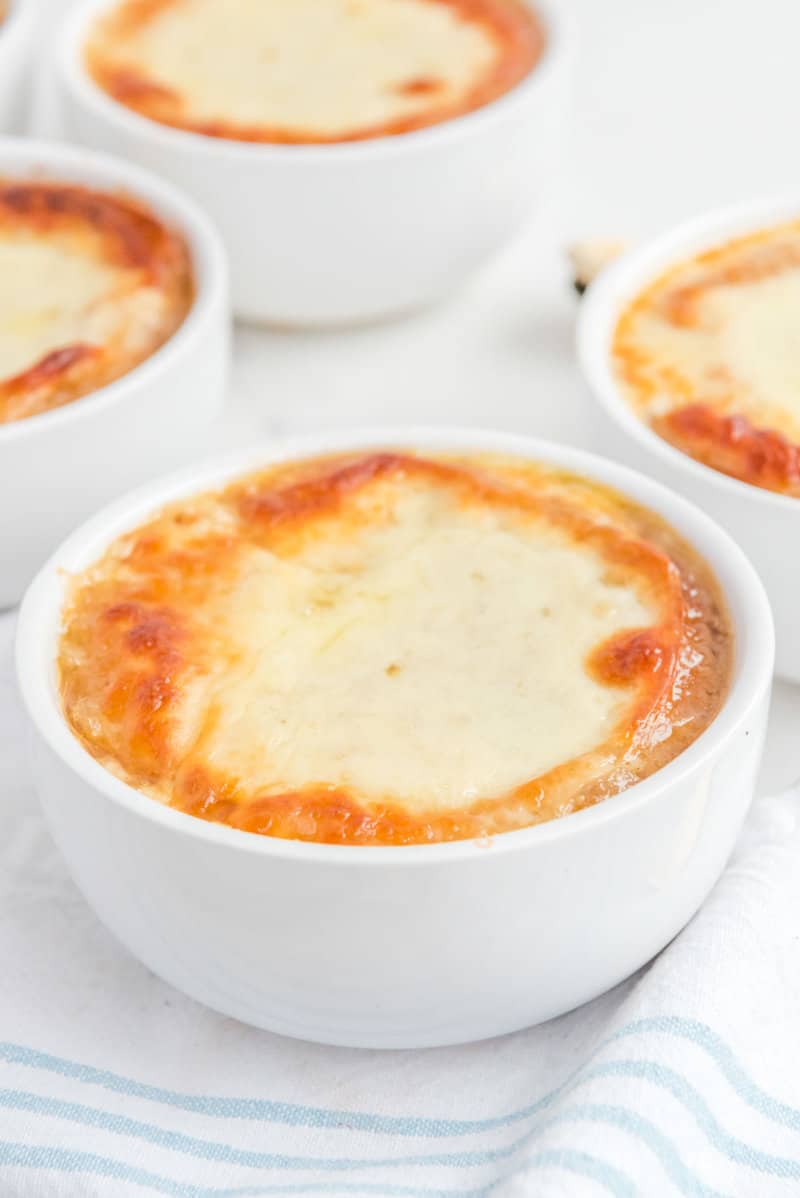 This post contains affiliate links. As an Amazon Associate, I earn from qualifying purchases.
Homemade French Onion Soup
French onion soup isn't as difficult to make as you might think. The key is carefully caramelizing the onions to get their special flavor. The dry white wine is a wonderful addition but may be omitted if you like.
What Makes the TGI Friday's French Onion Soup So Delicious
French Onion Soup is the kind of dish that, once you try it, you'll probably want to order anytime it is on the menu. It's that good. And this copycat TGI Fridays' French Onion Soup recipe is a particularly delicious version.
Perhaps the secret is substituting white wine for the more traditional sherry. Or maybe it is opting to use all yellow onions and avoiding heavy seasonings. Whatever the reason, this soup is absolutely addictive.
Why You Should Try This Recipe
Don't be intimidated by the perceived prestige of this dish. There is absolutely nothing intimidating about this copycat French Onion Soup recipe.
Although this recipe may be a streamlined version of the legendary classic, that doesn't mean that the soup isn't every bit as scrumptious as any you can order at a Parisian brassiere. As long as you take your time caramelizing the onions and use good-quality ingredients, this can't-fail dish is sure to impress.
French Onion Soup Ingredients
For this Fridays French Onion Soup, you'll need:
Butter
Olive oil
Yellow onions peeled and thinly sliced
White sugar
Salt
All-purpose flour
Beef stock
White wine
Freshly ground black pepper
Hamburger buns
Provolone cheese
Ingredient Notes
Pinot Grigio is a fabulous wine choice for this recipe. Other good options include Chardonnay and Sauvignon Blanc.
Use the best quality beef broth you can for this recipe. It will make this soup shine if you can make the beef broth from scratch. However, if you can not, Bonafide Provisions' Beef Bone Broth is highly recommended, although it is a little pricey.
How To Make French Onion Soup
To caramelize the onions:
Peel and chop the onions.
Place a large stockpot over medium heat and add butter and olive oil.
When the butter stops foaming, add the onions, stir to coat, and cover the stockpot with a tight-fitting lid.
Cook the onions for a few minutes until they soften and turn translucent.
Remove the lid and give the onions a good stir.
At this point, you have a choice. You can add the salt and sugar and cook the onions at medium-high heat until dark brown. Or you can reduce the heat to low and add only the salt to the onions. Using the higher heat and sugar method will caramelize the onions in about half the time, but they will lack some of the depth of flavor of the low and slow method. The low and slow method can take up to an hour and requires much more babysitting. At the end of the day, both options will work for this soup.
Whichever method you choose, you will need to stir the pot from time to time to prevent sticking and burning.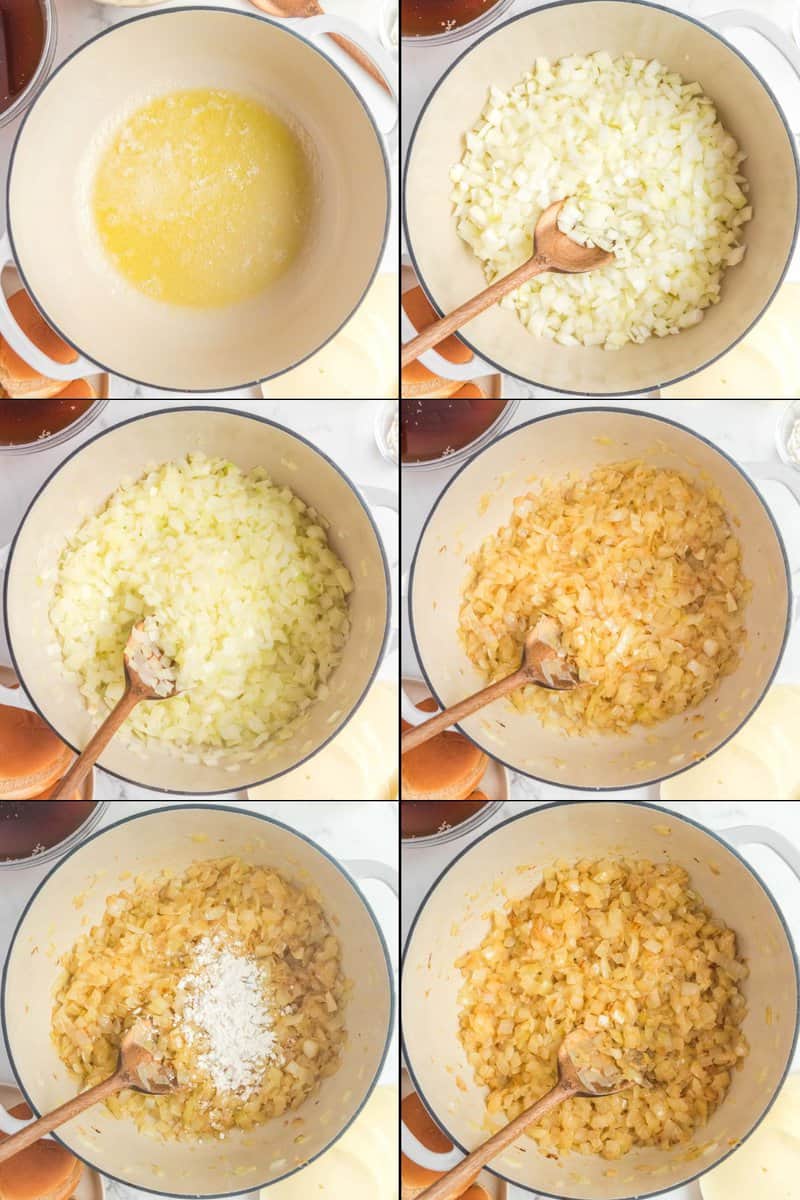 To finish the soup:
Once the onions are a deep brown, sprinkle the flour over the top. Lower the heat to medium and stir with a wooden spoon or spatula for a few minutes. Add a cup or two of the stock and scrape the bottom of the pot to remove any stick-on bits.
Pour the remaining beef stock and all the wine into the pot. Season with salt and freshly ground pepper.
Bring the soup to a boil and reduce it to a low simmer. Cook uncovered for 30 minutes.
While the soup is cooking, preheat the oven to 425°F.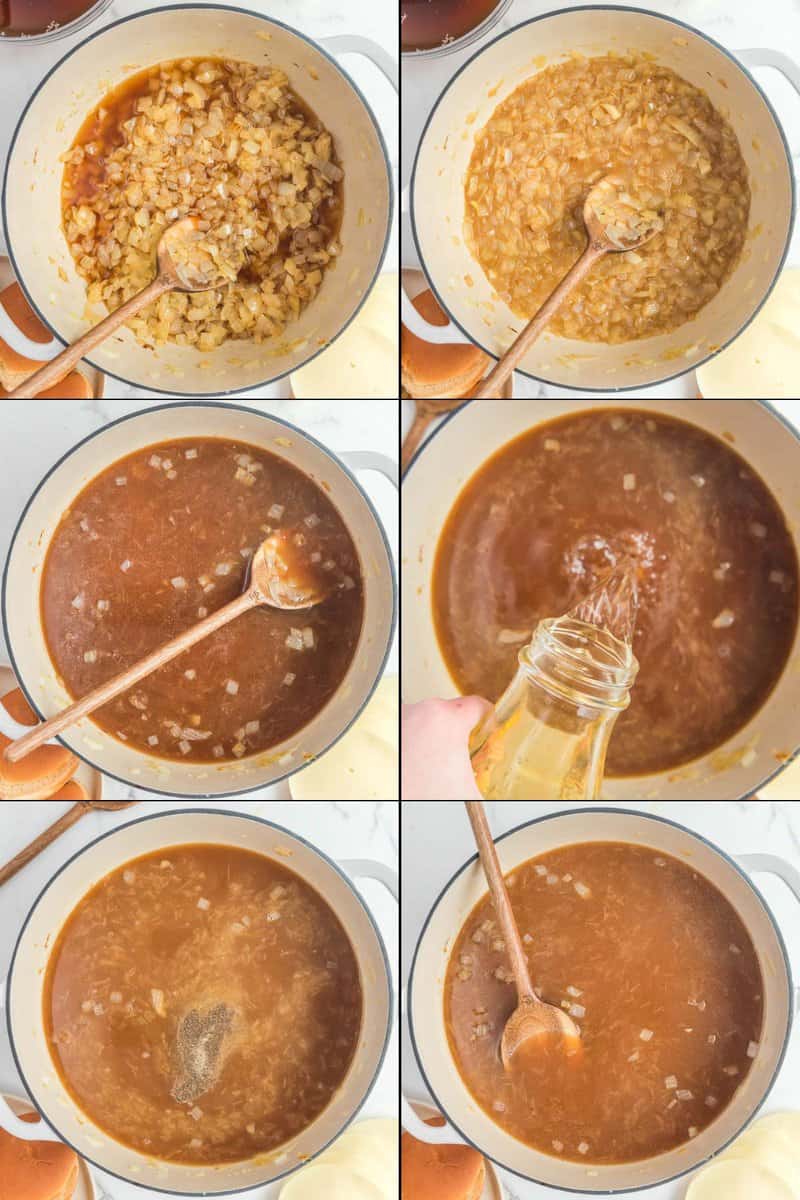 Brush the inside of the hamburger buns with butter and toast in the oven.
Once the soup is finished cooking, divide it between eight ovenproof bowls.
Place one side of a hamburger bun with the cut side up on top of each bowl of soup.
Lay a slice of provolone cheese on top of the bun.
Place the soup bowls on a rimmed baking sheet and heat in the oven until the cheese melts.
Serve immediately. You can garnish the hot soup with chopped fresh thyme if desired.
Three Tips to Caramelize Onions
Heavily caramelized onions are the key to a memorable French Onion Soup. But, there is a none-so-subtle line between beautifully dark-brown caramelized onions and burnt ones. Here are three hints to help you ensure your onions develop the perfect color and sweetness:
Slice the onions correctly. Use a mandolin to cut the onions into thin slices and as evenly as possible to ensure they caramelize at the same rate.
Don't be tempted to stop carmelizing the onions too early. The flavor and color of this copycat French Onion Soup recipe depend on using fully caramelized onions.
Some people like adding an eighth of a teaspoon of baking soda to the onions instead of salt and sugar. The baking soda starts a chemical reaction that makes the onions caramelize much more quicker. However, they will also begin to break down and can become almost like a jam.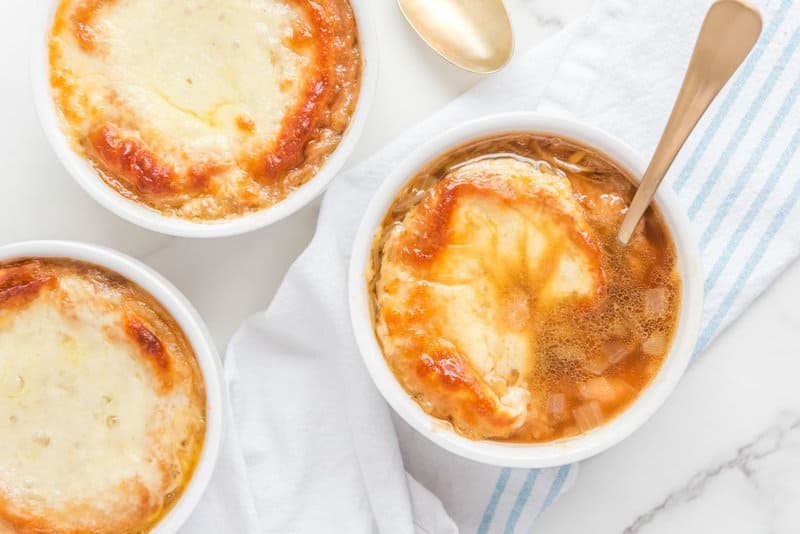 What To Serve With French Onion Soup
Fridays French Onion Soup pairs wonderfully with crusty bread, a baked potato, or a salad. It also makes a hearty first course for a steak or roasted salmon main course.
Variations
Use a slice or two of a stale baguette instead of a hamburger roll. Slice bread into ½-inch thick slices.
Use mozzarella, shredded gruyere, or a mixture of shredded gruyere and parmesan in place of the slice of Provolone.
How To Store the Soup
Let the soup return to room temperature and transfer it into an airtight container. Refrigerate for up to three days or freeze individual portions in a freezer-safe container for up to two months. Thaw the soup in the fridge before reheating.
What's the Best Way to Reheat French Onion Soup
Bring the thawed soup to a boil over medium-high heat and then reduce to a simmer for at least a minute more. Spoon the soup into oven-safe bowls, top with toasted bread and cheese, and cook in the oven as above.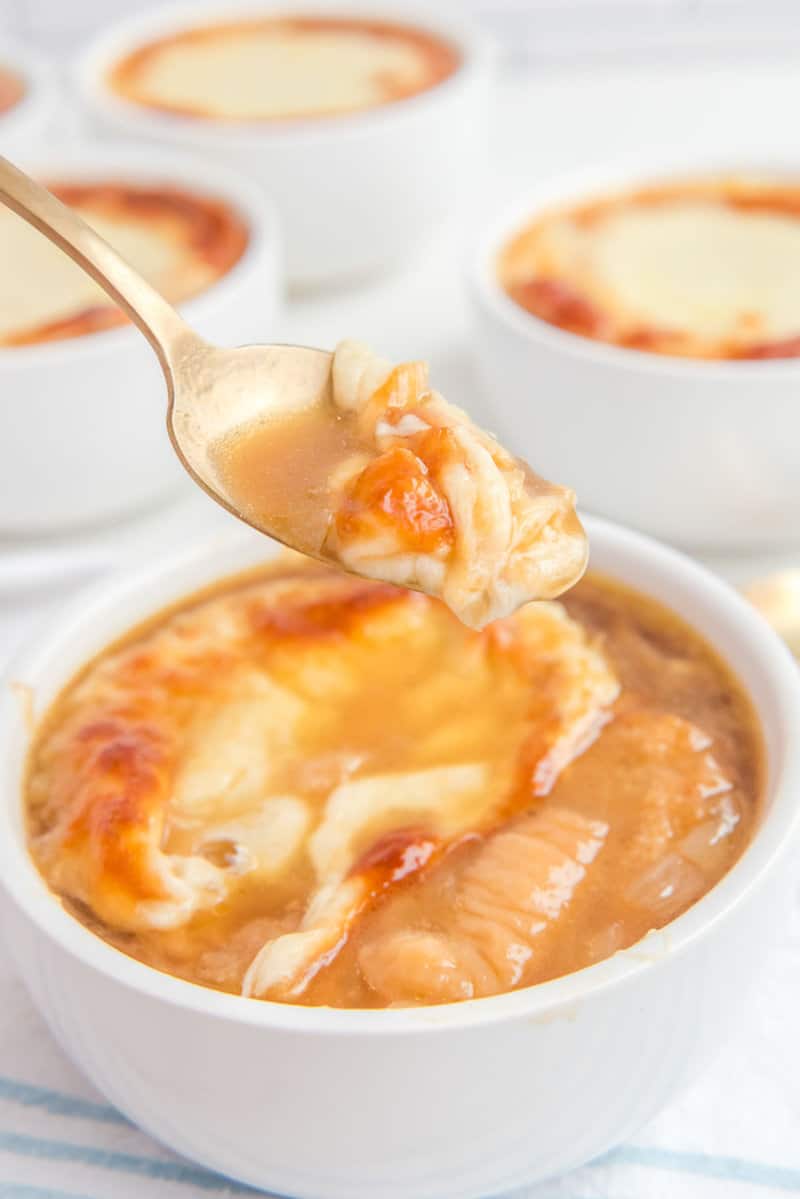 More TGI Friday's Copycat Recipes
Favorite Copycat Soup Recipes
Check out more of my easy soup recipes and the best copycat restaurant recipes on CopyKat!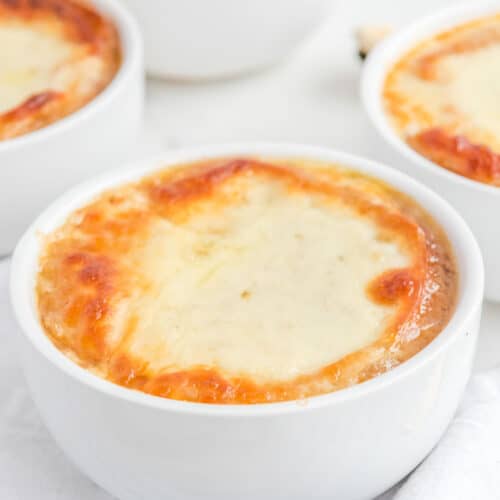 Ingredients
6

tablespoons

butter

divided

1

tablespoon

olive oil

3

pounds

yellow onions

peeled and thinly sliced

1

teaspoon

sugar

1/4

teaspoon

salt

1

tablespoon

flour

8

cups

beef stock

2

cups

dry white wine

1/2

teaspoon

black pepper

4

hamburger buns

8

slices

provolone cheese
Instructions
Over medium heat, melt 3 tablespoons of the butter and the olive oil in a large, heavy stockpot. Add sliced onions; cover and cook, stirring occasionally until the onions are soft and translucent. Increase heat to high, remove the lid, and add sugar and salt. Saute, stirring often until onions are very soft and a deep golden brown.

Reduce heat to medium, sprinkle in flour and cook, stirring constantly, for 2 to 3 minutes. Add about 2 cups of stock and stir to blend, and then add the remaining beef stock and wine. Season to taste with salt and pepper and simmer for 30 minutes. Preheat oven to 425 degrees.

Brush hamburger buns with remaining butter and place bread in the oven to brown. When the bread is browned, remove it from the oven. Gather 8 small ovenproof bowls; spoon in soup. Add one bun half and top with one slice of provolone. Put soup bowls in a baking dish and place into the oven. When the cheese has toasted, remove soup from the oven. You may also wish to use a baguette if you have it on hand. You do not need to place the soup back into the oven. You can simply top with cheese and serve.
Nutrition
Calories:
402
kcal
|
Carbohydrates:
33
g
|
Protein:
16
g
|
Fat:
18
g
|
Saturated Fat:
10
g
|
Cholesterol:
41
mg
|
Sodium:
985
mg
|
Potassium:
800
mg
|
Fiber:
3
g
|
Sugar:
11
g
|
Vitamin A:
510
IU
|
Vitamin C:
12.9
mg
|
Calcium:
315
mg
|
Iron:
2.1
mg