Learn how to make Orange Chicken like Panda Express with this easy copycat recipe. Enjoy crispy batter fried chicken with orange sauce for dinner. Serve Panda Express Orange Chicken with steamed or fried rice for a tasty Chinese meal.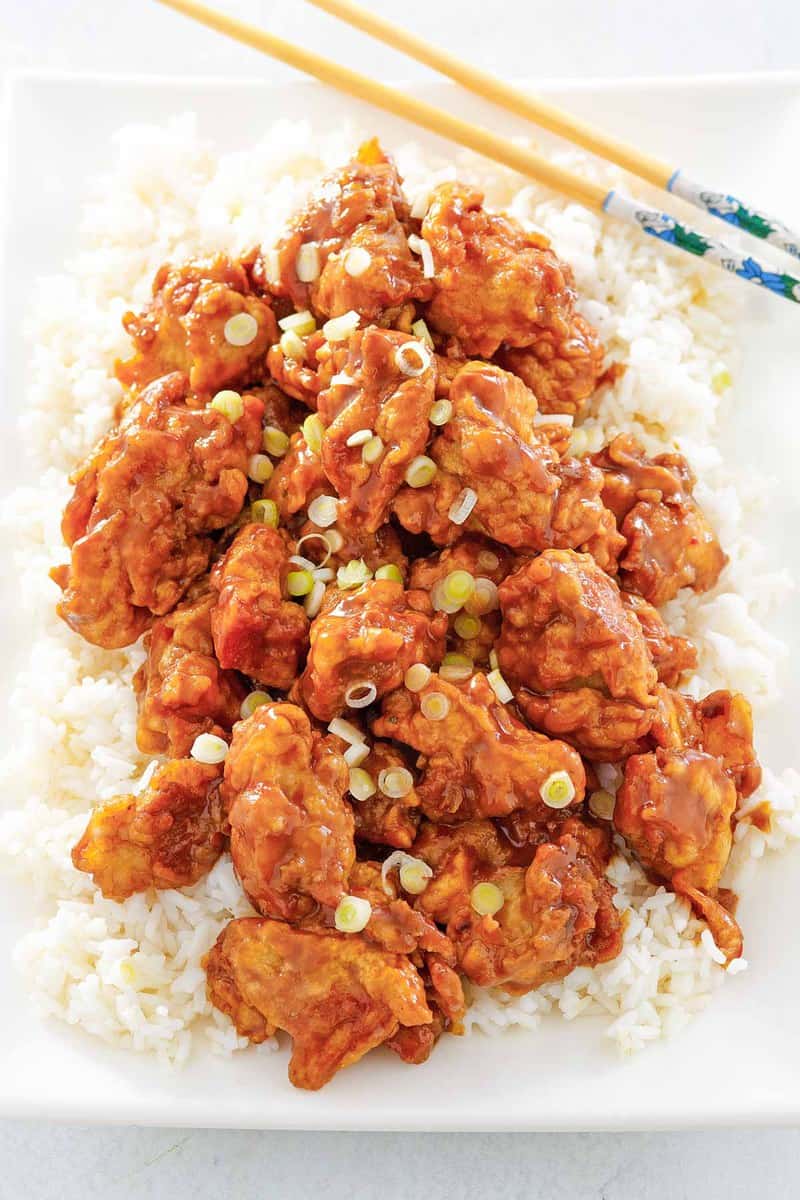 This post contains affiliate links. As an Amazon Associate, I earn from qualifying purchases.
What Makes Panda Express Orange Chicken So Good?
If you have ever been to a Panda Express, there is a good chance you have tried the chain's Orange Chicken. Almost half the diners end up ordering the dish. And why not? It is deliciously tangy, with a touch of heat and sweetness to help balance the flavor.
You don't have to leave your house to enjoy Panda Express' most famous dish. Try making it at home with this recipe.
Why You Should Try This Recipe
Nothing compares to great homemade Orange Chicken, but you need a good recipe. Many online copycat Orange Chicken recipes are disappointing because they lack the spice levels of the authentic Panda Express Orange Chicken.
This recipe captures that heat by using authentic Asian chili oil. Finding Asian chili oil may take a bit of effort, but the results are worth it. Once you master how to make Orange Chicken sauce, you'll never want to use bottled orange sauce again.
Ingredients to Prepare Orange Glazed Chicken
For breading the homemade Orange Chicken, you'll need:
Egg
Salt
Ground white pepper
Cornstarch
All-purpose flour
Water
Vegetable oil
Chicken thighs
For the Orange Chicken sauce, you'll need:
Orange juice, pulp-free
Soy sauce
White sugar
Powdered ginger
Ground white pepper
Rice or white vinegar
Cornstarch
Chili oil
Sesame oil
Chefs in Asia use fiery chili oil as both a condiment and an ingredient. One respected brand you can find in some supermarkets is Lee Kum Kee, but it is definitely on the spicy side. Mr. Bing's Chili Crisp is milder but harder to find in stores, so look online.
For frying, you'll need: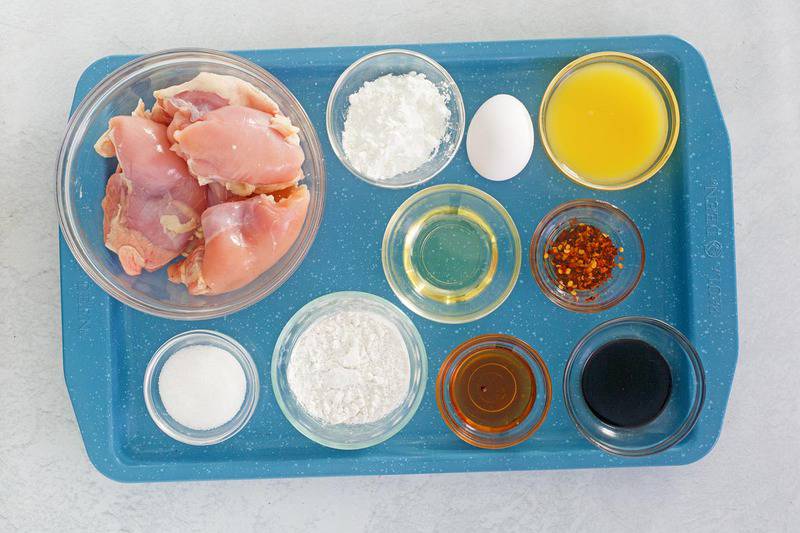 How To Make Orange Chicken
There are several parts to preparing this Panda Express Orange Chicken recipe – the chicken, sauce, and then putting them together for serving. Here are the instructions:
To prep the chicken:
Remove any skin, fat, and tendons from the boneless thighs.
Chop the chicken into one-inch bite-size pieces and set aside.
To bread the chicken:
Use a fork to stir together the flour, salt, ground white pepper, and corn starch in a medium mixing bowl.
Whisk the water, egg, and vegetable oil in a separate bowl.
Add the wet ingredients to the dry ones and stir to combine.
Add the chicken pieces to the batter mixture and stir well to coat.
Cover the bowl with plastic wrap and put it in the fridge for 30 minutes.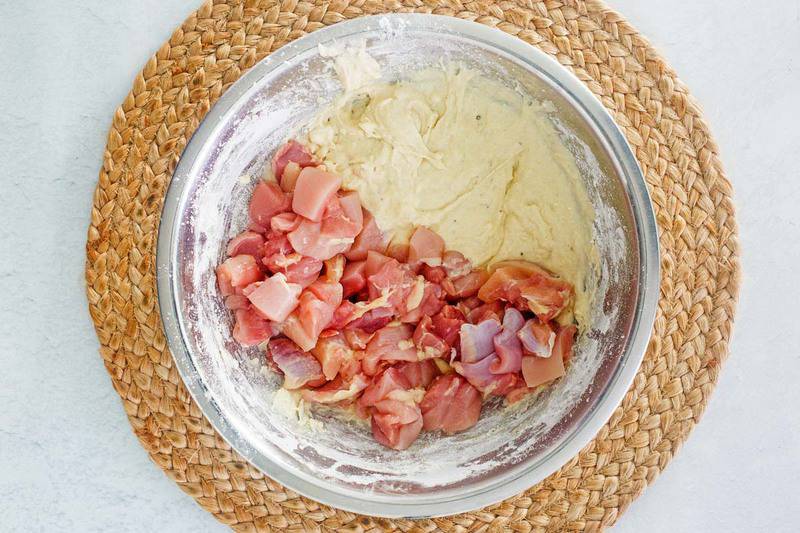 To make the orange sauce:
You can prepare the orange sauce while the chicken is in the fridge.
Whisk together all the sauce ingredients in a bowl. Make sure the sugar fully dissolves. Set the sauce.
To fry the chicken:
Remove the bowl of chicken and batter from the fridge to allow it to warm up a little while setting up the fryer.
A deep fryer makes cooking the chicken much easier, but you can also use a wide, thick-bottomed pot and a clip-on deep-fry thermometer.
Pour at least four inches of vegetable oil into the fryer or pot. Heat the oil to 350 degrees.
Place a paper towel-lined wire rack on top of a rimmed baking sheet.
Fry the chicken in batches until it is golden brown, about 6 to 7 minutes. Keep an eye on the thermometer and adjust the heat to ensure proper cooking.
Use a spider to remove the cooked chicken from the oil and drain the excess oil off the fried chicken pieces.
Repeat with the remaining chicken.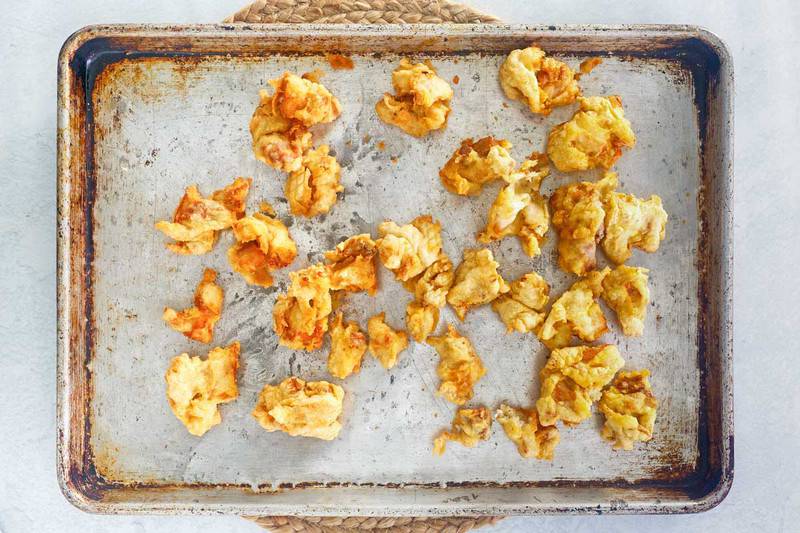 To sauce the chicken:
Heat a skillet or wok over medium-high heat.
Stir the sauce and carefully pour it into the warm pan. Cook the sauce until it thickens into the consistency of thin pancake syrup. If you over-reduce the sauce, add some water to thin it out.
Put the fried chicken pieces into the pan with the thickened sauce and coat well. Heat the chicken for about a minute more before serving.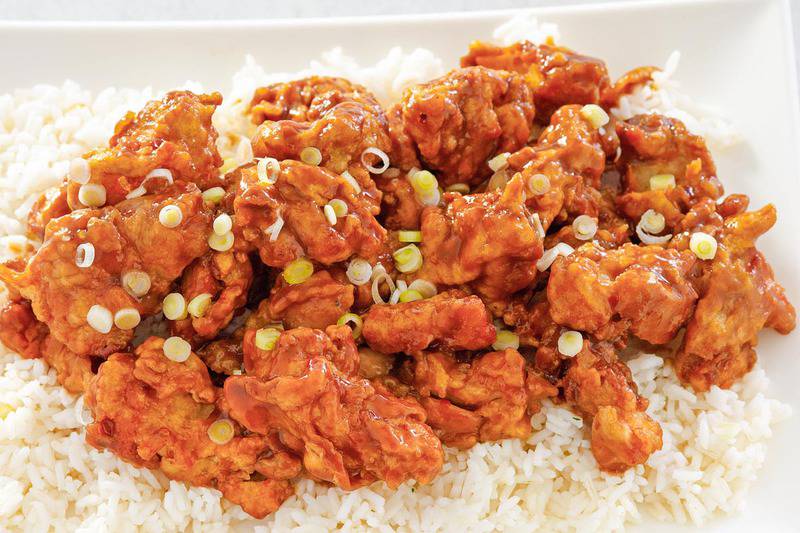 What To Serve With Panda Express Orange Chicken
White rice, fried rice, and broccoli are popular sides, but you can serve the orange glazed chicken with brown rice and other Asian vegetables like steamed bok choy or sauteed water spinach.
Try slicing the green part of the scallions or green onions and garnishing the chicken with the slices to bring a little freshness to the dish. You can also garnish the dish with orange zest or finely chopped red peppers.
How To Store the Leftovers
Cool any unserved chicken pieces quickly and save them in an airtight container in the fridge for up to three days.
You can freeze Orange Chicken in a freezer-safe container for up to two months. Thaw it in the refrigerator overnight.
What's the Best Way to Reheat Orange Chicken
Heat thawed Orange Chicken in a skillet over medium heat. Add some orange juice or water to help loosen the sauce and prevent burning.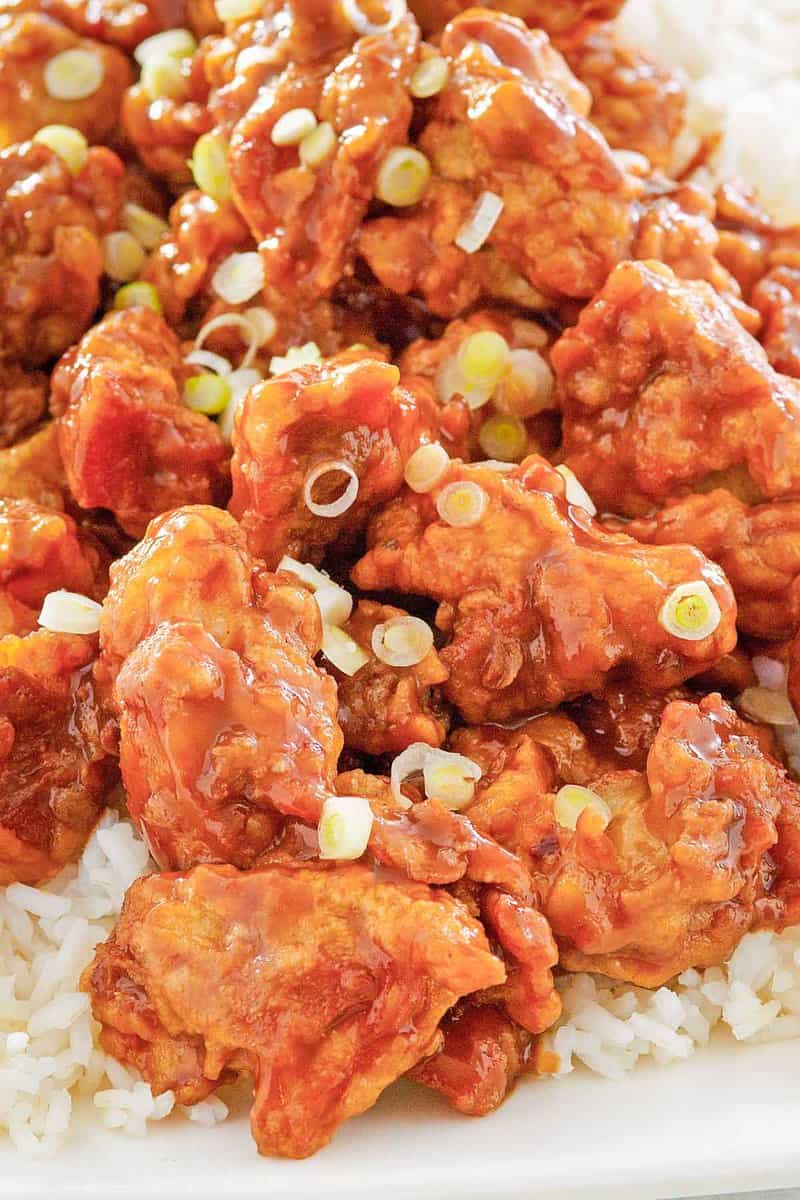 More Panda Express Copycat Recipes
Favorite Chinese Recipes
Check out more of my easy Chinese food recipes and the best fast food recipes on CopyKat!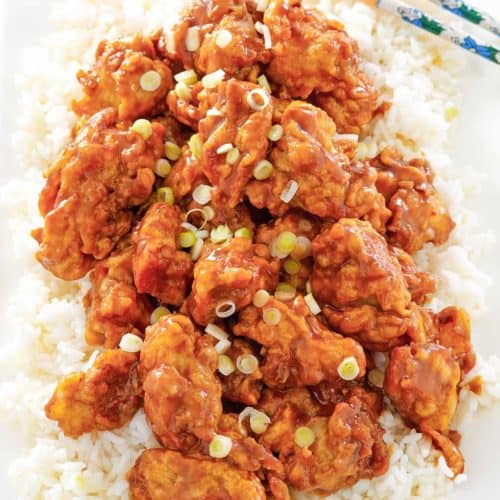 Ingredients
Chicken
1

pound

boneless skinless chicken thighs

1

egg

1

teaspoon

salt

1

teaspoon

ground white pepper

½

cup

cornstarch

1½

cups

all-purpose flour

¾

cup

water

1½

tablespoons

vegetable oil

vegetable oil for frying
Sauce
1

cup

orange juice

¼

cup

soy sauce

1

teaspoon

sugar

1

teaspoon

ground ginger

¼

teaspoon

ground white pepper

½

cup

vinegar

1

tablespoon

cornstarch

½

cup

sugar

½

teaspoon

chili flakes in oil

½

teaspoon

sesame oil
Instructions
Chicken
Cut the chicken thighs into small bite-sized pieces that are about 1-inch cubes.

In a bowl combine egg, salt, ground white pepper, cornstarch, all-purpose flour, water, and vegetable oil. Stir to combine.

Place cut chicken thighs into the batter. Stir to coat the chicken thighs very well with the batter. Cover bowl with plastic wrap and place into the refrigerator for 30 minutes.

Place vegetable oil into a pot, the vegetable oil should be at least 4 inches deep. You can use a deep fryer. Heat the oil to 350°F.

Shake off excess batter off chicken and fry pieces until they become light golden brown, this should take 6 to 7 minutes. You will need to fry the chicken in small batches. When you remove the chicken from the oil, drain on a

wire rack

resting on a

cookie sheet

.
Sauce
In a small bowl combine orange juice, soy sauce, ginger, ground white pepper, vinegar, cornstarch, sugar, chili flakes in oil, and sesame oil. Whisk together well.

Pour sauce into a large skillet or wok, turn the heat up to medium high and cook until the sauce thickens. Add cooked chicken and stir to coat.
Nutrition
Calories:
679
kcal
|
Carbohydrates:
86
g
|
Protein:
30
g
|
Fat:
23
g
|
Saturated Fat:
3
g
|
Polyunsaturated Fat:
8
g
|
Monounsaturated Fat:
10
g
|
Trans Fat:
0.1
g
|
Cholesterol:
149
mg
|
Sodium:
1518
mg
|
Potassium:
512
mg
|
Fiber:
2
g
|
Sugar:
32
g
|
Vitamin A:
285
IU
|
Vitamin C:
31
mg
|
Calcium:
40
mg
|
Iron:
4
mg