Panda Express Fried Rice is a delicious Chinese side dish you can make at home. This vegetarian rice dish is great for a meatless meal. You will love the taste of this delicious fried rice when you make this copycat recipe from this popular fast food restaurant chain.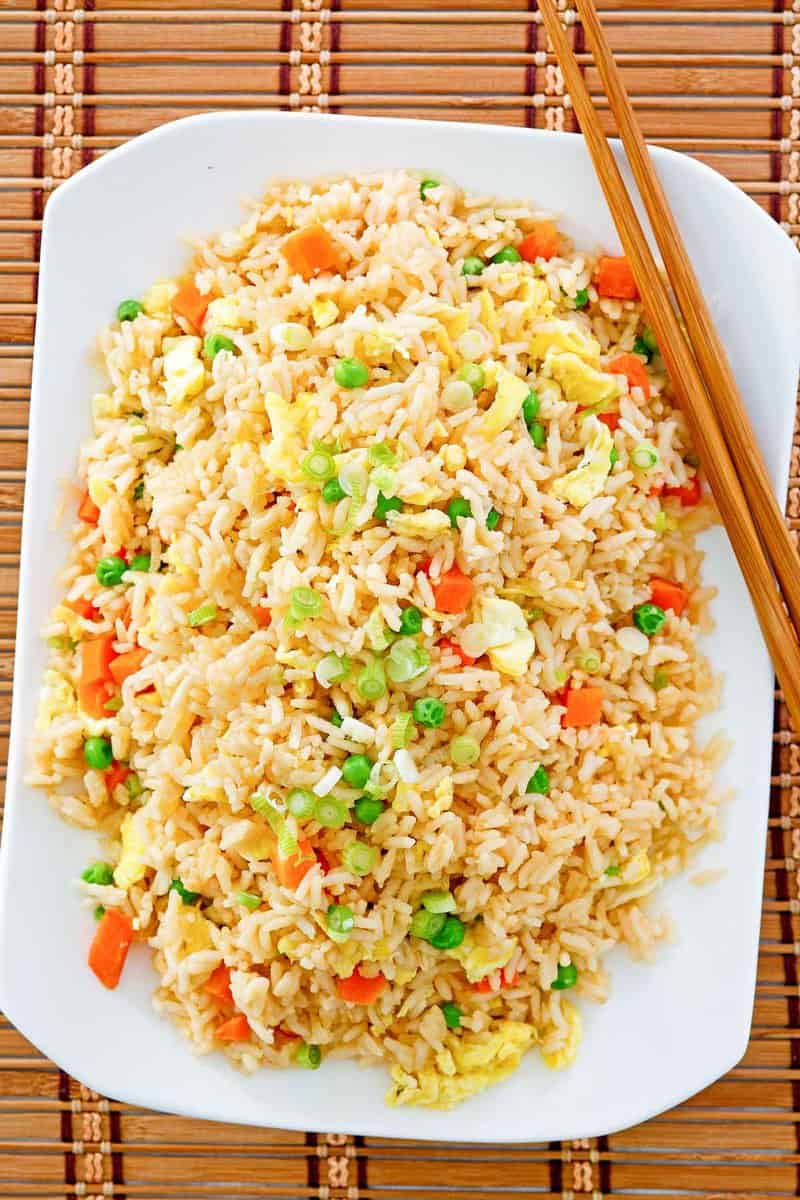 This post contains affiliate links. As an Amazon Associate, I earn from qualifying purchases.
What Makes Panda Express Fried Rice Unique?
Making exceptional fried rice is truly an art that can take years to master, but this recipe makes good fried rice that is at least on par with what they serve at Panda Express. While it's not strictly traditional, it's an easy side dish for any Asian-inspired meal.
Since this homemade version only uses ingredients available at any supermarket, you can make this dish anytime.
Why This Is the Copycat Panda Express Fried Rice Recipe You Should Try
You won't find any soy sauce in this recipe! By using a mixture of water and vegetable broth to cook the rice, fried rice Panda Express style is super flavorful without adding a ton of extra seasonings or sodium.
If you are looking for a lighter fried rice dish, this is the recipe you should try.
Panda Express Fried Rice Ingredients
To make the fried rice Panda Express serves, you'll need:
Long Grain Rice – leftover rice is best
Water
Vegetable Broth
Salt
Eggs
Frozen Peas and Carrots
Green Onions
Vegetable Oil
Sesame Oil 
The exact quantities are in the recipe card.
Don't skip the sesame oil. Buying an entire bottle of toasted sesame oil for half a teaspoon may seem like a waste, but it is an essential flavoring for this dish that you will miss if you leave it out.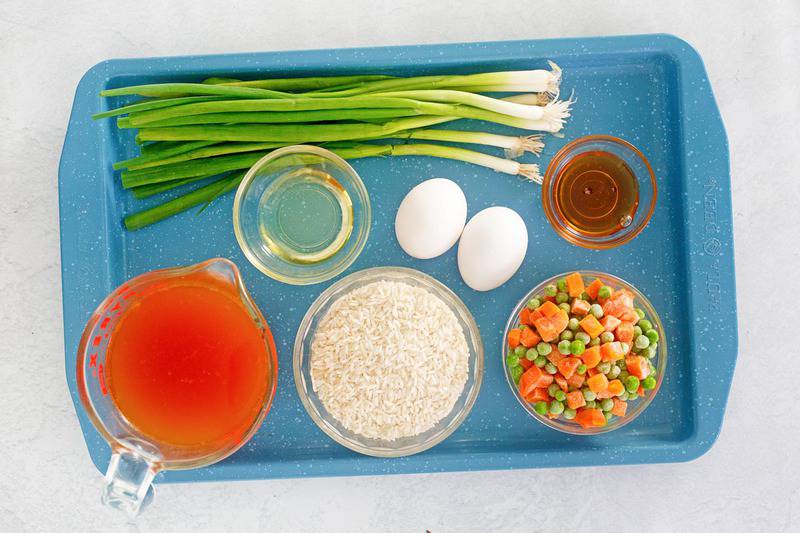 How To Make Panda Express Fried Rice With Egg
To cook the rice:
Measure the rice into a medium stockpot.
Cover the rice with cold water and swirl the pot around a few times. Carefully pour off the water. Repeat until the water is clear.
Add the water and vegetable broth to the washed rice and stir in the salt.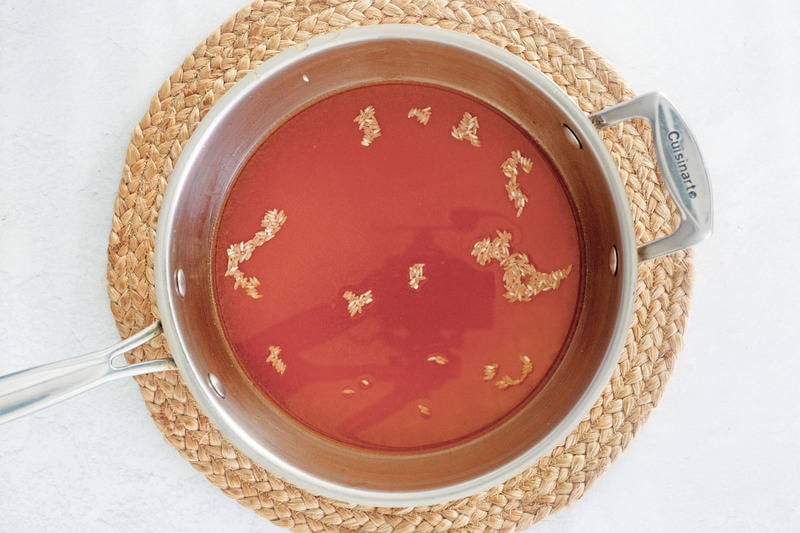 Heat over high until the water starts to boil. Immediately reduce the heat to low and cover the pot.
Cook the rice on low for 20 minutes. Remove the pot from the heat and let it sit covered for another 10 minutes.
Uncover and use a fork to fluff up the rice. This step will let the steam escape and prevent the rice from losing its shape.
Spread the rice thinly on a baking sheet and let it cool to room temperature.
Transfer to a bowl and cover with a tea towel—place in the fridge for four to eight hours.
To make the fried rice:
Preheat a large pan or large wok. The wok's size and shape make stir-frying easier but unnecessary. Just ensure your skillet is large enough so you won't overcrowd the pan.
Add vegetable oil to the pan.
In a bowl, whisk the eggs until they are frothy.
Lightly scramble the eggs in the hot oil, remove the cooked eggs, and put them on paper towels to drain.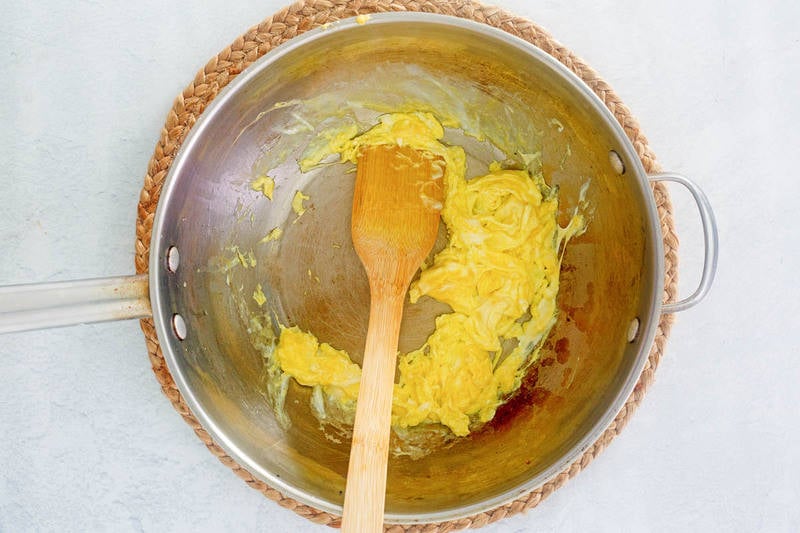 Wait for the pan to return to temperature, then add the frozen vegetables. Stir 30 or 40 seconds to thaw, then add the rice, breaking apart clumps with your fingers.
Shake the pan and stir vigorously for about two minutes.
Add the scrambled eggs, the green onions, and extra pre-cooked protein to the rice mixture in the pan.
Continue stirring until the eggs are warmed through, and serve immediately.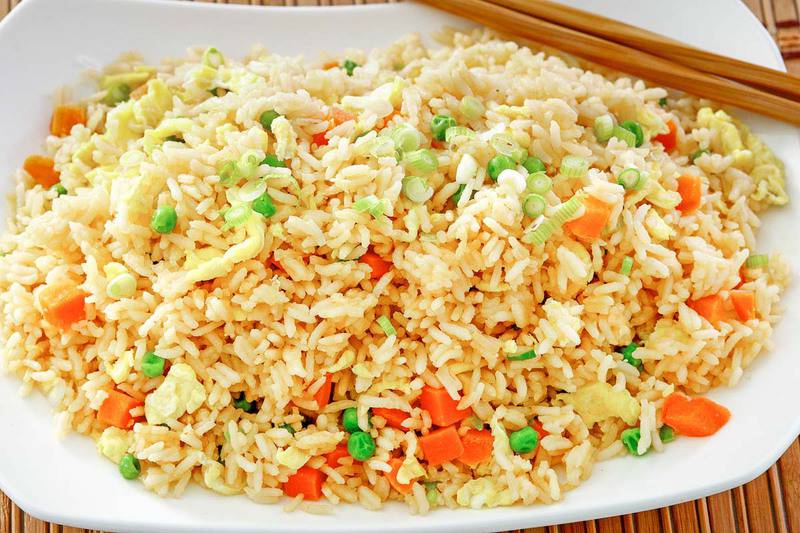 Recipe Variations
You can add almost any protein to this dish to make it a main dish. Chicken, beef, shrimp, and tofu are all excellent additions. Just be sure to cut the protein into bite-sized pieces and pre-cook it.
You can also substitute or add to the veggies. Corn, green beans, zucchini, and bell pepper are popular ones.
How To Serve Fried Rice
Panda Express fried rice is best served hot as a side dish. You can garnish it with thinly sliced green onions if desired. Serve it with some regular or low-sodium soy sauce for seasoning it at the table.
What To Serve Fried Rice With
Try serving this Panda Express recipe with other Asian dishes like:
How To Store Fried Rice
You can store extra fried rice in the fridge or freezer.
Let any leftover Panda Express Fried Rice cool, put it in an airtight container, and then place it directly into the fridge.
If you intend to freeze the extra fried rice, spread it out on a baking sheet in a thin layer and freeze for an hour or two. Then transfer the frozen fried rice into a freezer bag and put it in the freezer.
How Long Does Fried Rice Last?
You can keep fried rice in the fridge for up to three days and in the freezer for up to three months.
How to Reheat Fried Rice
The best way to reheat frozen or thawed fried rice is in a pan over medium-high heat. Add some vegetable oil and cook until hot.
If you are in a rush, use the microwave. Put the rice in a microwave-safe bowl and sprinkle some water on top of the fried rice. Cover the bowl and microwave on HIGH for two minutes. Stir the fried rice and return the covered bowl to the microwave for another minute or two until hot.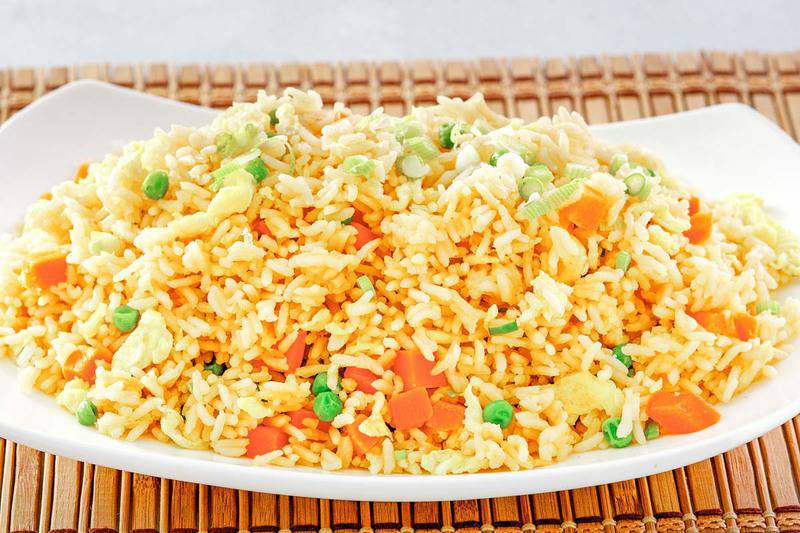 Frequently Asked Questions About Fried Rice
What Is Fried Rice?
Fried rice is an Asian rice dish that involves sauteing rice over high heat. Besides the rice, the ingredients for each fried rice dish differ but commonly include vegetables, meat, fish, and eggs.
Is Fried Rice Healthy?
Eating fried rice every day is not healthy because of the white rice and oil. Although you can replace white rice with more nutritious brown rice, you can't significantly reduce the amount of oil you use.
What is the Best Rice To Use for Fried Rice?
Chinese medium-grain rice or Jasmine rice are two of the best types of rice to use in this recipe.
How To Dry Out Rice for Fried Rice?
If you didn't prepare rice ahead of time, try quick-drying the rice before cooking:
Spread a thin layer of cooked rice onto two or three baking sheets.
Put the trays uncovered in the freezer for 20 minutes.
Why Is My Fried Rice Mushy?
Mushy fried rice is a common problem. Luckily, there are several ways you can prevent it.
Always use cold rice. Letting the rice chill in the fridge for four to eight hours is ideal. Cover the rice with a tea towel so it doesn't dry out fully.
Don't overcrowd your pan and cook over high heat. Too much food in the pan can lower the temperature and cause the ingredients to steam instead of sauteing.
Rinse the dry rice until the runoff water is clear before cooking. Doing this will help eliminate excess surface starch that can make your fried rice mushy.
What To Do With Leftover Fried Rice?
Here are two unique ways you can use up any extra fried rice.
Use as a filling for an omelet. A few spoons of cold fried rice combined with a fresh slice of green onions and a little chili sauce inside an omelet is a great way to start the day.
Make a crispy rice pancake. In a large bowl, mix together one tablespoon of flour and one egg for each cup of fried rice you want to use. Stir the cold fried rice into the egg and flour mixture. Use your hands to form a half-inch thick pancake. Saute the fried rice pancake in oil over medium heat in a pan until it gets crispy on the bottom. Flip the fried rice pancake and cook the other side. Serve as a side dish or eat on its own.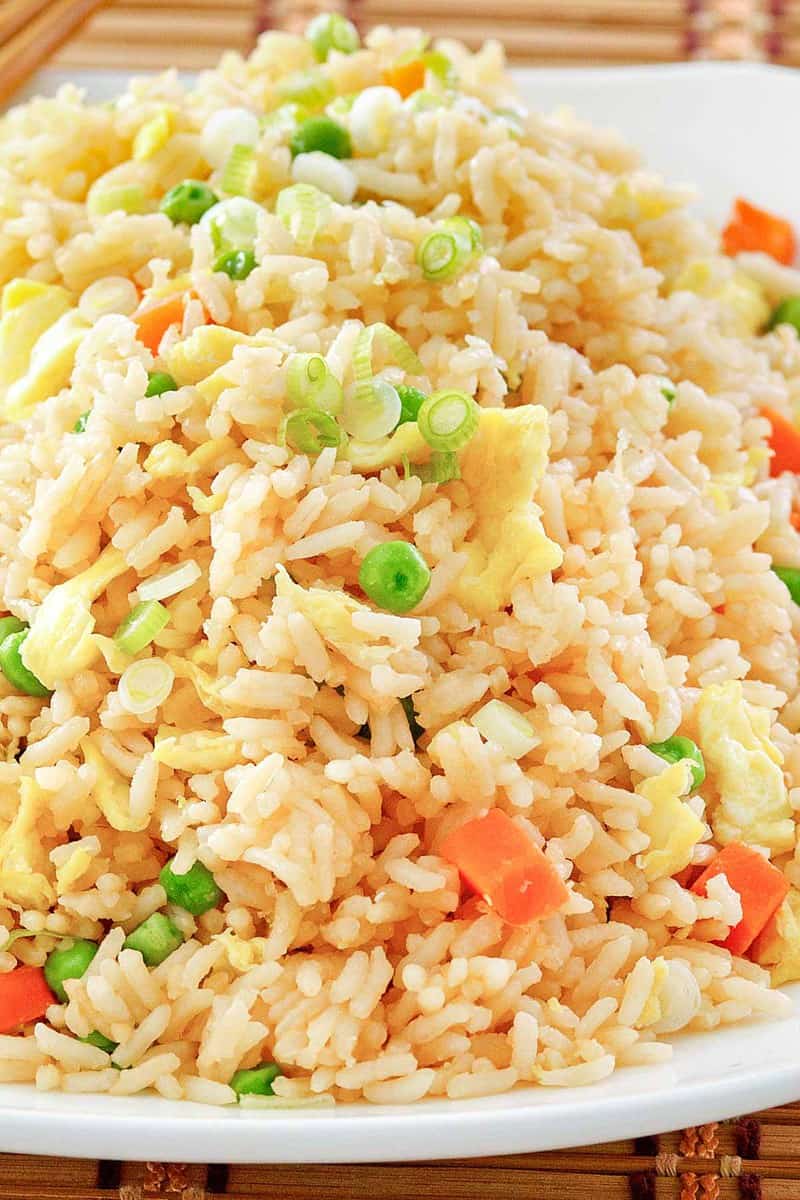 Love Panda Express? Try These Recipes
Favorite Chinese Recipes
Check out more of my easy Chinese recipes and the best fast food recipes here on CopyKat!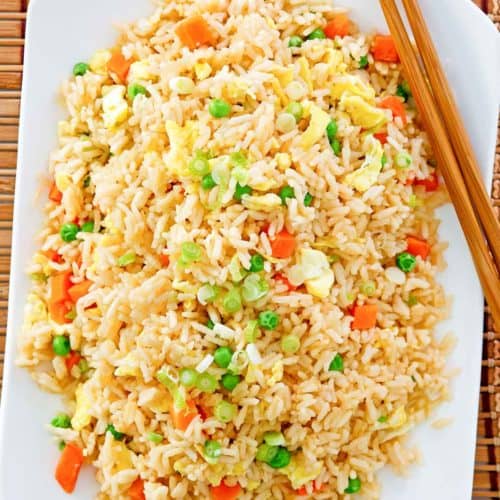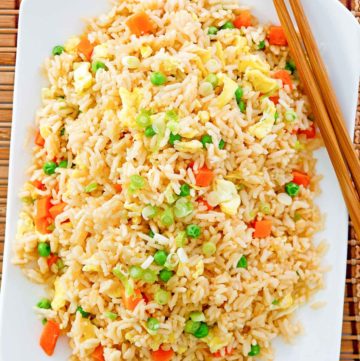 Ingredients
2

cups

long grain rice

2

cups

water

2

cups

vegetable broth

1/2

teaspoon

salt

2

teaspoons

vegetable oil

2

large eggs

whisked

1/3

cup

frozen peas and carrots

2

tablespoons

scallions

thinly sliced

1/2

teaspoon

sesame oil
Instructions
Rinse the rice in a colander and place it in a medium-sized pot with the water, vegetable broth, and salt.

Bring to a boil over high heat.

When the rice begins to boil, reduce the temperature to low, and place a lid on the pot.

Simmer for about 20 minutes.

Remove from the heat, and let the rice sit for about 10 minutes.

Place the rice in the refrigerator and allow it to cool completely, about 1 to 2 hours. It's best to make the rice ahead of time.

Place a wok or a large skillet over high heat.

When the skillet is hot, add the vegetable oil and pour in the eggs.

Stir the eggs as they cook and when they have become scrambled remove them from the pan.

Add the rice, frozen peas and carrots, and scallions to the pan.

Stir the rice continually to break it up.

After about two minutes, add the scrambled eggs and pour in the sesame oil.

Continue to cook until the rice has heated through.
Nutrition
Calories:
387
kcal
|
Carbohydrates:
77
g
|
Protein:
10
g
|
Fat:
3
g
|
Saturated Fat:
1
g
|
Polyunsaturated Fat:
1
g
|
Monounsaturated Fat:
1
g
|
Trans Fat:
1
g
|
Cholesterol:
82
mg
|
Sodium:
812
mg
|
Potassium:
168
mg
|
Fiber:
2
g
|
Sugar:
1
g
|
Vitamin A:
1507
IU
|
Vitamin C:
2
mg
|
Calcium:
47
mg
|
Iron:
1
mg