Panda Express Cream Cheese Rangoon is a tasty appetizer available at the restaurant. These are the creamy and crunchy wontons you would often find at your favorite Chinese food buffet. With just a few ingredients, you can be making a whole batch of similar cream cheese wontons in no time.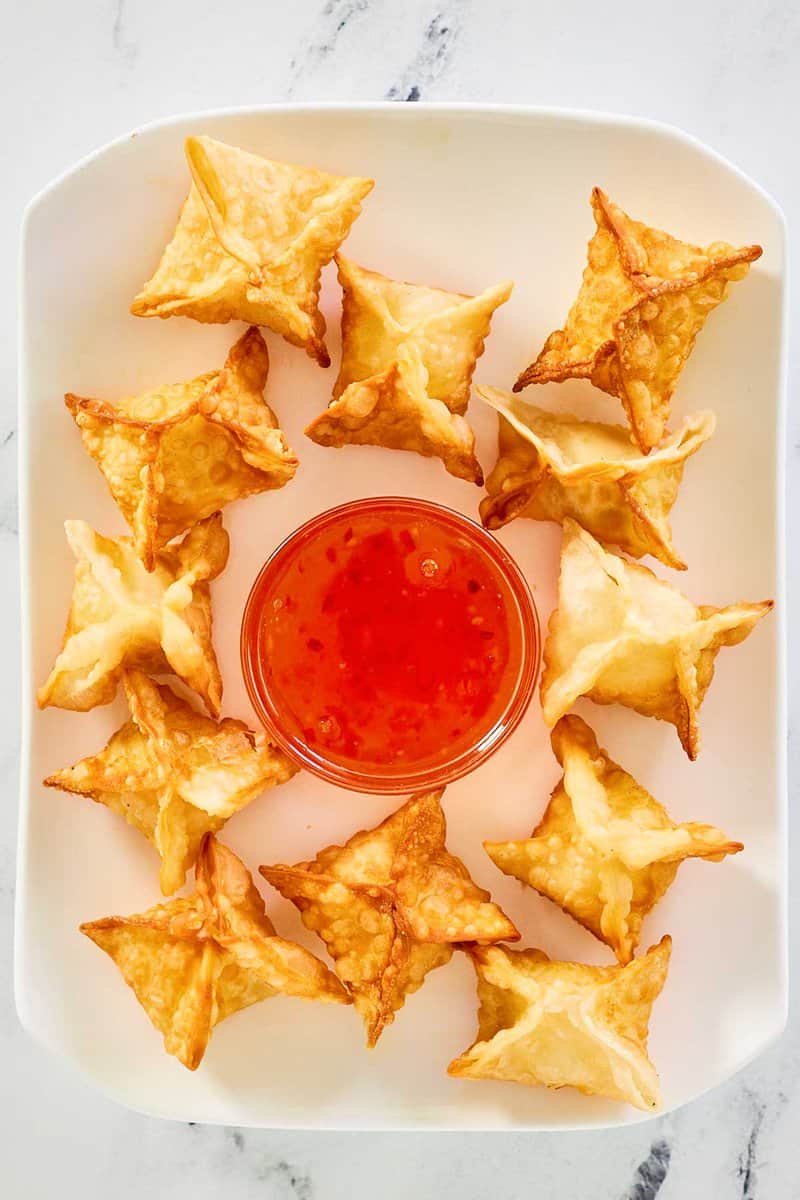 This post contains affiliate links. As an Amazon Associate, I earn from qualifying purchases.
Panda Express Rangoons
These Panda Express cream cheese rangoons are tasty and very simple to make. If you have ever had that craving for crispy rangoons but didn't want to pay for takeout, then make some yourself.
What Makes the Panda Express Cream Cheese Rangoon the Best?
These crispy wonton apps are stuffed with a mixture of cream cheese, scallions, and a dash of garlic powder. They make satisfying finger food for game day, or you can try dolling them up to make casual cocktail appetizers.
The best part of rangoons may be that you can easily make them your own by adding your favorite ingredients to the filling or switching up the sauces you serve alongside.
What Makes This Recipe Perfect for You To Try?
This recipe is simple to make and can feed a crowd cheaply with few ingredients. Don't feel intimidated by the wonton wrappers.
This recipe uses an easy fold-and-twist method that you can master quickly. After learning to make rangoons, you will always keep them in the freezer in case guests drop by unexpectedly.
Panda Express Cream Cheese Rangoon Ingredients
To make this Panda Express Cream Cheese Rangoon recipe, you'll need:
Cream cheese
Scallions, thinly sliced (or green onions)
Garlic powder, optional
Wonton wrappers
Vegetable oil or shortening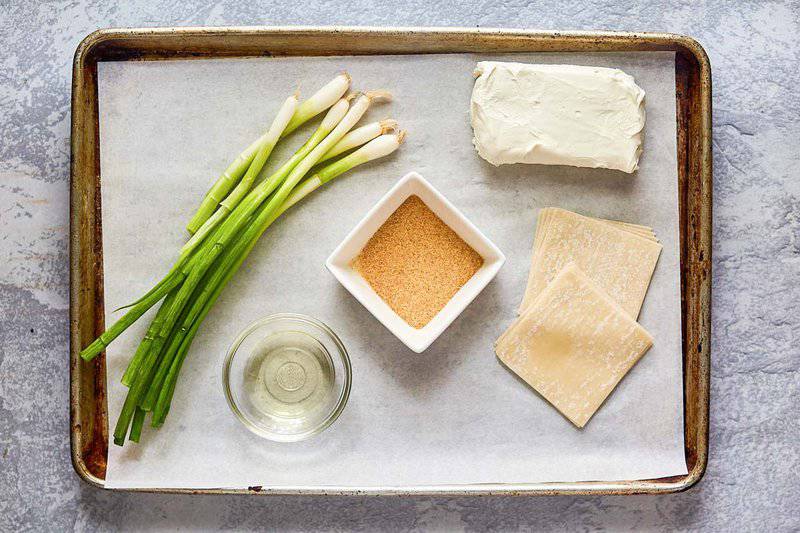 Ingredient Notes
You can find wonton wrappers in most supermarkets' refrigerated or freezer sections. You can always buy them online if you can't find them locally. Spring roll or egg roll wrappers also work, but your rangoons will be bigger, which is fine.
What type of cooking oil is best for rangoons?
Shortening will get you crispier rangoons. Plain vegetable oil, corn oil, sunflower, or canola oil will work well.
How To Make Cream Cheese Rangoons
To form the rangoons:
Add softened cream cheese, scallions, and onion powder (if using) to a bowl. Mix well to combine.
Make 48 rangoons filled with the cream cheese mixture. See below to learn how to fold them.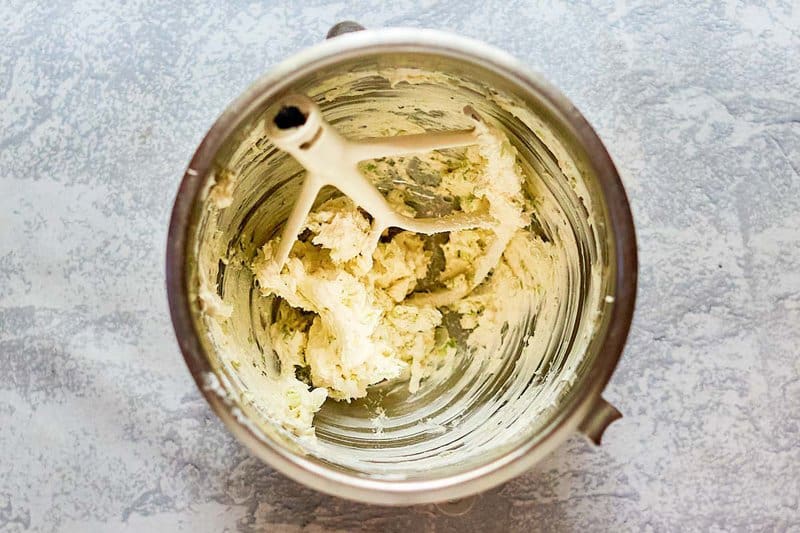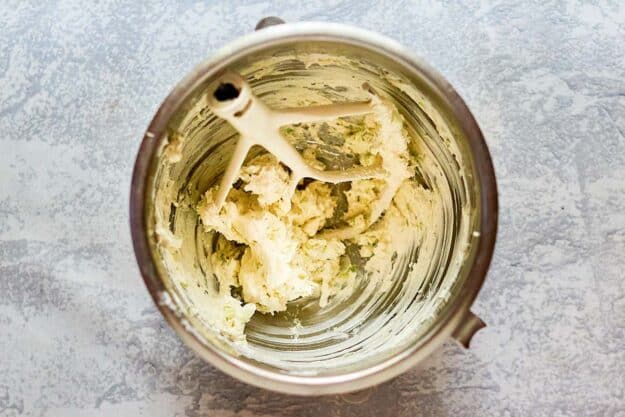 To fry the cream cheese rangoons:
Place a heavy-bottom rondeau or Dutch oven over medium-high. If you have a deep fryer, use it to make things much easier. 
Add the vegetable oil or shorting and heat. Use a thermometer to check that the oil reaches 350 degrees F. 
Once the oil is hot enough, gently place four to five rangoons into the oil. 
Fry the rangoons for about a minute, flipping midway through if necessary.
When the rangoons are golden brown, drain them on a paper towel, and place them on a wire rack over a baking tray.
Repeat deep frying with the other rangoons.
Serve at room temperature.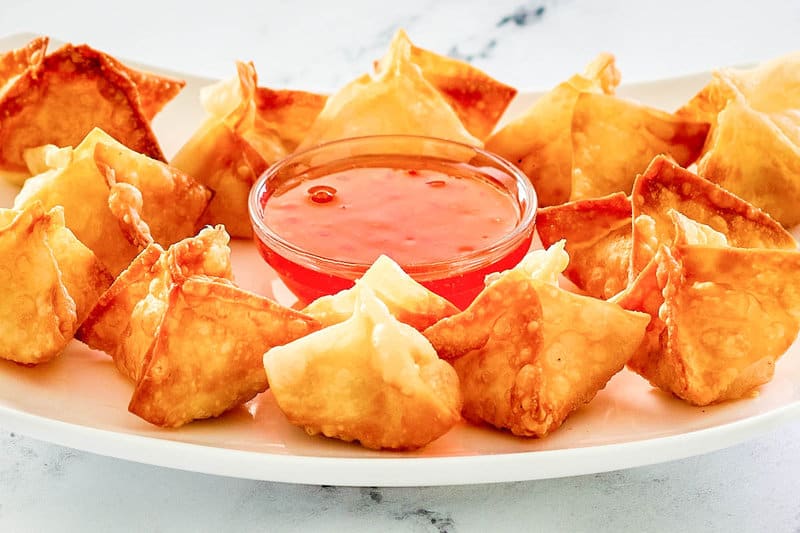 Ways You Can Modify the Rangoons
Add whatever you like to the cream cheese mixture to make this Panda Express Cream Cheese Rangoon recipe your own. Here are a few suggestions for variations:
Cooked crab meat to make crab rangoons
Crispy bacon or pancetta bits
Minced hot peppers
Grated cheese
Roasted garlic
How Panda Express Folds Their Rangoons
Lay out the wonton wrappers on your work surface.
Spoon about a teaspoon of the cream cheese mixture onto the center of each wrapper. If you are using larger egg roll or spring roll wrappers, you can adjust the filling accordingly.
Use a pastry brush to brush the edges of the wrappers with water.
Fold all four corners to the center and squeeze out any excess air.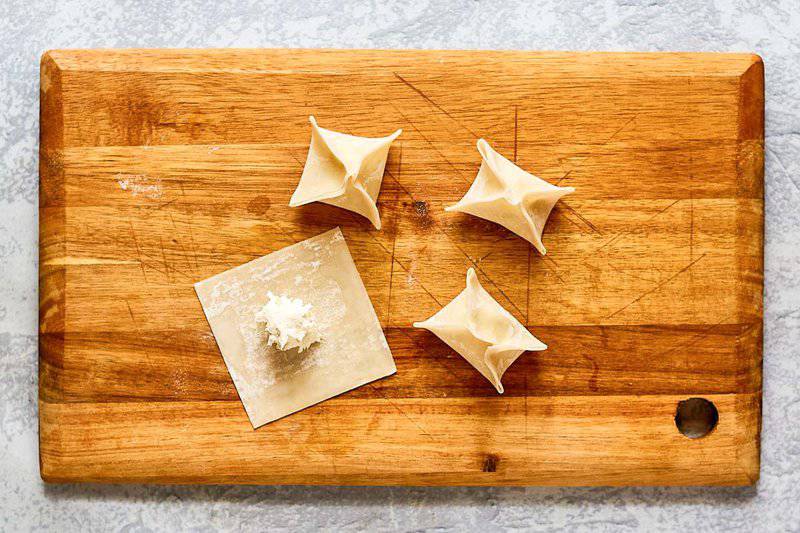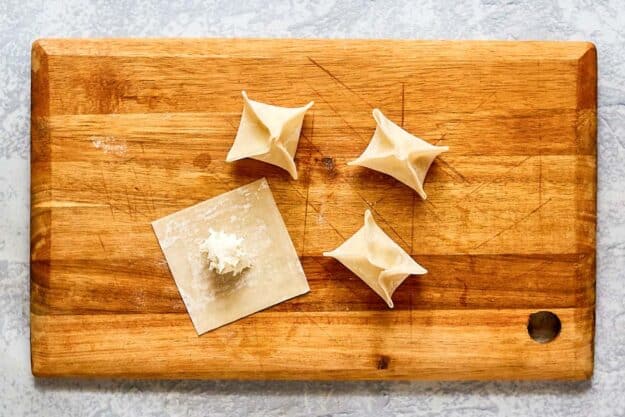 Twist the corners to make a tiny bindle bundle.
Place the prepared rangoons on a wire rack and repeat the process with the other 24 wrappers.
What To Serve With the Panda Express Rangoons
Rangoons make ideal small bites for any occasion. They work with both Asian-themed at non-Asian entrees. Serve them with at least one sauce and your favorite beer or cocktail.
What Types of Sauce To Serve With Your Cream Cheese Rangoons
One sauce is a must, but the more options you have, the better. Feel free to get as creative as you want when pairing rangoons with dipping sauces, but here are a few options:
How To Store the Extra Rangoons
It is best to throw away any uneaten rangoons you serve, but you can keep any extras that didn't make it out of the kitchen.
Let the rangoons come down to room temperature.
Place them in an airtight container and keep them in the refrigerator for up to two days. If you are using crab or other seafood, you should probably eat any leftovers the next day.
You can freeze rangoons for up to two months:
Place the rangoons in a single layer on a baking sheet.
Put the uncovered tray in the freezer until the rangoons are frozen.
Transfer the frozen rangoons to a freezer bag, and place them in the back of your freezer.
What's the Best Way to Reheat the Cheese Rangoons
The best way to reheat rangoons is in the air fryer. You can reheat frozen or thawed rangoons, but you will have to readjust the time:
Preheat your air fryer to 350 degrees F.
Reheat frozen rangoons for 8 to 10 minutes. Cook thawed rangoons for about 5 minutes.
If you don't have an air fryer, try reheating the rangoons in an oven. It is best to thaw the frozen rangoons when using this method:
Preheat your oven to 375 degrees F.
Place the rangoons on a baking tray without touching each other or the sides of the tray.
Cover the tray with aluminum foil and reheat for about 5 minutes.
Remove the aluminum foil and spray the rangoons with a little cooking spray.
Put the rangoons back in the oven until they start to sizzle.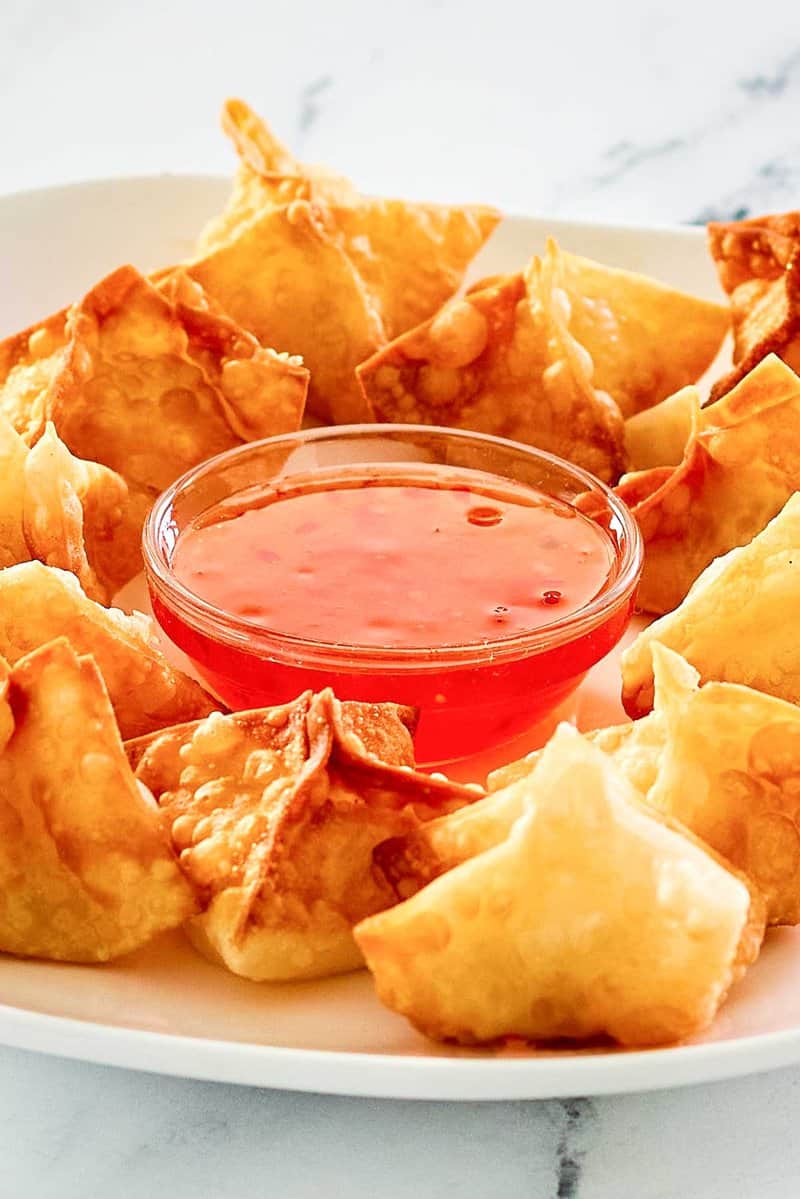 Check Out These Panda Express Copycat Recipes
More Tasty Chinese Food Recipes
Find even more recipes for Chinese Food and restaurant appetizers on CopyKat!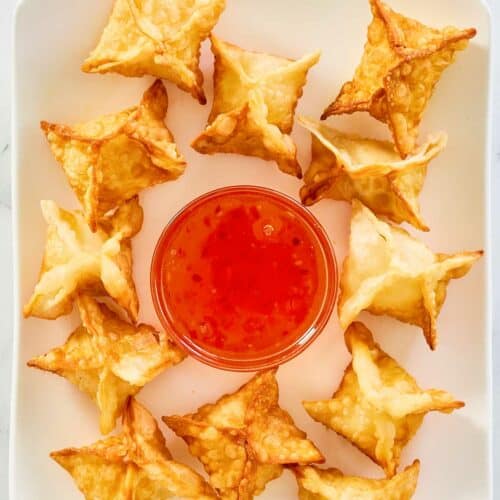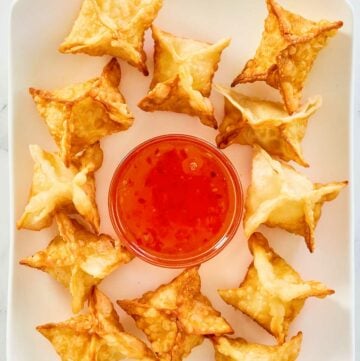 Ingredients
Vegetable shortening or oil, for frying

8

ounces

cream cheese

softened

1 1/2

tablespoons

thinly sliced scallions

garlic powder

optional

48

wonton wrappers
Instructions
Heat the vegetable shortening or oil to 350°F in a medium pot or electric fryer. The shortening or oil should be 2 to 3 inches deep.

In a small bowl, beat together the cream cheese and scallions. If desired, add a touch of garlic powder for additional flavor.

Spoon about 1 teaspoon of the cream cheese mixture onto a wonton wrapper.

Brush a little water over the edges of the wonton skin. Fold the wonton diagonally into a triangle. Be sure to seal all of the edges completely to prevent the filling from leaking out of the wonton as it cooks. Take the two opposite corners and press and twist them together. You may need to tack them together by brushing them with a little water.

Use a thermometer or a small piece of wonton wrapper to make sure that the shortening or oil has reached 350°F. If the wonton wrapper bubbles immediately when dropped into the hot fat, it is ready.

Drop only 4 or 5 wontons at a time into the hot fat. After about 1 minute, the wontons will begin to brown. Then they will brown rapidly, so be careful to remove them when they are lightly browned. If your oil is shallow, you may need to flip the wonton over so that it cooks evenly.

Briefly drain the wontons on paper towels before serving.
Nutrition
Calories:
638
kcal
|
Carbohydrates:
41
g
|
Protein:
10
g
|
Fat:
48
g
|
Saturated Fat:
13
g
|
Cholesterol:
68
mg
|
Sodium:
568
mg
|
Potassium:
133
mg
|
Fiber:
1
g
|
Sugar:
1
g
|
Vitamin A:
785
IU
|
Vitamin C:
0.4
mg
|
Calcium:
87
mg
|
Iron:
2.5
mg