Combine your love of Ramen noodles with coleslaw to make an unexpected, yet delicious crunchy Asian Slaw. It takes less than 30 minutes to put together, making it the perfect salad for a busy schedule.
This Asian cabbage slaw gives you the perfect reason to purchase one of those stunning cabbages at the farmers' market. All you need by way of encouragement is this Asian slaw recipe.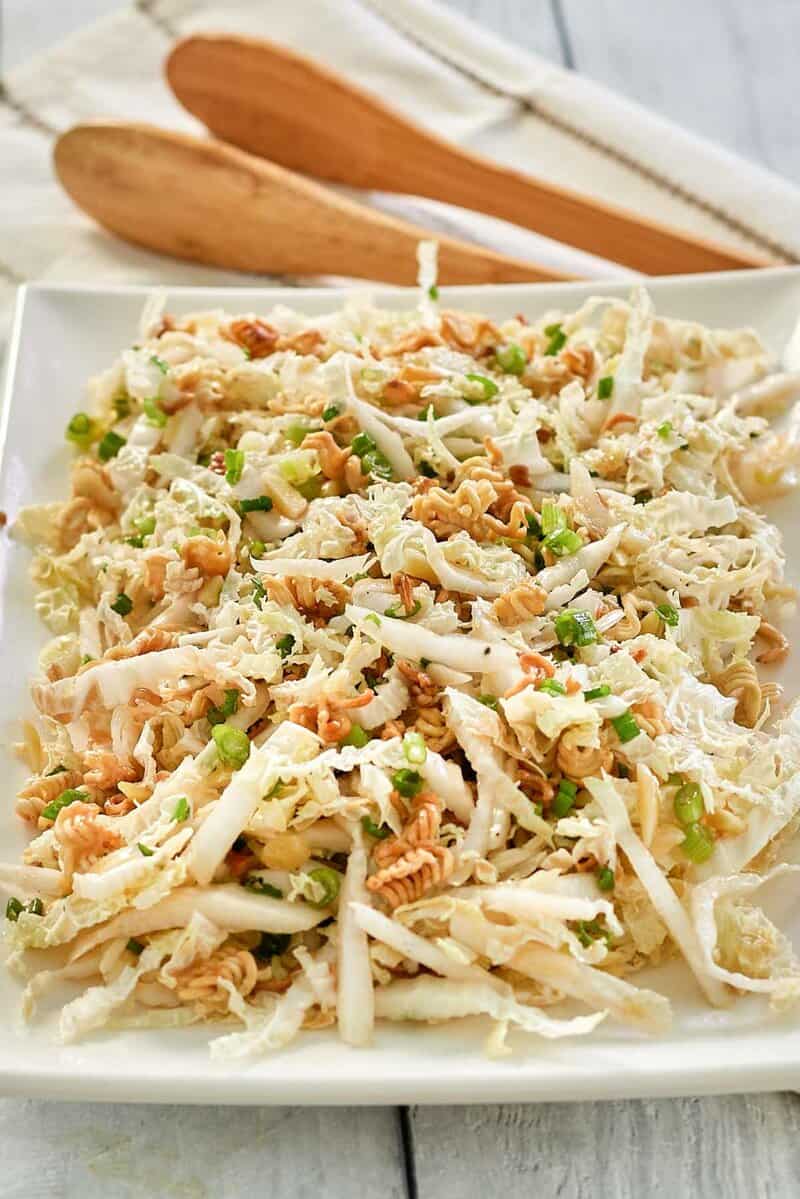 This post contains affiliate links. As an Amazon Associate, I earn from qualifying purchases.
What Is Asian Slaw?
Chinese slaw is another word for this delicious Asian slaw salad, a simple vegan slaw with the best slaw dressing ever that can be made ahead! You get a wonderful all-rounder side salad.
It consists of shredded cabbage just like traditional coleslaw. Apart from that, it couldn't be more different! There's no dressing laden with mayo, so this Asian cabbage slaw is bright, fresh, and crunchy. It's certainly not lacking in flavor.
Why You Will Love This Authentic Asian Slaw
Sometimes you need an easy salad recipe in your recipe box for a potluck or even a picnic. Take Asian coleslaw along, and it will be a real winner, combining as it does two wonderful comfort foods, ramen noodles and coleslaw. Everyone will love how it tastes.
This crunchy Asian slaw recipe isn't difficult to put together, so you don't need a lot of time in the kitchen. What's more, it's budget-friendly because it's made with common pantry staples. This Asian cabbage slaw can also be made ahead of time to eat later or even take to work.
This crunchy Asian slaw salad is pretty good for you – it's full of goodies a healthy salad should have. And, it's so bright and cheerful, it will make you want to dive right into it.
Ingredients for This Asian Slaw Recipe
The pleasing crunch in this Asian cole slaw is because of ramen noodles and almond slivers. Here's what you need:
For the Slaw:
Napa cabbage
Green onions
Ramen noodles
Slivered almonds
Butter
For the Dressing:
Red wine vinegar
Vegetable oil
Granulated sugar
Worcestershire sauce
Ground ginger
Dry mustard
Salt and pepper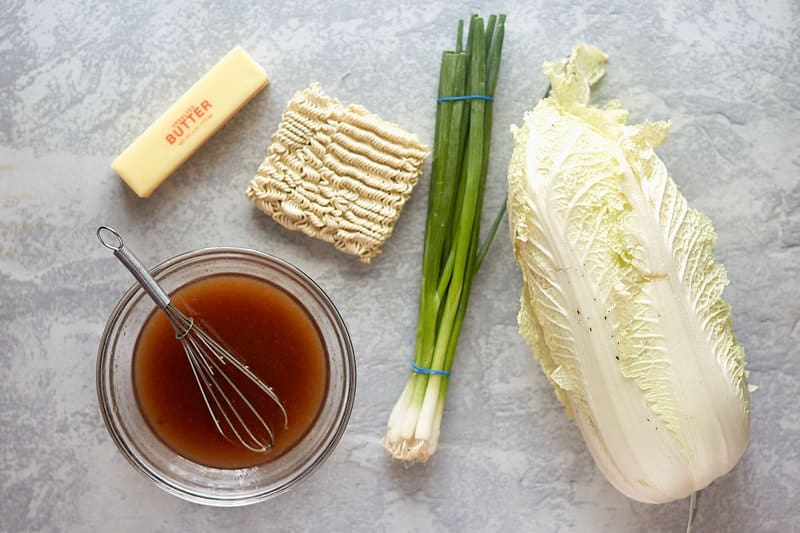 How to Cut Cabbage for Slaw
Using a sharp knife, slice a head of cabbage in half, then cut each half so you have quarters.
Cut away the cabbage core in a triangular shape.
Slice in quarter-inch pieces by going from right to left on a cutting board. If you are left-handed, move in the opposite direction.
You can use a food processor or a mandolin, but slicing with a sharp knife is quick, and clean-up is easier.
How to Make Asian Slaw
Slice the cabbage into 1/4 inch slices and slice the green onion tops.
Toast the ramen noodles in melted butter.
Add the noodles and the almonds to the salad and toss well.
Combine the dressing ingredients and whisk thoroughly.
Add the dressing to the salad and toss.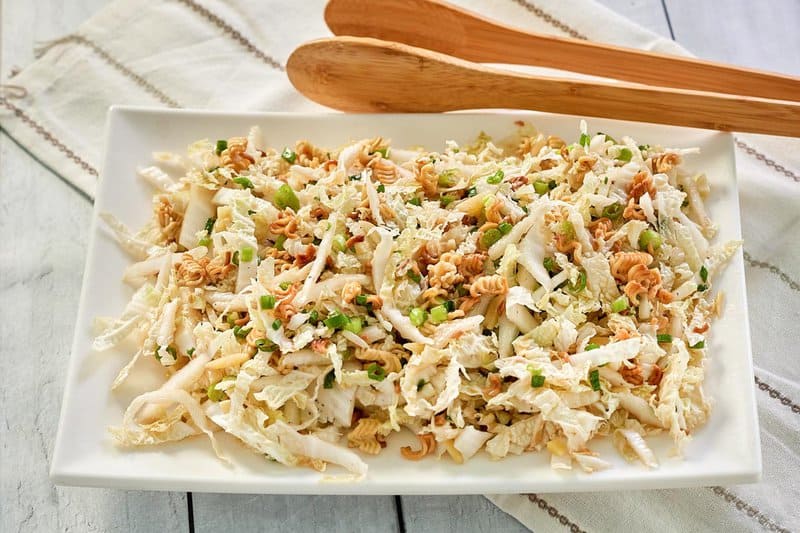 Recipe Notes and Tips
Since you are only using the green part of the onion, set aside the white portion for another recipe.
When mixing the dressing, try using a dressing shaker or mason jar. This makes mixing the ingredients so much easier. You can just shake it until it's combined and store it in the container when you are done.
It helps to smash the noodles while in the package.
If you don't cook the ramen, the dressing will soften them just a tad. But sauteing the noodles in butter adds a little on the flavor side and also helps seal the noodles, so they don't soften too quickly.
Use ginger paste in a tube.
If you are making this ahead, it's best to keep the ramen separate and toss it in just before serving to preserve crunch.
Add-Ins and Substitutes for Asian Cabbage Slaw
This is a basic slaw recipe that can be used as a foundation for your own creations. Here are some ideas:
If short on time, you could opt for one of those pre-shredded gourmet slaw mixes.
Use green cabbage instead of Napa cabbage.
If you want to avoid the sugar calories, substitute Equal or Splenda for the sugar.
You might like to add a tablespoon soy sauce to the dressing.
This Asian slaw recipe is also the perfect way to take care of all those leftover vegetables in the fridge – that remaining cabbage half, red cabbage, the stray parsnip or carrot, or the leftover green or red bell pepper.
Add turnips, kohlrabi, jicama, radishes… pretty much anything crunchy!
As an optional topper, you could use toasted sesame seeds or peanuts.
Add some water chestnuts or a little sweetness with mandarin oranges.
If you like a bit of spice in your Asian-style salad, add some chopped chilis.
Add fresh herbs like cilantro and parsley.
Use fried wonton strips instead of the noodles.
What Goes With Asian Slaw
This easy Asian slaw with Napa cabbage pairs perfectly with any simply prepared Asian chicken, fish, pork, or tofu dish.
It's a great Asian-style slaw to stuff into tacos, use as a burger topping, add to Buddha bowls, or serve with chicken satay skewers.
Make a main course Asian chicken salad by adding some shredded chicken.
This Asian slaw with ramen noodles can also be made ahead for easy lunches. Keep it simple by adding a can of tuna or salmon, pre-cooked shredded chicken, boiled egg, or chickpeas.
How to Store This Simple Asian Slaw
This Asian slaw salad will keep for 3 to 4 days in the fridge.
Plus, you can freeze slaw as long as it doesn't have mayonnaise. Coleslaw with an oil and vinegar-based dressing is best suited to freezing. Store the slaw in an airtight container in your freezer, and it will last for several months.
Love Slaw? Try These Recipes!
Favorite Salad Side Dish Recipes
Check out more of my easy salad recipes and the best side dish recipes here on CopyKat!
I have taken this Crunchy Asian Slaw to a couple of potlucks recently so I know this recipe is a real winner. What recipes do you bring to your potlucks? Let us know in the comments below.
And don't forget to share your Asian Slaw with us on Instagram using #copykatrecipes.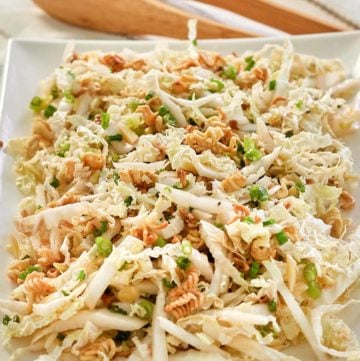 Ingredients
Salad
2

pounds

Napa cabbage

2

cups

sliced green onions

(2 bunches)

2

tablespoons

butter

3

packages

Ramen noodles

crumbled into pieces

1/2

cup

slivered almonds
Dressing
1/2

cup

granulated sugar

1/4

cup

red wine vinegar

1/2

teaspoon

ground ginger

1/2

teaspoon

dry mustard powder

2

tablespoons

Worcestershire sauce

1/2

cup

vegetable oil

1/2

teaspoon

salt

1/4

teaspoon

pepper
Instructions
Salad
Slice the napa cabbage into 1/4 inch slices. If the pieces are too large, you may want to roughly chop the cabbage again.

Place the cabbage into your largest mixing bowl along with the green onions.

Melt the butter in a large saucepan.

Add the ramen noodles to saucepan and cook until they are toasted but not burnt. Watch them closely, as it only takes a few seconds for the noodles to burn after they are toasted.

Add the toasted ramen noodles and slivered almonds to salad and toss.
Dressing
Combine the sugar, vinegar, ground ginger, dry mustard powder, Worcestershire sauce, and vegetable oil in a medium-sized bowl or a shaker bottle.

Season with salt and pepper, and shake or whisk thoroughly. It may seem like the sugar won't dissolve, but it will.

Once the sugar has completely dissolved, pour the dressing over the slaw and mix well.
Notes
If you want to substitute the sugar, you can try Equal or Splenda to avoid the sugar calories.
Since you are only using the green part of the onion, set aside the white side for another recipe.
When mixing the dressing, try using a dressing shaker.  This makes mixing the ingredients so much easier and you can store it in the container when you are done.
Nutrition
Calories:
200
kcal
|
Carbohydrates:
20
g
|
Protein:
3
g
|
Fat:
12
g
|
Saturated Fat:
7
g
|
Cholesterol:
3
mg
|
Sodium:
438
mg
|
Potassium:
238
mg
|
Fiber:
1
g
|
Sugar:
7
g
|
Vitamin A:
350
IU
|
Vitamin C:
17.9
mg
|
Calcium:
68
mg
|
Iron:
1.3
mg