This Hawaiian Pineapple Coleslaw with marshmallows is a super easy recipe to make, and it is crowd-pleasing! Everyone loves this sweet and creamy coleslaw. This tropical coleslaw is a delicious side dish perfect for summer cookouts.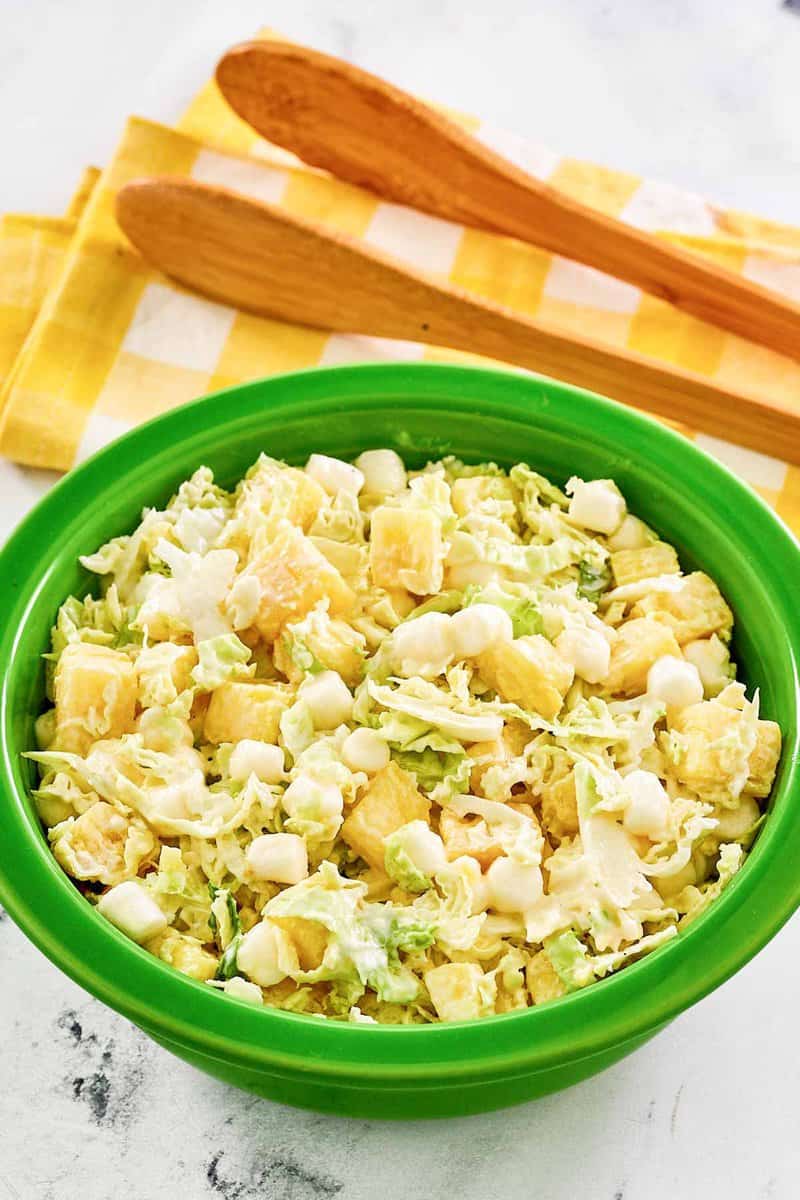 This post contains affiliate links. As an Amazon Associate, I earn from qualifying purchases.
Coleslaw Recipe with Pineapple and Marshmallows
Coleslaw doesn't need to be boring, and you can make a fantastic coleslaw in minutes. All you need to make this delicious pineapple coleslaw is freshly cut cabbage, marshmallows, a can of pineapple, and some Miracle Whip. This classic picnic side dish is a great addition to any family gathering.
What Makes this Coleslaw Recipe with Pineapple and Marshmallows So Good?
Coleslaw is a classic side dish but can be a bit bland. Bring out this Hawaiian slaw recipe; no one will call it boring!
Please don't reject this coleslaw immediately because it sounds a little weird. The distinctive sweet and tangy flavor is refreshing and an excellent accompaniment to backyard BBQs.
Pineapple Coleslaw Recipe Ingredients
To make Pineapple Slaw, you will need:
Cabbage – you could use a package bagged mix sold near the packaged salads sold in your grocery store.
Pineapple chunks or pineapple tidbits. You can use canned or fresh pineapple. Use crushed pineapple if you don't want large chunks.
Miniature marshmallows
Miracle Whip Salad Dressing – do not use mayo, we are using the flavor of the Miracle Whip for this cole slaw.
In this recipe, most people like using green cabbage, also known as cannonball cabbage. However, you can make Hawaiian Coleslaw with savoy or Napa cabbage. It's best to avoid purple cabbage as it can be bitter and turn other ingredients red.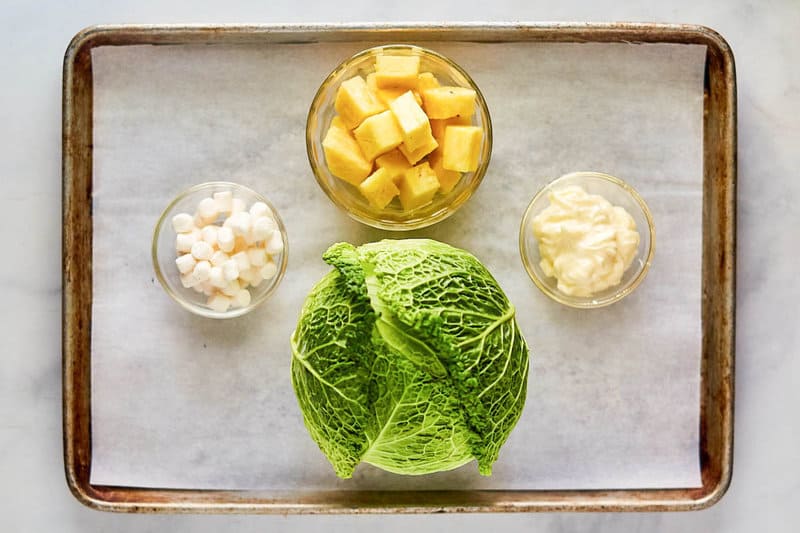 How To Make Coleslaw with Pineapple
Discard any damaged outer leaves and rinse the cabbage under running water.
Quarter the cabbage.
Cut out the core with a knife.
Use a slaw slicer or a chef's knife to shred the cabbage.
An optional step is to salt the cabbage with a teaspoon of kosher salt and mix. Allow the salted cabbage to drain for 30 minutes in a colander in the sink. After 30 minutes, rinse and drain well.
Place the shredded cabbage, drained pineapple chunks, miniature marshmallows, and Miracle Whip in a large mixing bowl.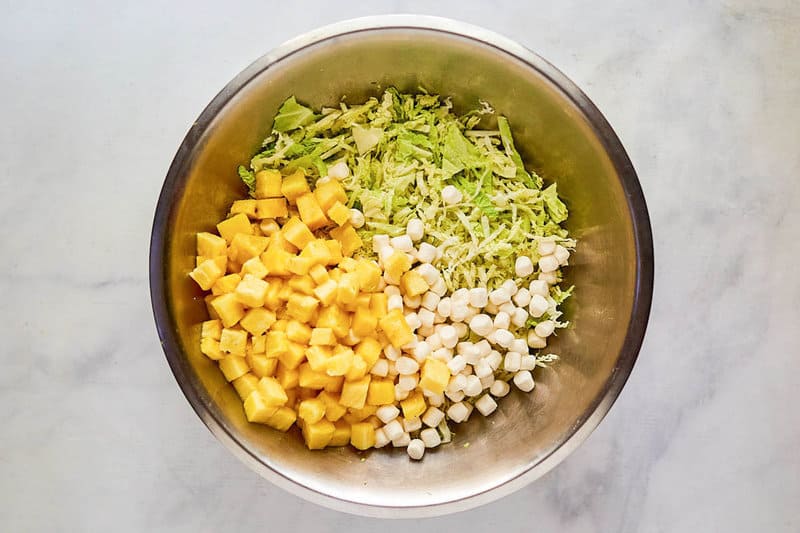 Stir or toss until this becomes a uniform mixture.
Cover the bowl with plastic wrap and put it in the fridge for at least an hour to develop the flavors before serving.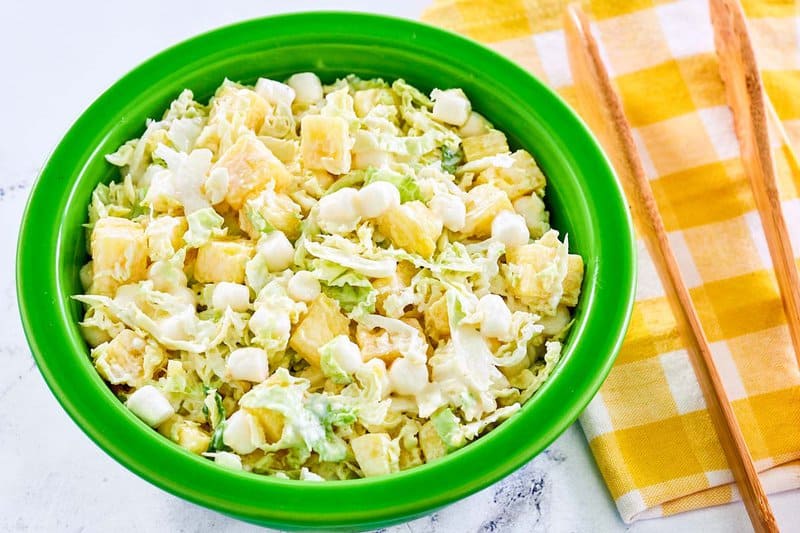 Recipe variations
​You can customize this coleslaw to make it your own. Here are a few mix-in ideas for you.
Sesame seeds – Garnish your dish with two teaspoons, and you can add a crunchy flair to this recipe.
Macadamia nuts – add a quarter cup of chopped crunchy Macadamia nuts for a beautiful pop of crunch.
Green onions – if you want a delicate onion flavor, add a tablespoon of sliced green onions.
What Does Pineapple Coleslaw Go Well With?
I love to serve this coleslaw at a summer cookout for a barbeque. It is the perfect side dish and a wonderful take on the classic coleslaw recipe you may use. The sweetness and tang of coleslaw with pineapple in this Hawaiian coleslaw recipe pairs perfectly with grilled or breaded meat, particularly any with a creamy or sweet sauce, such as:
How to Store Pineapple Slaw
Always keep the leftover coleslaw covered in the fridge in an airtight container. To prevent the coleslaw from becoming too soggy from excess liquid, set an expandable metal steamer inside a large bowl and put the coleslaw on top.
How Long Does Pineapple Coleslaw Last in the Fridge?
Finish within two to three days for the best flavor and texture.
Hawaiian Coleslaw FAQ
What is the Difference Between Slaw and Coleslaw?
All coleslaw is slaw, but not all slaws are coleslaw. Are you confused? The 'cole' part of 'coleslaw' comes from the Dutch word for cabbage, 'kool'.
You can refer to any shredded vegetable mixed with vinegar or mayonnaise-like sauce as a slaw. Popular slaws that don't contain any cabbage often use broccoli or carrots.
What Nationality is Coleslaw?
You just read that 'kool' means cabbage in Dutch, and since 'salade' translates as salad, you might expect coleslaw to originate in the Netherlands, but you would be wrong.
People have been preserving vegetables for thousands of years using the acidity of various kinds of vinegar. So, while the name may come from the Dutch, and the food may have been a favorite in Holland for hundreds of years, the history of slaw stretches back much further.
Although the name of this recipe has the word "Hawaiian" in it, the dish is as Hawaiian as a pizza topped with pineapple, bacon, and ham. That's to say; it has nothing to do with Hawaii at all.
What is Creamy Coleslaw Made Of?
Creamy coleslaw contains mayonnaise or a sauce similar to mayonnaise, like Miracle Whip.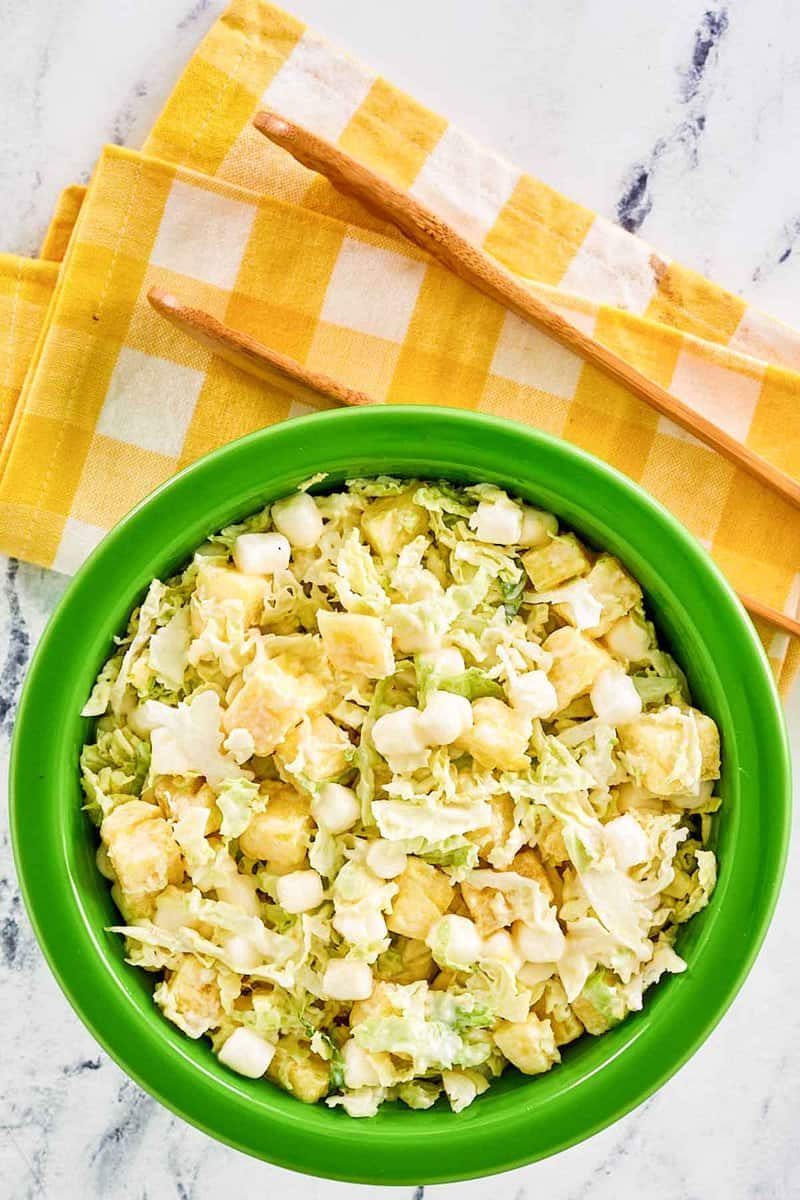 Love Coleslaw? Try These Favorite Recipes
Favorite Pineapple Recipes
Check out more of the best side dish recipes and favorite family recipes here on CopyKat!
This recipe is by Virginia McDowell. Jefferson City, Mo. 1967.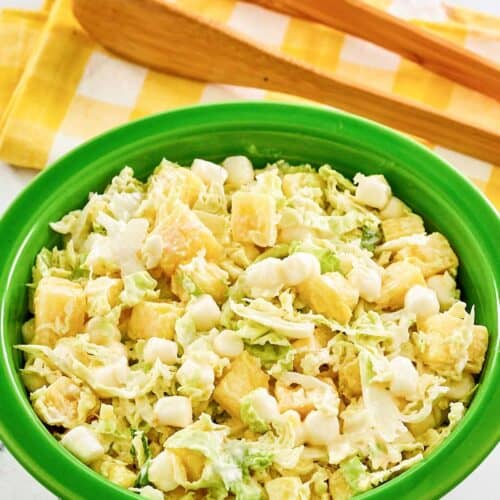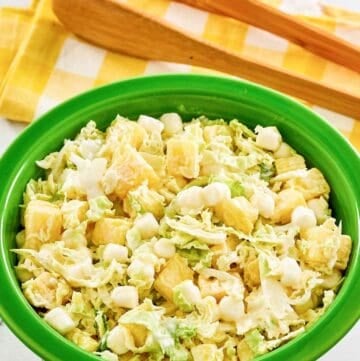 Ingredients
2

pounds

cabbage

grated

20

ounces

pineapple chunks

16

ounces

miniature marshmallows

1

cup

Miracle Whip
Instructions
Place all the ingredients into a large bowl.

Mix thoroughly.
Nutrition
Calories:
185
kcal
|
Carbohydrates:
45
g
|
Protein:
1
g
|
Fat:
0
g
|
Saturated Fat:
0
g
|
Cholesterol:
1
mg
|
Sodium:
211
mg
|
Potassium:
197
mg
|
Fiber:
2
g
|
Sugar:
33
g
|
Vitamin A:
110
IU
|
Vitamin C:
32.1
mg
|
Calcium:
40
mg
|
Iron:
0.6
mg