Rudy's Country Store and Bar-B-Q Creamed Corn has to be one of my favorite ways to enjoy creamed corn. If you enjoy sweet corn you will love this recipe.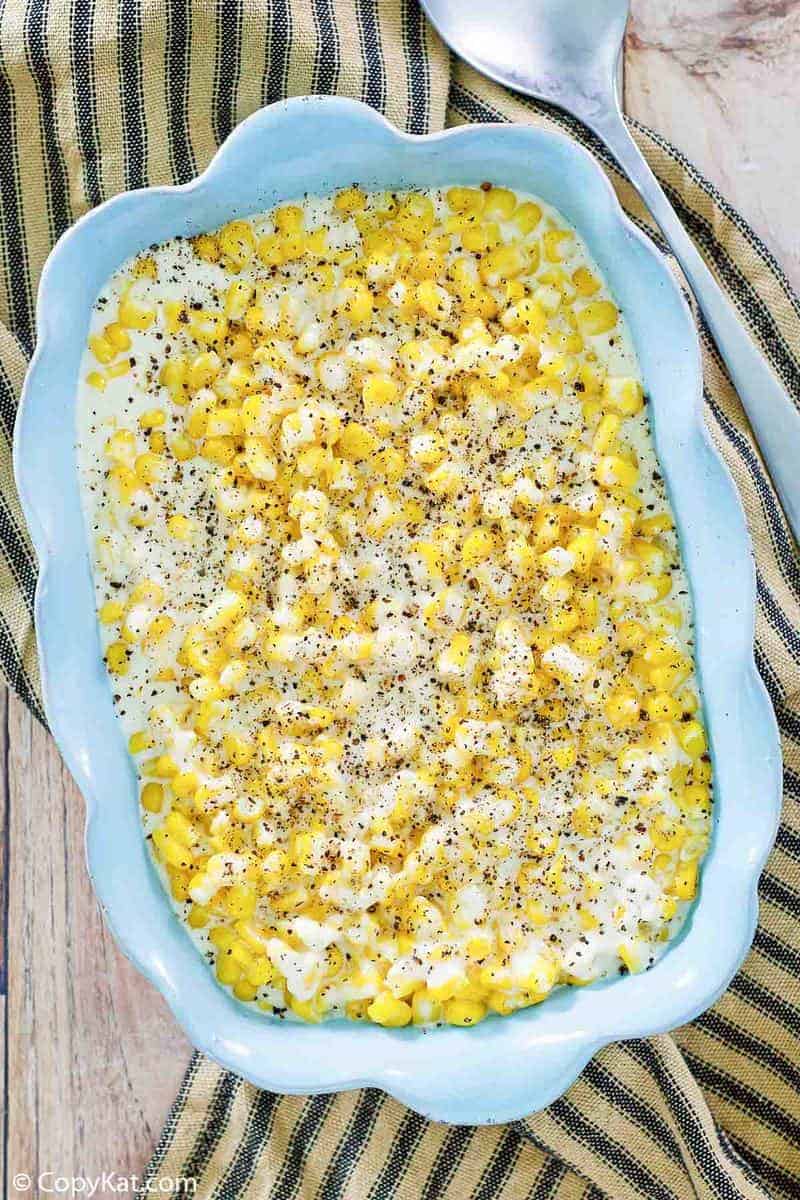 How do you thicken creamed corn?
If you do not like the thickness of your creamed corn, it is easy to thicken. To thicken creamed corn, add 2 teaspoons of corn starch to 1/4 cup of water. Mix the corn starch with the water very well, then pour this corn starch slurry into the corn. Turn the heat up high, and stir until this thickens.
What does cream corn go with?
This side dish goes with just about anything you can imagine; however, it works particularly well with roasted meat such as pork tenderloin, rotisserie chicken, or even a roasted turkey. If meat is not your thing, then go ahead and pair it with cornbread, especially one that is studded with hot peppers like Luby's Jalapeno Cornbread. Don't forget a big helping of mac and cheese to turn it into a scrumptious vegetarian meal.
Although creamed corn doesn't do too well in the fridge over a long period, it is perfectly acceptable to keep any leftovers refrigerated until the next morning. That's a good thing because there are so many wonderful ways to enjoy Rudy's Creamed Corn as part of your breakfast!
You don't have to be a Southerner to love properly made grits like in this recipe, but adding a few heaping tablespoons of creamed corn to each serving takes even the best grits to the next level of deliciousness. It is s snap to transform last night's leftovers into sausage and corn gravy for those wanting something a little more hearty. Fry up your favorite bulk sausage and drain well before stirring into a warm, creamed corn. Serve over a biscuit half or toast.
If you need more ideas, here are a few.
Barbeque
Meatloaf
Fried chicken
Roasted pork
Salsbury steak
Pork chops
Tips For Making Homemade Creamed Corn
Rudy's Creamed Corn recipe is easy to scale up, and it makes an ideal take-along side dish for parties or potlucks. If you plan on serving a crowd, use a slow cooker set to warm to maintain the correct serving temperature.
Taste the corn you use before adding sugar. The sweetness level of corn can differ dramatically, so you will want to adjust the amount of sugar you add to the creamed corn. I like to start with a bit of sugar before adding a lot of it. If you prefer to use splenda you can add a bit of splenda to the corn.
Don't want to use frozen corn? You can use fresh, each corn cobb yield's about 3 to 4 ounces of kernels. So you may need 4 to 6 ears to make this recipe with fresh corn.
Ingredients
Here's what you need to make Rudy's creamed corn:
Heavy cream or heavy whipping cream
Cream cheese
Frozen whole kernel corn
Sugar
Salt
Black pepper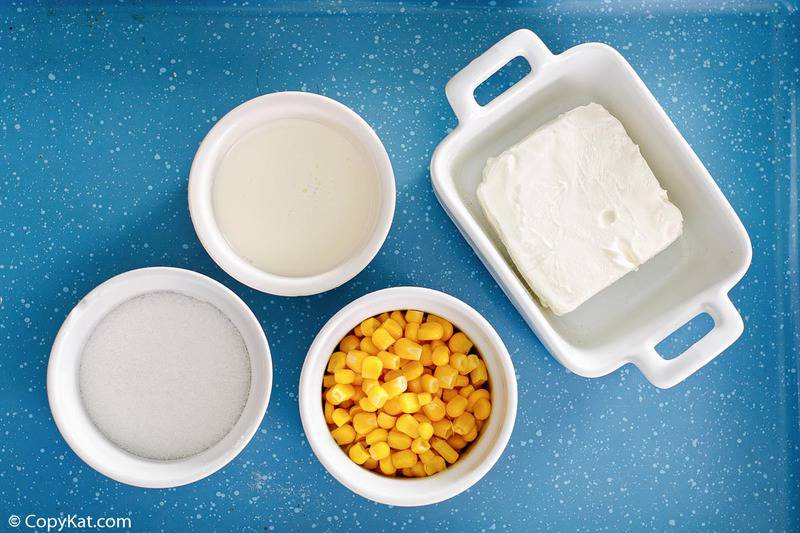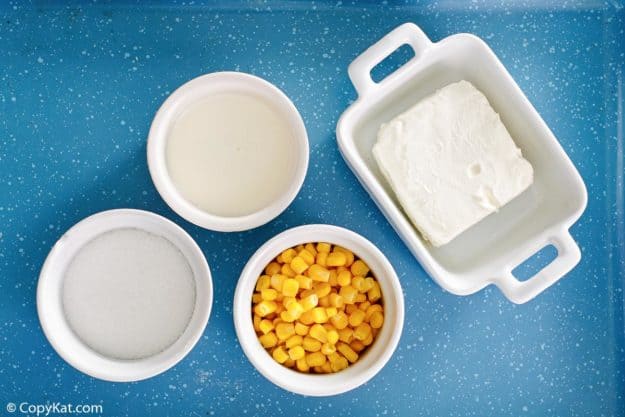 How to Creamed Corn like Rudy's BBQ
In a medium-sized pot over medium heat, combine heavy cream and cream cheese.
Stir whipping cream until well blended and cook until the sauce is smooth and creamy.
Add corn kernels and stir corn in until it is distributed evenly in the cream mixture.

Cook until the corn is warmed through.
Add salt and sugar. Stir and cook for a few minutes, until sugar is dissolved.
Serve with fresh cracked black pepper if desired.
Crockpot Creamed Corn like Rudy's
People ask me all of the time, how to prepare this recipe in a crockpot. I recommend doubling the recipe because crockpots are larger, but you will simply place all of the ingredients into a crockpot, and cook on low for 4 hours. Be sure to stir it once every hour, and serve. That's it! You are going to love this slow cooker creamed corn!
Recipe Notes
You could cook this recipe in a crock-pot if you wanted to double or triple the recipe. I love to cook this creamed corn on the stove.
This recipe scales very well. I think this recipe doubles or even triples very easily. This recipe also reheats very well. You could even prepare this side dish a day or two before a special meal to make meal preparation easy.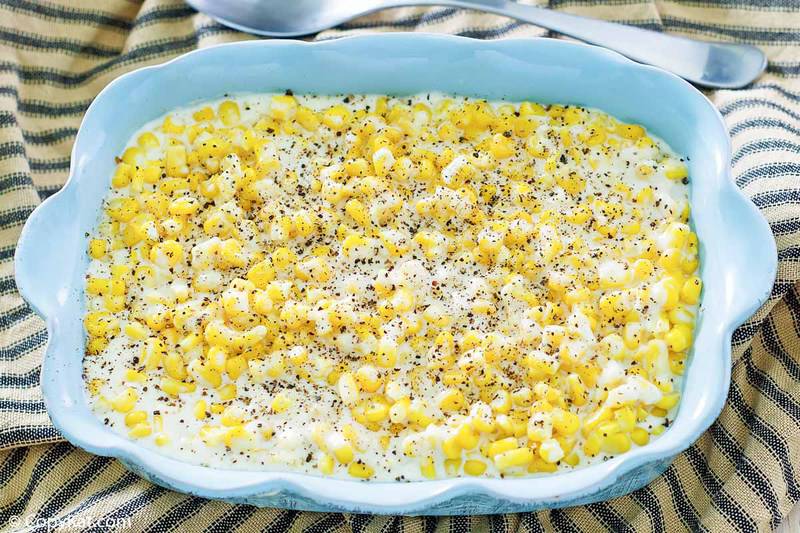 How to store and reheat this copycat recipe for Rudy's Creamed Corn
After serving be sure to store any leftovers in an airtight container in your refrigerator for up to five days. You can freeze this for up to three months when you store this in an airtight container.
I recommend reheating in a pot on the stovetop over low to medium heat until heated through. If you are reheating after this has been frozen, I recommend thawing the corn completely before reheating.
I hope you enjoy the sweet corn flavor that this recipe has to offer. I love serving this as a side dish. It is a great way to use up a large bag of frozen corn. You don't have to live in Texas to enjoy this delicious creamed corn. It is a great side to serve at your next family gathering.
Love corn? Check out these recipes
Great BBQ Side Dish Recipes
Be sure to take a look at the best restaurant copycat recipes and easy side dish recipes to make for your family and friends.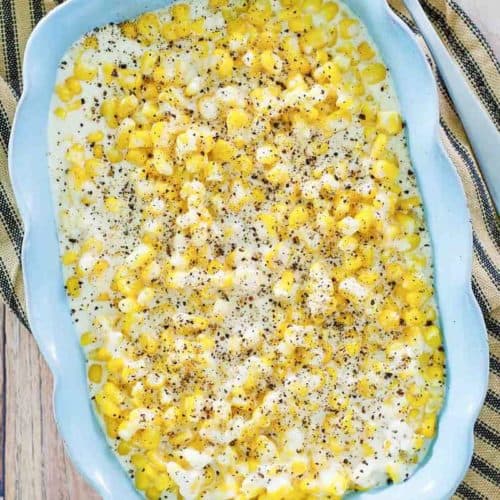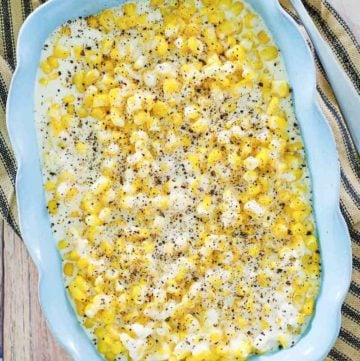 Ingredients
1

pint

heavy cream

4

ounces

cream cheese

16

ounces

corn

frozen

2

teaspoons

sugar

1

teaspoon

salt

black pepper
Instructions
In a medium pot over medium heat combine heavy cream and 4 ounces of cream cheese. Stir until well blended, and the sauce is smooth and creamy. Add corn kernels, and stir them in. Heat until the corn is warmed through. Add salt and sugar. Serve with some fresh cracked black pepper if desired.
Nutrition
Calories:
621
kcal
|
Carbohydrates:
30
g
|
Protein:
7
g
|
Fat:
55
g
|
Saturated Fat:
32
g
|
Cholesterol:
193
mg
|
Sodium:
718
mg
|
Potassium:
375
mg
|
Fiber:
2
g
|
Sugar:
8
g
|
Vitamin A:
2420
IU
|
Vitamin C:
6.9
mg
|
Calcium:
108
mg
|
Iron:
0.6
mg