Air Fryer Corn on the Cob is a great way to use your air fryer when it isn't making crispy french fries. Take those fresh or frozen ears of corn on the cob and turn them into masterpieces!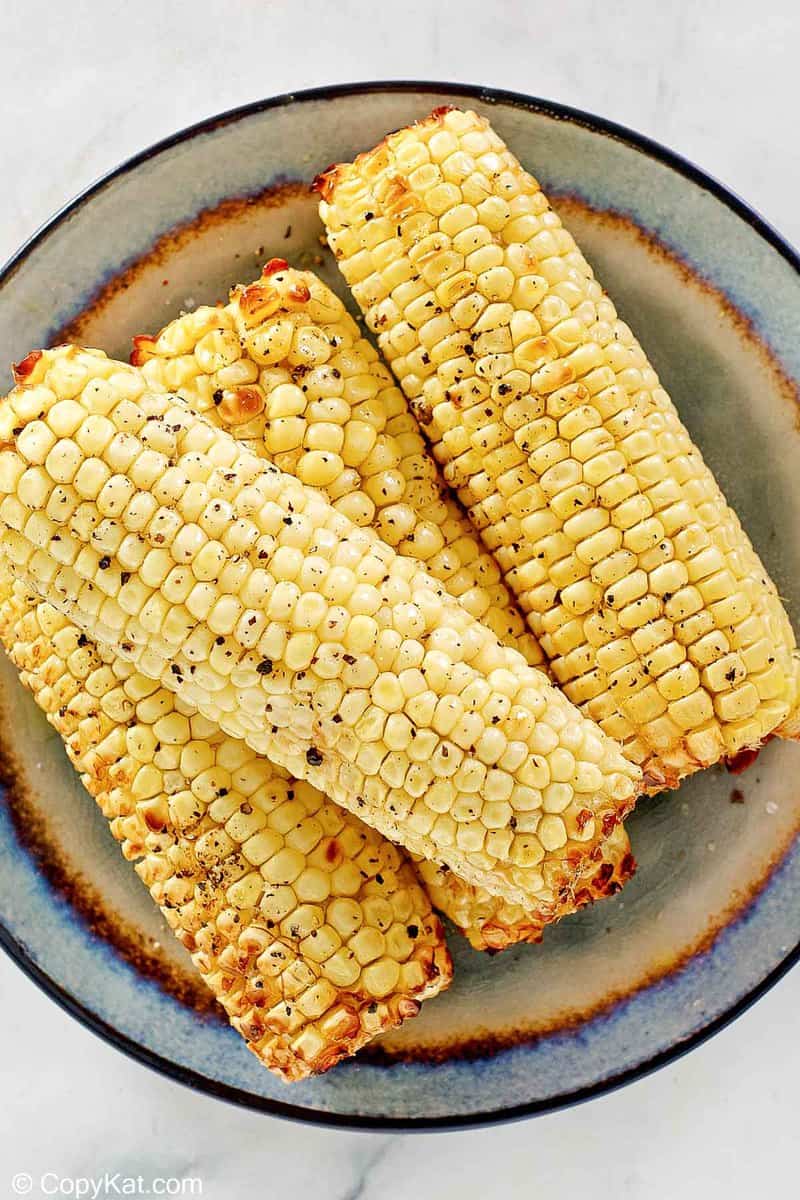 This post contains affiliate links. As an Amazon Associate, I earn from qualifying purchases.
I have been an owner of an Air Fryer for quite awhile. Maybe like you, I know my air fryer does a great job on things like frozen French fries, tater tots, hot dogs, and fish sticks. Many people have been using their air fryers for so much more than heating up frozen food.
I love roasted corn, living in Texas means roasted corn is sold at fairs, at sports events, and even outside some grocery stores. Roasted sweet corn is divine.
I found that I can't quite get it just right in the oven, or even on my grill. I found that roasting corn on the cob inside of an air fryer is simply perfect.
There are many different models of air fryers
I personally have the BLACK+DECKER HF110SBD 2-Liter Oil Free Air Fryer, Black / Stainless Steel
, I think it is a great well-priced model to see if you would like to try out one of the larger ones.
The Philips Digital Airfryer, The Original Airfryer, Fry Healthy with 75% Less Fat, Black HD9230/26
has a much larger capacity and would be great if you have a larger family.
How does an air fryer work?
You may wonder how do they work, an air fryer works well because it circulates very hot hair around your food with a minimal amount of oil. Having an air fryer, means you have a mini convection oven on your countertop.
Foods don't taste deep-fried, but they do taste really good. You get most of the crunch that you would with foods being deep-fried. The hot air circulating works like a convection oven on steroids, and it is through this that I could roast corn on the cob so effectively.
I can't tell you if an air fryer is a great investment for you personally, but I can tell you I have made jalapeno poppers and hamburgers in there and they have been quite good. You may want to check out my other air fryer recipes in the list below.
Ingredients
Here's a list of what you need
Corn on the cob
Vegetable oil
Salt
Pepper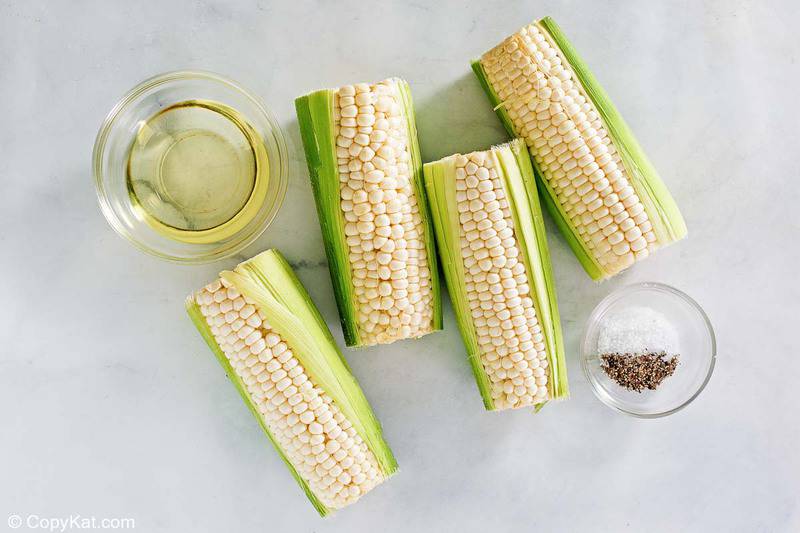 Can you use frozen corn?
Yes! You must defrost it first. Air frying is a great way to cook frozen corn on the cob!
How to Make Corn on the Cob in an Air Fryer
Remove husk and the silks from each ear of corn, wash and pat dry.
If needed, cut the corn to fit in your air fryer basket.
Drizzle vegetable oil over the corn and rub oil evenly over the corn.
Season with salt and pepper. Place corn in the air fryer basket.

Cook at 400 degrees for about 10 minutes.
Recipe Variations
Want some additional flavor? Try these:
Use melted butter instead of vegetable oil.
Tajin is a great chili-lime seasoning.
Taco seasoning for Mexican flavor.
Paprika for a little spice.
Sprinkle Parmesan cheese on the corn right after air frying.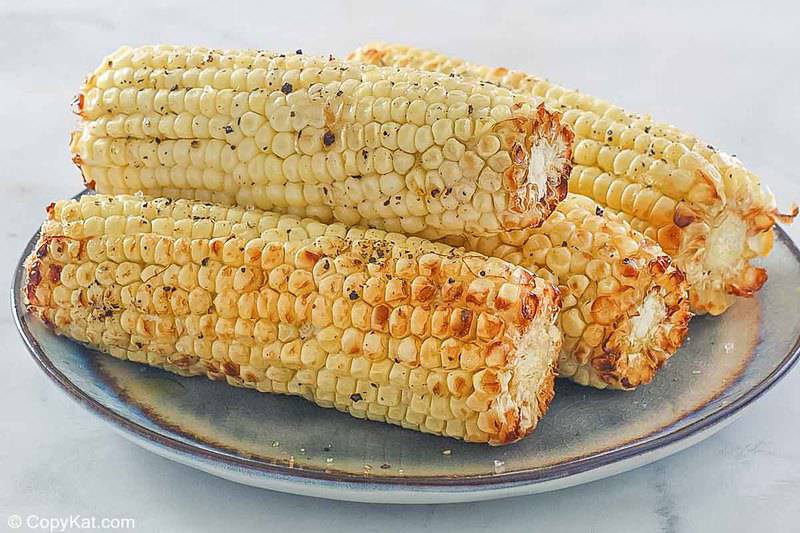 More Air Fryer Recipes
Love corn? Try these recipes
Serve Corn With These Main Dishes
Be sure to check out my easy air fryer recipes and the best side dishes. Be sure to try these healthy breakfast ideas.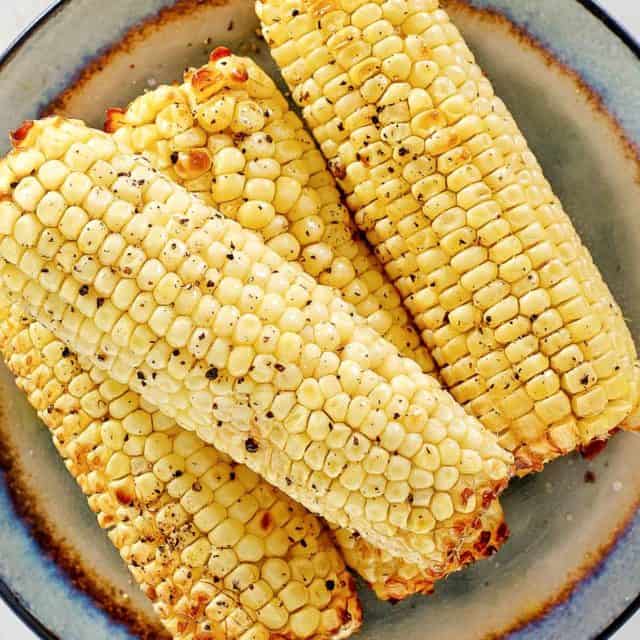 Ingredients
4

fresh

ears of corn

2 to 3

teaspoons

vegetable oil

salt and pepper to taste
Instructions
Remove husk and the silks from each ear of corn, wash and pat dry. You may need to cut the corn to fit in your air fryer basket. If you need to do so, cut the corn.

Drizzle vegetable oil over the corn. Try to cover the corn well with vegetable oil. Season with salt and pepper.

Cook at 400 degrees for about 10 minutes.
Notes
Extend the flavor of your corn with these toppings:
Have you tried Tajin? It a great chili-lime salt.
Sprinkle on some parmesan cheese.
Nutrition
Calories:
35
kcal
|
Carbohydrates:
0
g
|
Protein:
0
g
|
Fat:
4
g
|
Saturated Fat:
3
g
|
Cholesterol:
0
mg
|
Sodium:
0
mg
|
Sugar:
0
g