Air Fryer Bacon Wrapped Jalapeno Poppers are a new favorite of mine. So easy to make, and they are just delicious.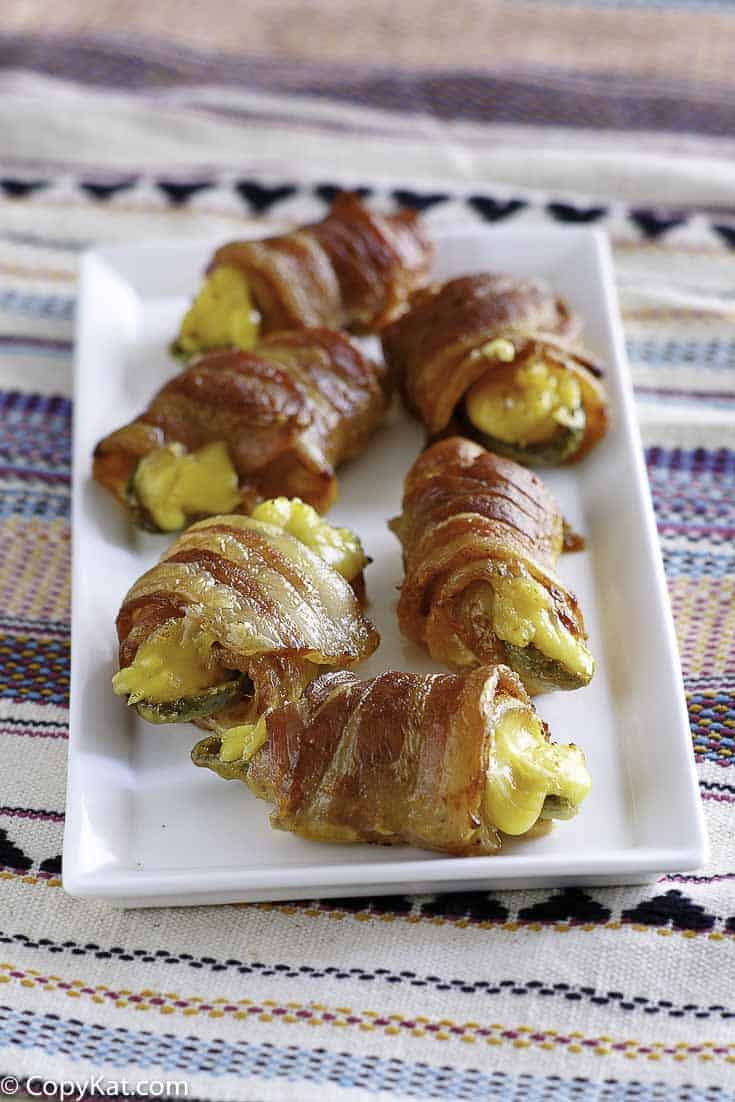 If you have purchased an Air Fryer, you may be wondering what else you can do with your air fryer. It is very tempting to only make frozen food better with your air fryer. I think the air fryer is the best thing to being introduced to the frozen food aisle in a long time. You can make crispy french fries and crispy fish sticks with your air fryer.
You may have seen my other recipe for roasting corn in an air fryer. In addition to making perfectly roasted corn, you can make bacon wrapped jalapeno poppers as well.
For this easy appetizer recipe, I am using fresh jalapeno peppers, American cheese, and bacon. The first step in making these jalapeno poppers is to halve the peppers and then scoop out the membranes and the seeds in the middle of the pepper. You will then want to cut a small piece of cheese to fit inside of the jalapeno.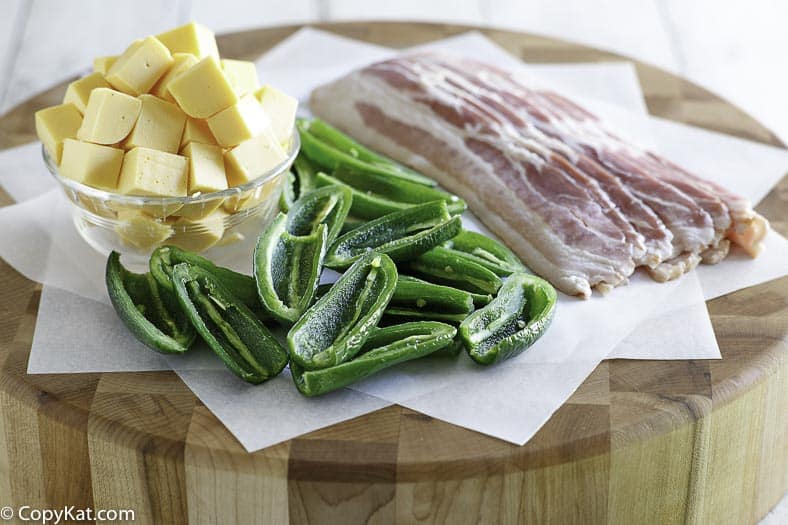 You can pop this bacon-wrapped jalapeno popper into the freezer for a few minutes before you place them into the air fryer. I think by popping these into the freezer for a few minutes before you put them into the air fryer the cheese keeps from melting out.
Now for this recipe, I suggested American cheese. You can buy American cheese at your deli in your grocery store. I often purchase a chunk of these cheese and use it for when a want cheese that melts in a creamy fashion.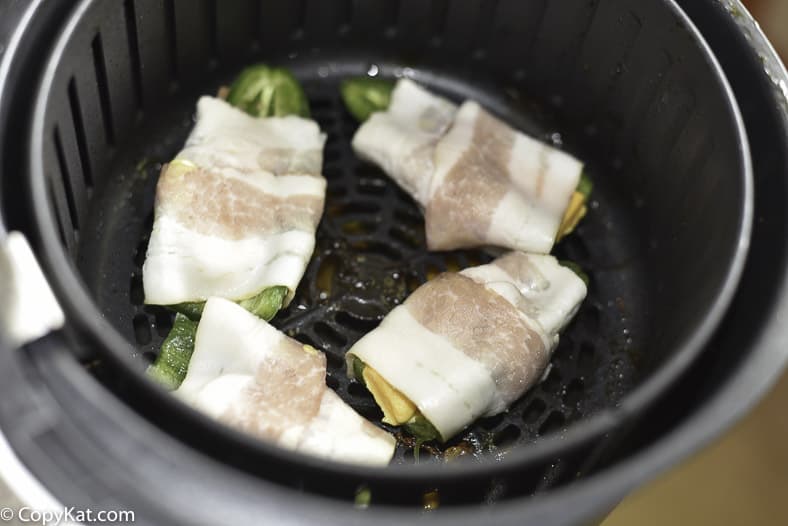 This post contains affiliate links. As an Amazon Associate, I earn from qualifying purchases.
If you don't have an air fryer you can still make these. I suggest using a wire rack on top of a baking sheet. This way the bacon grease will drip away from the jalapeno popper.
Do you love jalapeno poppers? Be sure to give these jalapeno poppers a try.
Interested in Air Fryers? I use the Philips HD9220/26 Airfryer, Black
. Air Fryers work by convection cooking, the constant fan and a small amount of oil work together to fry the outside of the food. You can use much less oil when cooking, you can use up to 75% less oil when cooking food with your air fryer.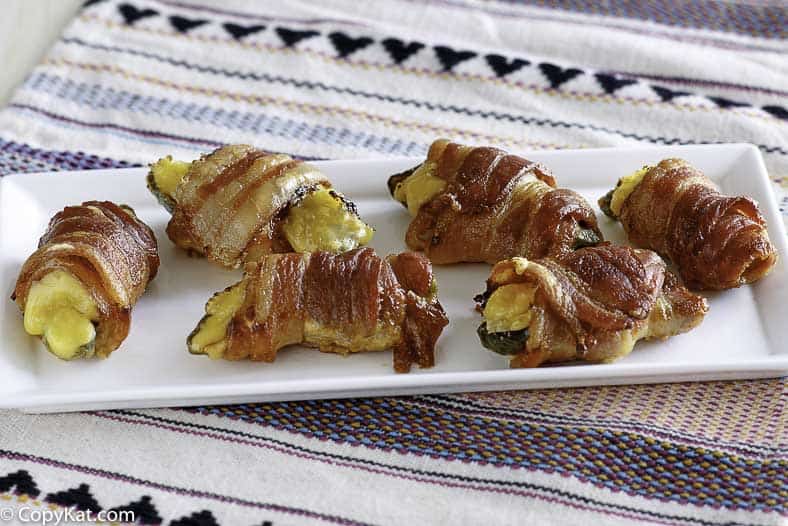 Love your air fryer? Check out these recipes
More Great Appetizers to Try
Best sure to check out more of my air fryer recipes and the best appetizers.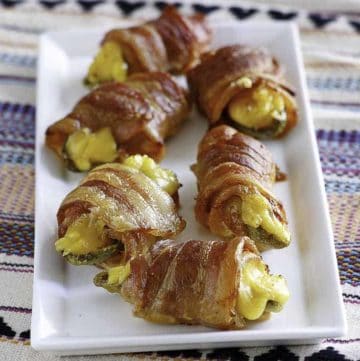 Ingredients
8

jalapeno peppers

4

ounces

American Cheese

use a small cube of American cheese

8

slices

bacon

regular not thick sliced bacon
Instructions
Wear a pair of disposable gloves. Wash and cut the jalapeno peppers lengthwise into halves. Scoop out the membrane and seeds of the jalapenos. Place a small piece of cheese in the jalapeno. Wrap the jalapeno with bacon. Place the wrapped jalapenos on a plate, and put into a freezer for about 10 minutes.
Air Fryer Cooking Instructions
To cook place the jalapenos into the air fryer. Set air fryer to 390 degrees and cook for about 10 minutes. If you do not have an air fryer place jalapenos on a rack on a baking sheet and cook at 400 degrees, for about 15 minutes or until the bacon is browned and crispy.
Oven Cooking Instructions
Use toothpicks to anchor the bacon into the jalapeno pepper. Place bacon-wrapped jalapeno peppers onto a rack on a baking sheet. Bake at 350 degrees for about 10 minutes. Then broil at 400 degrees for about 5 minutes or until the bacon is browned.
Notes
Recipe Variations:
Add some sliced green onions to the cheese for some extra flavor
Stuff a small amount of chorizo with the cheese before you wrap them with bacon
Monterey Jack cheese can be substituted for American cheese
Nutrition
Calories:
296
kcal
|
Carbohydrates:
3
g
|
Protein:
10
g
|
Fat:
26
g
|
Saturated Fat:
10
g
|
Cholesterol:
57
mg
|
Sodium:
765
mg
|
Potassium:
193
mg
|
Fiber:
0
g
|
Sugar:
1
g
|
Vitamin A:
585
IU
|
Vitamin C:
33.2
mg
|
Calcium:
300
mg
|
Iron:
0.4
mg