Wonton Jalapeno Poppers are another way to enjoy the classic jalapeno poppers that we all love. Filled with cream cheese, Cheddar cheese, and fresh jalapenos, this is a snack you don't want to miss.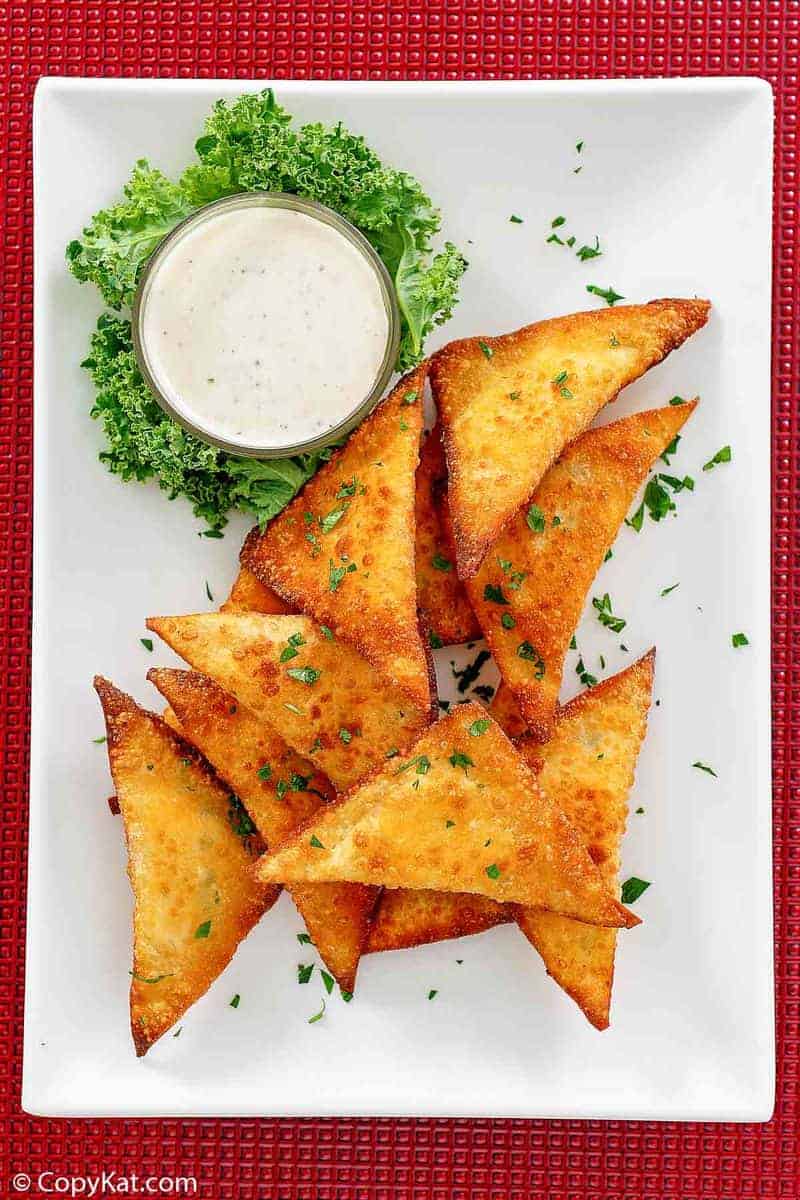 This post contains affiliate links. As an Amazon Associate, I earn from qualifying purchases.
Jalapeno Wonton Poppers
Jalapeno poppers have been among the best-selling appetizer at many casual dining restaurants for decades. But making them at home has always been a big hassle that can leave your kitchen a bit messy.
But this recipe for jalapeno poppers makes it a snap for you to get the same restaurant flavor without any headaches. So, what is the secret? It is using wonton wrappers instead of traditional breading.
This simple hack will let you make jalapeno cream cheese wontons anytime you want for a fraction of the cost of buying them at a restaurant or prepacked.
Jalapeno wontons are great for any party or celebration, so try out this recipe, and you won't be disappointed.
Handling Jalapenos Safely
Jalapeno peppers are hot. If you are not careful while preparing the jalapenos for Wonton Jalapeno Poppers, you may wind up with burning eyes or worse!
You can avoid a painful experience while prepping jalapeno wontons by always wearing food-safe disposable rubber gloves and by not touching your face or anywhere on your body as you work.
Wash your hands, along with your knife and cutting board in warm soapy water immediately after prepping.
Jalapeno Pepper Heat Level
Have you ever noticed that some jalapeno peppers are hotter than others? While you will never know for sure which peppers are the hottest until after you bite into them, several signs can give you clues about the pepper's heat level.
Check out the outside of the pepper. Jalapeno peppers that have smooth, blemish-free skin are usually the mildest.
If you notice a few white spots and a few irregularities on the skin, there is a good chance that pepper has a bit of a kick.
Jalapeno peppers with deep crevices and lots of splotches of white are even hotter.
Avoid purchasing red jalapenos unless you love mouth-numbing heat.
After trying a jalapeno, if you find that it is just too hot for you to handle, don't throw it out. Remember that the cream cheese filling will help cool things down, and you can tame the heat by careful trimming of the pepper.
Most of the capsaicin, the chemical that makes peppers hot, is located in the seeds and ribs. Lay the cut jalapenos skin-side down on a cutting board and use a sharp knife to remove the ribs and seeds.
Trim off the very top layer of the flesh of the peppers to further reduce the heat level of the peppers.
What Makes a Jalapeno Hot
I am going to leave it up to you if you want these hot or not. What actually makes the pepper hot is the capsicum within the pepper.
Jalapeños have 2,500–10,000 Scoville heat units, which means they can be mild or pretty hot.
Personally, when chopping up many of these peppers at once, I like to wear gloves because they seem to burn your hands for a long time. If you are like me, I am later taking these capsicum coated fingers and somehow sticking them near my eyes, only to be tearing up next.
If you don't like your peppers too hot, the capsicum is held in two major areas, that would be the seeds and the ribs inside of the pepper. If you remove these two areas you will remove most of the heat.
Elise Bauer of Simply Recipes suggests how to distinguish between a hot jalapeno pepper and one that isn't is to look for striations on the pepper. Perfectly smooth peppers will be less hot, and those with those small brown striations that are typically focused on the top and the bottom of the pepper will be hotter.
It is really the capsicum that makes the pepper hot though. And that heat is held in the seeds and the ribs of the pepper. So now you know how to adjust to how much heat you enjoy.
Recipe Ingredients
Here's a list of what you need:
Cream cheese
Grated Cheddar cheese, sharp recommended
Worcestershire sauce
Fresh jalapeno pepper
Wonton wrappers
Vegetable oil for frying
If you lead a gluten-free lifestyle, Noy Soy brand makes gluten-free wonton wrappers.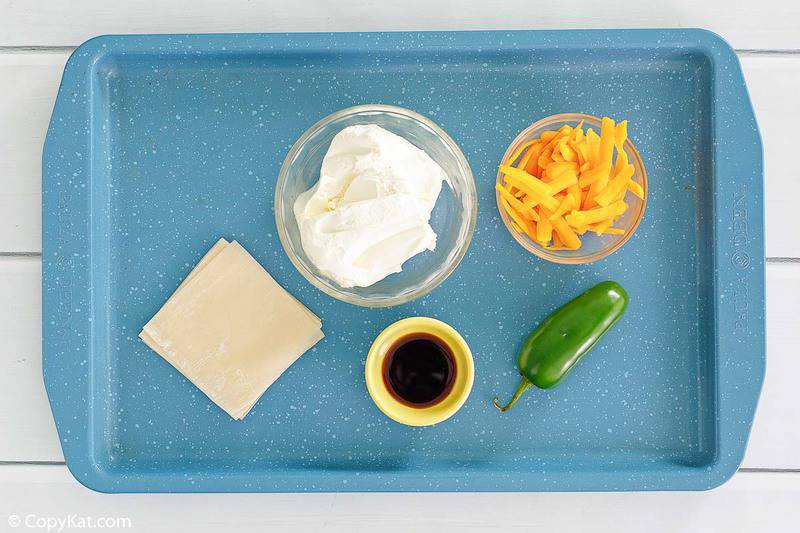 How to Make Wonton Jalapeno Poppers
Mix together cream cheese and Cheddar cheese in a medium-sized bowl.
Add Worcestershire sauce and chopped jalapeno. Mix well into the cream cheese mixture.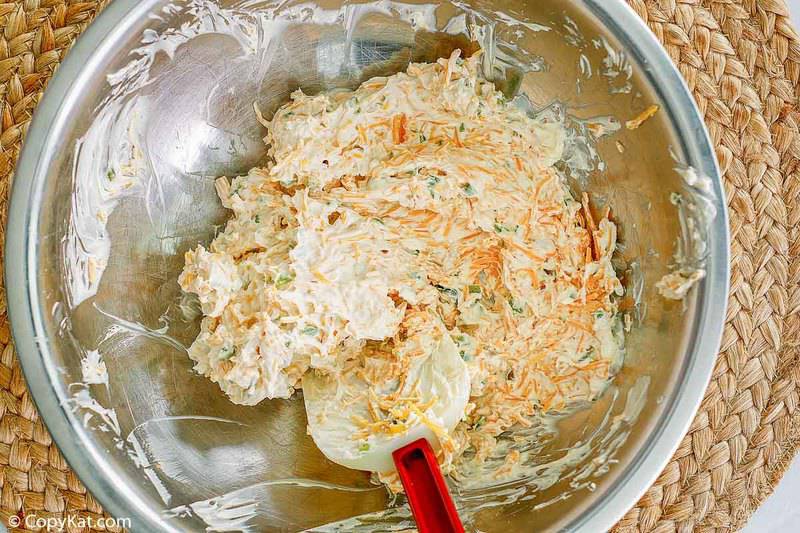 Place 1/2 teaspoon of the filling in the center of a wonton wrapper.
Dip your finger into water and run your finger along 2 sides of the wonton wrapper.
Fold the dry edges onto the wet edges of the wonton wrapper. Press to remove air and completely seal the edges.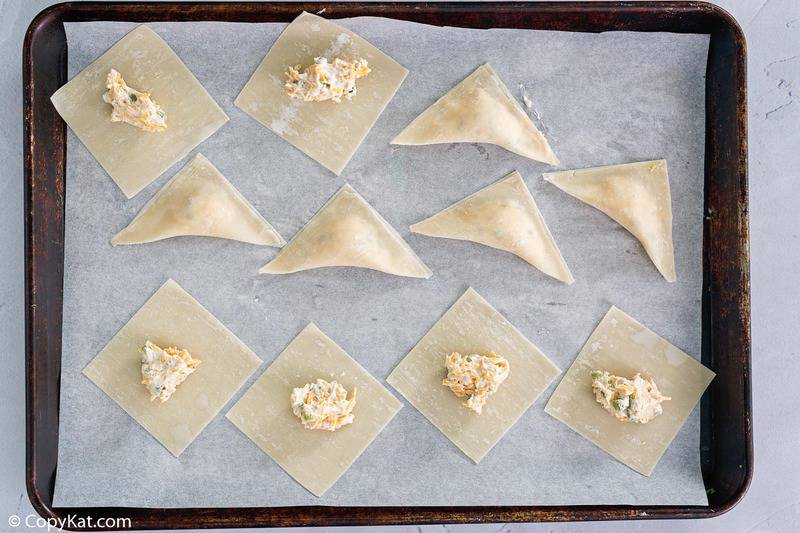 Add enough oil to the cooking vessel so the bottom 3 to 4 inches are covered. Heat oil to 350 degrees.
Cook the wontons for about 90 seconds, turning when brown on the first side, and then cooking until browned on the other side.
Remove and drain on a wire rack before serving.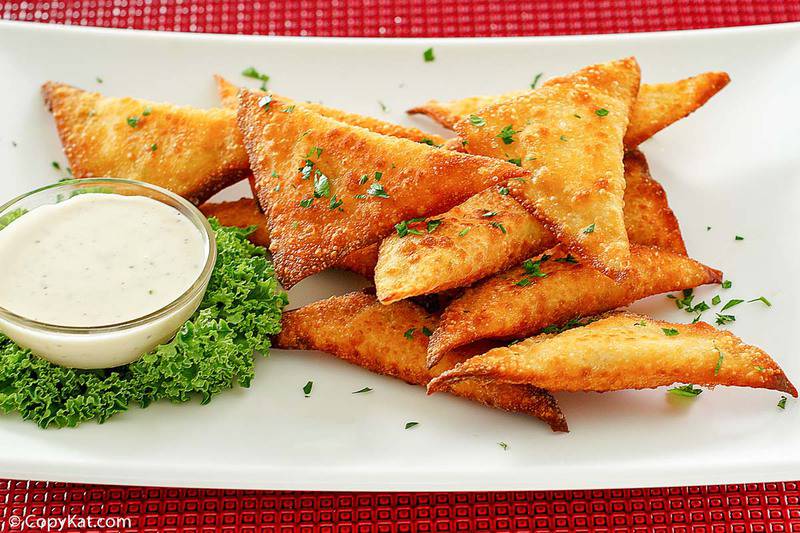 Tips For Making and Storing Jalapeno Cream Cheese Wontons
Use an air fryer. Cut down on calories by using an air fryer without losing any of the crispiness of deep-frying. Simply spray the uncooked wontons with a bit of non-stick spray before placing them in a 350-degree air fryer for 6 to 8 minutes.
Don't forget the dip! Dairy-based and sweet dips can help to cool things down. Ranch dressing is an easy choice. Or, how about trying some pineapple salsa?
Uncooked Wonton Jalapeno Poppers freeze well. Although you will probably want to eat all the cooked jalapeno poppers you make, you freeze uncooked ones. Thaw the poppers before cooking.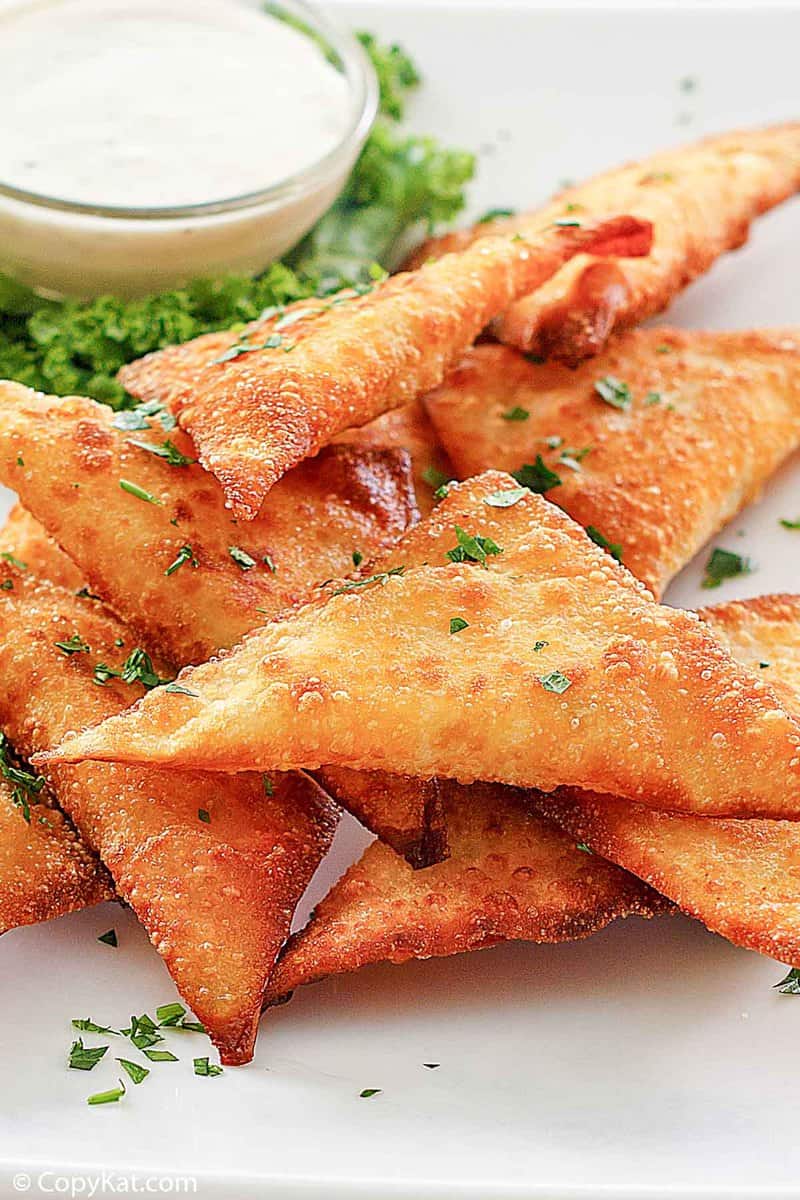 Most Popular Appetizer Recipes
More Game Day Recipes
Be sure to check out more of my easy appetizer recipes and the best game day food.
If you want to know when we post new recipes, remember to friend us on Facebook!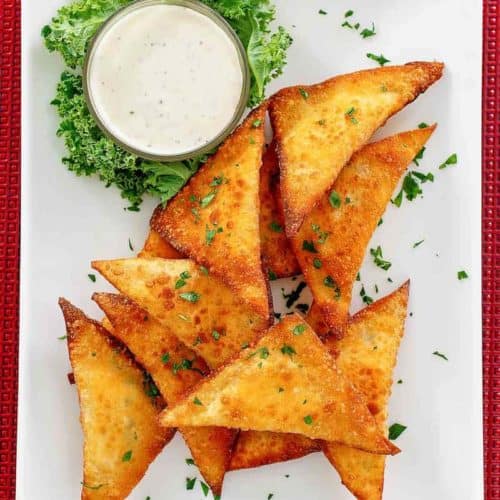 Ingredients
8

ounces

cream cheese

softened

1

cup

grated Cheddar cheese

Sharp cheese recommended

½

teaspoon

Worcestershire sauce

1

jalapeno

finely diced

1

package

wonton wrappers

vegetable oil

for frying
Instructions
Mix together room temperature cream cheese and grated Cheddar cheese in a medium-sized mixing bowl.

Add Worcestershire sauce and chopped jalapeno and mix well into the cream cheese mixture.

Add about ½ teaspoon of the filling to the wonton wrapper.

Dip your finger into water and run your finger along 2 sides of the wonton wrapper.

Fold the dry edge onto the wet edge of the wonton wrapper and press the edges together. Make sure that they wontons are well sealed.

Add enough oil to the cooking vessel so the bottom 3 to 4 inches are covered.

Heat oil to 350 degrees.

Cook the wontons for about 90 seconds turning when brown on the first side, and then cooking until browned on the other side.

Remove the cooked wontons and drain them on a

wire rack

before serving.
Nutrition
Calories:
159
kcal
|
Carbohydrates:
17
g
|
Protein:
5
g
|
Fat:
7
g
|
Saturated Fat:
4
g
|
Cholesterol:
25
mg
|
Sodium:
252
mg
|
Potassium:
49
mg
|
Fiber:
0
g
|
Sugar:
0
g
|
Vitamin A:
275
IU
|
Vitamin C:
1.1
mg
|
Calcium:
78
mg
|
Iron:
1
mg