Freshly popped popcorn at home means you can add any flavor you want to the popcorn. This curry popcorn has spice, sweet, and salt for the trifecta of flavor.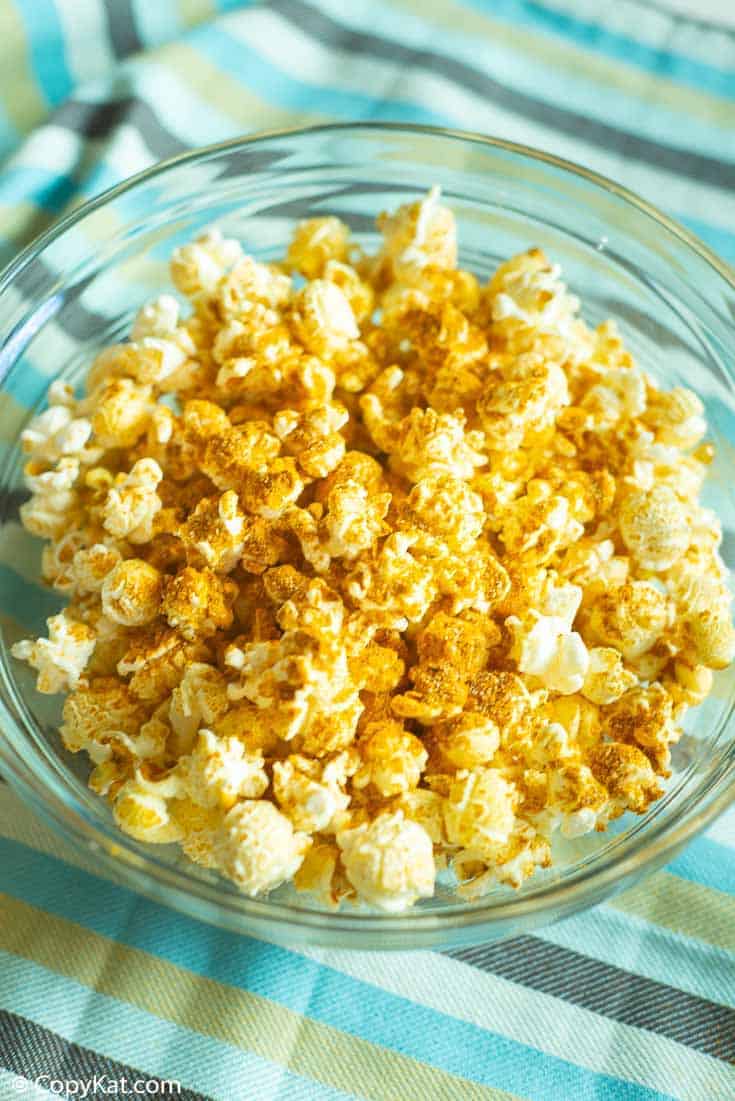 A large, hot bowl of freshly made popcorn is essential for snacking in most homes. It is a cheap, healthy, and delicious alternative to processed snacks. But even the biggest popcorn gourmand can get tired of eating the same flavor of popcorn all the time. Try switching things up a bit with this easy-to-make curry popcorn seasoning recipe. It is perfect for those who want to add a little more spice to their lives yet still crave a touch of sweetness. Mix up a big batch of this unique popcorn flavor powder, and always have some for movie night or the big game!
Not All Popping Corn is the Same
Did you know there is more than one type of popping corn? If you didn't, don't feel bad most people have no idea either. Making popcorn from scratch lets you taste-test several different popping corns to find the one you most prefer.
Popping corn comes in two distinct shapes. One is the standard movie theater popcorn, which looks like a comic book explosion. Popcorn professionals, and yes, such people do exist; call this popcorn butterfly or wings style. The other shape is much more rounded and resembles a brain. The official name for this shape is mushroom popcorn.
Besides just having a different shape when popped, popping corn kernels comes in a wide variety of sizes, colors, and flavors. Most popping corn kernels available in stores are yellow popcorn because it is inexpensive, and the popcorn pieces are large and airy. Yellow popcorn has a slightly yellow tint and is crunchy, and white popping corn is pure white and a little more tender. You can find white popping corn in brands touting 'gourmet' popcorn. Less common varieties that you will probably have to order online are Ladyfinger, which pops up as dainty butterflies, and red, blue, and purple which have few dots of color.
It Begins With the Perfectly Popped Corn
There are many ways to pop kernels, but one of the most fun methods is making popcorn on the stove. While you should let your little ones anywhere near the stove when you cook popcorn, they will love to watch from a safe distance.
Heat a large heavy-bottom, deep skillet with a fitted lid over medium heat. If you can, choose a skillet with a glass lid to see what is going on inside.
Add two tablespoons of oil with a high smoke point, like coconut or canola oil.
Throw in a few kernels of popping corn, and wait until they pop. Pick out the popped kernels.
Off the heat, add a half-cup of your favorite popping corn to the skillet, and give them a shake to distribute them evenly.
Cover and put back on the heat while slowly moving the pan back and forth.
When the kernels start to pop, crack the lid to allow steam to escape, and continue moving the skillet until the pops occur only once every two to three seconds.
Serve.
Tips for Serving and Storing Curry Flavor Powder
Great for adding sweetness and spice to more than just popcorn. Perfect on potato chips and french fries.
Store in a shaker with a lid. This popcorn seasoning recipe should last for months in your spice cabinet.
Follow us on Facebook for our latest recipes.
Ingredients
This is what you need to make curry popcorn
popcorn kernels
coconut oil
yellow curry powder
salt
sugar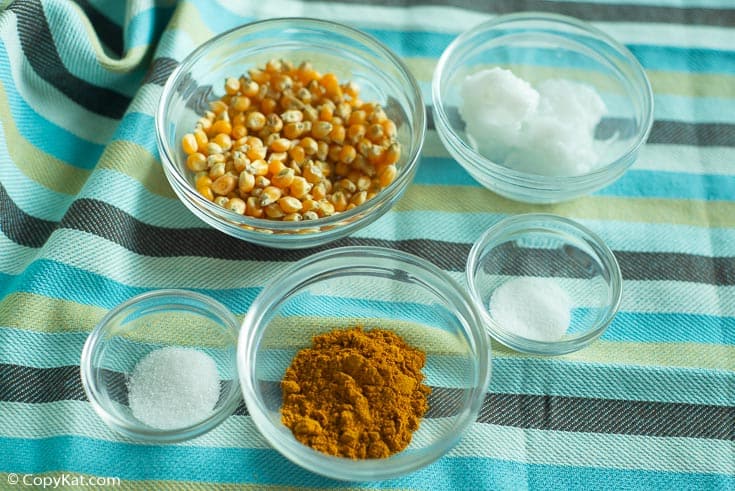 Combine spices together in a small bowl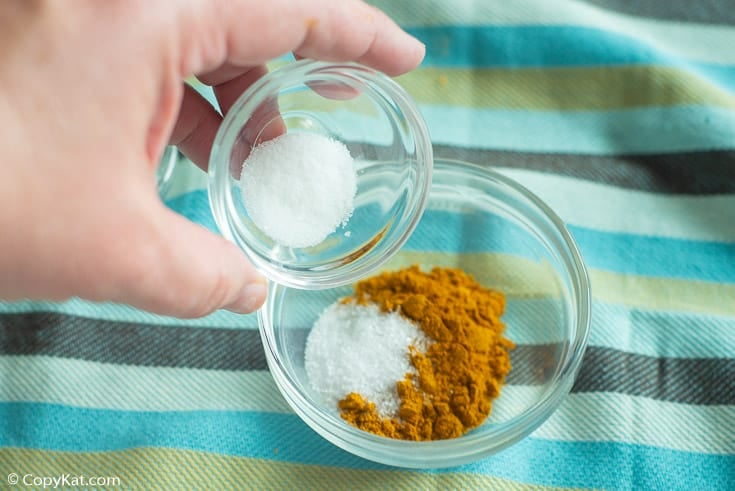 Stir or whisk spices together to make the seasoning.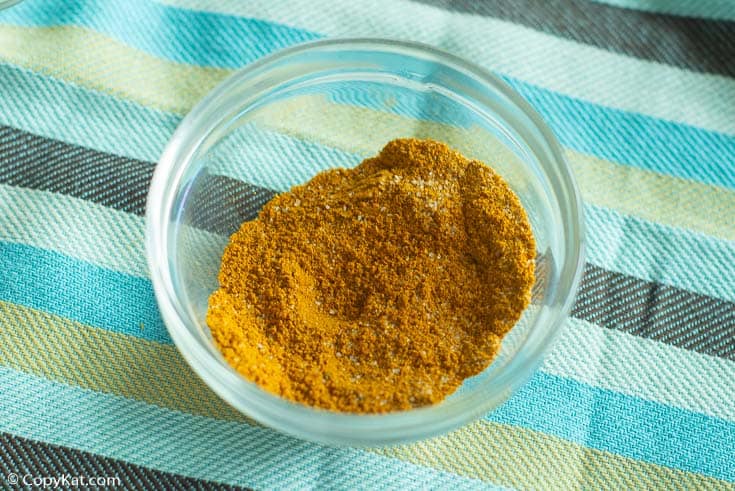 Pop the popcorn; when the popcorn finishes then, sprinkle the seasoning mix on it. Toss to coat the popcorn with the seasoning.
Serve and enjoy!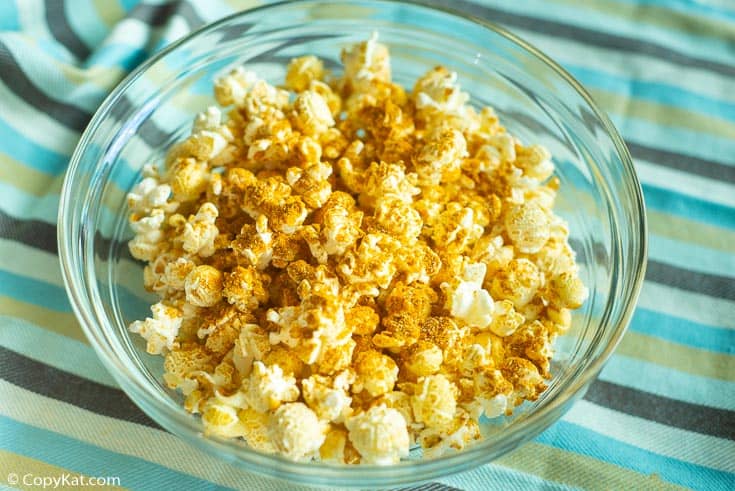 Love popcorn? Try these recipes
More Tasty Snack Recipes
Be sure to look for more easy snack recipes and game day recipes too.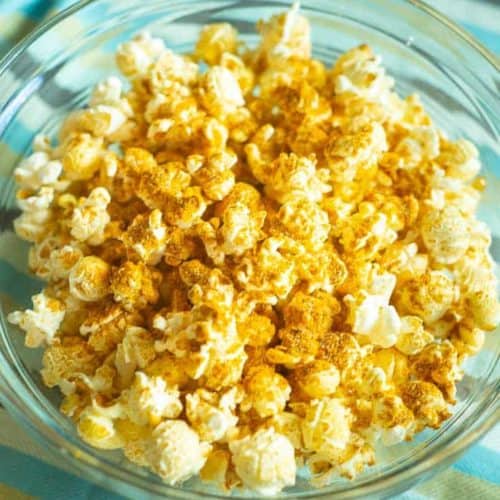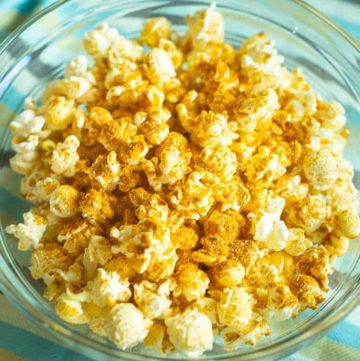 Curry popcorn
Curry Popcorn is perfect for movie night and snacking. The seasoning is salty and savory with a spicy kick. Get the easy recipe to make the best gourmet popcorn. It's a tasty and healthy homemade snack made with a few simple ingredients.
Print
Pin
Rate
Add to Collection
Go to Collections
Ingredients
Curry seasoning blend
2

tablespoons

yellow curry powder

2

teaspoons

salt

2

teaspoons

sugar
Popcorn Ingredients
2

tablespoons

coconut oil

vegetable oil is also ok

1/2

cup

popcorn kernels
Instructions
Prepare seasoning blend
In a small bowl combine the yellow curry powder, the salt, and the sugar. Stir until the mixture is uniform.
Prepare popcorn
Heat oil in a large pot over medium-high heat. Once hot add the popcorn.

Place a lid on the pot, cook until the popping subsides. Remove the pot from the stove, and wait 30 seconds before pouring into a bowl.

Sprinkle on as much curry powder mixture as you desire.
Nutrition
Calories:
580
kcal
|
Carbohydrates:
69
g
|
Protein:
9
g
|
Fat:
32
g
|
Saturated Fat:
25
g
|
Sodium:
4657
mg
|
Potassium:
225
mg
|
Fiber:
10
g
|
Sugar:
9
g
|
Iron:
2
mg