Logans Roadhouse is known for its fried mushrooms. One of the things I love most about making a copycat recipe is that you get the opportunity to recreate those dishes you love at home.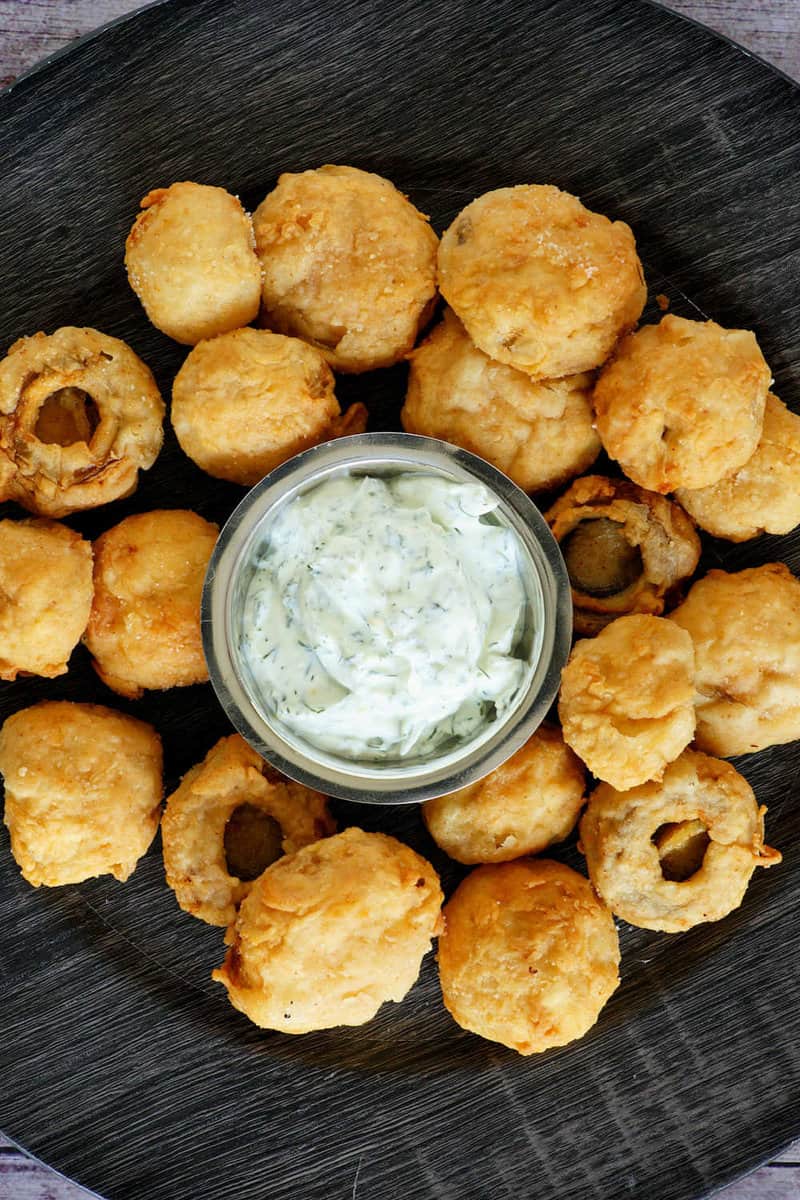 This post contains affiliate links. As an Amazon Associate, I earn from qualifying purchases.
Deep Fried Mushrooms
Logans Roadhouse has many wonderful dishes, they make a wonderful steak, but they also have lots of great appetizers, and they make a variety of adult lemonades that are hard to resist.
One of the reasons that everyone loves making copycat recipes is that you aren't limited by the quantities that the restaurant serves. My crowd loves fried mushrooms, no one likes rationing out a few appetizers while you wait for your food. When you cook at home, you aren't limited by a restaurant. You can make all of the mushrooms that you want.
These fried mushrooms are very simple. They are made with seasoned flour and dipped in buttermilk. Buttermilk always makes a nice thick batter.
This deep fried mushrooms batter recipe could be used to make chicken fried steaks, chicken tenders, onion rings, and much more. It's a great batter to compliment the flavor of what you fry with it.
I know you will be so happy with how easy these are to make. You can serve them as an appetizer or side dish.
Recipe Ingredients
Here's a list of what you need for homemade fried mushrooms:
Fresh white button mushrooms
All-purpose flour
Salt
Ground black pepper
Buttermilk
Water
Vegetable oil for frying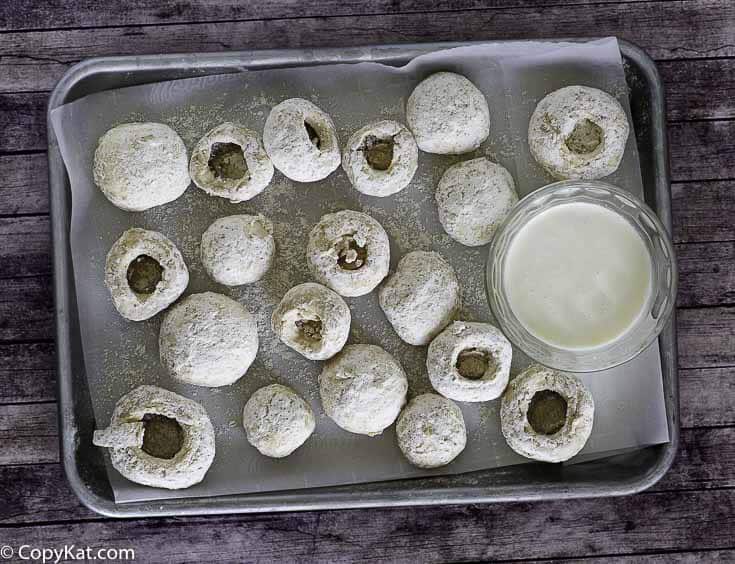 Optional Ingredients
Some ideas for additional flavor:
Add a 1/2 teaspoon of garlic powder and/or onion powder to the flour mixture.
Use seasoned salt instead of plain salt.
After dipping the floured mushrooms in the buttermilk, dredge them in panko breadcrumbs for extra crispy texture.
How to Make Fried Mushrooms
Pour oil into a large saucepan or deep fryer to a depth of 3 to 4 inches.
Heat the oil to 350 degrees. If frying in a pan, use a thermometer to check the oil's temperature.
Gently clean the mushrooms with a damp paper towel.
Trim the stems from mushrooms larger than ¾-inch wide.
Combine flour with salt and pepper in a medium bowl.
Combine buttermilk and water in another bowl.
Dredge mushrooms in the seasoned flour and shake off excess flour.
Dip mushrooms in buttermilk mixture.
Dredge dipped mushrooms in the flour again and shake off excess flour.
Gently lower battered mushrooms gently into the hot oil. Do this in small batches so you don't overcrowd the fryer.
Cook until golden brown.
Use a slotted spoon the transfer the fried mushrooms to a wire rack over a rimmed baking sheet to drain.
You can keep them warm in the oven set to the lowest temperature.
Serve with ranch dressing, marinara sauce, or your favorite dipping sauce.
Best Oil and Fryer for Fried Mushrooms
For this recipe, I use vegetable oil for frying, I like to use my T-Fal Fryer, I like it because it filters the oil, and it has a lid so the grease doesn't splatter everywhere. I have used this for frying fish and much more. I love this fryer, as it can keep a constant temperature and is so easy to use.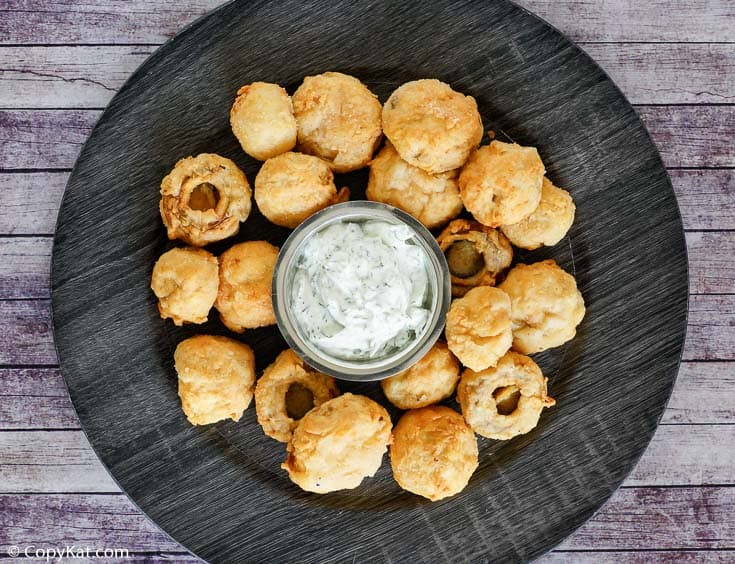 How to store leftover fried mushrooms
You can store leftover fried mushrooms in an airtight container. I recommend placing them into the container after they have cooled completely. This way they will not steam in the container. They will stay fresh in your refrigerator for up to five days.
How to reheat fried mushrooms
I recommend either reheating these in a 375 degree oven for 6 to 8 minutes or until they are warm, or reheating in an air fryer or convection over for 4 to 6 minutes on 375 degrees. I do not recommend reheating fried mushrooms in the microwave as the microwave will not crisp the batter.
If you love fried mushrooms, you will love these great appetizer recipes
Top Copycat Restaurant Mushroom Recipes
Take a look at more of the best appetizer recipes and copycat meals.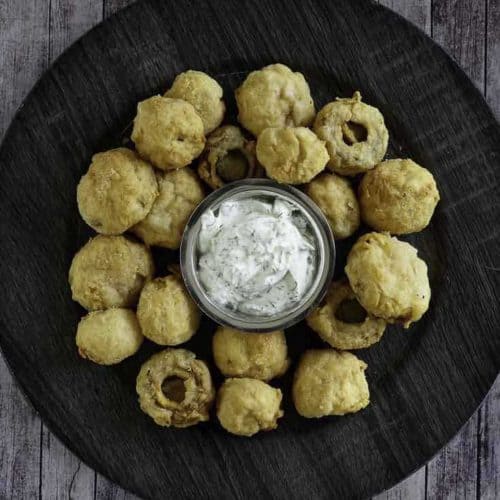 Ingredients
vegetable oil

for frying

1

pound

fresh white button mushrooms

1

cups

all-purpose flour

2

teaspoons

salt

1 1/2

teaspoon

ground black pepper

1

cup

buttermilk

1/2

cup

water
Instructions
Pour oil into a large saucepan or deep fryer to a depth of 3 to 4 inches. Heat the oil to 350 degrees.

Gently clean the mushrooms with a damp paper towel. If these stems are very large (greater than 3/4 inch), trim off the stem, as they may be woody. If the mushrooms are small, there is no need to trim off the stem. 

Combine the flour with the salt and pepper in a bowl. Stir to combine the flour mixture.

Combine buttermilk and water in another bowl

Dredge the mushrooms in the seasoned flour, shaking off the excess, and then dip them in the buttermilk.

Dredge them in the flour again. Knock off the excess flour.

Lower the mushrooms gently into the hot oil, cook them until they are golden brown. It will take about 2 to 3 minutes for the mushrooms to cook. Drain on a wire rack. Serve with your favorite sauce.
Nutrition
Calories:
295
kcal
|
Carbohydrates:
30
g
|
Protein:
8
g
|
Fat:
16
g
|
Saturated Fat:
12
g
|
Cholesterol:
6
mg
|
Sodium:
1233
mg
|
Potassium:
485
mg
|
Fiber:
2
g
|
Sugar:
5
g
|
Vitamin A:
100
IU
|
Vitamin C:
2.4
mg
|
Calcium:
80
mg
|
Iron:
2.1
mg