Outback Bloomin Fried Shrimp is incredibly delicious crispy fried shrimp battered with bloomin onion seasoning and topped with a drizzle of spicy bloom sauce. Enjoy this tasty fried shrimp as an appetizer or main dish for dinner.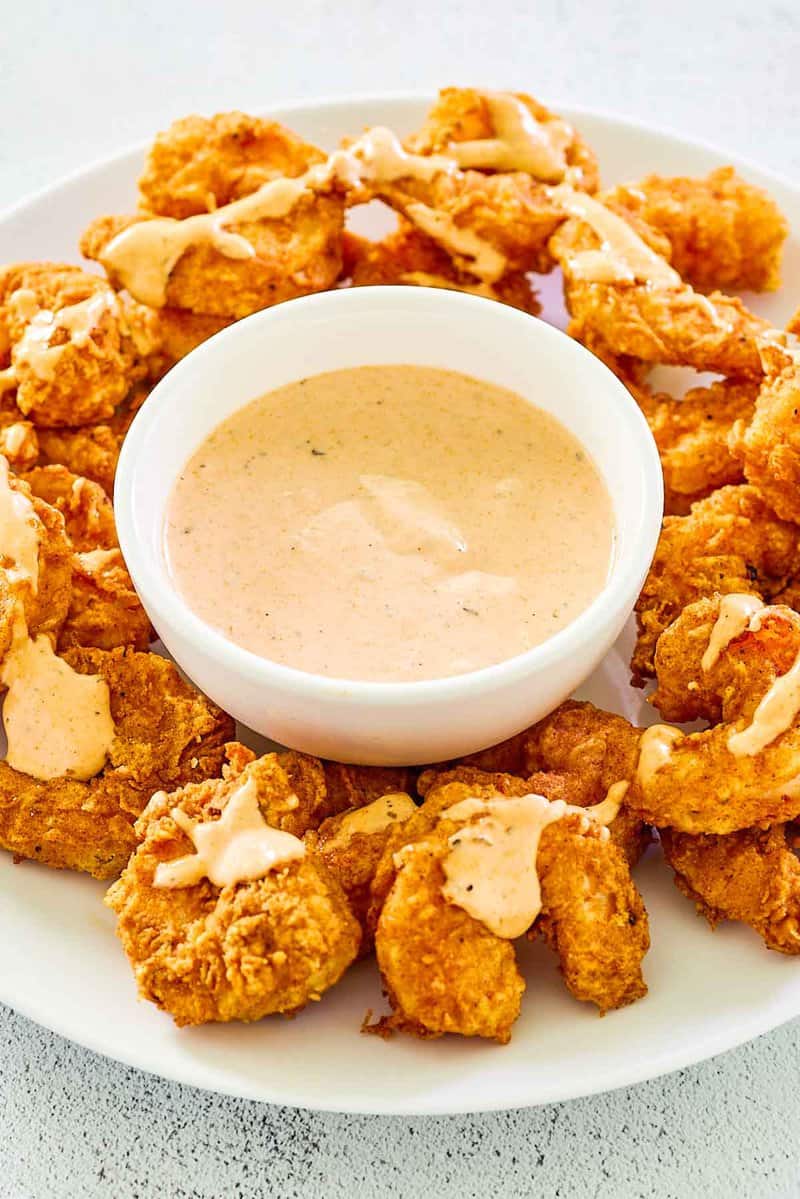 This post contains affiliate links. As an Amazon Associate, I earn from qualifying purchases.
What Makes the Outback Steakhouse Bloomin Shrimp So Good?
Bloomin' Onion is probably the most popular appetizer at Outback Steakhouse. While most people are obsessed with the Bloom Sauce, the legit delicious dipping sauce that comes with it, they tend to forget that the onion's breading is incredibly tasty.
Although the Outback Bloomin Fried Shrimp appetizer uses slightly different ingredients in its breading than the onion, it might be even more flavorful. Whether you serve Outback Bloomin Shrimp as an appetizer or a party platter, it's additively delicious.
Why Try This Recipe
When you can't get to the restaurant to try Outback Bloomin Shrimp, this copycat recipe is easy to make at home. Although the breading may be a little more complicated than what you typically find on fried shrimp, the taste and extra crunch can't be beaten.
Using buttermilk in the breading is a nod to traditional Southern fried chicken, while the Cajun-inspired seasoning ensures that the shrimp have the right amount of heat.
Dip these perfectly seasoned shrimp in spicy Bloom Sauce, and you have a combo that seafood lovers will go crazy over.
Bloomin Shrimp Ingredients
For the fried shrimp, you'll need:
All-purpose flour
Smoked paprika
Garlic powder
Salt
Freshly ground black pepper
Cayenne pepper
Buttermilk
Water
Shrimp, raw and deveined
Bloom Sauce for dipping
Medium-sized shrimp (sometimes sold as 41-60 shrimp) are perfect for this recipe.
For the bloom sauce, you'll need:
Mayonnaise
Ketchup
Horseradish
Paprika
Salt
Garlic powder
Dried oregano
Ground black pepper
Cayenne pepper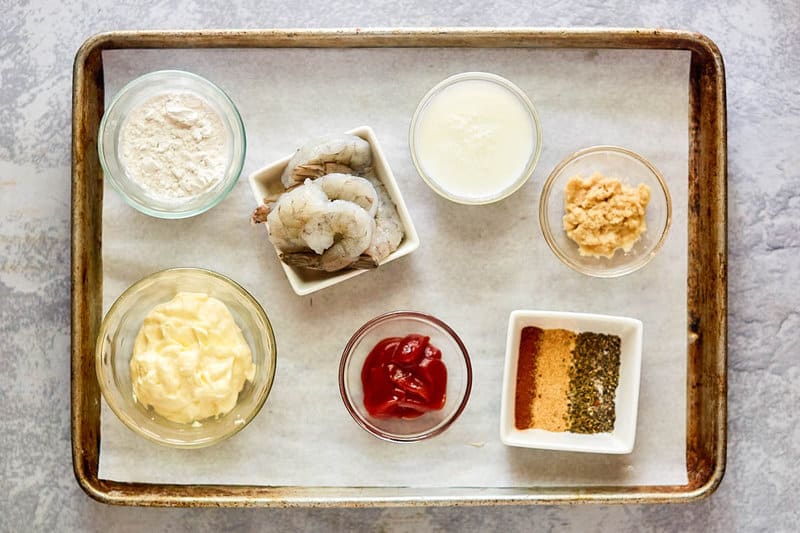 How to Make Bloomin Shrimp Outback Steakhouse Style
To make the bloom sauce:
Place all the sauce ingredients in a small bowl.
Stir until well combined and smooth.
Cover the bowl and place it in the refrigerator until ready to serve.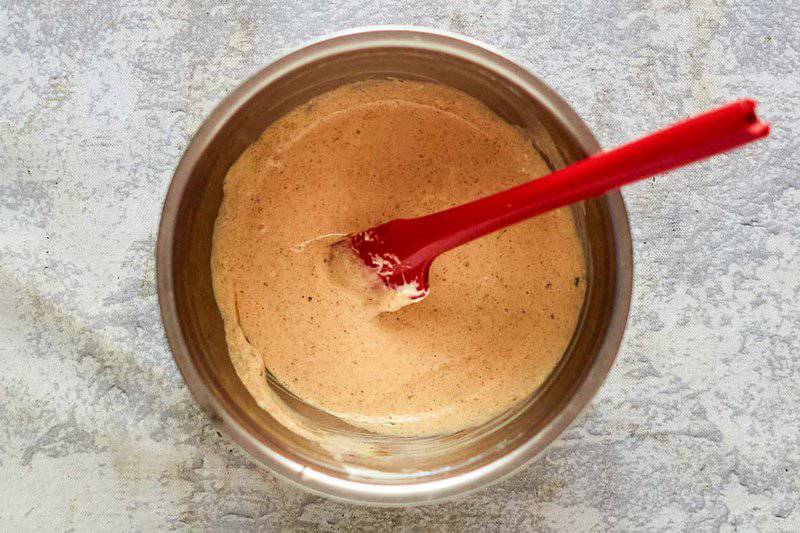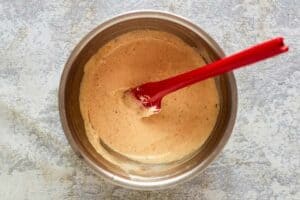 To bread the shrimp:
Set up your breading station with two wide but shallow dishes and a wire rack on top of a rimmed baking tray. Pie tins work really well for breading.
Mix the flour with the smoked paprika, garlic powder, salt, freshly ground black pepper, and cayenne pepper in the first shallow bowl.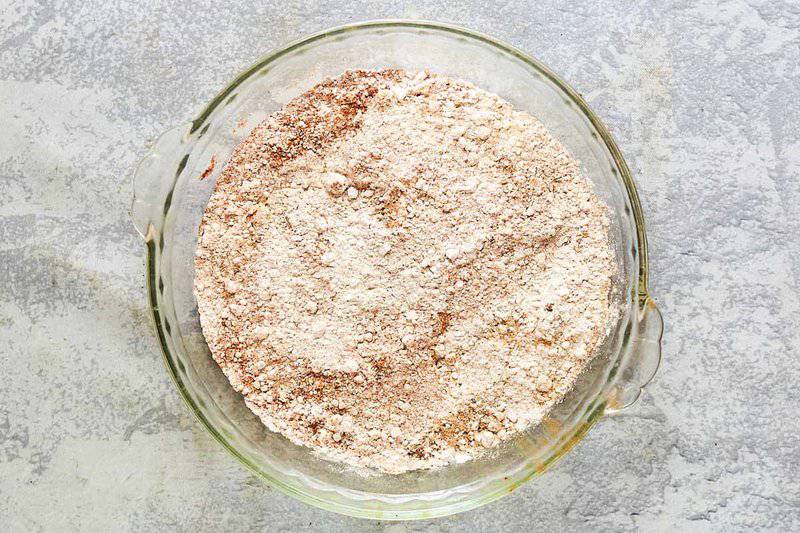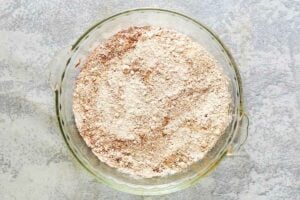 Pour the buttermilk into the other bowl.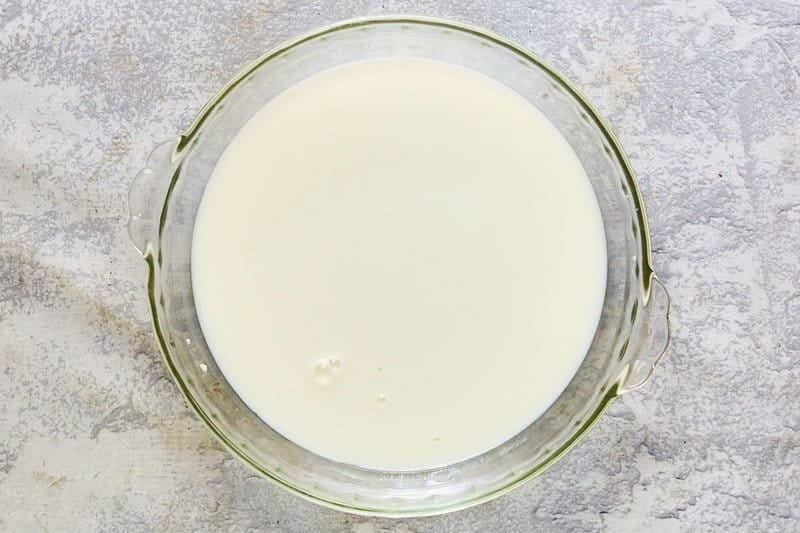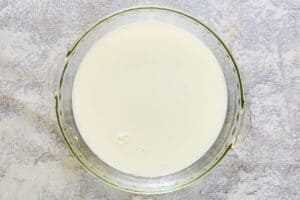 Coat one shrimp at a time in the seasoned flour mixture and shake off any excess.
Dunk the shrimp in the buttermilk and immediately coat it again in the seasoned flour.
Place the breaded shrimp on the wire rack and finish breading the remaining shrimp in the same way.
Let the shrimp rest for at least five minutes before frying to allow the breading to set up.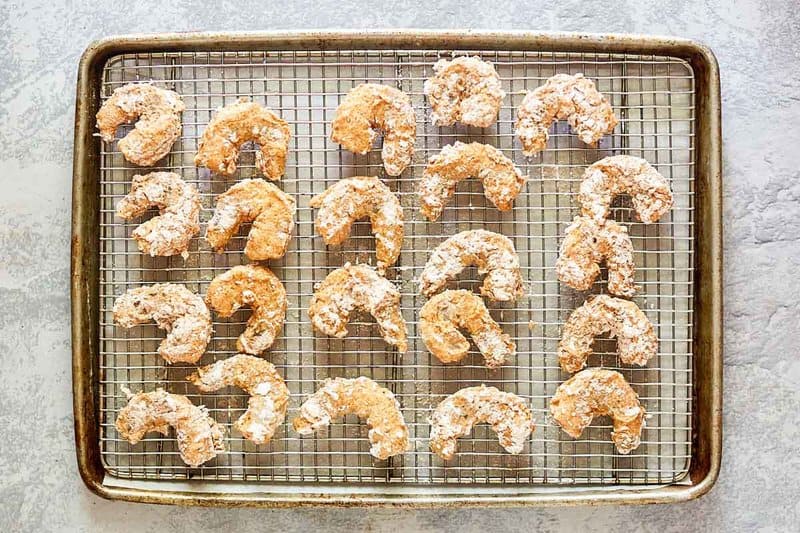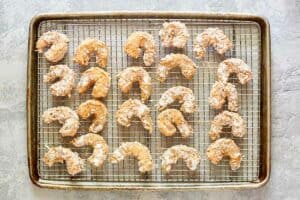 To fry the shrimp:
Add two inches of vegetable oil to a wide, deep pan. A rondeau or wok is perfect. If you have a tabletop deep fryer with a fryer basket, use it to make frying much easier.
Attach a deep-fry thermometer to the side of the pan.
Heat the oil on medium-high to 350°.
Carefully add some shrimp to the hot oil. Overcrowding the pan will lower the oil's temperature too much. Usually, batches of five or six shrimp are ideal.
Fry the shrimp for a minute or two until golden brown. Use a cooking spider to turn the shrimp over halfway through cooking.
Remove the shrimp from the oil with the cooking spider and drain them on a clean wire rack over a rimmed baking tray. Do not drain them on paper towels because it will cause the bottom side to become soggy.
Wait for the cooking oil to return to 350°F, and start frying a new batch of shrimp.
Serve the shrimp warm with a big bowl of Bloom Sauce.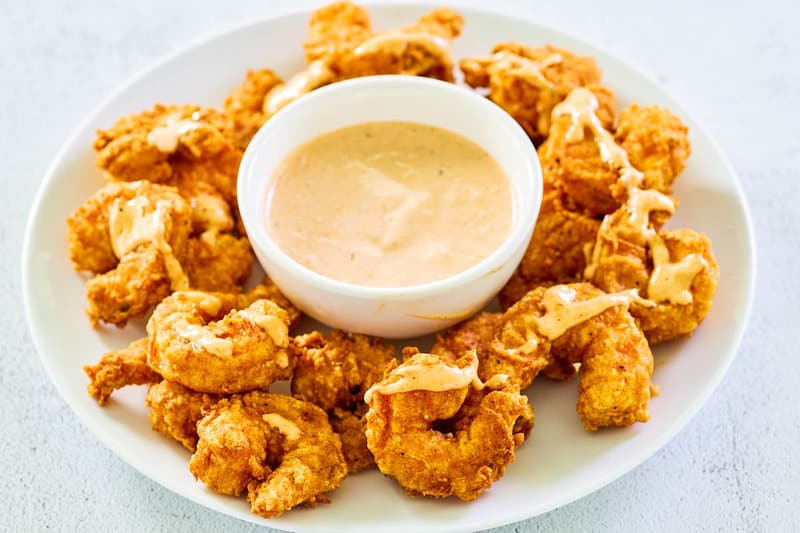 What to Serve With Outback Bloomin Shrimp
Dipping sauce is a must! Sure, Bloom Sauce is great, but there are other dipping sauces. Try classic cocktail sauce with its sharp tang and horseradish bite, Thai chili sauce, or Joe's Crab Shack Dipping Sauce with its sweet and sour tropical flavors.
Don't be afraid to go outside the box and serve the shrimp with pasta or on a roll as a sandwich with shredded lettuce, sliced tomatoes, and plenty of Bloom Sauce.
The bloom sauce is also great for deep fried mushrooms, homemade onion rings, or a blooming onion.
How to Store Outback Bloomin Fried Shrimp Appetizer
You can keep extra fried shrimp in the fridge for up to three days, but the breading will become gummy and may start to fall off. Store the shrimp in layers in a wide, flat container with parchment paper between each layer to prevent the batter from rubbing off.
What Is the Best Way to Reheat Bloomin Shrimp
Reheating room-temperature shrimp in a preheated 350-degree Fahrenheit air fryer for four to five minutes is best, but if you don't have an air fryer, you can use the oven:
Place an aluminum foil-lined baking tray inside the oven and preheat it to 350°F.
Spread the shrimp on the hot baking pan when the oven is preheated.
Heat the shrimp for 10 to 12 minutes, flipping them halfway through the cooking time.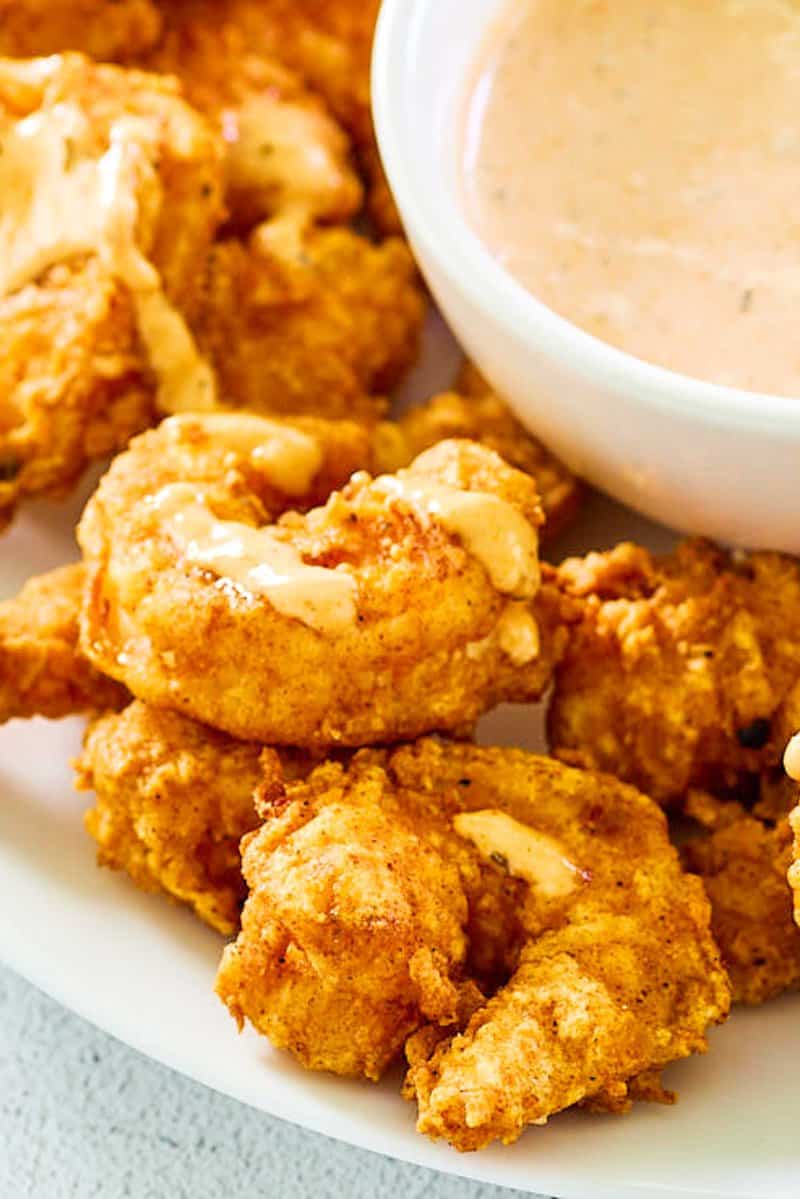 More Outback Copycat Recipes
Favorite Shrimp Recipes
Check out more of my easy seafood recipes and the best copycat Outback recipes on CopyKat!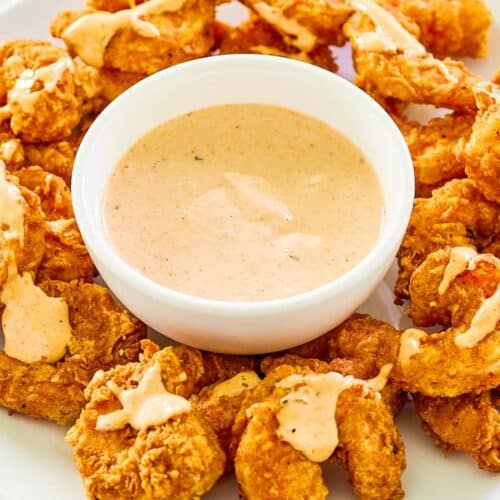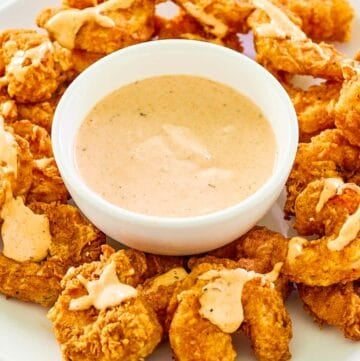 Ingredients
Bloom Sauce
1/2

cup

mayonnaise

2

teaspoons

ketchup

2

tablespoons

horseradish

or a little less

1/4

teaspoon

paprika

1/4

teaspoon

salt

1/8

teaspoon

garlic powder

1/8

teaspoon

dried oregano

1

dash

ground black pepper

1

dash

cayenne pepper
Fried Shrimp
2

cups

all-purpose flour

4

teaspoons

paprika

2

teaspoons

garlic powder

1

teaspoon

salt

1/2

teaspoon

ground black pepper

1/2

teaspoon

cayenne pepper

1

cup

buttermilk

1/2

cup

water

1

pound

peeled medium-sized raw shrimp

vegetable oil

for frying
Instructions
Prepare the bloom sauce by combining all the sauce ingredients in a small bowl. Stir well. Cover and place in the refrigerator until ready to serve.

Create a dredging station: Place the flour, paprika, garlic powder, salt, ground black pepper, and cayenne pepper into a pie plate and stir to combine. Place the buttermilk and water into another pie plate and stir to combine. Place a wire rack on top of a

cookie sheet

.

Dredge the shrimp in the seasoned flour and shake off the excess. Then dip the dredged shrimp into the buttermilk and shake off the excess. Dip the shrimp into the seasoned flour for a second time and place the breaded shrimp onto the wire rack. Repeat for the remaining shrimp and let them rest for about 5 minutes before cooking.

Pour the vegetable oil into a skillet until it reaches a depth of 1 to 2 inches. Heat the oil to 350°F.

Place a few pieces of shrimp into the oil and fry until done, about 1 to 2 minutes. Turn the shrimp over while frying to make sure both sides of the shrimp are golden brown. Then remove the shrimp from the oil and let them drain on a clean wire rack.

To serve, place the shrimp on a plate and drizzle some of the bloom sauce on top.
Nutrition
Calories:
415
kcal
|
Carbohydrates:
29
g
|
Protein:
20
g
|
Fat:
24
g
|
Saturated Fat:
4
g
|
Polyunsaturated Fat:
13
g
|
Monounsaturated Fat:
5
g
|
Trans Fat:
0.1
g
|
Cholesterol:
158
mg
|
Sodium:
1329
mg
|
Potassium:
266
mg
|
Fiber:
2
g
|
Sugar:
3
g
|
Vitamin A:
903
IU
|
Vitamin C:
1
mg
|
Calcium:
111
mg
|
Iron:
2
mg