Recreate one of the signature dishes at Bubba Gump Shrimp Company is, of course, the Bubba Gump Shrimp. While this recipe may have been inspired by the movie Forest Grump, I know you are going to love this menu item.
This dish features tender, succulent shrimp that are sautéed in a garlic butter sauce and served with jasmine rice. Shrimp lovers will rejoice when you recreate this American classic for dinner.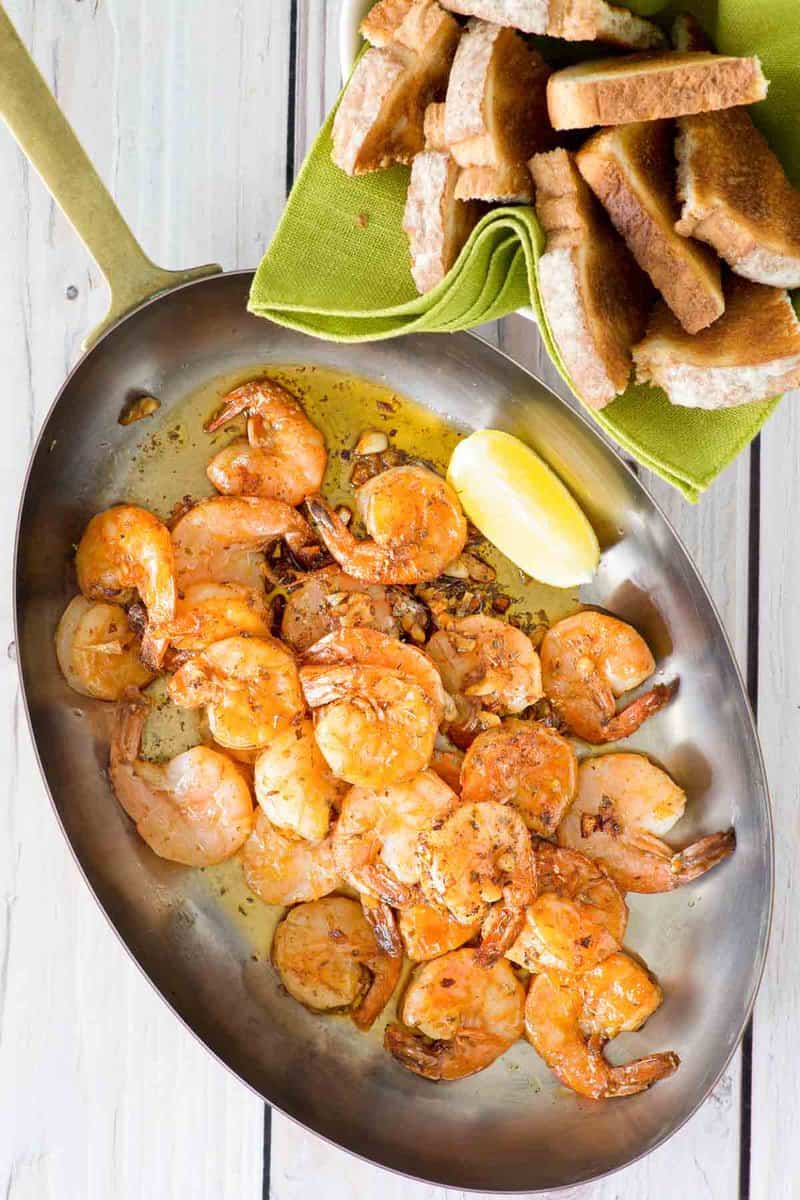 This post contains affiliate links. As an Amazon Associate, I earn from qualifying purchases.
Why is Spicy Cajun Barbecue Shrimp so good?
When you hear barbecue shrimp, you might think it is cooked on a barbeque grill. It is known for its bold and spicy flavors. This is a dish that is a famous shrimp dish from New Orleans. The restaurant Pascale Manale is believed to have created this dish.
If you want to enjoy a meal with seafood lovers, I highly recommend going to that restaurant. Their barbeque shrimp features a wonderful spicy New Orleans sauce that is irresistible.
The shrimp used in this dish are typically large, head-on shrimp that are sautéed with a blend of spices, including garlic, cayenne pepper, paprika, and black pepper. The butter sauce is then added to the pan, along with a splash of Worcestershire sauce and some fresh lemon juice, which helps balance the heat and adds a tangy note to the dish.
Why You Should Try This Recipe
Bubba Gump Shrimp Co.'s Shrimp is a succulent and flavorful dish that is both spicy and buttery. The dish is often served with crusty French bread or rice to soak up all the delicious flavors of the sauce. Barbecue shrimp is a popular dish in many New Orleans restaurants and is often served as an appetizer or main course.
Forest Gump Shrimp Ingredients
Here's what you need:
Butter
Oregano
Garlic
Cayenne pepper
Large shrimp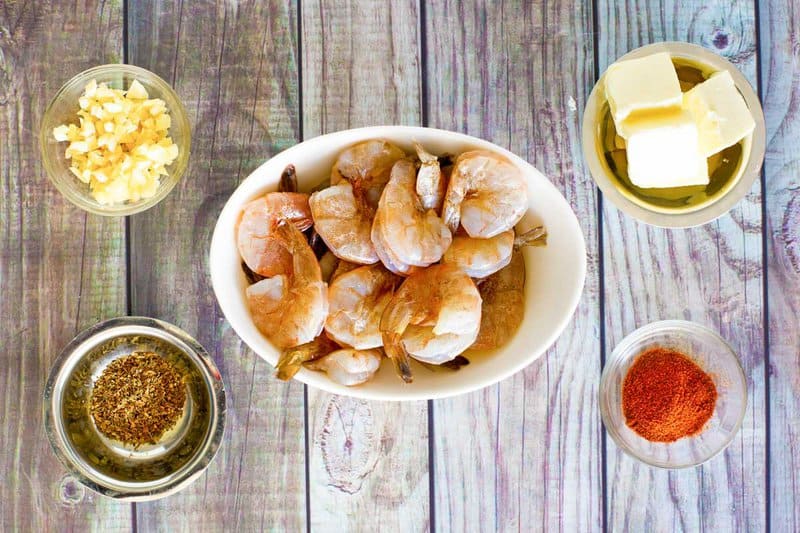 Ingredient Substitutions and Variations for Shrimp Cajun Style
Substitute cayenne pepper with pre-made Cajun seasoning.
Add parsley and thyme for more herbal flavors.
Add a tablespoon of Worcestershire sauce for additional depth of flavor.
I have to mention my favorite shrimp seasoning; my favorite is Paul Prudhommes Shrimp Magic
Add a tablespoon of lemon juice for extra lemony flavor.
Sprinkle parmesan cheese on top.
Add a tablespoon of chopped white onions to the sauce for extra flavor; not part of their recipe, but it's pretty tasty.
How to Make Bubba Gump Cajun Shrimp
There isn't much preparation time involved. The most time-consuming task would be peeling and deveining shrimp, but you can eliminate that by buying shrimp already peeled and deveined.
Here are the simple recipe steps for this shrimp preparation:
Peel and devein the shrimp if needed. Rinse and drain on paper towels.
Melt butter in a large skillet over medium heat on the stove.
Add all spice ingredients and stir to combine.
Cook until hot but not smoking.
Add shrimp to the pan and stir occasionally.
Simmer until shrimp turn pink and are just done about 5 minutes.
Taste and season with salt and black pepper if desired.
Transfer the shrimp and sauce to a large bowl and serve with lemon wedges.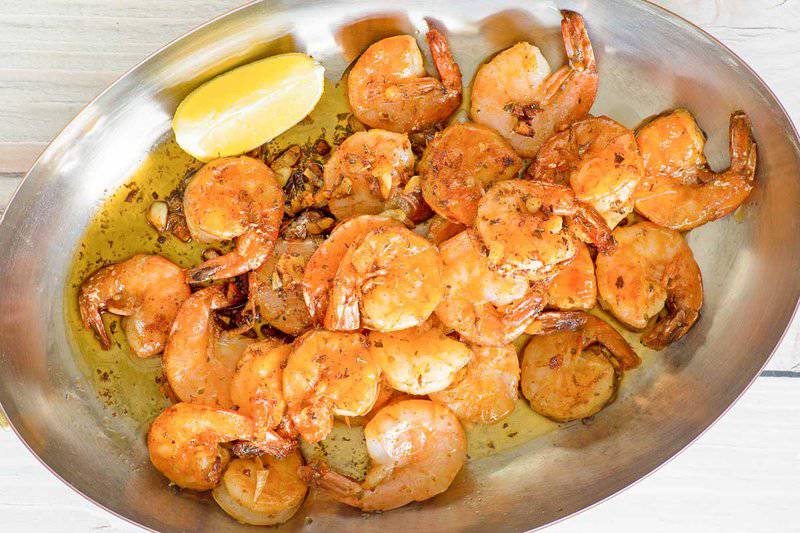 What to Serve with Cajun Shrimp
A fresh baguette, toasted bread, especially sourdough, is great for sopping up all the buttery sauce. It's a little bit of heaven!
You can complete the meal with steamed or your favorite type of rice, mashed potatoes, and a vegetable such as air-fried broccoli or grilled corn on the cob.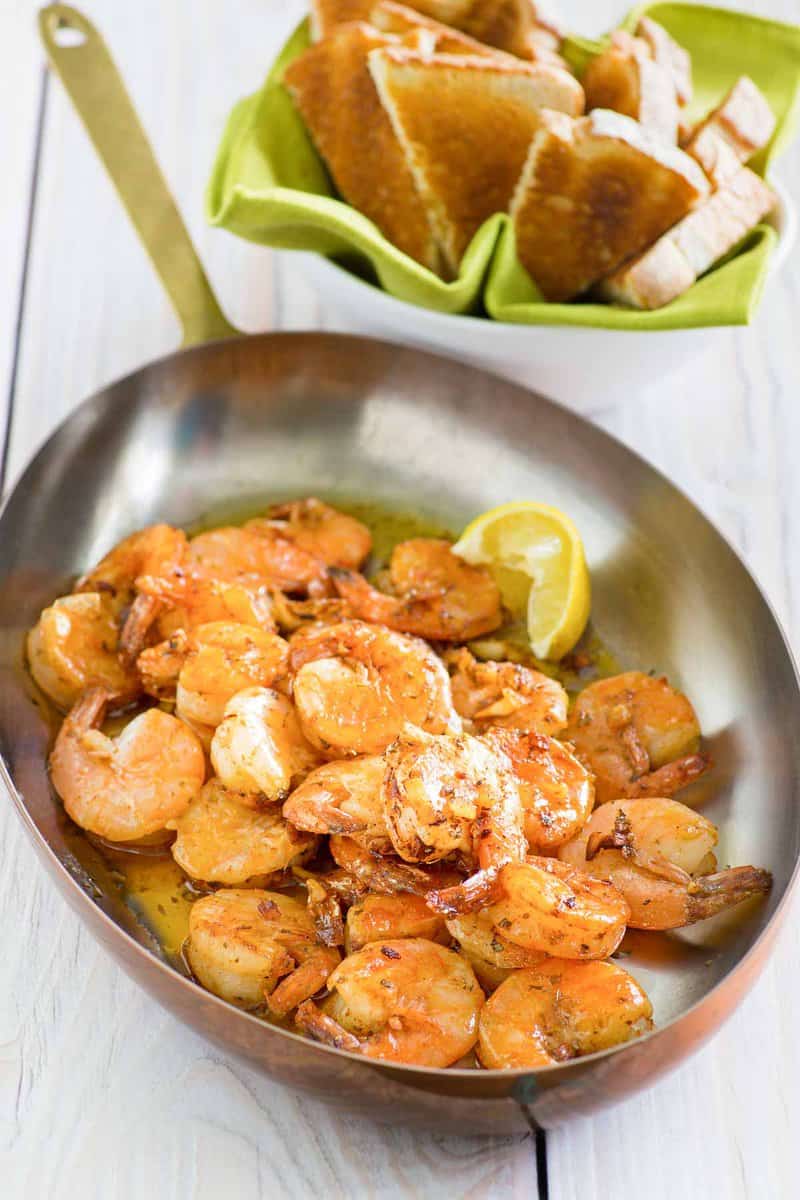 How to Store Leftover Cajun Style Shrimp
You should store any leftover Cajun style shrimp in an airtight container in your refrigerator for up to three days.
How to Reheat Bubba Gump Shrimp
I like to reheat this by placing the leftover shrimp and sauce into a saucepan and heating it on low heat until warmed through. I find when I reheat this in the microwave the butter spatters and it the shrimp can overcook.
Love Cajun and Creole food? Check out these favorites
Delicious Shrimp Recipes
Be sure to take a look at more of my easy seafood recipes and the best casual dining restaurant copycat recipes.
Thanks to Kachurr50 for sharing this shrimp recipe.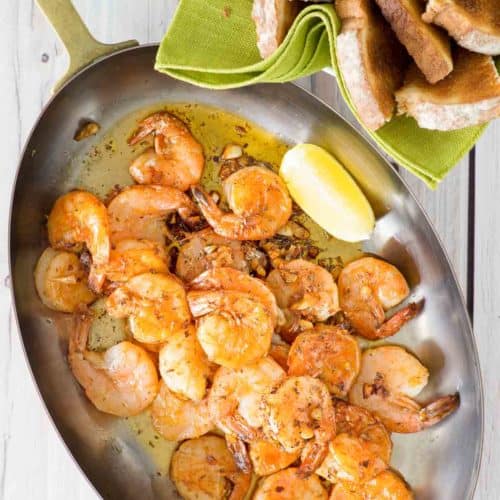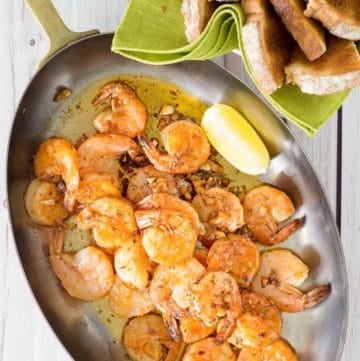 Ingredients
1/2

cup

butter

1

tablespoon

oregano

2

tablespoons

chopped garlic

1

teaspoon

ground cayenne pepper

24

pieces

large shrimp
Instructions
Place all ingredients except the shrimp into a large skillet.

Cook on medium heat until the butter is melted and hot.

Add shrimp and stir occasionally. Cook until the shrimp are pink and just done, about 5 minutes.
Notes
Serve with 2 slices of toasted sourdough or other good bread.
Nutrition
Calories:
218
kcal
|
Carbohydrates:
2
g
|
Protein:
1
g
|
Fat:
23
g
|
Saturated Fat:
14
g
|
Cholesterol:
76
mg
|
Sodium:
250
mg
|
Potassium:
31
mg
|
Fiber:
0
g
|
Sugar:
0
g
|
Vitamin A:
730
IU
|
Vitamin C:
1.5
mg
|
Calcium:
43
mg
|
Iron:
0.6
mg