Starbucks Cake Pops are a tasty treat to enjoy on any occasion. These copycat Starbucks cake pops are better than getting them at the coffee shop and less expensive too. They are great for a birthday party and you can make them with colors for Christmas, Valentine's Day, Halloween, or any holiday.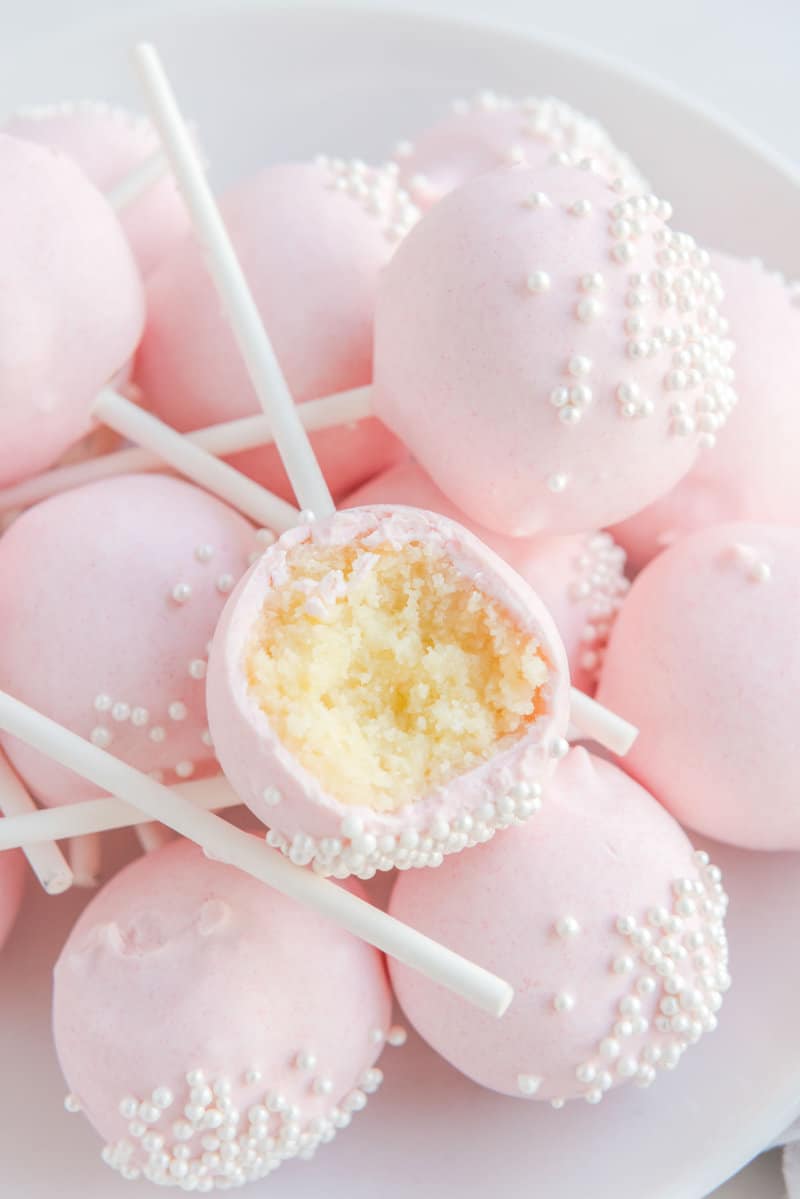 This post contains affiliate links. As an Amazon Associate, I earn from qualifying purchases.
What Makes Starbucks Cake Pops So Good?
Copycat Starbucks Cake Pops are just as adorable as they are delicious. These bite-sized treats have a light pink candy coating studded with tiny sugar pearls and a soft center of classic white cake crumbs and creamy vanilla frosting.
A fun on-the-go way to satisfy your sweet tooth or the perfect gift for someone you care about.
Why You Should Try This Recipe
These trendy cake pops may look like they are straight out of a boutique bakery, but they're actually pretty simple to make. Better yet, this is the perfect recipe to get your children excited about baking. Young kids will love to decorate (and eat) Starbucks Cake Pops.
Starbucks Cake Pop Ingredients
To make these cakes, you'll need:
White cake mix
Other ingredients listed on the boxed cake mix
Although each white cake mix is different, most only require adding eggs, vegetable oil, and water to make the cake batter.
If you prefer, use your favorite white cake recipe, or to save a lot of time, purchase an inexpensive white sheet cake from the bakery.
To finish the cake pops, you'll need:
Vanilla frosting – either store-bought or homemade frosting
Light pink candy melts
Vegetable shortening
Sugar pearls or white sprinkles
Use a different flavor of frosting if you want to change the taste of the cake pops. Chocolate fudge, strawberry, and lemon would work well in this recipe.
You can use different colors of candy melting wafers and sprinkles for holidays, baby showers, or other special occasions. If you choose to color white candy melting wafers, be sure to use gel food coloring and not liquid food coloring.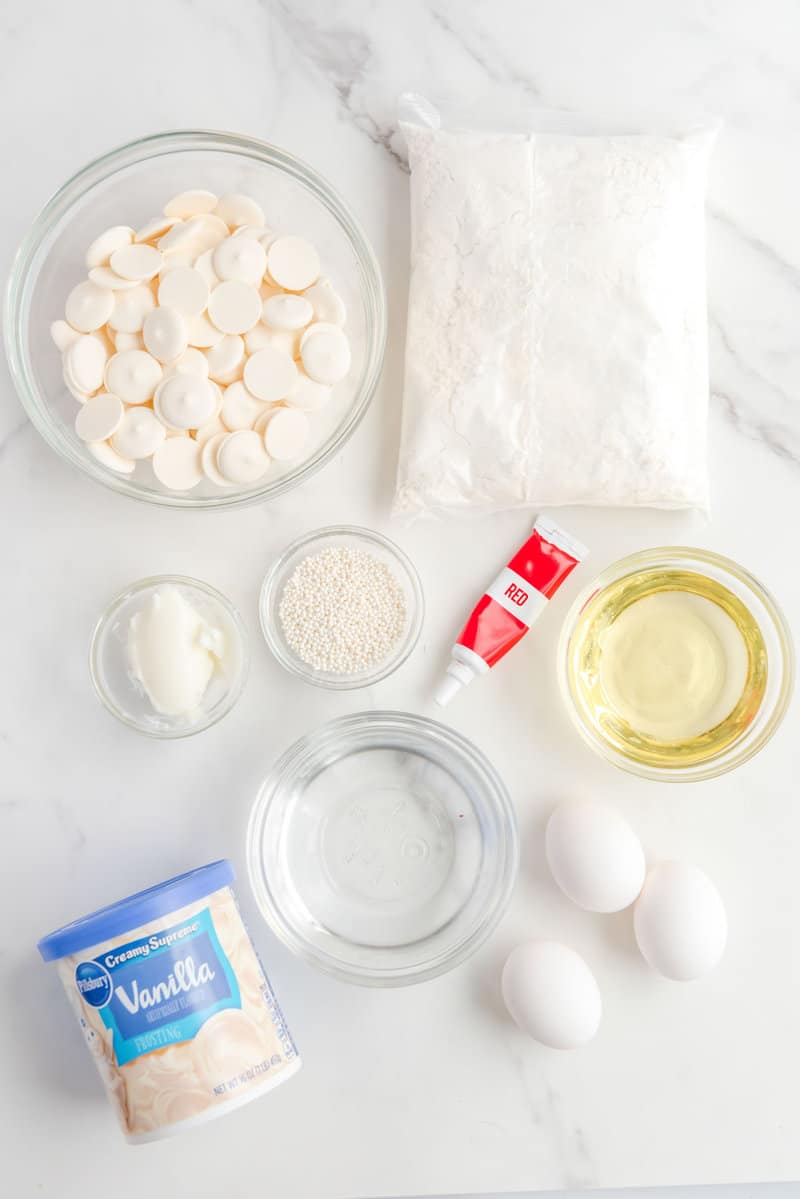 Special Equipment You May Need
For the best results, you'll want to have a few unique items on hand. But don't shy away from this copycat Starbucks Cake Pop recipe if you don't happen to have them available. There are alternatives.
Cake pop sticks and wrappers make your treats look professional. You can use lollipop sticks or popsicle sticks or leave out the sticks entirely and call them Cake Truffles!
A large cookie scoop or meatball maker works well to portion the cake mixture.
A cake pop stand will help you display your pops beautifully, but they are unnecessary. If you don't have a cake pop stand, you can stick the cake pop sticks into a piece of Styrofoam or in a jar filled with sugar.
How to Make Copycat Starbucks Cake Pops
To make the cake balls:
Bake the cake according to the directions on the box.
Cool the cake in the pan completely on a wire rack.
Remove the cake from the pan and use a serrated knife to remove any brown bits.
Use your fingers to break up the remaining cake into a large bowl. The smaller the pieces of cake, the better.
Add the vanilla frosting to the mixing bowl and use a rubber spatula to work the frosting into the crumbled cake.
Line a baking tray with wax paper and set it to the side.
Roll the cake mixture into golf ball-sized portions and set them on the wax paper-lined baking tray.
Continue rolling until there is no more cake mixture.
Cover the baking tray with plastic wrap and chill for at least three hours. Re-rolling the cake mixture balls halfway through the chilling time will create a smoother appearance.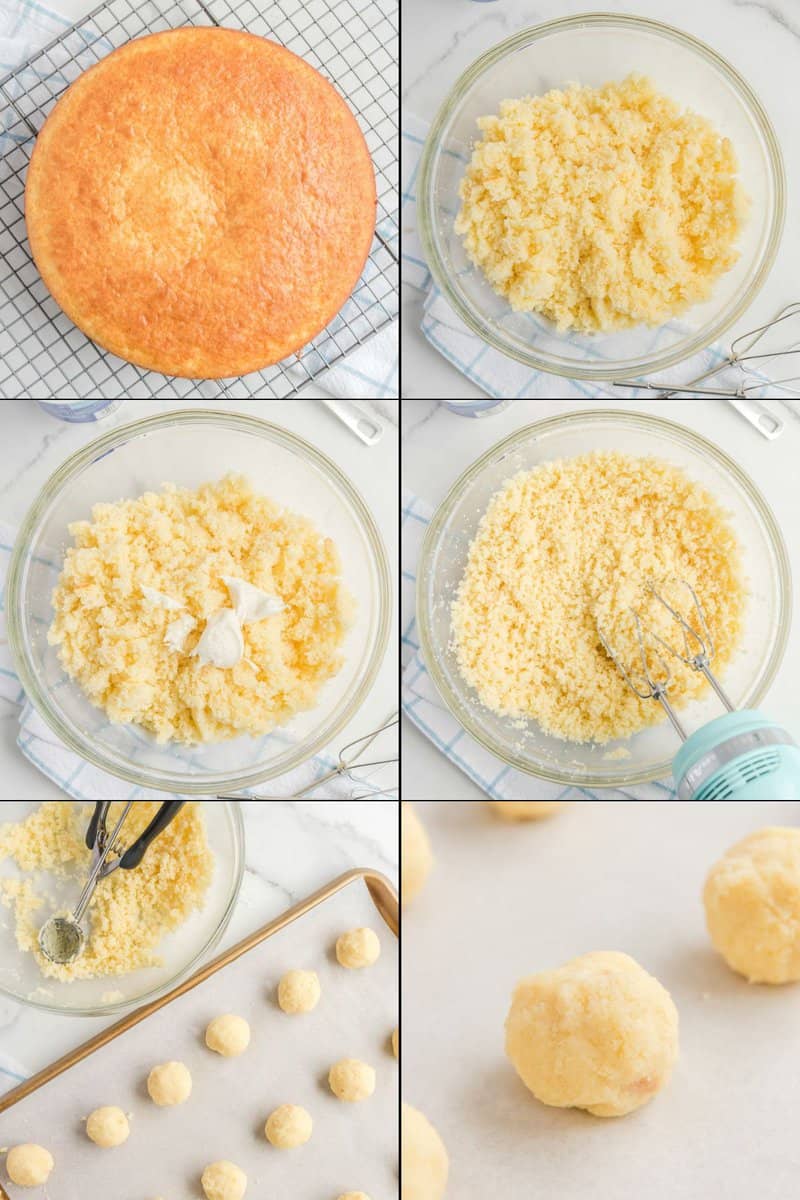 To add the stick to the Starbucks Cake Pops:
Take the baking tray with the chilled cake balls out of the fridge and place it on the counter.
Poke a cake pop stick halfway through each ball to form a hole. Remove the stick and repeat for each cake pop ball.
Heat about a half-cup of candy melting wafers in a microwave-safe bowl at 50% power for a minute.
Stir in half a tablespoon of vegetable shortening. Return the candy melting wafer to the microwave and heat for an additional 30 second interval at 50% power. Stir. Continue heating and stirring until the candy coating is smooth.
Dip about a half-inch of the tip of a cake pop stick into the melted candy coating. Stick the dipped end of the stick into the holes in the cake mixture ball and place the cake pop back onto the wax paper-lined baking tray. The melted candy will help secure the cake ball to the stick.
Repeat with all the remaining cake balls.
Return the cake pops to the fridge for at least 30 more minutes.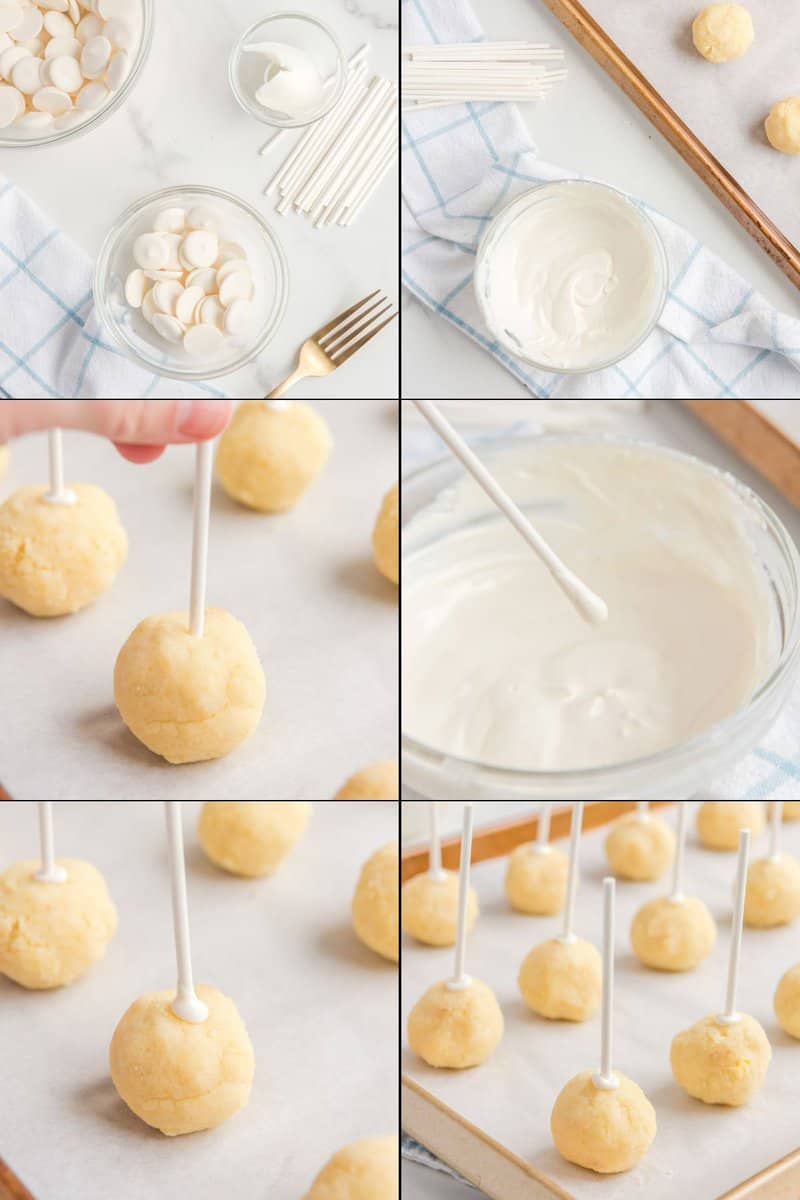 To finish making the Starbucks birthday cake pop:
Melt the remaining candy melting wafers as above.
Add the gel coloring if needed.
Stir in the coloring until it's uniform in color.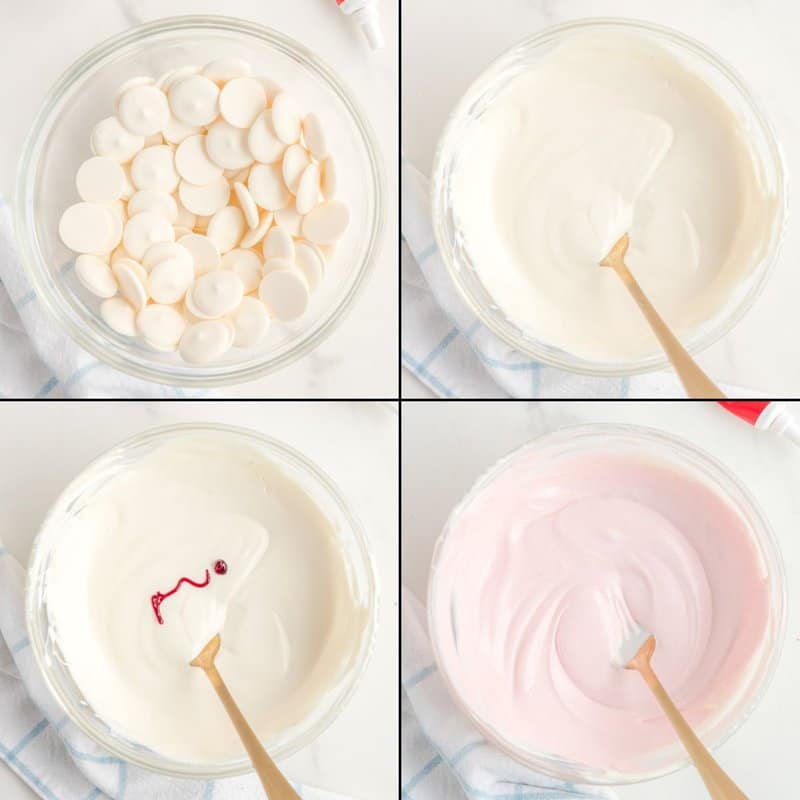 Pour the melted candy coating into a tall, narrow glass to make dipping easier.
Dip a cake pop into the coating and decorate it with sugar pearls or sprinkles. Place the decorated cake pop on the stand. After dipping the rest of the pops, chill them until the coating sets.
Wrap the cake pops in plastic and store them carefully.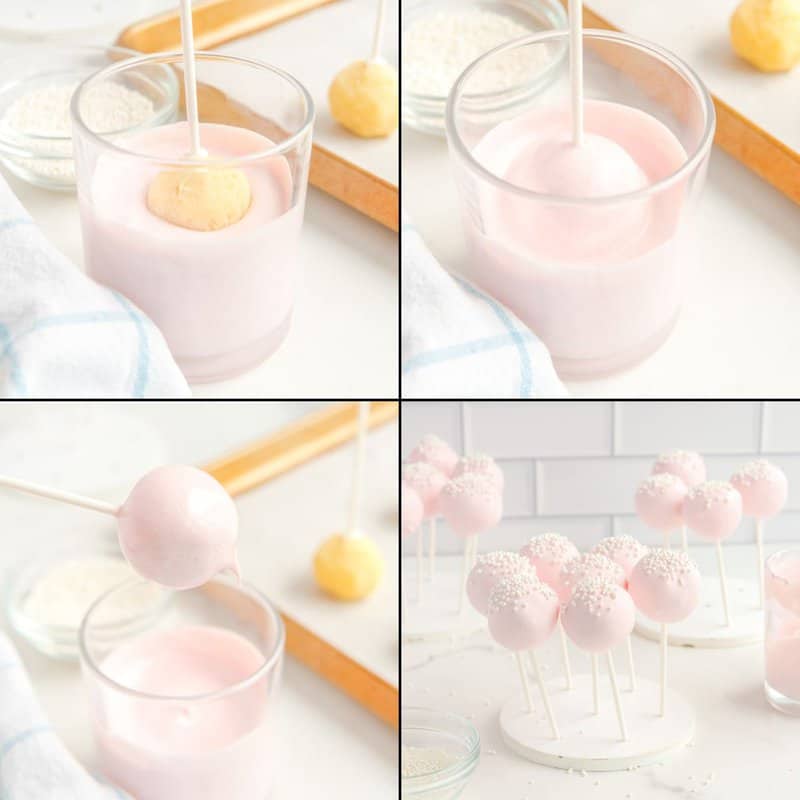 Recipe Variations
You can make other cake pop flavors and decorate them for different holidays. Here are some ideas:
Chocolate Cake Pops – Use regular or dark chocolate cake mix, chocolate frosting, and chocolate chips or chocolate candy melts for the chocolate coating.
Red Velvet Cake Pops – Use red velvet cake mix, cream cheese frosting, and white chocolate candy melts.
Strawberry Cake Pops – Use strawberry cake, strawberry frosting, and pink candy melts (or white candy melts colored pink or red).
Vanilla Cake Pops – Use vanilla cake or add 1 teaspoon of vanilla extract to the white cake mix.
What to Serve With Starbucks Cake Pops
These colorful treats look fantastic when displayed as part of a dessert buffet, but they are just as delicious when you give your guest two or three to nibble on with a cup of coffee or tea.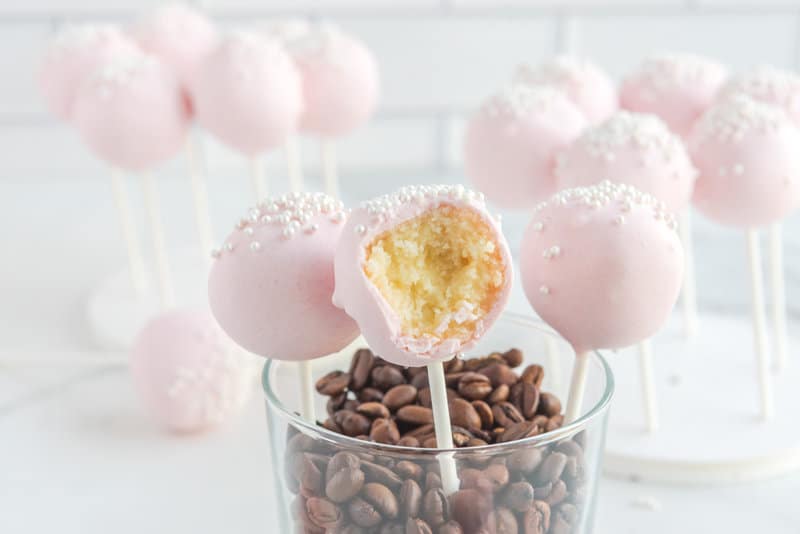 How to Store Cake Pops
You can keep the wrapped cake pops on the counter at room temperature for up to five days.
For longer storage, place them in an airtight container in the freezer for up to two months. Let the cake pops thaw before serving.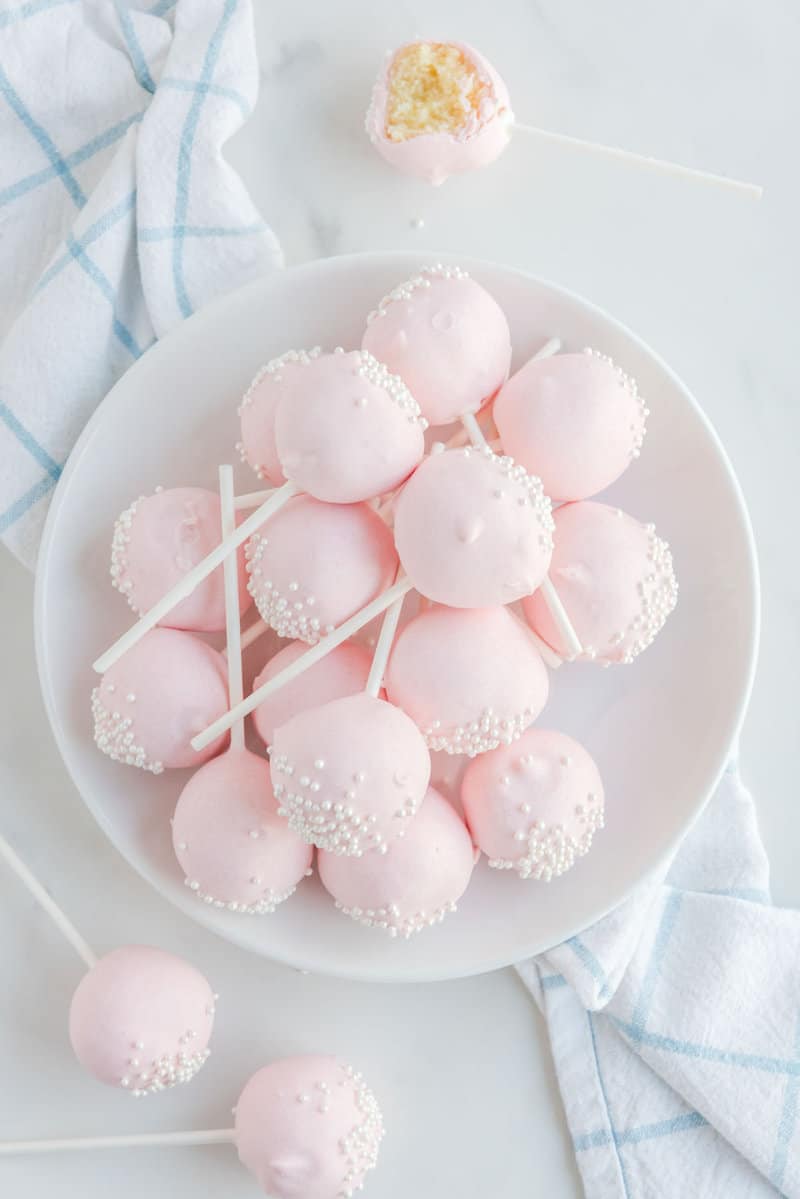 More Starbucks Copycat Recipes
Fun Cake Recipes
Check out more of my easy cake recipes and the best copycat Starbucks recipes on CopyKat!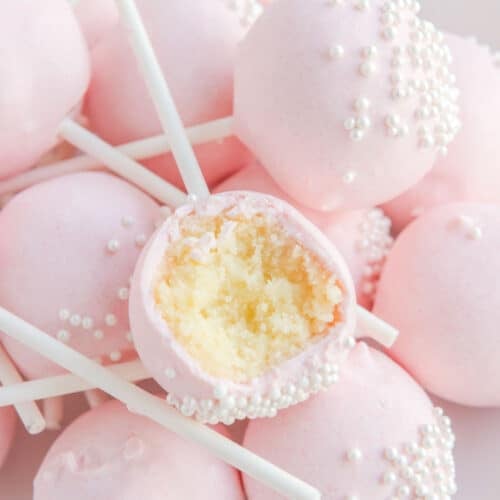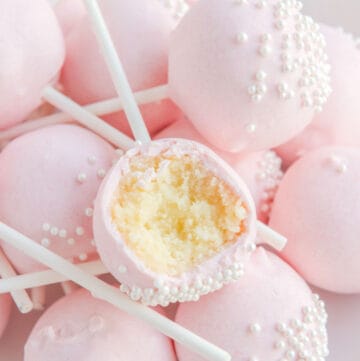 Ingredients
1

box

classic white cake mix

prepared according to package directions, cooled

4 to 5

tablespoons

vanilla frosting

10

ounces

light pink candy melting wafers

divided use

2

tablespoons

Crisco vegetable shortening

divided use

round white sprinkles
Instructions
Shave the brown edges off the cake. In a large mixing bowl, crumble the remaining cake with your hands, or preferably with an electric

mixer

. Add the frosting and mix to combine.

Line a large baking sheet with parchment paper. Scoop the cake mixture with a cookie scoop and use your hands to roll it into tight, smooth, round balls. If the cake mixture does not stay together even after you've compressed it, add an additional tablespoon of frosting to the mix. Place each ball on the prepared baking sheet and refrigerate for at least 3 hours.

Remove the baking sheet from the refrigerator and poke each ball with a cake pop stick, sticking it about halfway through each ball and then removing it.

Add about 1/2 cup of the melting wafers to a microwave-safe bowl. Microwave on 50% power for 60 seconds. Add 1/2 tablespoon of shortening and stir gently. Return to the microwave and heat in 30-second intervals on 50% power, stirring in between, until the wafers are melted and silky smooth.

Dip one tip of a cake pop stick into the melted wafers, about 1/2 inch deep. Then place the covered tip of the stick into the hole in the cake ball you created earlier. Repeat with a new cake pop stick for each cake ball. Refrigerate for 30 minutes before proceeding.

Near the end of the chill time, prepare the remaining candy wafers. Repeat Step 4 using the remaining wafers and shortening until the mixture is silky smooth. Pour the melted wafers into a deep bowl or cup for dunking.

Remove the cake pops from the refrigerator. Working one at a time, dunk a cake pop into the melted wafers and carefully pull it out, allowing the excess to drip off. Place the cake pop into a cake pop stand with the stick pointing downward and immediately top with sprinkles. Repeat this process for each cake pop.

Refrigerate the cake pops for another 30 minutes before serving.
Notes
In the middle of the first cake pop chill time, you can round the balls again using the palms of your hands to create a smoother shape.
You can substitute the light pink candy melting wafers with white melting wafers and pink gel food coloring. Do not use liquid food coloring drops.
Nutrition
Calories:
155
kcal
|
Carbohydrates:
28
g
|
Protein:
1
g
|
Fat:
4
g
|
Saturated Fat:
3
g
|
Polyunsaturated Fat:
1
g
|
Monounsaturated Fat:
1
g
|
Trans Fat:
0.3
g
|
Sodium:
191
mg
|
Potassium:
17
mg
|
Fiber:
0.3
g
|
Sugar:
17
g
|
Calcium:
57
mg
|
Iron:
1
mg