Starbucks is known for its fabulous treats. They have many coffee drinks that are fun, but they also serve up many delicious items such as their pumpkin bread and their banana bread. Now it is time for their simply scrumptious Starbuck's Petite Vanilla Scones.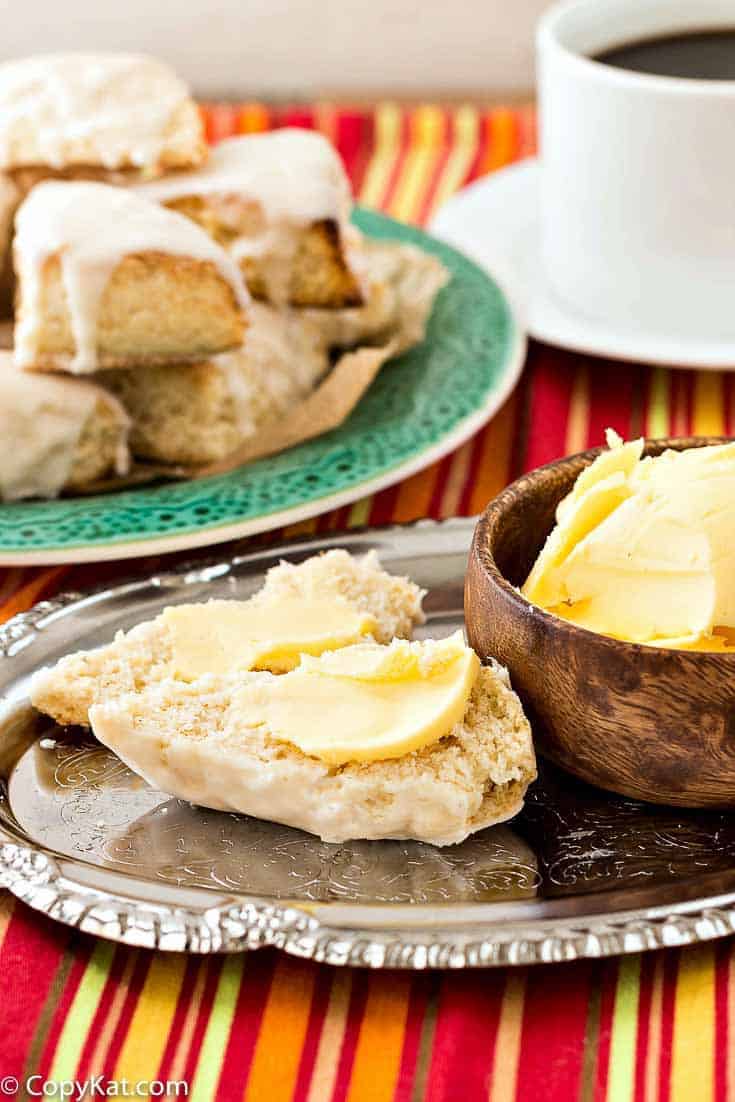 I can't think of a way that is more decadent than to go to the coffee shop in the morning and treat myself to a fancy coffee and a bakery treat than this. A decadent breakfast is something I typically only enjoy on the weekend.
Now you can enjoy these scones any day of the week, and this copycat recipe tastes just like the coffee shop. And yours will be made with your love and attention.
For this recipe, the vanilla bean is very critical to success, but you have some options. You can buy vanilla beans. There are many places online that sell well-priced vanilla beans. I have also found that Costco sells vanilla beans at good prices.
You may also want to consider using a vanilla bean paste. Vanilla bean paste can replace vanilla extract if you don't mind the beans.
This post contains affiliate links. As an Amazon Associate, I earn from qualifying purchases.
Recipe Ingredients
To get this recipe, we need to be a little picky on the ingredients.
You should use cake flour; it will give you a better result than all-purpose flour.
The vanilla is important, so you may need to buy some vanilla beans or vanilla bean paste. If you don't want to splurge on the vanilla, you can use extract.
The recipe requires you to use heavy cream. Don't use milk, half and half, and not any form of fat-free milk. You need the full fat of the cream to make these set up well.
Jenny, the Online Pastry Chef recommends you to use ground vanilla beans, vanilla bean powder, or even the seeds scraped from a fresh vanilla bean (although that gets pricey for just glaze). She uses Sonoma Syrup Co. Vanilla Bean Crush Extract, and it has wee specks. She also thinks that Nielsen-Massey's vanilla paste has more specks in it, so you can use that too. But the Crush is my favorite vanilla ever. =)
These scones are not hard to make. Don't be discouraged. Take your time and you will soon be making these scones.
Meanwhile, be sure to check out some of my favorite Starbucks Coffee Drinks: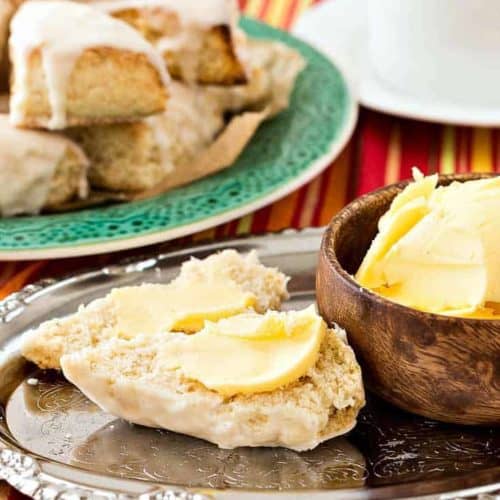 Ingredients
1 1/2

cups

cake flour

whisked to aerate, spooned into a cup and leveled off or 6 oz by weight

2 1/2

tablespoons

granulated sugar

2

teaspoons

baking powder

3/8

teaspoon

fine sea salt

1

ounce

cream cheese

2 tablespoons

5

ounces

heavy cream

1/2 cup plus 2 tablespoons

1

teaspoon

vanilla extract
Glaze
2

cups

powdered sugar

(whisked, spooned and leveled)

1/8

teaspoon

fine sea salt

3

tablespoons

milk

1

teaspoon

vanilla extract
Instructions
Scones directions
For the Scones Set a rack in the center of the oven and preheat to 425F.

Whisk the flour, baking powder and salt together in a medium bowl. Add the cream cheese and work it in with your fingertips really well until there are no little "pebbles" of cream cheese visible. The flour should seem very slightly mealy but not gummy. Whisk together the heavy cream and vanilla. Make a well in the center of the flour mixture and pour in the cream. Stir gently to combine (I use a knife to avoid getting too crazy with mixing).

When the dough has mostly come together (there may be a bit of loose flour in the bowl), scrape the dough out onto a floured surface and knead 2-3 times until the dough is fairly smooth. Form the dough into a rectangle 6" x 5" and about ¾" high. I use a bench knife to help me get a nice, rectangular shape.

Cut the dough in half the long way and then cross-ways into thirds for a total of six small rectangles. Cut each rectangle into 2 small triangles and arrange on a parchment-lined baking sheet so they aren't touching. Bake for 13-15 minutes or until lightly golden brown. Remove to a wire rack to cool completely. Glaze. Let the glaze set up for a couple of hours before serving. Reheat to just warm in the toaster oven or for a few seconds in the microwave.
Glaze
Whisk together the powdered sugar, salt, milk and vanilla until you have a thick but pourable glaze. Place the scones on a cooling rack set over a cookie sheet or parchment to catch drips. Spoon a generous amount of glaze over each scone to completely cover the tops. Allow the glaze to set up for 15 minutes. Then, rewhisk the remaining glaze and repeat the glazing process. Let the glaze set up for at least two hours.
Nutrition
Calories:
197
kcal
|
Carbohydrates:
34
g
|
Protein:
2
g
|
Fat:
5
g
|
Saturated Fat:
3
g
|
Cholesterol:
19
mg
|
Sodium:
111
mg
|
Potassium:
100
mg
|
Fiber:
0
g
|
Sugar:
22
g
|
Vitamin A:
210
IU
|
Vitamin C:
0.1
mg
|
Calcium:
45
mg
|
Iron:
0.2
mg