Starbucks Chai Tea Latte is a delicious hot tea drink perfect for a chilly day. It's creamy, perfectly spiced, and lightly sweetened with vanilla syrup.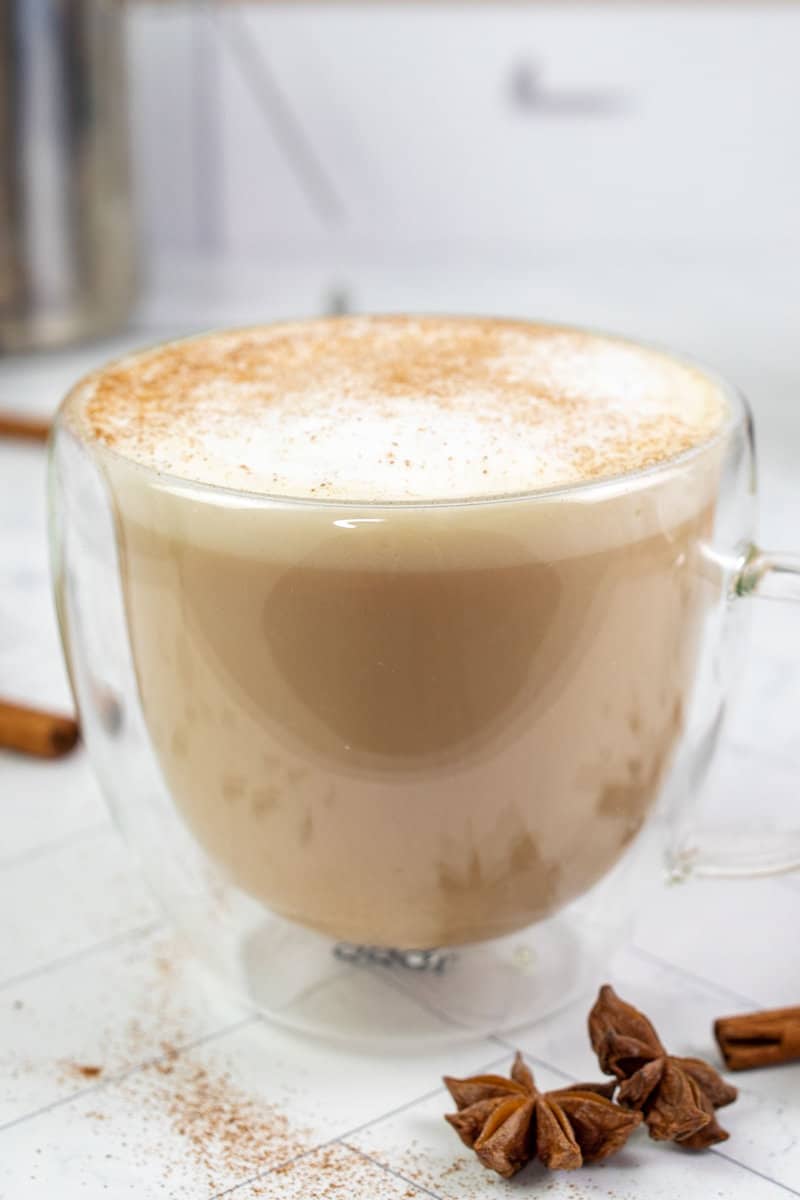 This post contains affiliate links. As an Amazon Associate, I earn from qualifying purchases.
What Makes Chai Tea Latte So Good?
The popularity of chai tea in the US is growing as more cafes begin offering the drink as an option. But the Chai Tea Latte from Starbucks is a bit unique.
By combining traditional spiced chai tea with a dash of vanilla-flavored syrup and steamed milk, you get a chai latte that is extra smooth without losing those complex flavors of spice that makes chai so tasty.
Why Should You Try This Recipe?
Many copycat Starbucks Chai Latte recipes use a concentrate. Chai tea concentrates are not only expensive, but most also contain sweeteners and even dairy.
Since this recipe allows you to brew chai tea from tea bags or a loose chai tea blend, you have much more control over the taste of your drink. Once you know how to make Starbucks Chai Tea Latte at home, you can prepare this delicious pick-me-up any time you please for a fraction of the menu price.
What is Chai?
Chai is a spiced black tea. It is commonly made with cardamom, cinnamon, ginger, cloves, black pepper, star anise, nutmeg, or similar spices. It is often sweetened with honey, sugar, or molasses.
Masala Chai is an Indian tea beverage made by boiling black tea, milk, water, herbs, and spices. It also has a little sweetness from sugar or honey.
What Does a Chai Tea Latte Taste Like?
Exotic spices and sweet vanilla combine to create a coffee-free drink that's interesting enough to appeal to those who think ordinary tea is just a bit too bland.
A Chai Tea Latte is perfect for those chilly mornings when you want something a little more special than your regular coffee.
Starbucks Chai Tea Latte Ingredients
For a Chai Tea Latte from Starbucks, you'll need:
Water
Chai tea – Tzao or Teavana
2% milk
The key to this recipe is using a chai tea that you love. You can certainly use Tazo chai concentrate to make things a bit easier, but you can also use chai tea in a bag or even a loose-leaf traditional chai blend.
How to Make Chai Tea Latte Like Starbucks
To make this Chai Tea Latte beverage:
To make chai tea from scratch, boil water and brew for four to five minutes using two tea bags or double the amount of chai tea blend as usual. If you are using chai tea concentrate, skip this step.
While the tea is brewing, froth the milk. Use the steam wand on an espresso machine or an electric frother that heats the milk if you own one. Otherwise, heat the milk in the microwave on HIGH for 40 seconds and use a wand frother or shake the heated milk in a sealed jar until frothy.
Transfer the brewed chai tea or chai tea concentrate into the serving cup and stir in the vanilla syrup.
Pour the hot milk into the serving cup and use a spoon to top the chai tea with any remaining milk foam.
What To Serve With a Chai Tea Latte
Since a Chai Latte is bursting with flavor, it is perhaps best to pair it with something a bit bland. Pound cake or butter cookies would make ideal snacks.
Recipe Variations
Experiment with a few of these twists to find your perfect customized Chai Tea Latte:
Add a dash of ground cinnamon and ginger to the milk before frothing for even more spice.
Make a vegan version by using non-dairy milk. Oat milk or coconut milk works well in this recipe.
Add a shot of espresso for a coffee kick.
Use a few drops of vanilla extract in place of the vanilla syrup for a less sweet drink that is still full of flavor.
Use whole milk or sweet cream for a creamier latte.
Top it with cold foam or whipped cream.
Try making a copycat Starbucks Iced Chai Tea Latte recipe by using cold milk and allowing the tea to cool before mixing the drink.
Does Chai Tea Contain Caffeine?
Yes. Black tea is one of the ingredients in chai. According to Starbucks, the chain's 16 oz Chai Tea Latte contains 95 mg of caffeine. A homemade Chai Latte may have more or less caffeine, depending on how you make it.
How To Make a Skinny Chai Tea Latte
Cut calories and fat by swapping skim milk for two percent milk, using chai tea bags instead of the concentrate, and opting for calorie-free vanilla syrup.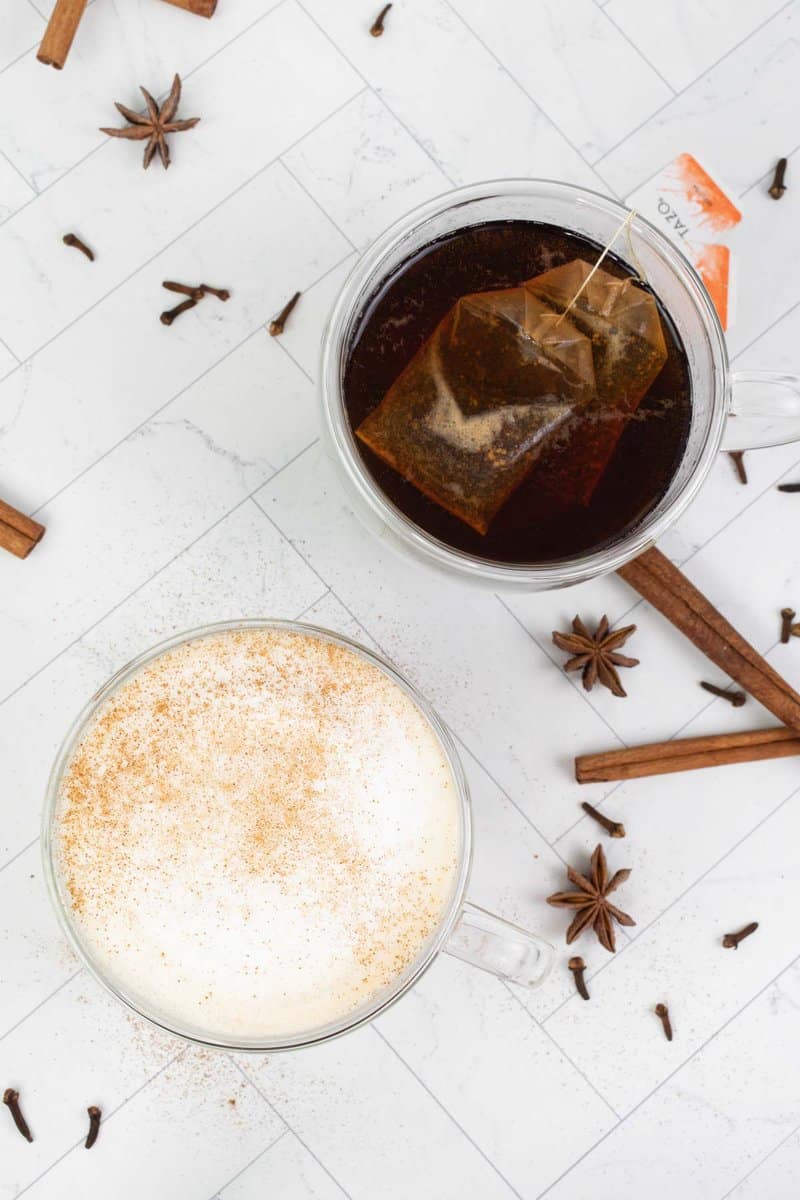 Favorite Starbucks Recipes
Popular Fast Food Drinks
Check out more of my easy drink recipes and the best copycat Starbucks recipes on CopyKat!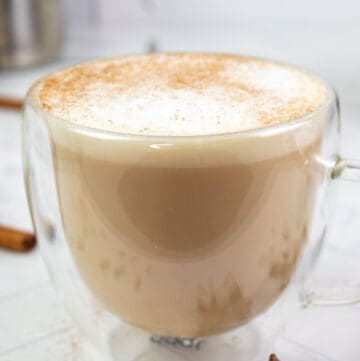 Ingredients
1

cup

water

2

Chai tea bags

1

cup

2% milk

1

ounce

vanilla syrup
Instructions
Bring the water to a boil. When the water is boiling, pour it into a large mug.

Add the tea bags and steep for 3 to 5 minutes. Remove the tea bags.

Meanwhile, heat the milk in the microwave for about 30 seconds to 1 minute.

When the milk is hot, froth it using a milk frother or by shaking the milk in a jar with a lid until it has doubled in size. If you use a jar to shake the milk, be sure to fasten the lid well and shake for about 30 seconds.

Pour the vanilla syrup into the tea and stir.

Pour the frothed milk into the tea and spoon any remaining milk froth on top.
Nutrition
Calories:
194
kcal
|
Carbohydrates:
32
g
|
Protein:
8
g
|
Fat:
5
g
|
Saturated Fat:
3
g
|
Polyunsaturated Fat:
0.2
g
|
Monounsaturated Fat:
1
g
|
Trans Fat:
0.2
g
|
Cholesterol:
19
mg
|
Sodium:
127
mg
|
Potassium:
348
mg
|
Sugar:
33
g
|
Vitamin A:
241
IU
|
Vitamin C:
0.5
mg
|
Calcium:
287
mg
|
Iron:
1
mg