Starbucks Apple Crisp Oatmilk Macchiato is a delicious and creamy espresso drink with apple, brown sugar, and cinnamon flavors. Homemade apple cinnamon syrup and brown sugar syrup are what make this coffee drink extraordinary. A great plant-based and non-dairy drink for coffee lovers.
This post contains affiliate links. As an Amazon Associate, I earn from qualifying purchases.
Why the Apple Crisp Oatmilk Macchiato Is the Perfect Fall Macchiato
Staying away from dairy doesn't mean you can't enjoy the taste of your favorite coffee creations. This vegan-friendly recipe for Apple Crisp Macchiato With Oatmilk delivers the same spiced apple flavor that made the original Starbucks menu item the perfect autumn specialty coffee drink without any of the cows' milk.
Why This Is the One Recipe You Want To Try To Make Your Apple Crisp Plant-Based Macchiato
While other Starbucks copycat recipes for this plant-based specialty coffee call for using store-bought syrups, making Apple Crisp Syrup and Brown Sugar Simple Syrup yourself will take this drink to the next level of deliciousness. While it may take a little longer, it is worth the time!
Ingredients to Prepare a Vegan Apple Crisp Oatmilk Macchiato
For the Apple Crisp Syrup, you'll need:
Apple juice
Brown sugar
Cinnamon sticks
Ground nutmeg
Apple, chopped
Lemon juice
Salt
Use fresh apple juice or cider for the best flavor in the apple syrup. You can also use apple juice concentrate.
Choose an apple that is on the tart side, like a Granny Smith, if you want the apple flavor to really shine through in this beverage.
For the Brown Sugar Simple Syrup, you'll need:
Dark brown sugar gives the simple syrup that characteristic brown sugar flavor. You can use light brown or white sugar if you prefer a less prominent flavor component.
To build the drink, you'll need:
Brown sugar syrup
Apple crisp syrup
Oatmilk, steamed
Blonde shot of espresso or strong brewed coffee (you want to use a lighter roasted coffee)
Ingredient Notes and Substitutions
Blonde roast from Starbucks uses a lightly roasted blend of Latin American arabica beans creating a mild, slightly sweet espresso experience. If you don't want to use Starbucks blonde espresso, you can purchase lightly roasted beans and grind them using the espresso setting.
Alternatively, make lightly roasted coffee with your usual brewer and reduce the amount of water you use to give the brewed coffee a bolder flavor.
If you don't have an espresso machine, you can buy a separate automatic milk frother or just heat the milk in the microwave and use a whisk. Oat Milk from Califia Farms is excellent oat milk to use in this recipe if you don't already have a favorite brand.
How To Make a Non-Dairy Apple Crisp Oat Milk Macchiato
To make the Apple Crisp Syrup:
Chop the apple into half-inch pieces.
Bring a small saucepan with the apple juice, chopped fresh apples, brown sugar, cinnamon sticks, ground nutmeg, lemon juice, and salt to a boil.
Reduce the mixture to a slow simmer and heat for 20 minutes. Adjust the heat as needed to maintain a slow simmer, and stir the syrup occasionally.
Remove the saucepan from the heat and allow the syrup to cool.
Strain the cooled syrup into a glass container or jar with a lid. Place in the fridge, and when cold, put on the cover. The syrup will make up to 10 servings and last five days in the fridge.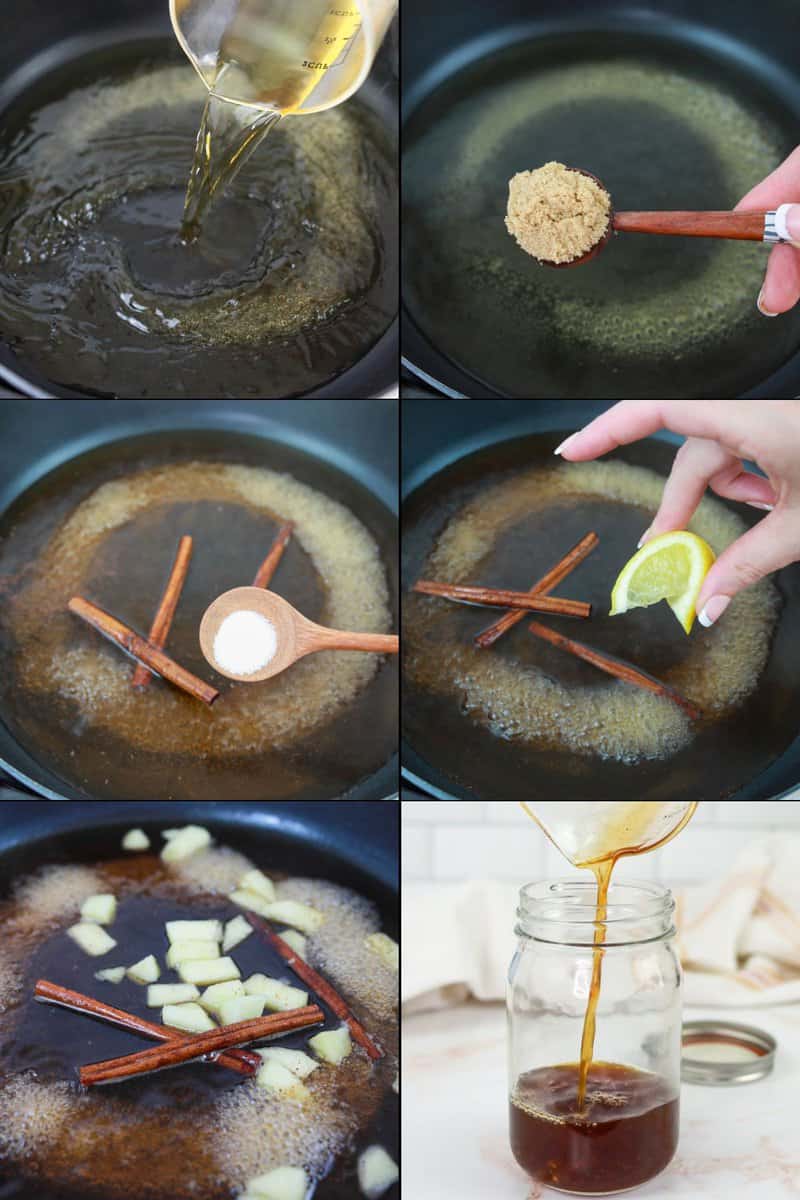 To make the Brown Sugar Simple Syrup:
Pour the water and brown sugar into a small saucepan.
Bring the water to a simmer.
Stir until the water dissolves.
Cool the simple syrup and transfer it to a glass container with a lid. Put the syrup in the refrigerator until cold. Cover and keep for up to a week. This recipe makes 16 servings.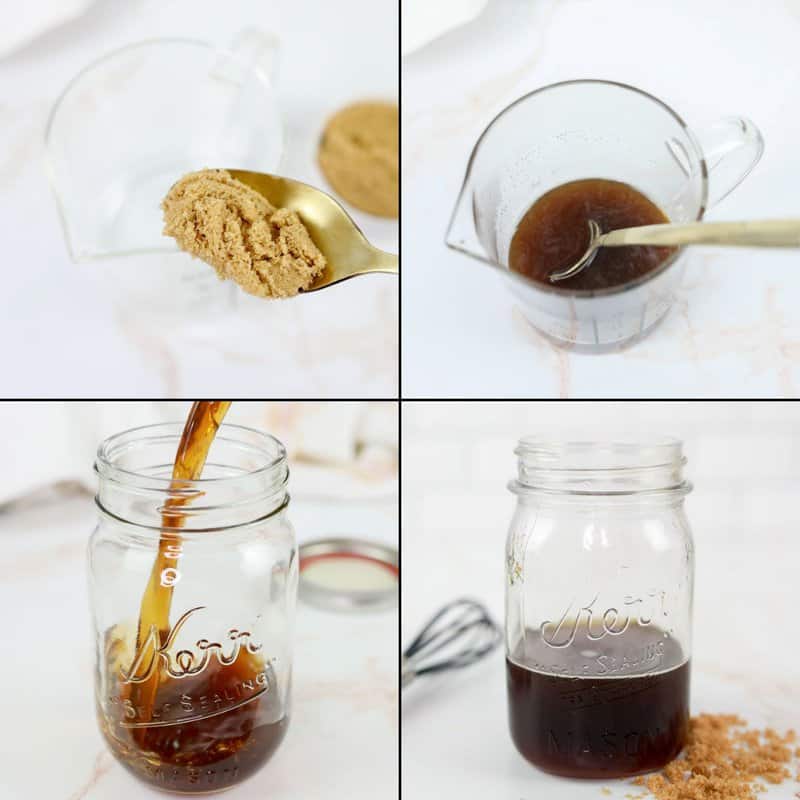 To assemble a vegan Apple Crisp Macchiato:
Pour an ounce of Brown Sugar Syrup and half an ounce of Apple Crisp Syrup into a mug.
Froth the oat milk and pour the hot oatmilk into the mug. Stir well.
Spoon the froth on top of the milk.
Slowly pour the espresso into the mug. Do not stir.
Drizzle half an ounce of the spiced apple drizzle on top of the froth and serve.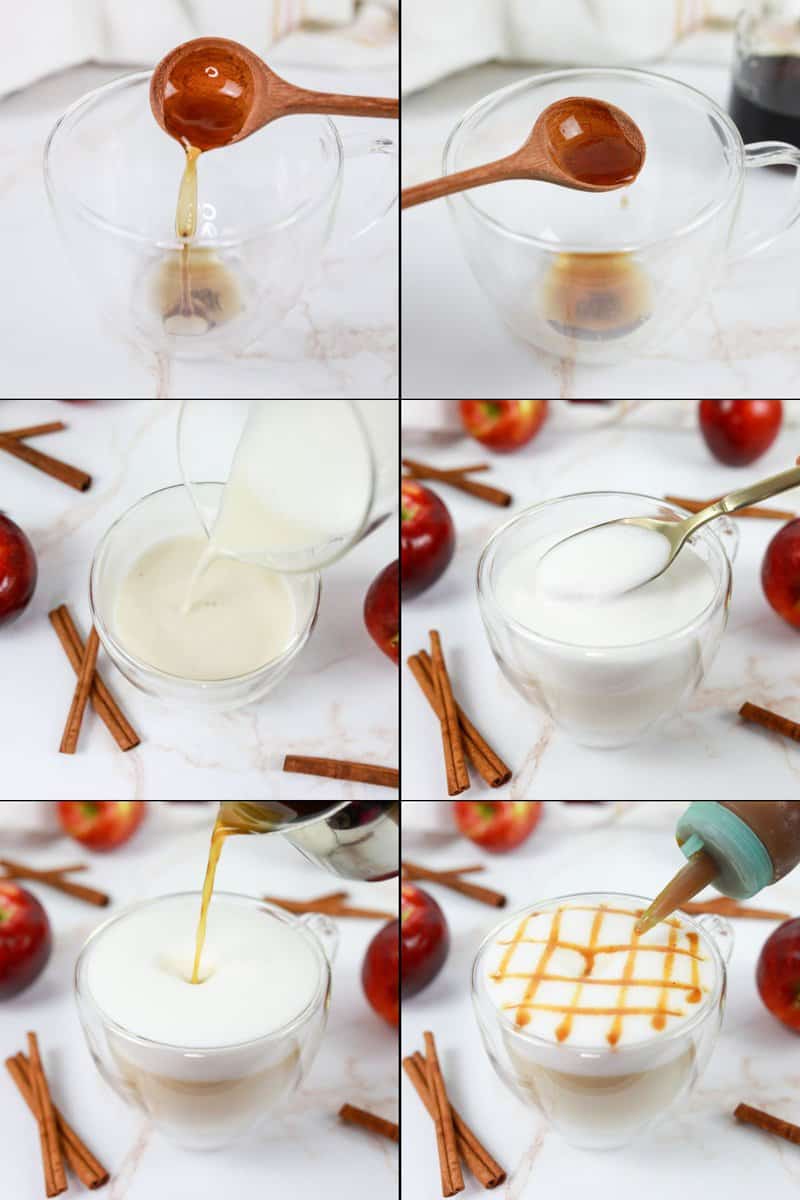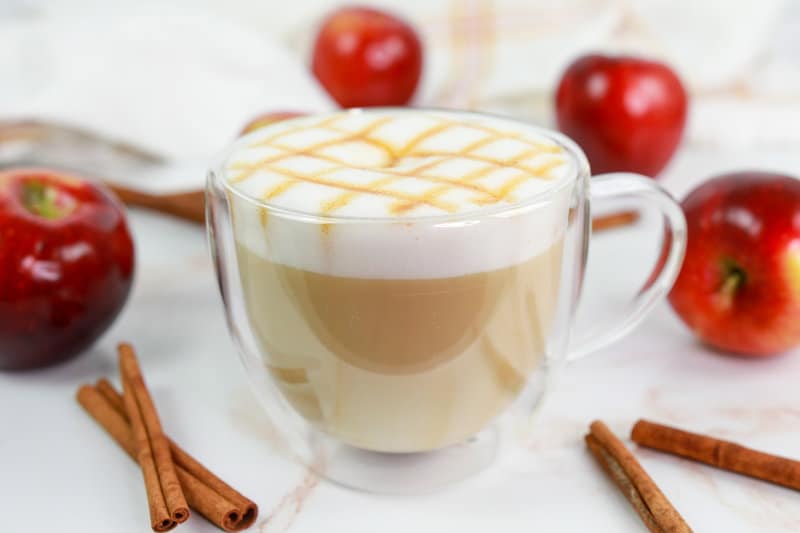 What To Serve With It
Pair this plant-based coffee drink with a vegan apple tart or ginger snap cookie.
Recipe Variations
Replace oat milk with your favorite non-dairy milk. Try pea or cashew milk if you want a plant-based option that will give you good-quality foam.
Love Starbucks? Try These Copycat Recipes
Favorite Fall Apple Recipes
Check out more of my delicious and easy drink recipes and the best copycat Starbucks recipes on CopyKat!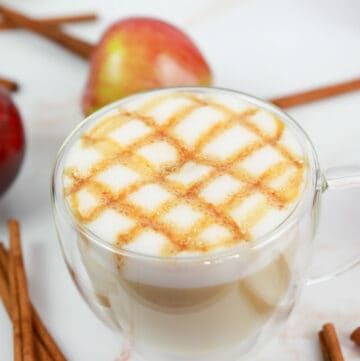 Ingredients
Apple Crisp Syrup
1

cup

apple juice

½

cup

brown sugar

3

cinnamon sticks

½

teaspoon

nutmeg

¼

cup

chopped apple

1

teaspoon

lemon juice

¼

teaspoon

salt
Brown Sugar Simple Syrup
1/2

cup

brown sugar

½

cup

water
Apple Crisp Macchiato
2

teaspoons

brown sugar syrup

1

teaspoon

apple crisp syrup

plus more for topping

1

cup

oat milk

2

ounces

espresso

(2 shots) or strong brewed coffee
Instructions
Apple Crisp Syrup
In a small pot, combine apple juice, brown sugar, cinnamon sticks, nutmeg, lemon juice, chopped apple, and salt.

Bring to a boil, then reduce heat and simmer on low for about 20 minutes.

Remove from the heat and allow syrup to cool to room temperature.

Strain and pour the syrup into a glass container. Refrigerate. This will make about 8 to 10 servings.
Brown Sugar Simple Syrup
Heat the water in the microwave for about 30 seconds.

Add brown sugar and stir.

Pour the brown sugar syrup into a glass container.

Store in the refrigerator. This will make about 16 servings.
Drink Assembly
Place 2 tablespoons of brown sugar syrup into the bottom of a mug.

Place 1 teaspoon of apple crisp syrup into the mug.

Heat oat milk and froth it with a milk frother.

Pour the frothed oat milk into the mug.

Pour two shots of espresso over the milk. Do not stir.

Drizzle apple crisp syrup over the foam in a crosshatch pattern.
Nutrition
Calories:
223
kcal
|
Carbohydrates:
49
g
|
Protein:
4
g
|
Fat:
3
g
|
Saturated Fat:
0.1
g
|
Polyunsaturated Fat:
0.1
g
|
Sodium:
211
mg
|
Potassium:
208
mg
|
Fiber:
2
g
|
Sugar:
43
g
|
Vitamin A:
514
IU
|
Vitamin C:
0.2
mg
|
Calcium:
360
mg
|
Iron:
2
mg