Cheeseburger casserole is my favorite casserole of all time. This comfort food casserole is from my grandmother, when people ask me, what is one of my favorite recipes, this one is it. Don't miss out on this casserole, it is the perfect quick weeknight dinner.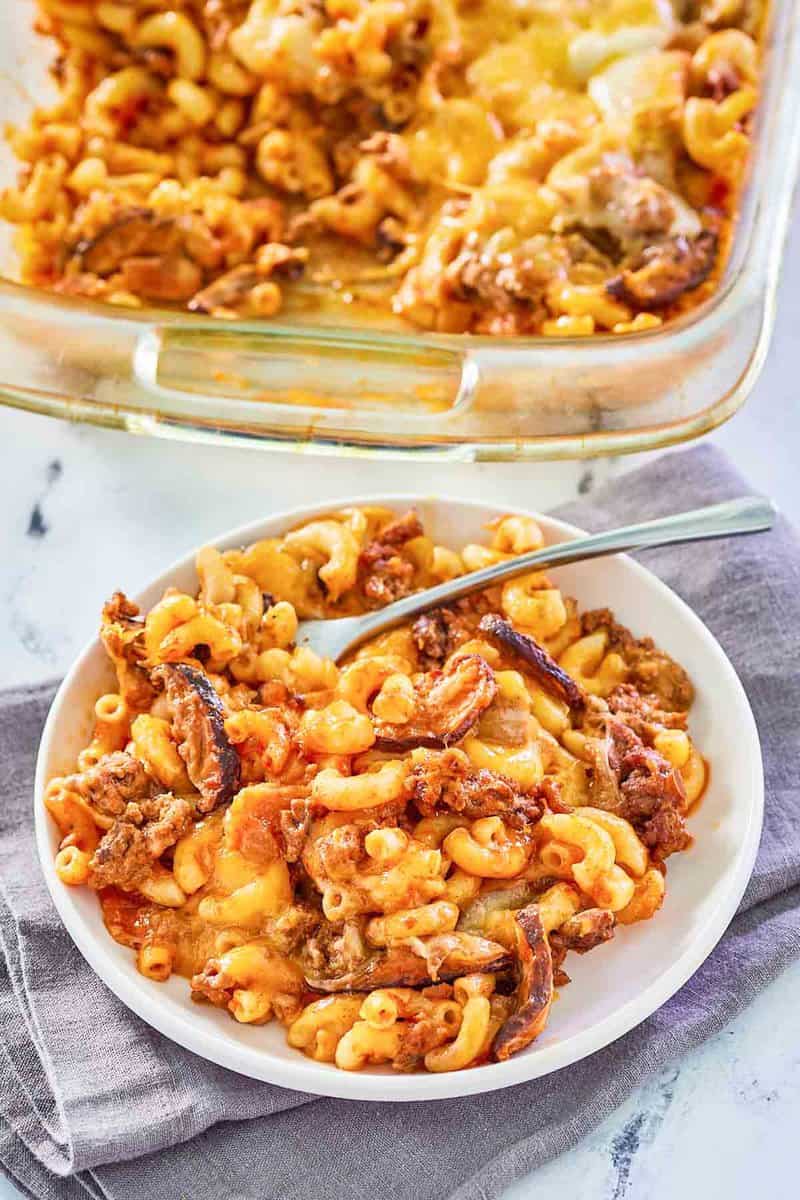 This post contains affiliate links. As an Amazon Associate, I earn from qualifying purchases.
What Makes This Recipe for Cheeseburger Casserole So Good?
There are a lot of noodle casserole dishes floating around the internet, but this one stands out with its perfectly seasoned ground beef and two types of cheese.
Cheeseburger Casserole is a hearty and inexpensive crowd-pleasing meal that is easy to make and super delicious.
What Makes This Recipe the One You Want To Try
A good casserole recipe is something you want to save and share with others. Well, casseroles don't get much better than this Cheeseburger Casserole recipe.
This vintage dish doesn't use shortcuts, boxes, or mixes, just real ingredients that everyone loves. Maybe that is the reason why it has been a favorite family meal for generations and a tried-and-true hit at potlucks and church suppers for decades!
Ingredients For Cheeseburger Casserole
To prepare this cheeseburger macaroni casserole, you'll need:
Macaroni
Lean Ground beef
Bacon
White onion, chopped
Tomato sauce
Salt
Black pepper
Garlic salt
Dried oregano
Mushrooms
Provolone cheese sliced
Cheddar cheese, shredded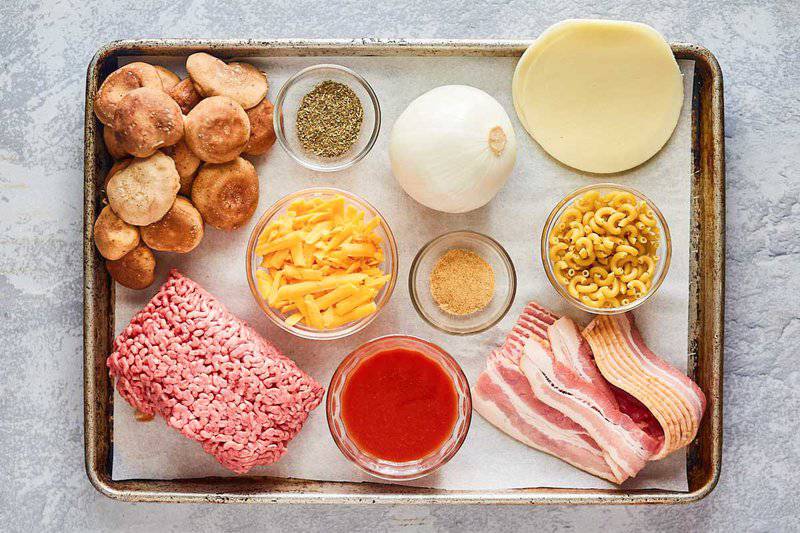 Ingredient Notes
Use any short pasta for this recipe. Elbow macaroni noodles, cavatappi, and rotini are fun choices.
Fresh cremini and white button mushrooms give this dish the best flavor and texture, but you can use drained canned mushroom pieces and stems instead.
You can substitute ground beef with ground turkey or chicken.
How To Make This Easy Cheeseburger Casserole Recipe
To prepare this recipe:
Preheat the oven to 375°F. Grease or spray a baking dish with cooking spray.
Boil a pot of water and prepare the macaroni as directed on the package.
While the pasta is boiling, cook the ground beef in a large skillet on the stove. Drain and set the browned beef aside.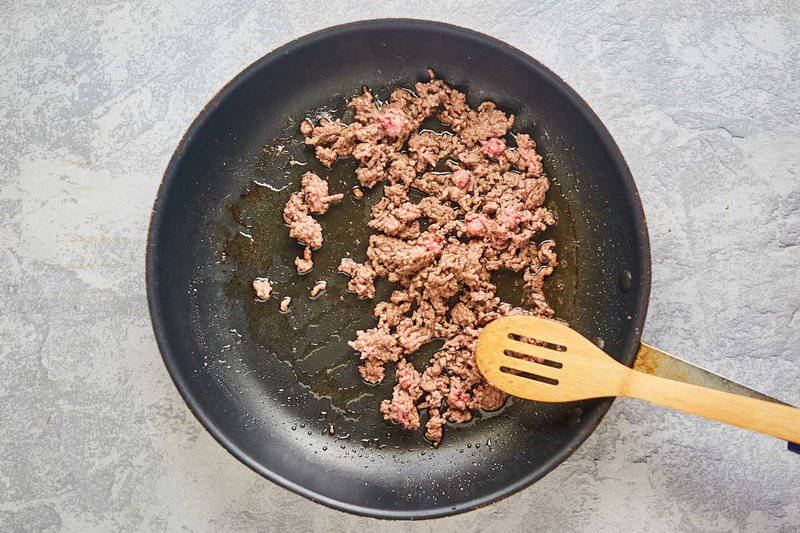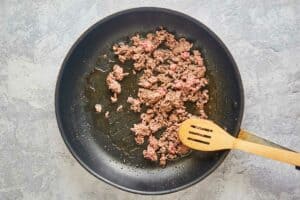 Add the bacon and onions to the skillet and saute until softened. Drain and return them to the skillet.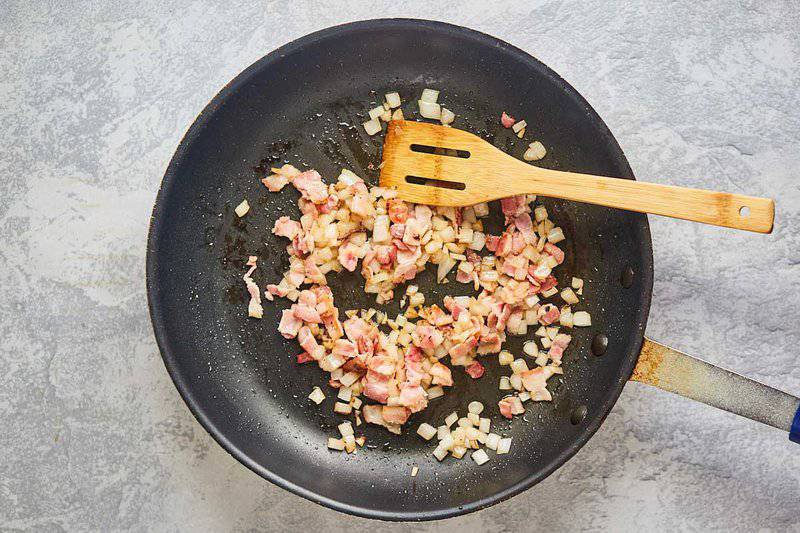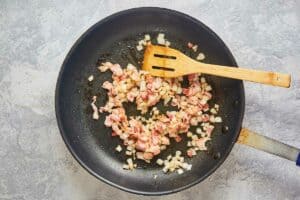 Return the beef to the pan with the bacon and onions.
Drain the cooked macaroni well and dump it into the skillet with the meat mixture.
Add the mushrooms, seasonings, tomato sauce, and other vegetables if using.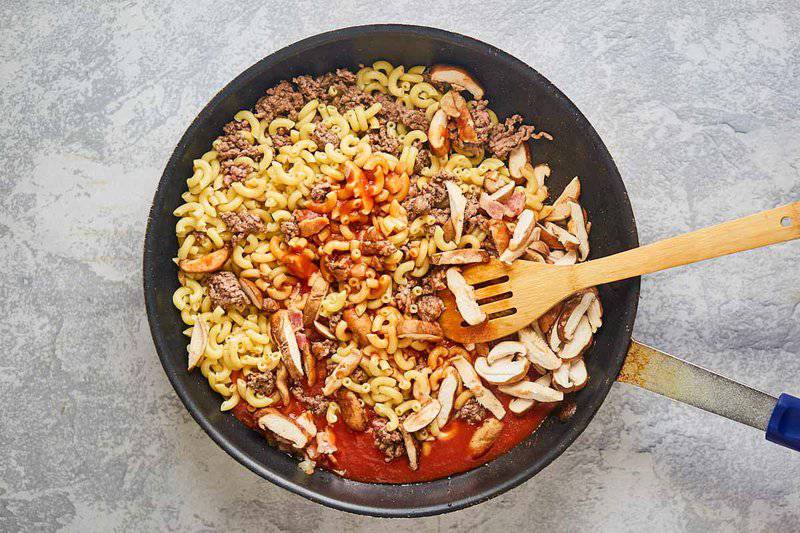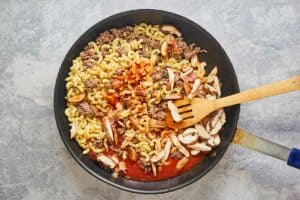 Simmer for 15 minutes while stirring occasionally.
Spoon half of the pasta and beef mixture into the greased casserole or baking dish.
Cover with half the cheese.
Repeat with the remaining meat and pasta mixture and cheese.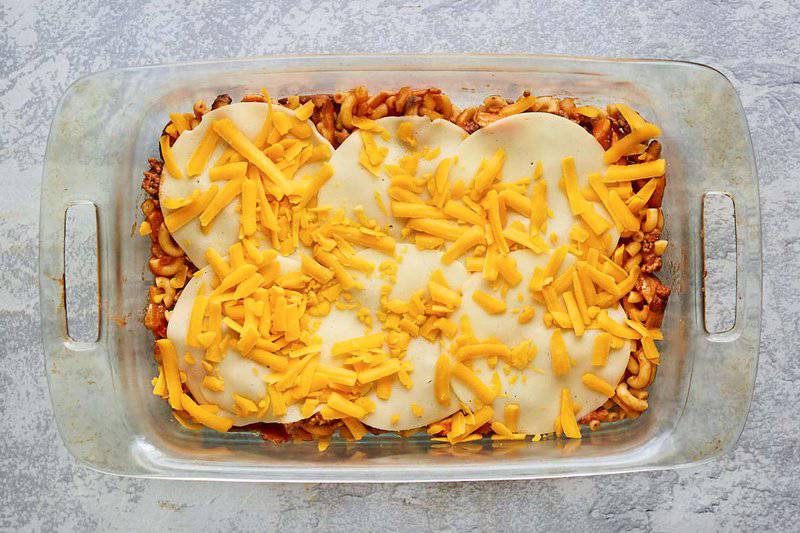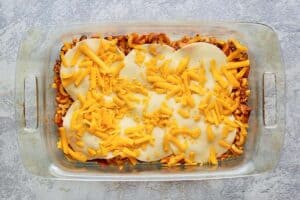 Bake for 20 to 25 minutes.
Cool the baked casserole for five minutes before serving.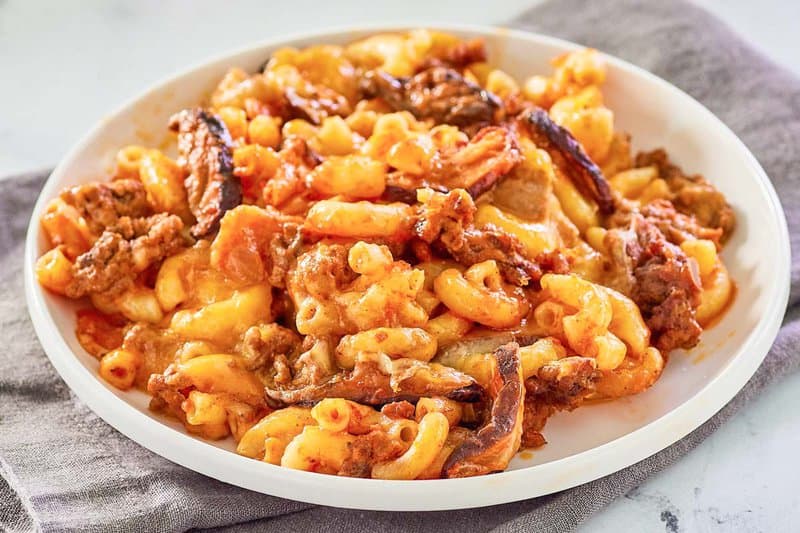 Recipe Variations
Extra vegetables make this a more nutritious and satisfying meal. Try adding a couple of chopped carrots, a rib or two of celery, or even a variety of chopped hot and sweet peppers. Frozen peas are also a great addition.
Make a vegetarian version using plant-based crumble and meat-free bacon.
What To Serve With a Bacon Cheeseburger Casserole
You can keep it simple with a lightly dressed salad or get more creative with air-fried carrots, asparagus, or broccoli.
How To Store the Leftovers
Let the casserole cool completely, and then transfer any leftovers to an airtight container. It will keep in the fridge for a few days or up to three months in the freezer.
How to Reheat a Cheeseburger Macaroni Casserole
To reheat this casserole, cover the top of the casserole dish with aluminum foil and cook at 375°F until the casserole is hot in the middle, about 20 minutes.
Since the casserole can quickly dry out while reheating, pouring a few tablespoons of beef broth or stock on top can help.
Make Ahead Suggestion
Busy cooks will love this recipe because they can assemble it ahead of time and pop the unbaked casserole in the fridge for up to two days before.
Just take the casserole out of the refrigerator and put it on the counter to allow it to shake off the chill while the oven preheats. Depending on your oven, you may need to add five to 10 more minutes to the baking time.
You can also freeze an unbaked casserole for up to three months, but you need to allow it to thaw at least overnight in the fridge before baking.
How To Make This in a Crock Pot
You can make a similar bacon cheeseburger pasta casserole recipe in a slow cooker, but it won't have the same crispy top, but the flavors will be the same.
Boil the pasta for about four minutes. It isn't enough time to thoroughly cook the pasta, but it gives it a good headstart.
While the pasta is cooking, saute the bacon in a skillet and drain on a paper towel. Put the bacon in the fridge for later.
Saute the onions and mushrooms in two tablespoons of bacon fat until softened.
Add the ground beef and brown. Drain the meat mixture and put it into the slow cooker.
Add the drained pasta and all remaining ingredients except the bacon to the slow cooker. Stir to combine.
Cover and cook for three hours on HIGH.
Check the dish after two and a half hours to ensure the pasta is soft. If it isn't, add a little beef stock. Add in the cooked crumbled bacon.
Stir and cook for the remaining 30 minutes.
Set the slow cooker to WARM until serving.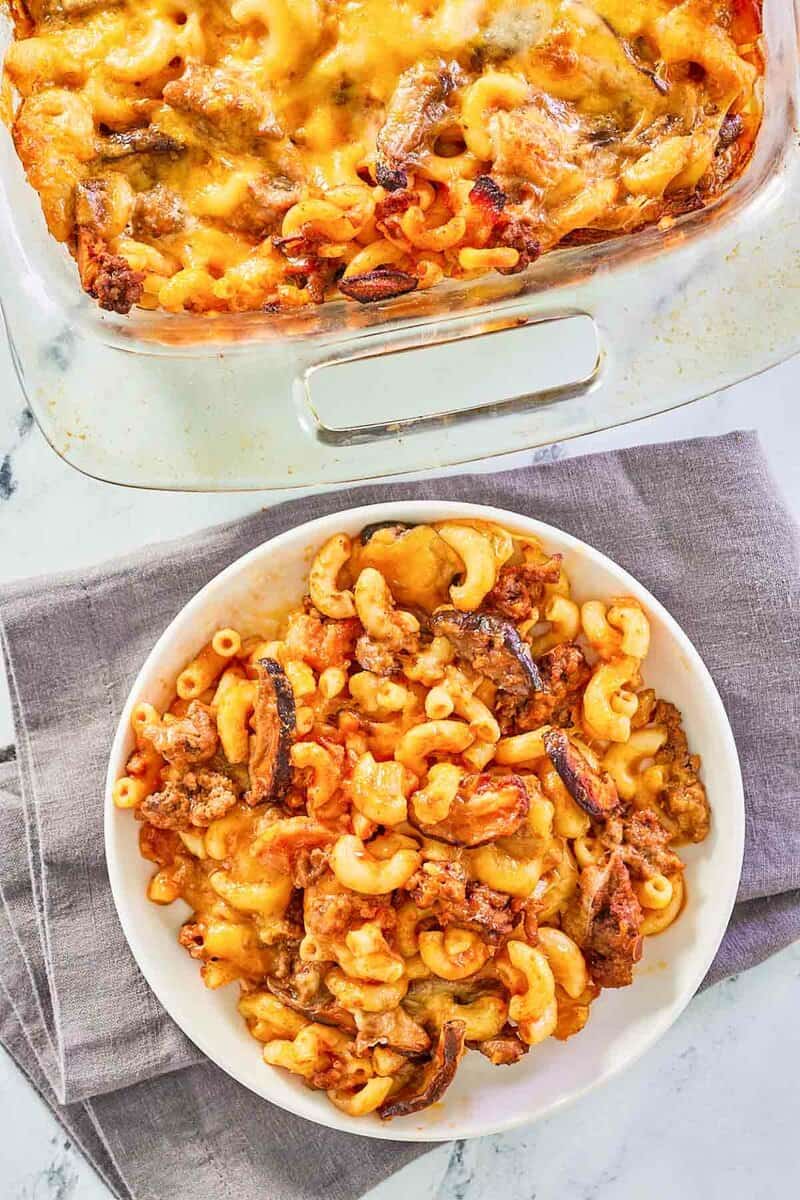 Favorite Dinner Casserole Recipes
Popular Cheeseburger Recipes
Check out more of my easy and tasty casserole recipes and favorite family recipes on CopyKat!
This recipe is by Ethel Eynard. Jefferson City, Mo. 1967.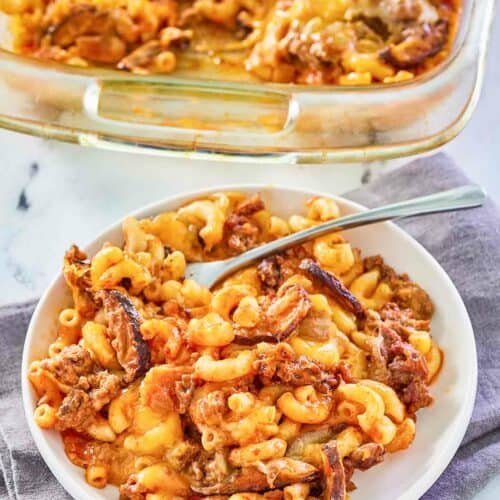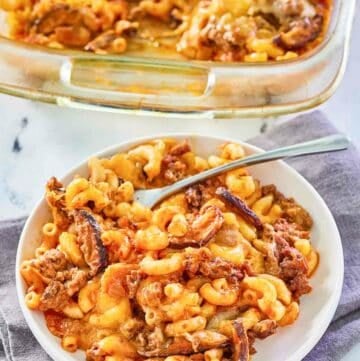 Ingredients
12

ounces

macaroni

1

pound

ground beef

1/4

pound

diced bacon

3/4

cup

chopped onion

16

ounces

tomato sauce

4

ounces

canned mushrooms

you could use fresh

1 1/2

teaspoon

salt

1/8

teaspoon

pepper

1/2

teaspoon

garlic salt

1

teaspoon

oregano

1

cup

shredded provolone cheese

1

cup

shredded cheddar cheese
Instructions
Preheat the oven to 375°F.

Cook the macaroni according to the package directions. Drain and set aside.

In a skillet over medium-high heat, brown the ground beef. Remove the beef from the skillet, drain, and set aside.

In the same skillet, cook the bacon. Add the onion. Drain the bacon fat from the pan.

In a large pot, combine the macaroni, beef, bacon, onions, tomato sauce, mushrooms, salt, pepper, garlic salt, and oregano. Simmer for 15 minutes, stirring frequently.

Pour half of the mixture into a large, greased casserole dish and cover with 1/2 cup of each cheese. Then add the remaining macaroni mixture and top with the rest of the cheese.

Bake for 20 to 25 minutes.
Nutrition
Calories:
499
kcal
|
Carbohydrates:
37
g
|
Protein:
26
g
|
Fat:
26
g
|
Saturated Fat:
12
g
|
Cholesterol:
75
mg
|
Sodium:
1246
mg
|
Potassium:
567
mg
|
Fiber:
2
g
|
Sugar:
4
g
|
Vitamin A:
530
IU
|
Vitamin C:
5.4
mg
|
Calcium:
261
mg
|
Iron:
2.7
mg