Hamburger Hashbrown casserole serves up a double portion of potatoes. This delicious casserole is made with both hashbrowns and tater tots. It's a hearty dinner recipe with ground beef and Cheddar cheese.
This post contains affiliate links. As an Amazon Associate, I earn from qualifying purchases.
Hashbrown Dinner Casserole
Meat and potatoes. It doesn't get any more basic than that. But it also doesn't get any more comforting. This recipe contains ground beef and potatoes in two forms: hash browns and tater tots.
It is the kind of timeless meal that just makes you feel happy after eating. So, if you want more happiness in your life, you will definitely want to try this recipe.
Why This Is the Hash Brown Casserole With Beef You Must Try
The two kinds of potatoes used in this recipe may seem a little excessive, but the texture differences make this dish unique. The hash browns help to bind together the ingredients and give additional bulk to the casserole while the tater tot topping gets wonderfully crispy.
The dry Italian seasoning makes this a flavorful meal that is still appealing for younger kids who may be picky about what they eat.
Hash Brown Beef Casserole Recipe Ingredients
To make this hash brown casserole with hamburger, you'll need:
Ground Beef
Onion
Italian Seasoning
Garlic powder
Onion powder
Shredded Frozen Hash Browns
Cream of Chicken Soup or Cream of Mushroom soup or Condensed Cheddar Cheese soup
Milk
Shredded Cheddar Cheese or Velveeta
Tater Tots
How to Make Hamburger Hashbrown Casserole
To put together this hamburger hash brown dinner casserole:
Preheat the oven to 350°F.
Dice the onions and shred the cheese. Set aside.
Heat a large skillet over medium-high heat.
Start browning the hamburger meat. If you use lean ground beef, add a tablespoon or two of oil to the skillet to prevent the meat from burning.
Once the ground beef loses its bright red color, add the onions and continue to cook until the meat is fully cooked.
Remove the skillet from the heat and drain the grease.
Add the Italian seasoning, garlic powder, and onion powder to the ground beef mixture. Stir to combine.
In a large bowl, combine the hash browns, can of creamed soup of your choice, milk, and cheese.
Add the ground beef mixture to the mixing bowl and stir well to combine with the other ingredients.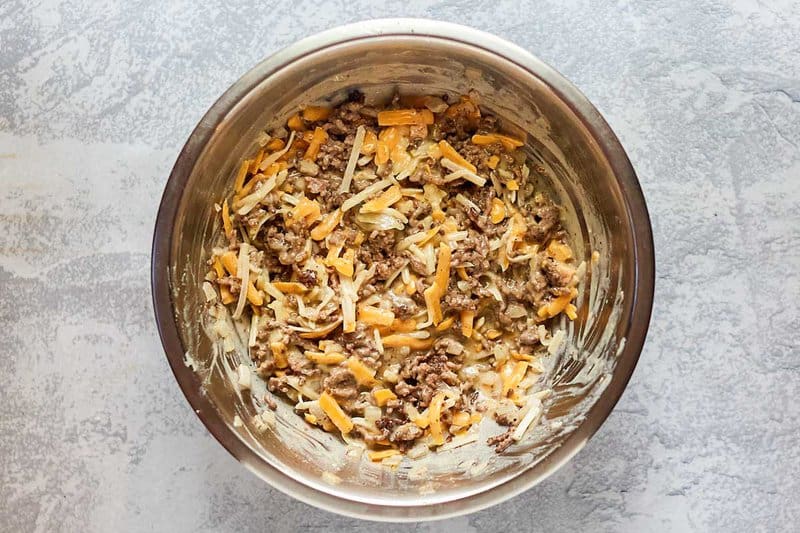 Spread the ground beef mixture evenly in a well-greased 2-quart casserole or baking dish.
Top with a single layer of tater tots.
Put the casserole dish in the oven and bake until the tater tots are golden brown and crispy; about 30 to 45 minutes.
Cool the casserole slightly on a wire rack before serving.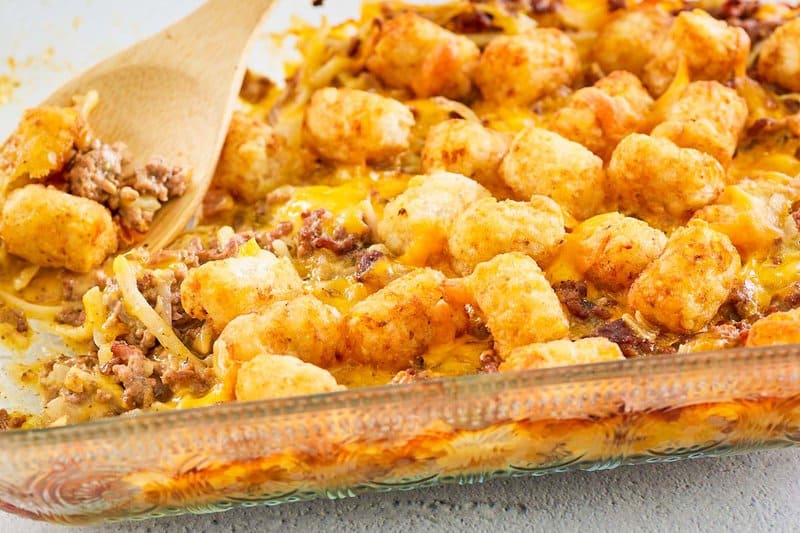 What To Serve With Hashbrown and Hamburger Casserole
Adding a vegetable side dish helps to round out the meal. Try maintaining the nostalgia vibe by making Honey Roasted Carrots, Green Beans, a Waldorf Salad, or Creamed Spinach.
Are you a fan of Mexican-inspired food? While not top the casserole with sour cream, salsa, and some hot sauce to make a South of the Border version?
How To Store Leftover Casserole
Let the casserole come down to room temperature, and then cover the casserole dish with aluminum foil. If only a little casserole is left, it is best to transfer it to a smaller container first.
You can keep the Hamburger Hashbrown Casserole in the fridge for up to 48 hours.
The casserole will keep fresh in the freezer for up to two months.
How to Reheat This Casserole
The best way to reheat a casserole is in an oven:
Thaw a frozen casserole in the refrigerator overnight. You'll get better results with more even heating by allowing the potato and ground beef casserole to come up to room temperature before reheating. However, if you have to cook it directly from the fridge, try cutting the casserole into serving pieces before reheating.
Preheat the oven to 325°F.
Cover the casserole dish with a lid or aluminum foil and heat for 20 to 30 minutes.
Remove the cover during the last five minutes of cooking time to let the casserole crisp up.
How To Make This Hamburger Hashbrown Casserole Recipe Ahead of Time
If you like making a week's worth of meals at once, this is a great recipe to add to the meal rotation.
Prepare the recipe as usual, but instead of baking, wrap the casserole well in aluminum foil and put it in the freezer. It should keep fresh for up to a month.
If you plan to make this dish ahead of time, make sure you are not using previously frozen beef. It is not a good idea to refreeze once frozen ground beef.
Love hashbrowns and tater tots? Try these recipes!
Popular Casserole Recipes
Check out more of my easy casserole recipes and the best comfort food recipes here on CopyKat!
Thanks to crazzee for sharing this casserole recipe.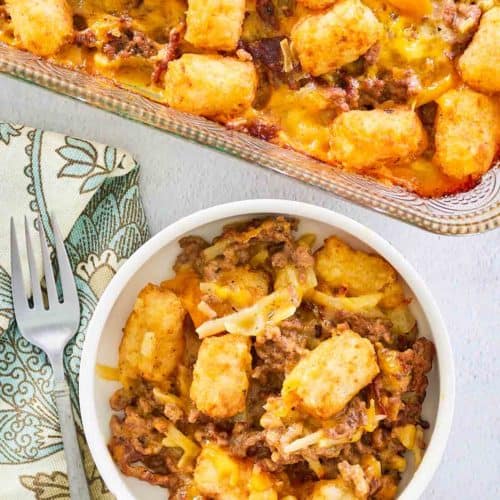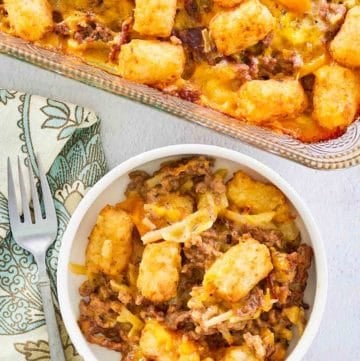 Ingredients
1

pound

ground beef

3

tablespoons

chopped onion

2

tablespoons

Italian seasoning

1

teaspoon

garlic powder

1

teaspoon

onion powder

2

cups

shredded hash browns

thawed

1

10.5-ounce can

cream of chicken soup

1/2

cup

milk

1 1/2

cups

shredded Cheddar cheese

(Velveeta is a great substitute)

2

pounds

tater tots
Instructions
Preheat the oven to 350°F, and grease a 2-quart casserole dish.

In a frying pan, brown the ground beef with the onion, Italian seasoning, garlic powder, and onion powder. Drain the fat.

In a large mixing bowl, combine the hash browns, soup, milk, cheese, and ground beef. Stir to combine.

Spread the mixture evenly in the greased casserole dish.

Place the tater tots in a single layer over the entire casserole.

Bake for 30 to 45 minutes, or until thoroughly heated and the tater tots are crispy.
Nutrition
Calories:
522
kcal
|
Carbohydrates:
43
g
|
Protein:
19
g
|
Fat:
30
g
|
Saturated Fat:
11
g
|
Cholesterol:
67
mg
|
Sodium:
935
mg
|
Potassium:
688
mg
|
Fiber:
3
g
|
Sugar:
1
g
|
Vitamin A:
325
IU
|
Vitamin C:
13.1
mg
|
Calcium:
225
mg
|
Iron:
3.2
mg