One of the most loved casseroles is the creamed corn casserole. It is the perfect pairing of sweet, creamy, with a little crunch. An amazing side dish.
Making creamed corn casserole is a way to cook out of your pantry with ingredients you may already have on hand. Corn and a package of Jiffy Corn Muffin Mix turn boring corn into a dish with no leftovers.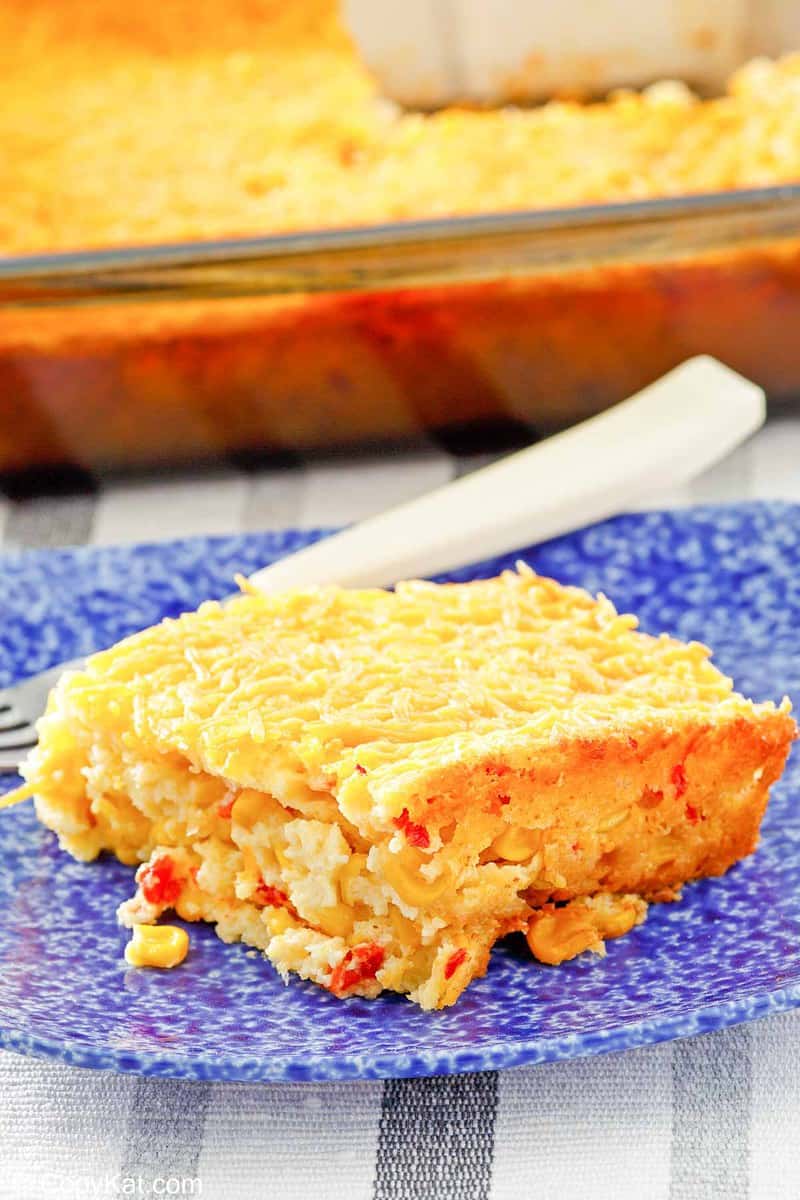 Jiffy Corn Pudding Casserole
This is an old-fashioned cream corn recipe that is easy to make and will remind you of the casseroles that Grandma used to make. If you need a perfect side dish for the holidays (or any other time), look no further! I love how the top of this casserole caramelizes and provides the perfect taste.
Corn has always been a preferred food of mine, and my favorite way to eat it is straight off the cob or in a casserole. I love the versatility of corn – it can be added to all kinds of dishes whether savory or sweet. I don't think I'll ever stop loving corn.
What Makes This Jiffy Corn Casserole so Good
This recipe is one of those that you probably remember your grandma making Jiffy corn casserole when you were little. You can use things that you can find in your pantry and have it made up in no time. It is the perfect baked side dish for any meal.
Creamed corn is used often in recipes. It has a lot of great flavor. When you use it in conjunction with the Jiffy mix, you get one of the moistest baked cream corn casseroles you've ever had.
This recipe is perfect for a potluck, large family gathering, or even to enjoy during a weeknight. This casserole is wonderfully moist and reheats very well. It's the perfect corn casserole to make ahead.
What is Creamed Corn Casserole?
For this recipe, you will be using multiple cans of corn, both creamed and regular crispy corn. Plus add in some delicious sour cream and jiffy corn muffin mix, and you will have a great sweet and fluffy corn recipe. This is a great casserole that can pair with any entry.
Cream Corn Casserole Ingredients
I bet you will have most if not all the items you will need to make this easy corn pudding recipe! Here's a list of the ingredients used in this creamed corn casserole recipe:
Canned whole kernel corn
Canned creamed corn
Sour cream
Jiffy corn muffin mix
Butter
Eggs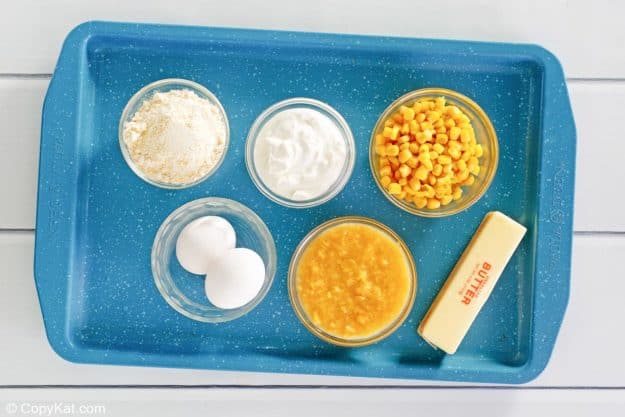 Recipe Variations
If you would like a way to make this recipe a little bit healthier, you can always substitute plain Greek yogurt for the sour cream in this recipe.
Top with Cheddar cheese – sprinkle about 3/4 cup of shredded Cheddar cheese on top in the last 15 minutes of baking.
Add a can of green chilies – add a small 2 ounce can of chopped green chilies to the mixture for a Southwest flavor.
Add two tablespoons of chopped pimento – pimento peppers add a bit of flavor and pop of color.
What are the 4 types of corn?
You may think that all corn is the same. However, there are four basic types of corn, and each one has a different use.
Dent corn (also called field corn) is the corn that's the most widely grown in the U.S. It is mainly used for feeding livestock, but can also be found in some food products.
Flint corn or Indian corn, is similar to dent corn. This hard-shelled corn is pretty because it comes in a wide variety of colors. It is grown mostly in Central and South America and is the corn you see used for decorations in the fall.
Popcorn is a kind of flint corn. It has a hard outer shell and a center that is soft and starchy. When exposed to heat, the moisture inside the kernel steams and builds up enough pressure to explode the kernel. Popcorn is unique in its taste and popability.
Sweet corn is the kind we eat on the cob or use in cooking. This corn is almost all soft starch, contains more sugar than other corn types, and you can't pop it. Other corns are picked when the kernels are dry and mature, but sweet corn is picked and eaten while the ears are still in the immature stage and the kernels are tender.
How to Make Baked Creamed Corn Casserole
This is an incredibly easy recipe to make.
Begin by preheating the oven to 350 degrees.
Then get a medium-sized mixing bowl and add in the whole kernel corn (drained), cream corn, sour cream, Jiffy corn muffin mix, butter, and eggs.
Now stir everything together until it is well combined.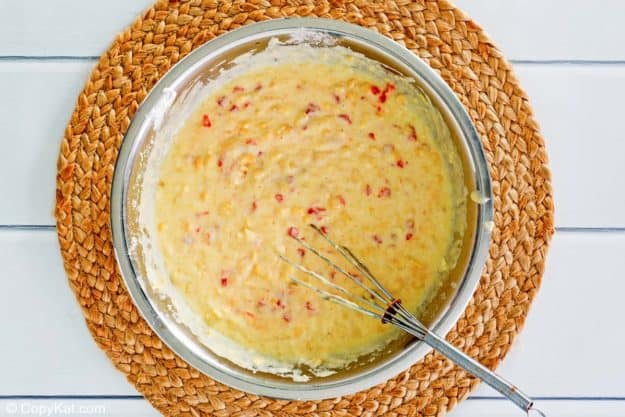 Spray an 8×8-inch or 10×8-inch inch baking dish with nonstick baking spray and pour in the batter.
Bake the casserole at 350 degrees for an hour.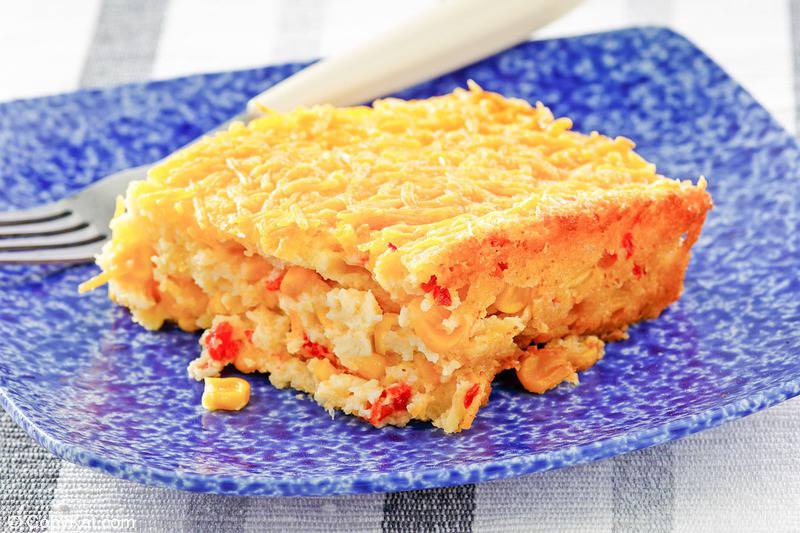 Why is my corn pudding watery?
The creamed corn pudding casserole should not be watery. If this happens to you there are a couple of things to look at.
First thing is, did you drain the can of whole kernel corn? This can should be drained before adding it in. Whereas the creamed corn can will not need to be drained before mixing it in with everything.
The second is, did you add too many eggs? If there are too many eggs in the casserole, it will definitely change the consistency of the pudding.
Can you make corn pudding ahead of time?
Yes! Make it up before you need it and then when you are ready, just pop it in the oven and bake it for an hour. You can also just bake it in advance and reheat it in the oven too!
What main dish goes with corn casserole?
Creamed corn casserole goes well with any protein dish! Take a look at some that I like to serve Jiffy corn casserole with:
How to Store Creamed Corn Casserole
After this recipe has been made, either place the lid on the dish if it has one or a piece of aluminum foil on top of the baking dish. Then place it in the fridge for up to 4 to 5 days.
How long will corn pudding last in the refrigerator?
This creamed corn casserole will last up to 5 days when refrigerated.
Can you freeze leftover corn pudding?
Yes, you can freeze it. However, if you plan to freeze it, try making the corn pudding in either a freezer-safe dish or in a disposable dish since it will be easy to just pop it in the freezer when you are done baking it.
Cool the casserole completely before freezing it. This saves energy and keeps the temperature in your freezer from rising because a hot dish is placed in it.
Wrap the dish in plastic wrap then with aluminum foil. This will help to prevent freezer burn.
Love Corn? Try these recipes!
More Easy Casserole Side Dish Recipes
Check out even more easy casseroles and side dish recipes.
Many thanks to Virginia McDowell of Jefferson City for this baked creamed corn casserole recipe.
Jiffy Creamed Corn Casserole
This creamed corn casserole is easy to make with Jiffy mix and perfect for a family meal. Everyone will love this casserole and will always ask you to make it. You can prepare it on any weeknight for a quick throw-together side dish to accompany any protein. The smell of buttered popcorn while it cooks is just heavenly!
Print
Pin
Rate
Add to Collection
Go to Collections
Ingredients
1

can

whole corn

drained

1

can

creamed corn

8

ounces

sour cream

1

package

Jiffy Corn Muffin Mix

4

ounces

butter, melted

2

eggs

Non-stick cooking spray
Instructions
Preheat the oven to 350°F.

In a medium-sized bowl add all of the ingredients except the cooking spray. Stir until well combined. (Alternatively, the ingredients can be mixed directly in the baking dish.)

Spray an 8×8-inch or 10×8-inch baking dish with non-stick cooking spray, pour the batter into the dish, and bake 1 hour.
Notes
Variations
• Top with about 3/4 cup of shredded cheddar cheese in the last 15 minutes.
• Add a small 2-ounce can of chopped green chilies to the batter for a Southwest flavor.
• Add 2 tablespoons of chopped pimento to the batter for a bit of flavor and lots of color.
Nutrition
Calories:
216
kcal
|
Carbohydrates:
11
g
|
Protein:
3
g
|
Fat:
18
g
|
Saturated Fat:
10
g
|
Cholesterol:
86
mg
|
Sodium:
312
mg
|
Potassium:
135
mg
|
Fiber:
0
g
|
Sugar:
2
g
|
Vitamin A:
635
IU
|
Vitamin C:
3.1
mg
|
Calcium:
43
mg
|
Iron:
0.5
mg