Beef Brisket can be a tough piece of meat when not cooked low and slow. When cooked slowly, beef brisket becomes fork-tender. This oven brisket recipe is a great way to cook this beef cut when you don't have a smoker.
This post contains affiliate links. As an Amazon Associate, I earn from qualifying purchases.
What Makes this Brisket in the Oven Perfect?
Oven brisket is one of the best recipes you can make. This recipe makes a perfect brisket with a crispy outside and an extremely tender inside.
For this recipe, you will let the oven do most of the cooking to get the most tender piece of meat. You char it on the grill before placing it in the oven to get that wonderful crispy outside that seals in the juice created by cooking the brisket in the oven.
What Exactly is Beef Brisket?
The brisket comes from the breast of a cow, near the ribs. It is a very tough piece of meat because the breast is full of muscle tissue and where you can find lots of collagen.
Ingredients You Need for this Oven Brisket Recipe
When making brisket it is all about the spices! The spices do all of the heavy lifting by producing a flavorful piece of brisket.
Here are the ingredients that will be used in the recipe:
Brisket
Brown sugar
Seasoned salt
Chili powder
Black pepper
Onion
Garlic
I suggest buying a packer trimmed brisket and doing the trimming of the fat yourself. You will save a ton of money doing this.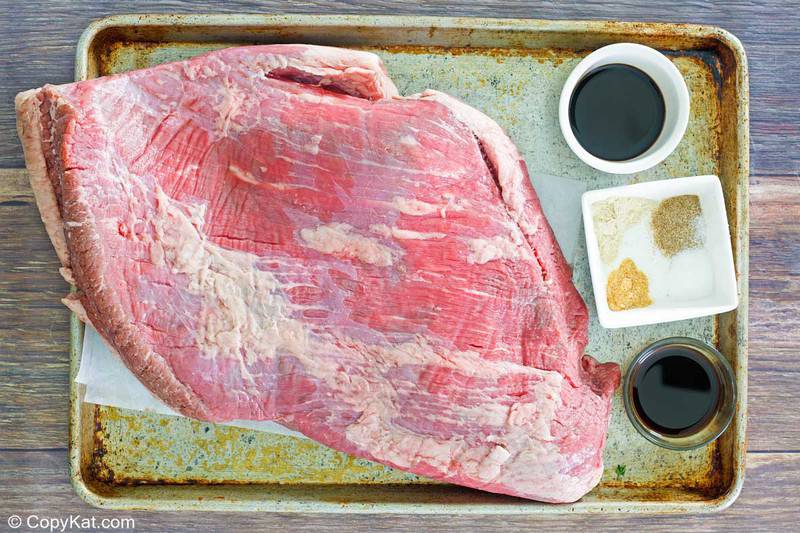 How to Properly Trim the Fat Off Beef Brisket
If you are getting a piece of meat from the grocery store rather than an actual butcher, there will still be a great deal of fat left on the cut of meat.
Try your best to cut most of the fat off the brisket with about ¼ of an inch of fat left. Some fat is good since it does provide added flavor, but you don't want to leave too much or the cuts of meat will not be ideal and you might end up with cooked chunks of fat.
How to Cook Beef Brisket in the Oven
To make sure that you have the most tender brisket you will want to follow these easy steps! I promise you won't be disappointed.
Properly trim the fat off of the brisket.
Mix together the brown sugar, seasoned salt, chili powder, black pepper until they are well combined. This makes the perfect dry rub.
Coat the trimmed beef brisket in the dry rub and allow the piece of meat to reach room temperature before cooking it.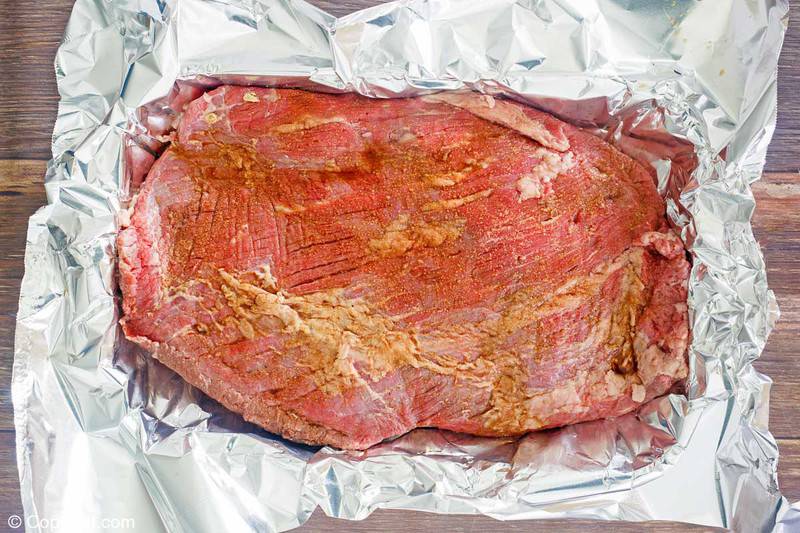 Heat your grill to about 325 degrees and then place the brisket on the grill and have it cook for about 30 minutes on each side.
Preheat the oven to 275 degrees and remove the brisket from the oven.
Place the seared brisket in heavy duty aluminum foil and top it with sliced onion and garlic and wrap it up.
Put the wrapped brisket in a baking dish and cook it in the oven for about 3 hours.
Remove the brisket from the oven and place the brisket on a cutting board and allow it to rest for 20 minutes before you slice it to keep the juice in the meat.
After 20 minutes, slice it and serve it.
How to Serve Beef Brisket
The best way to serve beef brisket is to make ½ inch slices and serve it on a warm piece of Texas toast! The toast will absorb the delicious juice and it can make for a delicious sandwich!
What to Serve With Oven Baked Brisket
Wondering what side dishes go with brisket? Since this is the perfect BBQ brisket, you will want to serve some BBQ side dishes with it.
Some of my favorites are a creamy homemade mac and cheese, fresh coleslaw, mashed potatoes and gravy, a warm cornbread muffin, and some tasty pickles!
Can the Brisket be Made in the Slow Cooker?
Yes, it can! Instead of placing the foil in a baking dish, place it right in the slow cooker and turn it on low for 4 to 6 hours.
How to Store and Reheat Beef Brisket
You can store any leftover brisket in an airtight container in the fridge for about 5 days.
When reheating the cooked brisket, you will want to try and do it as slowly as you can to keep the meat from drying out and getting tough. The best way would be in the oven at 275 for about an hour or until the beef is heated through.
Or you could place the beef in the slow cooker and turn it on low for about 1-2 hours. But I would add in a little beef broth to prevent it from drying out.
You may reheat this in your favorite barbecue sauce.
If you want to eat these in a cold sandwich and skip the extra round of reheating the meat, you can! Just put them on a bun with some BBQ sauce and enjoy!
Love beef? Try these recipes!
More Brisket Side Dishes
Check out more of my easy beef recipes and the best recipes for dinner here on CopyKat!
This recipe for brisket is from Virginia McDowell, Jefferson City, Mo. 1975. She is my Grandmother. She makes one delicious beef brisket.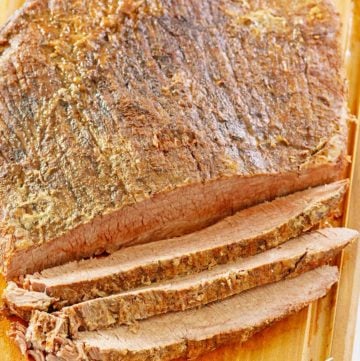 Ingredients
7

pound

beef brisket

trimmed

2

teaspoons

meat tenderizer

2/3

teaspoon

garlic salt

2/3

teaspoon

celery salt

2/3

teaspoon

onion salt

1

teaspoon

liquid smoke

2

teaspoons

Worcestershire sauce
Instructions
Trim excess fat off the brisket.

Punch holes in both sides of the brisket with a fork.

Sprinkle meat tenderizer on both sides.

Sprinkle garlic salt, onion salt, and celery salt on both sides.

Place the seasoned brisket in a shallow roasting pan lined with heavy-duty aluminum foil.

Wrap tightly and marinate for 8 to 10 hours in the refrigerator, the longer the better.

When ready to bake, unwrap the brisket, sprinkle Worcestershire sauce over the meat, and re-wrap tightly.

Bake at 225 degrees for 5 to 6 hours or to your liking. I like to use a meat thermometer and cook the brisket to 195 degrees, because that's when it is fork tender.

Remove brisket from the oven, and allow to cook for about 25 minutes before slicing.

Pour the broth into a saucepan and simmer on low heat.

Thinly slice the meat.

Place the slices in the broth to reheat.

You may reheat this in your favorite barbecue sauce.
Equipment
Shallow roasting pan or large dutch oven
Nutrition
Calories:
328
kcal
|
Carbohydrates:
0
g
|
Protein:
43
g
|
Fat:
15
g
|
Saturated Fat:
5
g
|
Cholesterol:
131
mg
|
Sodium:
485
mg
|
Potassium:
704
mg
|
Sugar:
0
g
|
Vitamin C:
0.1
mg
|
Calcium:
11
mg
|
Iron:
4.1
mg