For the most creamy and flavorful Yukon gold mashed potatoes you'll ever eat, make this recipe. With hints of thyme and bay leaves, you cannot go wrong with these perfect mashed potatoes.
This post contains affiliate links. As an Amazon Associate, I earn from qualifying purchases.
When I want to make creamy mashed potatoes, I use Yukon Gold potatoes. They have thin skin, yellow flesh, and natural buttery flavor. You can use Russet potatoes for this recipe, but they will not give you the same result.
Why this Yukon Gold Mashed Potatoes Recipe is the Best
In this recipe, it is not simply the standard butter, salt, and milk that goes into it. The milk and butter are infused with bay leaves and thyme sprig.
It might not sound like it would make a difference, but while the milk simmers with the aromatics it picks up flavors that will turn ordinary mashed Yukon gold potatoes into an extraordinary side dish.
Yukon gold potatoes have a natural buttery flavor and creamy texture. That and the subtle flavors of bay leaf and thyme is what makes these the best Yukon gold mashed potatoes.
Yukon Gold Mashed Potatoes Ingredients
You will probably expect most of the ingredients for this Yukon gold mashed potato recipe. However, there are a few that are not in classic mashed potatoes. Make sure to take a look so you have everything when you're ready to make this recipe.
Here's a list of what you need:
Yukon Gold Potatoes
Kosher salt
Whole milk
Butter
Fresh thyme
Bay leaves
Onion
Salt
Pepper
Use whole milk for these potatoes. This is one time I suggest that you don't use 2% or skim milk. In fact, my personal preference would be to use half-and-half or cream instead. For an everyday bowl of mashed potatoes, whole milk has the best flavor and helps with the creamy texture.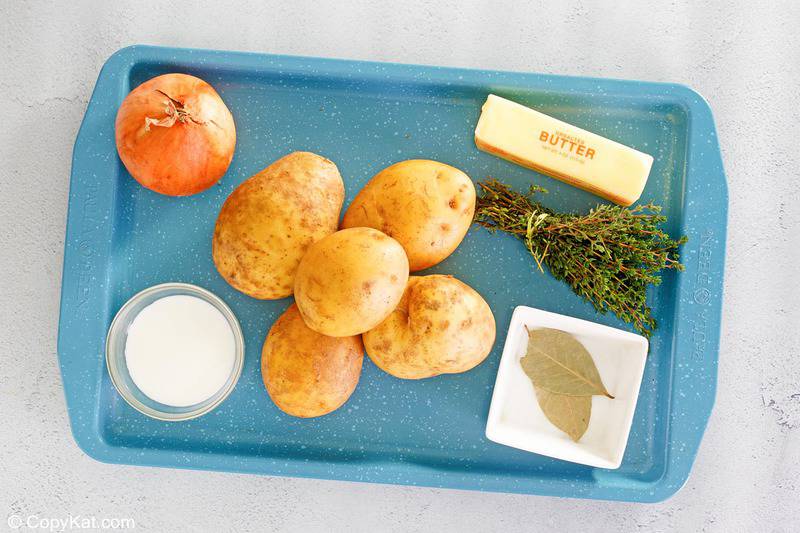 What makes Yukon Gold Potatoes perfect for mashed potatoes?
Yukon gold tomatoes have the perfect consistency for mashed potatoes. They have a high starch content and low water content making them a great potato to use for mashing.
They are able to mash into creamy potatoes and naturally have a slight butter taste that works wonderfully for making mashed potatoes.
Differences Between Yukon Gold Potatoes Vs Russet potatoes
Oftentimes, people will use russet potatoes and Yukon gold potatoes interchangeably. There are some notable differences between the potatoes.
Russet potatoes have a higher starch and lower water content than Yukon golds have, making them the perfect fry potato.
Yukon gold potatoes while having lower water and higher starch content can still hold their form when needed, which makes it great for potato salads as well.
However, since their percentage differences are small they both work well for mashed potatoes.
How to Make Yukon Gold Mashed Potatoes
The method involves using a potato ricer or food mill instead of a mixer to mash the potatoes. A potato ricer will help to protect the potato cell walls and not release starch so they don't get gummy. If you have ever had gummy mashed potatoes, it is because they have been overmixed and the cell walls of the potato have burst.
Here are the recipe steps:
Wash and peel potatoes. Cut potatoes into 2-inch pieces. Cutting the potatoes evenly will help them cook evenly.
Place potatoes in a saucepan and cover with enough water to cover the potatoes by one inch.
Place potatoes on medium-high heat to simmer for about 20-25 minutes. Potatoes are done when a fork pieces through easily.
While the potatoes are cooking, heat milk, butter, thyme, and bay leaves on low.
When the potatoes are done, drain the excess water from the potatoes.
Place potatoes in either a potato ricer or a food mill. Press or crank the potatoes through the ricer or food mill.
Remove the bay leaves, thyme, and onion from the milk and add the milk to the potatoes. Stir to combine.
Season with salt and pepper to taste.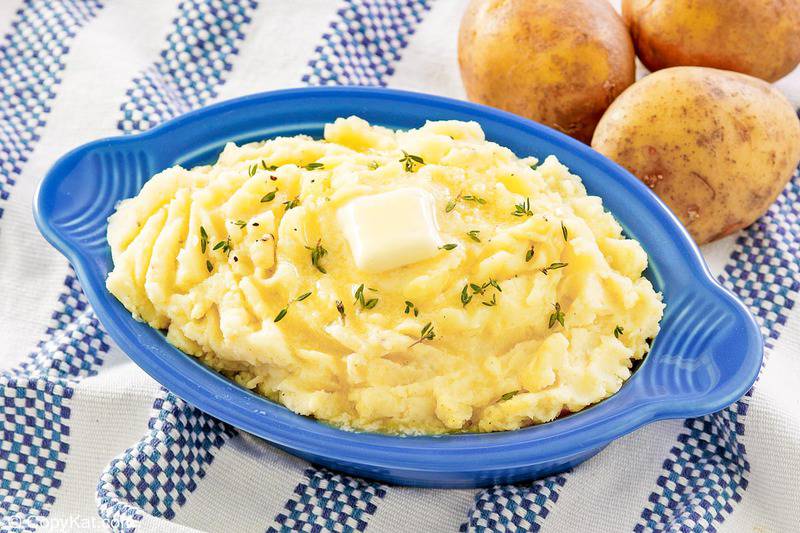 How to Serve Yukon Gold Mashed Potatoes
When I am serving these Yukon gold mashed potatoes I love to melt butter and drizzle it over top or place dollops of butter in the potatoes to create little pockets of butter.
Also, some fresh herbs are great things to top off potatoes like chives or parsley. Or you can do a mixture of both.
Best Tools to Mash Potatoes
For this recipe, I suggest that you use either a potato ricer or a potato mill. When you use one of these tools you will achieve fluffy and smooth mashed potatoes.
They break the potatoes up into the smallest pieces while keeping the integrity of the potato.
If you do not have either of these tools, you can use a potato masher, mixer, or food processor. The consistency will vary depending on which one you use.
A potato masher is best for making mashed potatoes with lumps.
A mixer or food processor makes them smoother but can cause the potatoes to release starch and have a gummy texture.
What to Serve with Yukon Gold Mashed Potatoes
These mashed potatoes are a great side dish that can go with almost any entree. Here are some ideas:
How to Store Mashed Potatoes
Store leftover mashed potatoes in an airtight container in the fridge for up to 6 days.
Can you freeze leftover mashed potatoes?
Yes, mashed potatoes can be frozen. Place them in a freezer-safe container and freeze for up to 4 months.
Thaw mashed potatoes in the refrigerator overnight. Do not thaw them at room temperature.
How to Reheat Mashed Potatoes
When you are ready to reheat these mashed potatoes, the quickest way is in the microwave on high for 30 to 45-second intervals until they are heated all the way through.
Love potatoes? Try these recipes!
Favorite Side Dish Recipes
Check out more of my easy side dish recipes and the best Thanksgiving dinner recipes here on CopyKat!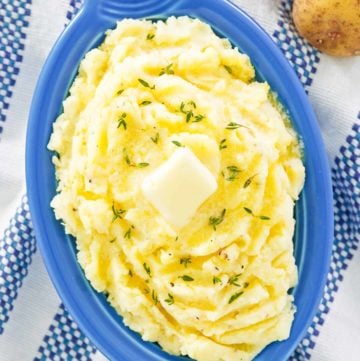 Ingredients
4

pounds

Yukon Gold potatoes

2

teaspoons

kosher salt

1 1/2

cups

whole milk

4

ounces

butter

(1 stick)

1

sprig

thyme

2

bay leaves

2

slices

onion

(if desired)

salt and pepper to taste
Instructions
Place the potatoes in a saucepan and cover with enough water to cover the potatoes by one inch.

Bring to a boil over medium-high heat. Then lower the heat to simmer for about 20 to 25 minutes. Potatoes are done when they can be easily pierced with a fork.

While the potatoes are boiling, heat the milk, butter, herbs, and optional onion in a small saucepan over low heat.

Remove the herbs and onion (if used) from the milk.

When the potatoes can be easily pierced with a fork, drain the water and run the potatoes through a potato ricer or food mill.

Add the warm milk to the processed potatoes, and season with salt and pepper to taste. Stir to combine.

Serve immediately. The potatoes may become gummy if allowed to cool too much.
Nutrition
Calories:
261
kcal
|
Carbohydrates:
30
g
|
Protein:
7
g
|
Fat:
13
g
|
Saturated Fat:
8
g
|
Cholesterol:
35
mg
|
Sodium:
724
mg
|
Potassium:
997
mg
|
Fiber:
5
g
|
Sugar:
2
g
|
Vitamin A:
445
IU
|
Vitamin C:
26.2
mg
|
Calcium:
125
mg
|
Iron:
7.5
mg