Grandma's potato soup recipe is so comforting and perfect when trying to capture some of those familiar childhood feelings. The best potato soup recipe has simple ingredients, and it is a great soup for a winter day.
You can create a bowl of soul-satisfying soup with russet potatoes, butter, and evaporated milk. In about 45 minutes, this simple potato soup will be made, I just know it will be a family favorite that tastes like it came from Grandma's kitchen.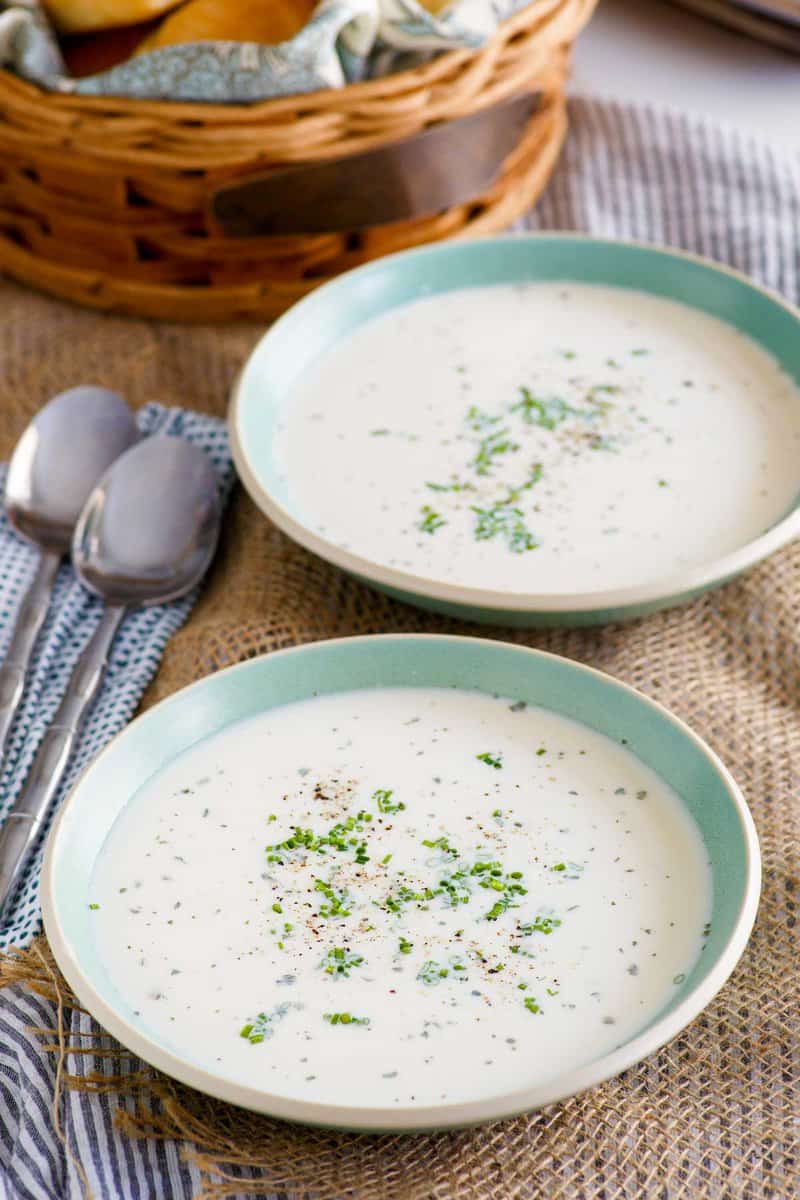 This post contains affiliate links. As an Amazon Associate, I earn from qualifying purchases.
Homemade Potato Soup – The Easiest and Tastiest
Homemade potato soup should not be a complicated recipe. This easy potato soup recipe is made with basic ingredients and is comfort food you will love. Who doesn't love it when their favorite soup is easy to make?
Grandma's Potato Soup is the perfect way to warm up!
There is nothing as good as a delicious bowl of homemade potato soup. Potato soup is easy to make and perfect for the beginner and the experienced cook alike.
Before you make this fantastic bowl of soup sure to leave me a comment down below and share the best dish your grandmother made for you!
Old Fashioned Potato Soup Ingredients
Russet potatoes – this pantry staple breaks down into a creamy bowl of soup, Yukon golds are a great second choice
Evaporated milk – evaporated milk gives you the richness of heavy cream without all of the fat
Whole milk – don't use fat-free or 2% milk they don't hold up when you reheat the soup
Unsalted butter – this way you can control the salt, regular salted butter is a good substitute but it depends on what you have on hand
White onion – you can use yellow onions if that is what you have on hand, but I think the great flavors of chopped white onions are perfect for this recipe.
Garlic juice – you can use two or three teaspoons of finely minced fresh garlic if you desire fresh garlic is an easy substitution garlic juice
Sea salt or kosher salt
Ground black pepper – freshly cracked is best
This soup does not use chicken broth or vegetable broth. You could substitute the water in the recipe with either, but my grandma loved easy recipes with a few simple ingredients, this homemade soup fits that bill.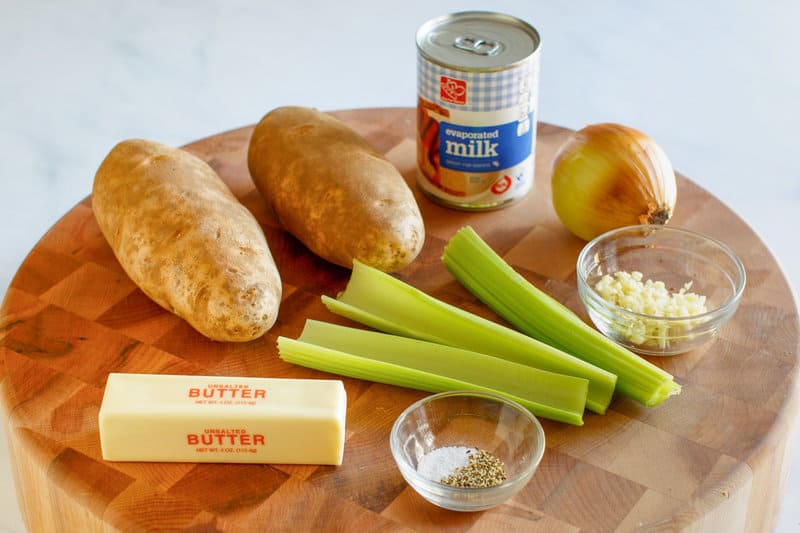 What is the best kind of potato to use for potato soup?
Some potatoes aren't good for making potato soup. It's a fact that all potatoes are not created equal, and some kinds of potatoes can turn your soup into a thick, gluey mass. My grandmother used Idaho or russet potatoes, and she knew best.
One Potato for the Pot Explained
It was a tradition when feeding a group of people to allow one potato per person plus one for the pot. It meant that you had enough food but not too much. You prepare the "pot" potato along with the other potatoes.
What is Garlic Juice?
This recipe uses garlic juice, but you can substitute chopped or pressed garlic. Garlic juice is reputed to have many health benefits, and you can even make your garlic juice. While researching how to make garlic juice, I came across a gadget called a garlic peeler that makes it very easy to peel garlic.
How do you make potato soup?
It's easy to make potato soup from scratch. Here are the steps for this old-fashioned potato soup recipe:
Peel and cut potatoes and place the chunks of potatoes in a large soup pot or Dutch oven.
Add milk, evaporated milk, and aromatic vegetables like celery and onions.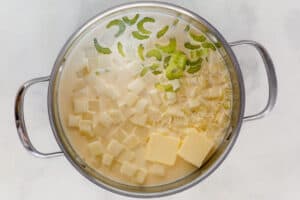 Cook the potatoes until fork tender.
Blend with an immersion blender for a deliciously thick and creamy soup.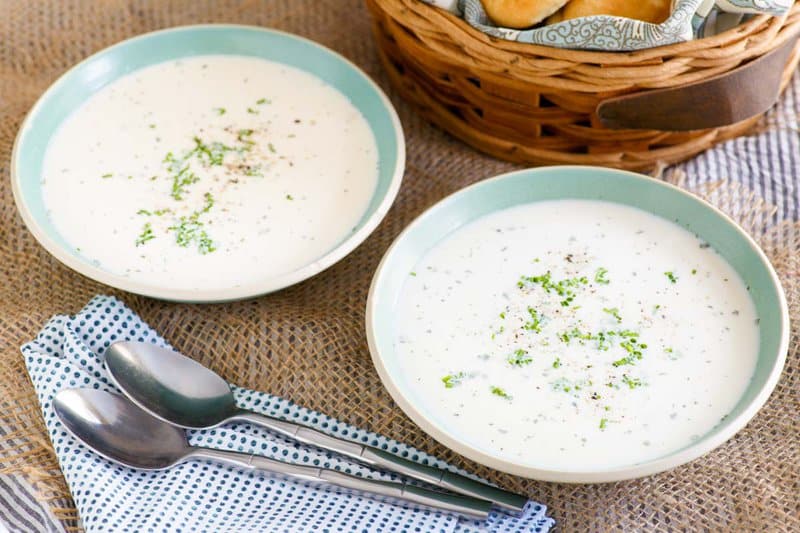 How do you make potato soup thicker?
You can easily thicken potato soup by adding a mixture of flour and butter that is blended together. By blending equal amounts of butter and flour together, you create a powerful thickener that turns a thin soup into a creamy soup you will love.
Why do you add flour to potato soup?
It will depend on the recipe. This recipe does not have flour in it. You could thicken the soup if you like. If you want to thicken this with flour, I recommend adding 1 tablespoon of flour to 1 tablespoon of butter, and mix the flour and butter together, then drop this into the soup while it is near the end of the cooking process, and stir until it thickens.
Variations on this Homemade Potato Soup Recipe
Thanks to my readers for these suggestions:
Throw in a couple of bay leaves and sprinkle some fresh chives on top.
Use green onions instead of regular onions.
Add a bit of salty taste with some bacon bits.
Sprinkle some Kraft Three Cheese Blend on top.
You can add a dollop of sour cream
What goes with potato soup?
Potato soup is filling so light sides are your best options. A simple garden salad and homemade breadsticks make a complete meal.
Can you make this recipe for homemade potato soup ahead?
You can make potato soup ahead of time, potato soup reheats very well. The best way to heat up potato soup is to heat it up gently on the stovetop over low heat.
How to Store Homemade Potato Soup
Refrigerating: Refrigerate the soup in an airtight container for 3 to 4 days.
Freezing: Freeze the soup in an airtight container for up to 3 months before serving. This is a good soup to freeze. You never know when you need a delicious bowl of soup.
How to Reheat Old Fashioned Potato Soup
Potato soup can be such a hearty soup, and it is perfect for lunch or dinner!
If the soup is frozen – You can simply put the frozen soup in a medium or large-sized pot, and heat over low temperature until the soup is thawed. Then reheat it at medium temperature until it is heated through.
If the soup is refrigerated – Place it in a medium or large-sized pot and heat over medium heat, until the soup is heated through.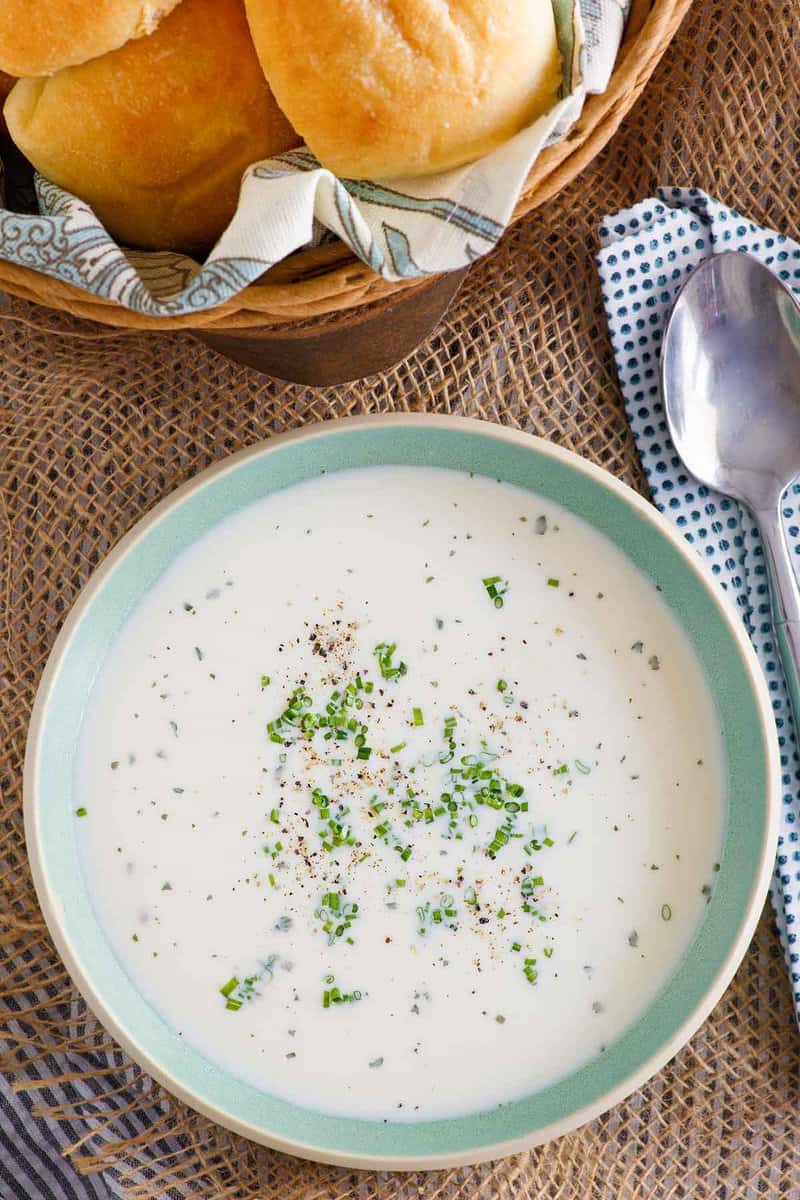 Love Potato Soup? Here are more copycat potato soup recipes for you to try
Favorite Soup Recipes
Be sure to check out these restaurant soups and restaurant salad recipes here on CopyKat!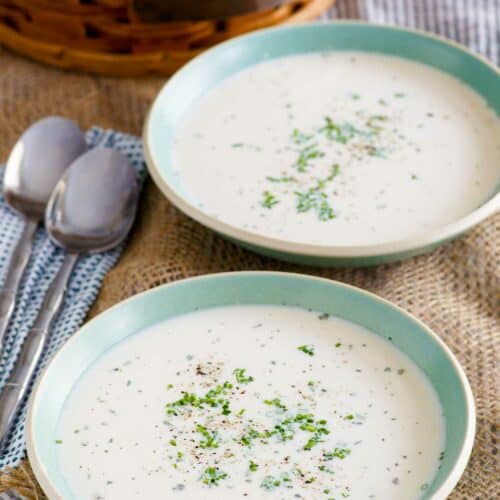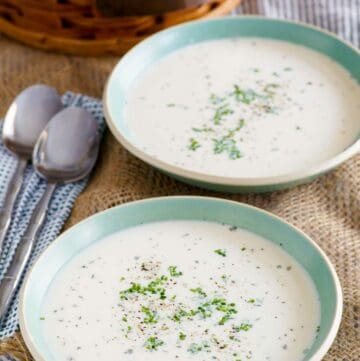 Ingredients
4

Russet potatoes

(Idaho or Russet potatoes are recommended) (This is a total of 5 potatoes)

1

potato

for the pot

15

ounces

evaporated milk

15

ounces

whole milk

15

ounces

water

4

ounces

unsalted butter

1

chopped celery stalk

1

chopped onion

1

tablespoon

garlic juice

1

teaspoon

sea salt

1/2

teaspoon

finely ground black pepper
Instructions
Peel and chop 4 potatoes into bite-sized chunks and place into a medium-sized stockpot. Place the 1 peeled potato into the pot. 

Add evaporated milk and fill up empty can with each whole milk and water.

Add butter, allow to melt. Add chopped celery, onion, chopped garlic, sea salt, and pepper.

Cook on low or simmer until potatoes are soft.

DO NOT allow soup to boil.

If desired top with fresh or dried herbs, cheese, crumbled cooked bacon.
Notes
Serve potato soup cold during the summer! Vichyssoise is cold potato soup!
Do not use potatoes that have a green tinge to them, they are past their prime!
The soup is best consumed 2 or 3 days after it is made!
The flavor of potato soup is enhanced by any buttered sweet roll or dinner roll. 
This potato soup is made with evaporated milk and many thanks go to hyjinx for sharing the recipe.
Nutrition
Calories:
282
kcal
|
Carbohydrates:
30
g
|
Protein:
7
g
|
Fat:
15
g
|
Saturated Fat:
9
g
|
Cholesterol:
45
mg
|
Sodium:
361
mg
|
Potassium:
760
mg
|
Fiber:
2
g
|
Sugar:
6
g
|
Vitamin A:
505
IU
|
Vitamin C:
11.3
mg
|
Calcium:
169
mg
|
Iron:
2
mg