Senate Navy Bean soup has been served at the nation's capital cafeteria for over 100 years. You can recreate this famous soup at home.  It was said that Senator Fred Thomas Dubois of Idaho, was responsible for a resolution that required this bean soup be served every day on the menu.  There are many different versions of this recipe available online.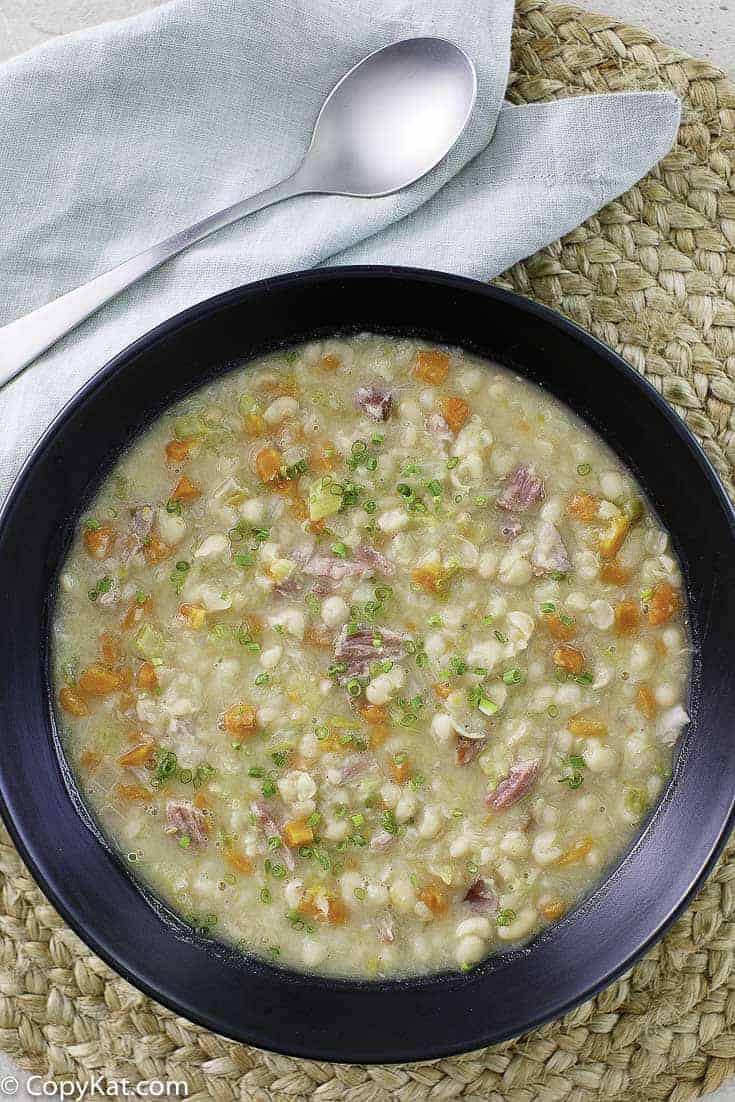 Senate Navy Bean Soup is one of those recipes with a past that is almost bigger than the recipe itself. (Another one in this category is the Neiman Marcus Chocolate Chip Cookie recipe, which is an urban legend.) However, this bean soup recipe has an uncertain past.
It is said that Senator Fred Thomas Dubois of Idaho was responsible for a resolution that required this bean soup to appear every day on the Senate menu. Dubois also thought that the soup should always be made with mashed potatoes (he was from Idaho after all!).
What is the story behind the Senate Navy Bean Soup?
Another legend is that the soup request originated from a Minnesota Senator who just loved the soup, although there is no apparent connection of any ingredient with his home state. Senate Bean Soup is so iconic that it has its own recipe page on the Senate website, one version with spuds and one without.
What is certain is that this hearty bean soup has been available to US Senators every day from at least 1903. You could say that the soup is an example of a rare agreement between Republicans and Democrats! And, nowadays, there are many different versions of this recipe available online.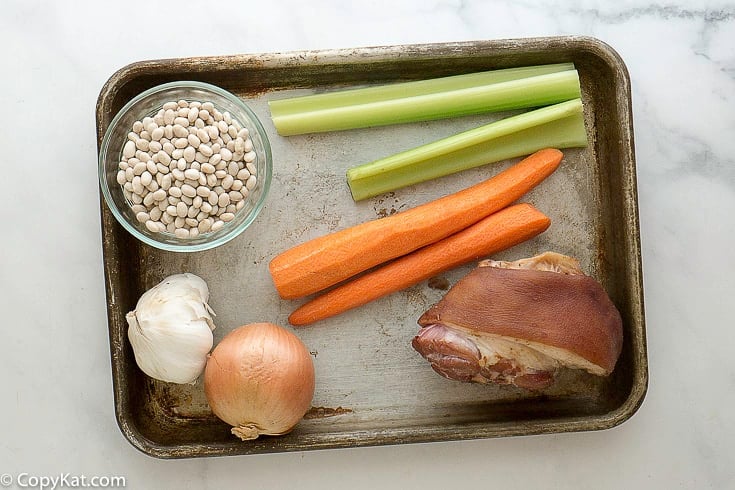 What's in this Easy Navy Been Soup?
This recipe for navy bean soup is super simple. If you are looking for an inexpensive soup to make, you should consider this recipe. It is made with:
Navy beans
smoked ham hock
carrots
celery
onion
butter
garlic
Soup is good for you
Soup is good in two ways – it nourishes the soul, and most soup recipes don't cost a lot to make and help you save money. The basic ingredient in this simple soup is an inexpensive package of dry navy beans.
Chock-full of beans, ham, and celery, this hearty copykat soup makes a wonderful meal at any time of year. If you have a holiday ham, freeze the bone until you're ready to make soup.
Plus, once prepared, this soup freezes well for a great make-ahead supper. You will have a homemade soup to rival any bowl of soup in a restaurant.
If you love bean soup, here are more bean soup recipes for you to try.
Panera Bread Black Bean Soup
Zero WW Point White Bean Chicken Chili
Best Ever Baked Beans with Smoked Sausage
Slow Cooker Navy Bean Soup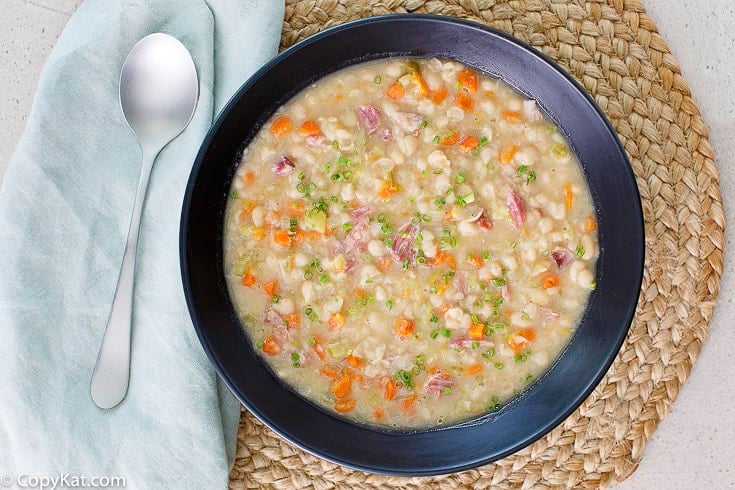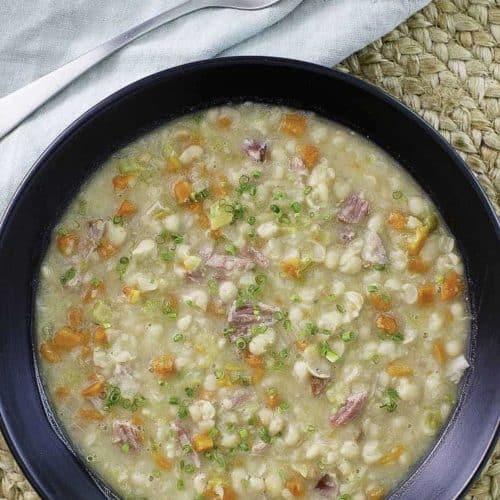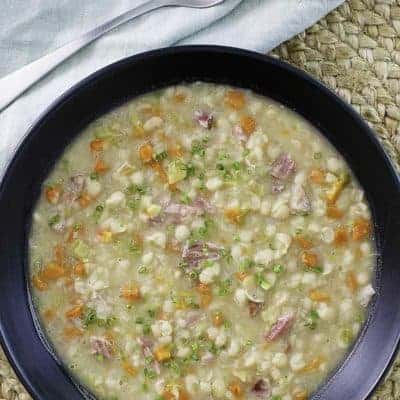 Ingredients
1

pound

dry navy beans

1

smoked

ham hock

3

tablespoons

butter

1

cup

chopped onion

1/2

cup

chopped celery

1/2

cup

chopped carrot

2

cloves

of garlic, chopped
Instructions
Wash and rinse the beans and discard any debris or dark-colored beans.

In a large stockpot, combine the rinsed beans, the ham hock, and 4 quarts of water. Over high heat, bring to a boil, then simmer over low-medium heat until the beans are soft (about 2 hours).

When the beans are almost ready, melt the butter in a medium-sized skillet. Add the garlic, onion, carrot, and celery, and saute until all the vegetables are soft.

Add the softened vegetables to the beans and stir well. Remove the ham hock from the soup and cut the meat into small bite-sized pieces. Add the meat back into the soup.

Use a potato masher to slightly mash some of the beans - this will give you a nice velvety texture. Season soup with salt and pepper before serving.
Nutrition
Calories:
273
kcal
|
Carbohydrates:
50
g
|
Protein:
17
g
|
Fat:
1
g
|
Saturated Fat:
0
g
|
Cholesterol:
0
mg
|
Sodium:
19
mg
|
Potassium:
990
mg
|
Fiber:
19
g
|
Sugar:
4
g
|
Vitamin A:
1820
IU
|
Vitamin C:
3.1
mg
|
Calcium:
126
mg
|
Iron:
4.2
mg