You can save time by making a pot roast in a pressure cooker.  It still tastes like you spent a long time cooking the pot roast.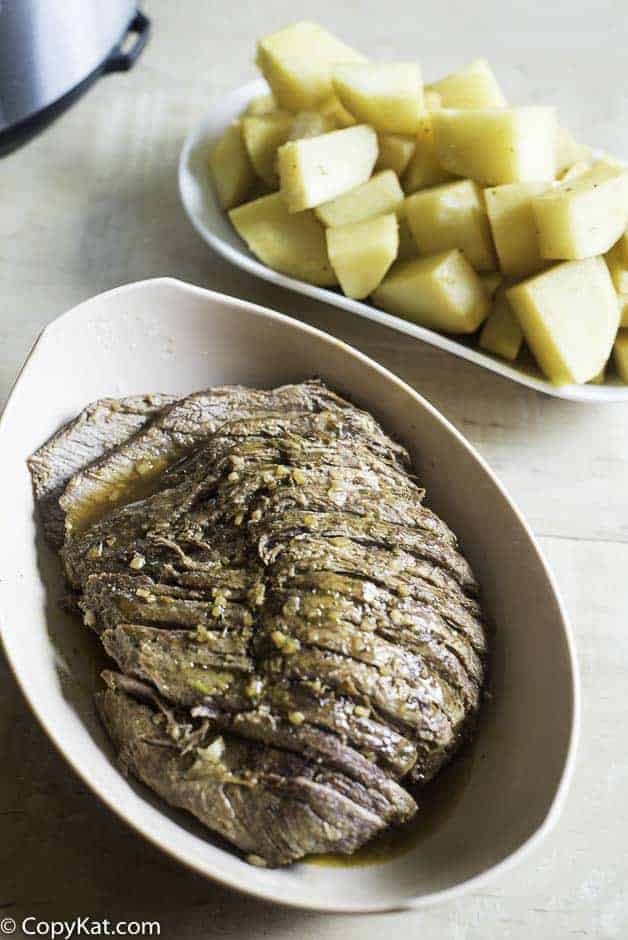 Pressure Cooker Pot Roast
Pot roast is the classic Sunday dinner for many families. Now you can save time by making an instant pot roast in a pressure cooker. I love to use my Instant Pot, one of the most popular brands of electric pressure cookers. It's really easy to use, and your Instant Pot can help you make this delicious old-fashioned pot roast recipe. Cooking a roast in your pressure cooker allows you to use the same pot for browning the meat (an essential step for making mouth-watering gravy) and cooking the roast.
How Long Does It Take to Cook a Roast in a Pressure Cooker
With this copykat pot roast recipe, you can get this tender, juicy pressure cooker instant pot roast on your table in much less time than it would take if you cooked your pot roast in the oven. And, the best part is that it still tastes like you spent a long time cooking the pot roast. And, since it cooks quicker, you can have instant pot roast any time you want a special dinner.
Can You Overcook Meat in a Pressure Cooker? 
The short answer is yes. And, unfortunately, once you overcook a piece of meat in the pressure cooker, there's no going back. All you'll have left will be a heap of dry, crunchy fibers with no taste. And there's no way that any additional pressure cooking will put the moisture back in the meat.
The ideal pressure cooking time is the amount of time the food requires to be cooked all the way to the center. Therefore, the same piece of beef will need different pressure cooking times according to how it is sliced. A whole roast has the longest distance for heat to travel from the outside edges to the center – about 45 minutes. If the meat is sliced into 1-inch chunks for a stew, it will need approximately 20 minutes. And broken-up ground beef only takes about 5 minutes.
Tips for Making the Best Pot Roast
When cooking with marbled cuts of meats like the ones used for pot roast, ideally the meat needs to reach an internal temperature of not less than 200 degrees. This will cause the collagen to soften and break down, resulting in tender, flavorful meat.
In a pressure cooker, the thickness of the meat determines how long it needs to be cooked. Cutting your meat in thirds helps it to cook faster. Plus, when you cut the roast, it's easier to fit in the pot and quicker to brown.
With the lean cuts of meat used for slow roasting, be sure to cut the meat against the grain. Cutting against the grain will give you less chewy, more tender bites.
What Are the Best Roasts?
You may be a bit confused by the variety of beef roasts found in every supermarket. You can make pot roast with different cuts of beef, including eye of round, sirloin tip, and chuck.
Eye of Round is cut from the rear leg of the beef. It's lean and tough but very flavorful and most suitable for slow roasting.
Sirloin tip (or round tip) is cut from the hindquarters, adjacent to the sirloin. A sirloin tip roast has lots of flavor, but like most lean cuts it should be cooked slowly.
I love chuck roast. It's an inexpensive cut of meat that's easy to find, and it's often on sale. It's marbled for flavor and it's flat, making it easy to brown.
Click here for a guide to beef roasts and how to cook them.
Why Should the Vegetables be Cooked Separately?
Potatoes and other veggies cook really fast in a pressure cooker, so if you add them to meat they'll just turn into mush!
Step by Step instructions for Instant Pot Roast Beef
Turn on pot on to saute.
Add two tablespoons of oil, and let it get hot.
Season beef with salt. Place beef into pot and let it get brown on both sides by cooking for about 5 to 6 minutes on each side.
Mix the package of stew mix with water.

Pour seasoning over roast.

Place lid on the pot, and use the meat setting. When roast has finished cooking, perform a natural release.
Steam potatoes or other desired vegetables for 6 minutes on high pressure.

Perform a quick release on the vegetables.
If you want gravy, mix togethe 2 tablespoons cornstarch and 1/2 cup of water together, and pour into liquid in pot. Set the pot on saute, and cook until the gravy has thickened.

Can't get enough roast? Try these family-approved roast recipes

The Ultimate Stove Top Pot Roast
Yankee Pot Roast – make a perfect pot roast with our recipe, it is easy to do.
Cracker Barrel Mushroom Braised Pot Roast

Ingredients

3

pound

chuck roast

2

tablespoons

oil

1

package

beef stew seasoning mix

1/2

cup

water

14

ounces

beef broth

Instructions

Turn Instant Pot on to saute.

Add two tablespoons of vegetable oil.

Season roast with salt on all sides.

Brown roast on all sides, by cooking on each side for about 5 to 6 minutes or until the roast browns.

Mix stew seasoning with water. Pour seasoning blend over the roast.

Place lid on Instant pot with the steam valve closed.

Select Instant Pot "manual" setting and set for 60-80 minutes on "high" pressure, 60 minutes for a 3 to 4-pound roast. 80 minutes for greater than 5 pounds.

Do a natural release for at least 10 minutes, then quick release, and remove the roast.

Peel and chop about 1 1/2 pounds of potatoes, and place into the Instant Pot. Steamer baskets are very handy for this!

Place lid on Instant pot with the steam valve closed.

Select Instant Pot "manual" setting and set for 6 minutes on "high" pressure.

When the potatoes have finished cooking perform a quick release. Remove potatoes from the Instant Pot.

If you want gravy combine cornstarch and water together. Turn the Instant Pot to saute, and stir until the gravy thickens.

Standard Pressure Cooker Directions

Heat oil in pressure cooker bottom over medium-high heat. Brown chuck roast on both sides. Mix beef stew seasoning in water and add to meat. Add beef broth. Secure lid and reduce heat when the pressure regulator starts to rock.

Cook for 1 1/2 hours. While you can't do potatoes or vegetables with this method, I reduce some of the liquid after cooking, thicken for gravy and serve with mashed potatoes.

Nutrition

Calories:

454

kcal

|

Carbohydrates:

0

g

|

Protein:

44

g

|

Fat:

30

g

|

Saturated Fat:

11

g

|

Cholesterol:

156

mg

|

Sodium:

430

mg

|

Potassium:

788

mg

|

Fiber:

0

g

|

Sugar:

0

g

|

Vitamin A:

30

IU

|

Calcium:

45

mg

|

Iron:

4.9

mg