So you might be asking what is Instant Pot beef stew. The Instant Pot is a pot that functions as a slow cooker, a pressure cooker, a rice cooker, it makes congee and more, and how does it work? It works brilliantly.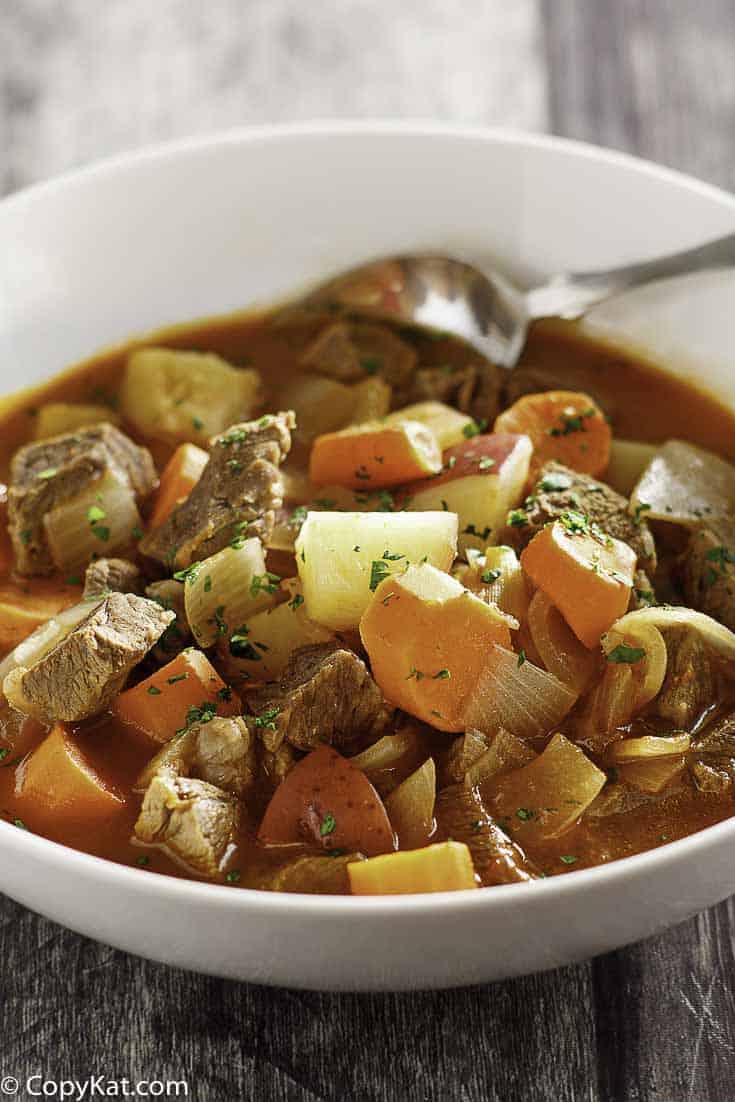 I was looking to replace my pressure cooker with something that could multi-task. I found it. No, this isn't a paid endorsement. It is someone that is triumphal with the results. I have made several recipes this weekend with it, and I have been happy with all of them. If you know me, you know I can't make rice on the stovetop. I try, I fail. So the rice here is cooked very well, and it does so much more quickly than in my rice cooker.
Tonight, I had to cook a roast. I often go grocery shopping before the weekend starts and Sunday night I am often cooking things for the week. This week it was stew. I made beef stew tonight that was excellent, and honestly some of the best that I have ever made. In about an hour I had beef that was so tender you could break it apart easily with a fork.
Instant Pot Beef Stew – Inspired from my Grandmother's recipe
Tonight's inspiration was simplicity, and I wanted something to remind me of my Grandmother's beef stew. She cooked plainly, letting food's natural flavors come through. So tonight's pressure cooked stew was beef, potatoes, onions, carrots, a little garlic powder, salt, tomato sauce, chicken broth, and smoked paprika, and that was all. What I ended up with was a savory stew that I will enjoy for this week.
Instant Beef Stew – One Crazy Ingredient
What one crazy ingredient is in this recipe? Chicken stock. I use chicken stock as the stew base. I think the flavor of the chicken stock adds a richness and nice flavor profile that beef stock does not have. People always ask, did you just say chicken stock. Yes. If you prefer beef stock, please use it. I urge you to try your beef stew with chicken stock just once.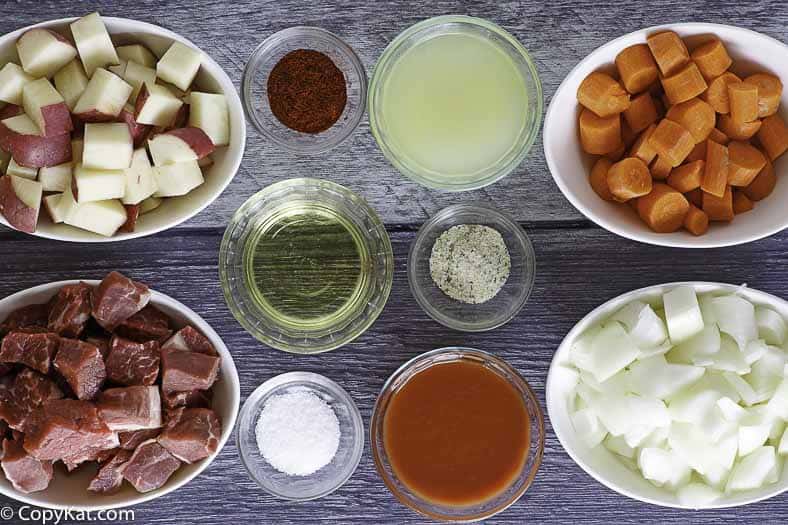 This post contains affiliate links. As an Amazon Associate, I earn from qualifying purchases.
Learn how to keep the vegetables firm in your beef stew
I did pressure cook my stew twice. The first time through it was simply salt, tomato sauce, and chicken broth. I wanted the meat to have a head start on the vegetables, so I put them in first. I cooked these for 15 minutes, and then I put in the veggies and cooked for 30 minutes. What I ended up with was a flavorful stew that you would have thought was on the stovetop for an afternoon.
How to make the best Instant Pot beef stew
It's pretty easy to make delicious stew, you can make a beef stew that tastes like it cooked all-day in your pressure cooker. I will walk you through the process.
Cut your beef into bite-sized pieces. Small pieces of meat mean your stew with taste extra meaty, by increasing the surface area of the meat means more flavor comes through.
Brown the meat first before pressure cooking it. The browning process will give your stew a depth of flavor.
Using meat stock instead of water adds another layer of depth to the taste of your stew.
Cooking the vegetables last results in the vegetables retaining all of their natural bold flavors. No one wants flavorless mushy vegetables.
What meat is best for beef stew?
You can use just about any cut of beef for beef stew.  The cheaper cut of meat will give you better flavor! My personal favorite is chuck roast, a chuck roast is inexpensive, and has enough marbling on it to give it more flavor.  Don't buy precut stew meat, it costs more, five minutes of work means you can save a couple of dollars a pound.  Here is the breakdown types of meat you can make beef stew.
Chuck roast –  (Chuck Shoulder, Chuck Roast, Chuck-Eye Roast, Top Chuck) – is well-marbled, and releases a lot of gelatin when it cooks, so you get a wonderful velvety texture.
Sirloin – is great if you want a lower fat content in your stew, this is a great choice, this leaner cut of beef. You won't get the same texture as you will with a fattier cut.
Round eye roast (Bottom Round Roast, Bottom Eye Roast, Rump Roast, Eye Round Roast, Top Round, Round Tip Roast) – These are all variations of the same cut of roast. Inexpensive and lean, this is a great choice for a leaner stew plus these are often priced less expensively than other cuts of meat.
How long do you need to cook beef chunks in a pressure cooker?
Meat takes 30 minutes to be cooked thoroughly, in a pressure cooker.  You might wonder if you want to add more meat in the pressure cooker do you need to cook it for longer?  No, the meat needs to cook for 30 minutes at the proper psi to be done. Longer cooking time is irrelevant when you use more meat.
Tips for Success When Making Beef Stew In The Instant Pot
To add richness and flavor to the stew
Brown the meat first
Do not use water, use a meat stock
Use meat with some fat like a chuck roast, you will get flavor from the fat, and the gelatin will give you a nice texture.
When you brown the meat deglaze with a bit of red wine if you desire
Beef Stew Instant Pot Additional tips
Do not put flour in your  Instant Pot, it will clog the pressure cooker. If you think the stew is too thin, consider adding a corn starch slurry to the final result.
If you want to you can add a couple of bay leaves when you cook the meat.
Beef Stew Recipe in the Instant Pot is flavorful
What I like about using the Instant Pot it is that is a safe, easy way to pressure cook. The flavors stay trapped within the liquid, so you get a nice flavorful stew. This stew cooks quickly, and the pressure cooker is relatively silent when in operation. It will even switch to a warm mode once the food is cooked. I browned my meat right in the pot, then put on the lid, set the timer, and walked away until it beeped. Brilliant. This is the working person's dream.
Want to see more about the Instant Pot? Read my Should You Buy An Instant Pot article.
I recommend this model: Instant Pot IP-LUX50 6-in-1 Programmable Pressure Cooker, 5.28qt, Latest 3rd Generation Technology, Stainless Steel Cooking Pot and Exterior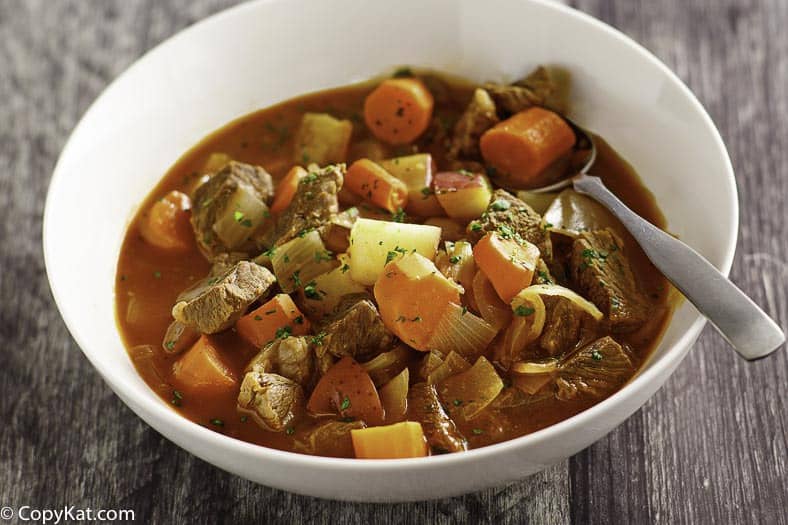 Loved this recipe? Try my other Instant Pot recipes.
Best Hearty Soup Recipes
Be sure to take a look at more of my easy soup recipes and Instant Pot meals.
If you are still wondering if you should get an Instant Pot you can read my blog post about Should You Get an Instant Pot.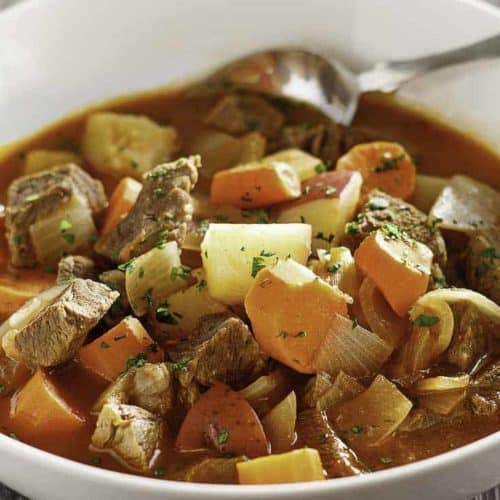 Ingredients
2 1/2

pounds

chuck roast

cut into bite sized pieces

2

tablespoons

vegetable oil

1

teaspoon

kosher salt

16

ounces

chicken stock

16

ounces

tomato sauce

1

teaspoon

smoked paprika

2

pounds

potatoes, cut into bite-sized pieces

8

ounces

carrots, cut into bite-sized pieces

2

large

onions, cut into bite-sized pieces

1/2

teaspoon

garlic powder
Instructions
Cut beef into bite-sized pieces. Season meat with salt. Brown bite-sized pieces of roast in the Instant Pot on saute in vegetable oil, you may need to do this in small batches.

Once the meat has browned add tomato sauce and chicken stock. Cook the meat on the manual high setting for 30 minutes. Perform a quick release.

Then add the garlic powder, smoked paprika, vegetables and cook on the manual setting for 4 minutes.

When the stew finishes you can either perform a quick release or a manual release.
Nutrition
Calories:
413
kcal
|
Carbohydrates:
25
g
|
Protein:
33
g
|
Fat:
20
g
|
Saturated Fat:
10
g
|
Cholesterol:
99
mg
|
Sodium:
816
mg
|
Potassium:
1337
mg
|
Fiber:
5
g
|
Sugar:
6
g
|
Vitamin A:
5125
IU
|
Vitamin C:
21.5
mg
|
Calcium:
85
mg
|
Iron:
7.5
mg