Popeyes Cajun Rice is a wonderful side dish for when you want a cajun inspired meal. You can recreate this cajun rice recipe at home.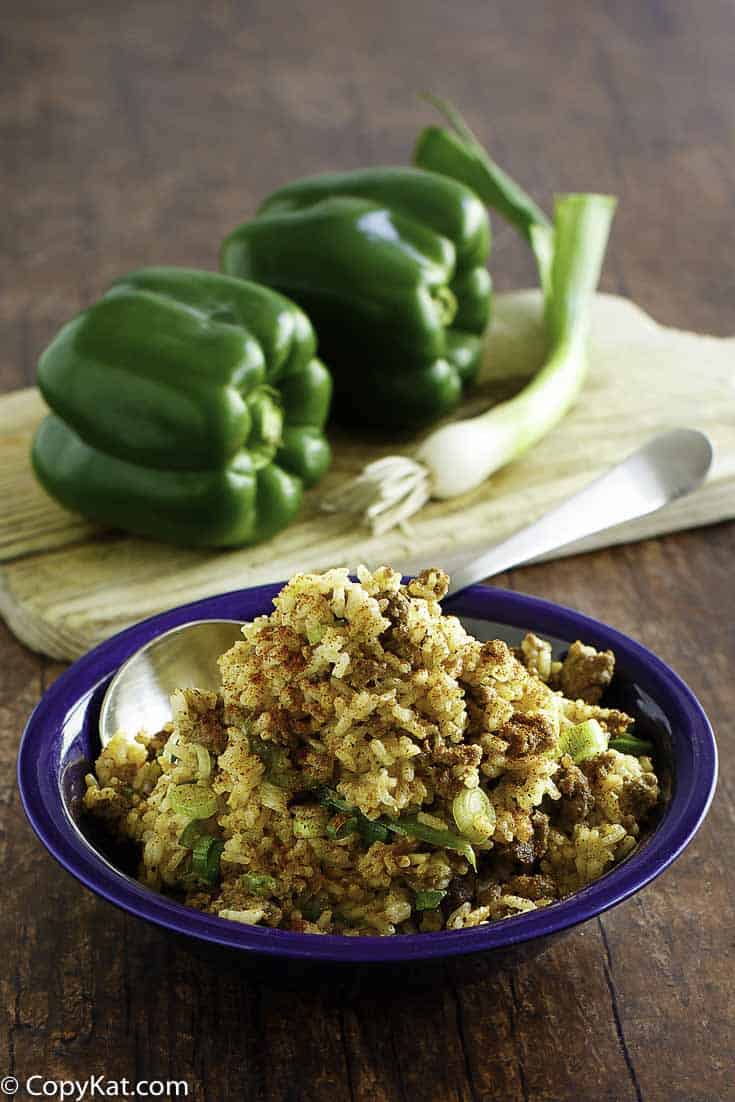 This post contains affiliate links. As an Amazon Associate, I earn from qualifying purchases.
About Popeyes Chicken
In 1972 in New Orleans, an idea was born. Alvin Copeland opened a fast-food restaurant he named Popeyes after a character in the movie The French Connection. He apparently wanted to model himself on the style of Popeye Doyle.
The main taste sensation in this first restaurant was chicken cooked in a spicy New Orleans style. From this inauspicious beginning, Al Copeland became a larger-than-life chicken mogul, and there are now over 2,600 Popeyes that have introduced the rich food history of New Orleans to all parts of the U.S. and other areas of the world.
Popeyes is famous for its flavorful, freshly-cooked chicken, and its patrons agree one hundred percent with its slogan: Love That Chicken. Since its inception, Popeyes has not stopped introducing exciting chicken flavors such as wicked chicken (which won a MenuMasters award), blackened tenders, beer can chicken, and red stick chicken.
Louisiana Rice – The Secret to This Dish
Rice has been an intrinsic part of Louisiana's food culture for more than 300 years. It forms the basis of many traditional Louisiana dishes such as étouffée, gumbo, red beans, and jambalaya. Nearly all the rice grown in Lousiana today is of the slender, fluffy long-grain variety.
Versatile and easy, rice is a mainstay in Louisiana kitchens. And, every bite has one thing in common – the distinctive taste of Louisiana. Popeyes rice dishes are justly famous and were awarded a MenuMasters Award in 1999.
You can buy authentic Cajun Country (the brand name) Louisiana long-grain rice online from several sites, including Amazon and Instacart, and make your own Cajun rice from scratch.
What Is Cajun sauce made of?
You can make an amazing Cajun BBQ sauce with brown sugar, ketchup, bourbon, liquid smoke, onion, and garlic. See my Cajun BBQ Sauce recipe.
You can also make a homemade Cajun sauce that is great over fries or pasta. This type of sauce is made from mayo, Cajun seasoning, tomato paste, onion, garlic, and smoked paprika. Try this recipe for Cajun mayonnaise.
Copycat Popeyes Cajun Rice Recipe
This recipe for Popeyes Cajun Rice (also known as dirty rice) came in response to the requests of many people who have enjoyed it at Popeyes and wanted to cook it at home.
Make your own homemade cajun rice just like Popeyes does, best of all the ingredients are easy to find, and you can make delicious cajun rice at home.
What is Popeyes Cajun Rice made of?
Here is a list of ingredients you need to make Popeye's Cajun rice:
Ground beef
Chicken gizzards
Green bell pepper
Green onions
Garlic powder
Celery flakes
Tony Chachere's Creole seasoning
Red pepper flakes
Long grain rice
Ground black pepper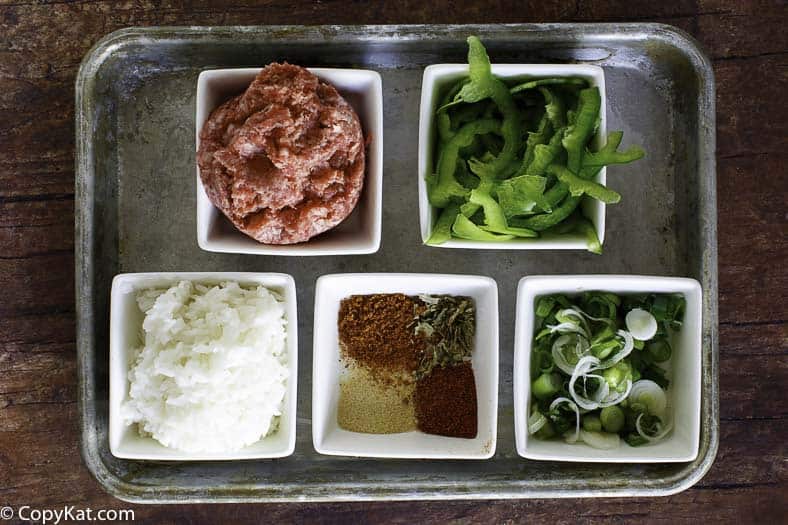 Ingredient Notes
To successfully prepare Popeyes Cajun Rice it's important that the rice is of good quality. We tried Minute Rice but weren't happy with the results. However, Success Rice (boil in the bag) turned out well. Whichever rice you use, please make sure you follow the directions for cooking it.
Also, please note that chicken gizzards are optional, and the dish will be just as tasty if you only use ground beef. When done right, Popeyes Cajun rice adds spice to any meal!
How to Make Popeyes Cajun Rice
Cook the long grain rice according to package directions.
Finely chop or pulse chicken gizzards in a food processor.
Place the ground beef, ground chicken gizzards, and bell pepper in a frying pan over medium-high heat. Cook, stirring frequently, until the beef loses its pink color and the bell pepper is soft. Remove excess grease.
Reduce the heat to medium-low and add the remaining ingredients. Cook, stirring occasionally, until the ground beef is completely cooked and liquid is gone, about 25 to 35 minutes.
How to Serve and Store Cajun Rice
This hearty Cajun rice recipe is good just on its own or with a green or tomato/cucumber salad, okra, Swiss chard, collards, or some other freshly-steamed veggie and some cornbread. It also goes well with grilled or fried chicken.
Always allow the dish to cool down completely before storing it. This rice will keep in an airtight container in your fridge for up to three days. You can also freeze it for up to three months. Let it thaw before reheating in your microwave on low, so you don't dry out the beef.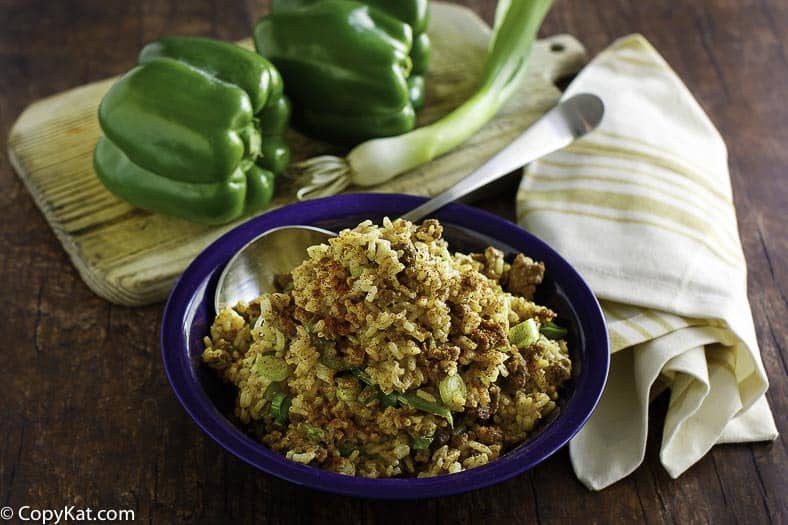 Love Cajun Food? Try these recipes
Most Popular Rice Dishes
Be sure to check out more of my easy side dish recipes and the best fast food copycat recipes.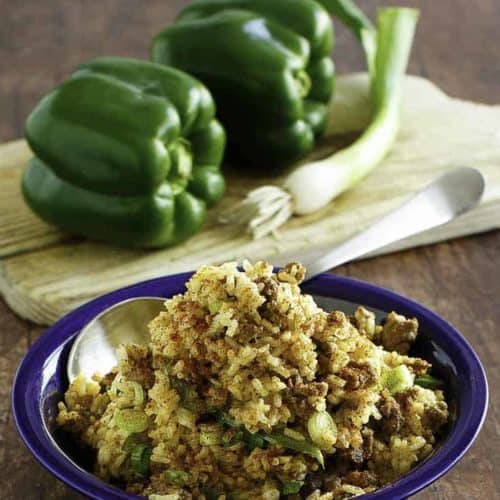 Ingredients
1

pound

Lean ground beef

1/2

cup

chicken gizzards

1/2

cup

finely diced green bell pepper

1/3

cup

sliced green onions

1/2

teaspoon

garlic powder

1/2

teaspoon

celery flakes

1

teaspoon

Tony Chachere's Creole Seasoning

1/4

teaspoon

red pepper flakes

4

cups

long grain rice cooked and drained

1/4

–

1/3 cup water

1/4

teaspoon

ground black epper
Instructions
Cook 4 cups of long grain rice according to package directions.

Finely chop or pulse thechicken gizzards in a food processor. In a frying pan, stir in the ground beef,ground chicken gizzards, and bell pepper and cook on medium-high heat until thebeef loses its pink color and the bell pepper is soft. Remove excessgrease. 

Turn the temperature downto medium or medium-low and add the remaining ingredients. Cook, stirring,until the ground beef is completely cooked and liquid is gone (about 25-35 mins.) More Creole seasoning and red pepper may be added for that Cajun at heart taste.I like to use Tony Chachere's.
Nutrition
Calories:
350
kcal
|
Carbohydrates:
60
g
|
Protein:
17
g
|
Fat:
3
g
|
Saturated Fat:
1
g
|
Cholesterol:
60
mg
|
Sodium:
52
mg
|
Potassium:
292
mg
|
Fiber:
1
g
|
Sugar:
0
g
|
Vitamin A:
370
IU
|
Vitamin C:
11.2
mg
|
Calcium:
29
mg
|
Iron:
2.1
mg