Commander's Palace is a New Orleans institution and they make fabulous seafood gumbo. This gumbo is a medley of shrimp, crab, oysters, onions, garlic, peppers, and okra. If you haven't tried gumbo, you don't know what you are missing.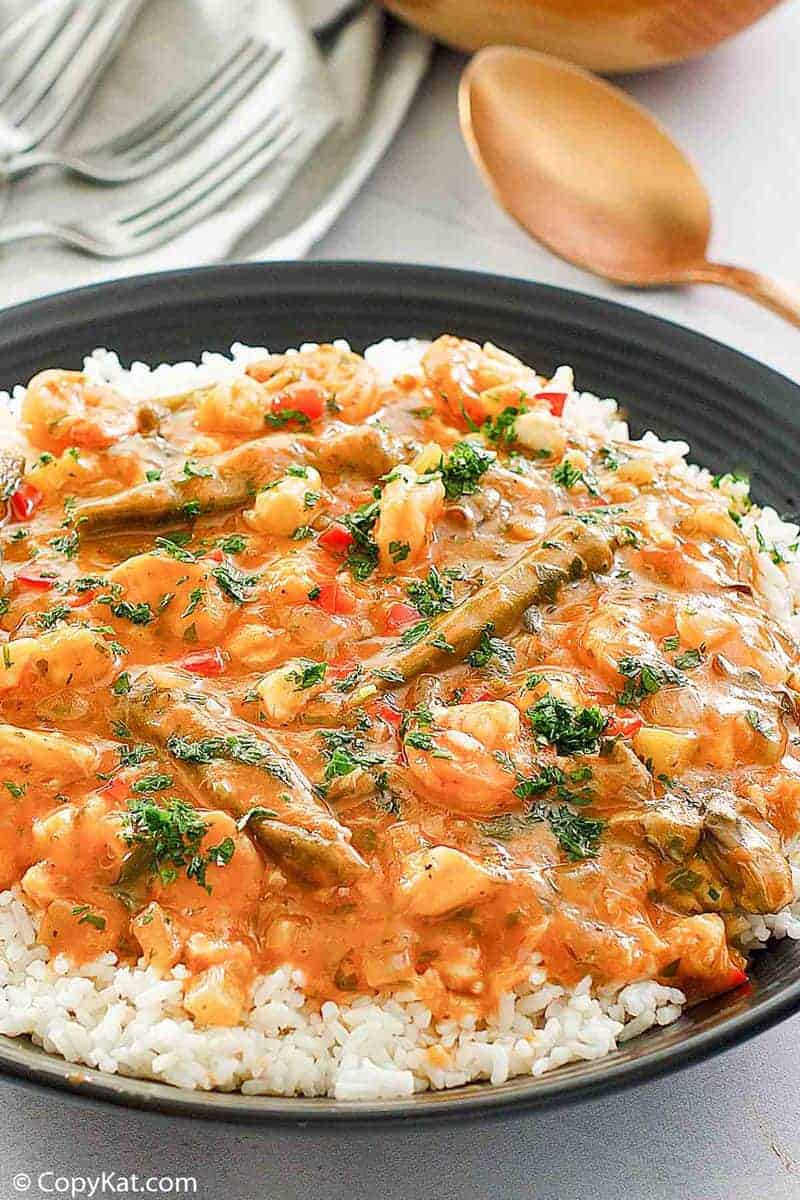 For well over 100 years, Commander's Palace has been a venerated landmark located in New Orlean's Garden District. But there is much more to this legendary restaurant than its infamous 25-cent lunchtime martini specials. Commander's Palace has been serving up classic Cajun and Creole recipes, prepared by some of the finest chefs in Louisiana, for generations. One of the most popular dishes on the menu is the seafood gumbo. No trip to New Orleans is complete without a visit to Commander's Palace for a bowl. However, if you can't make it to the Big Easy, you can still savor the taste of this dish by cooking up a batch at home using the Louisiana seafood gumbo recipe below.
What is Gumbo?
At its heart, gumbo is simply a stew. This Creole recipe originated in Lousianna at the turn of the 20th century and is so ingrained in the area's culture that it is listed as the state's official cuisine. Traditionally, gumbo was made from anything that walks, flies, or swims, but these days, the most popular versions are chicken, sausage, or seafood.
So, what is usually in gumbo besides the meat or fish? First off, all gumbos contain onions, bell peppers, and celery. These three vegetables are so prevalent in both Cajun and Creole cooking that they are sometimes called the 'Holy Trinity' of the cuisine. In addition to the veggies, gumbos always contain some sort of thickener. Most recipes call for using okra in addition to filé powder or roux. Okra is a popular vegetable throughout the South, filé powder comes from the leaves of the American sassafras tree, and roux is a mixture of flour and fat. The seafood gumbo ingredients used for thickening in this recipe are roux and okra.
Isn't Gumbo Just Another Name For Jambalaya?
Don't be confused when it comes to gumbo and jambalaya. Although both are popular Lousiana dishes, they are not the same thing. Jambalaya is a slightly older recipe than gumbo and first began appearing in New Orlean's French Quarter in the late 1800s. Besides the origins of the recipe, probably the most distinct difference between the two is how each dish uses rice. Gumbo is served on top of white rice, while white rice is cooked in the same pot as the rest of the jambalaya. The cooking method for jambalaya creates a naturally thicker stew and eliminates the need for any additional thickeners.
Tips For Cooking and Storing the Roux For This Louisiana Seafood Gumbo Recipe
Rule the roux. Be careful when making your roux. Ideally, you are aiming for a dark, melted chocolate color, but it is very easy to burn the flour. Heat very slowly. It can take up to an hour to reach the perfect color, but remember, you can always use an under colored roux, but you can't use one you burn.
Don't waste a great roux. Making a roux takes time. You can double or triple the amount you need for the seafood gumbo recipe and then store the rest in an airtight jar in the freezer.
Get fresh recipes as soon as they are available by friending us on Facebook.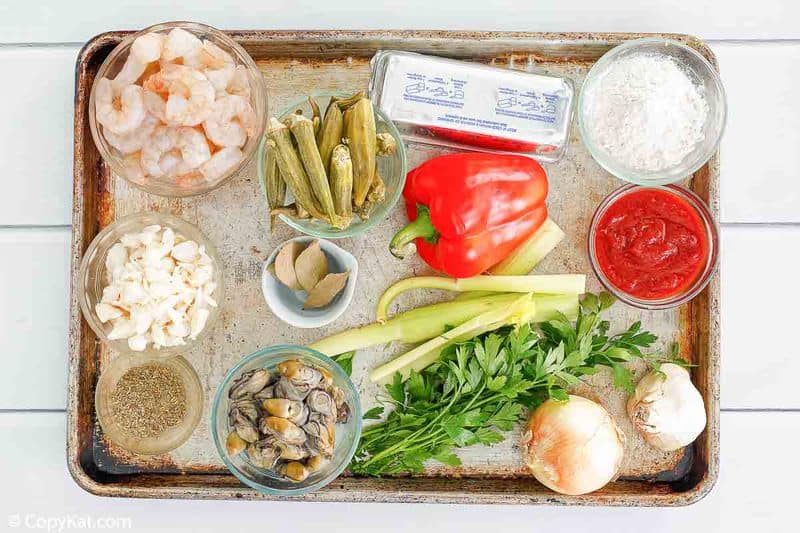 Ingredients you will need to make seafood gumbo
All-purpose flour
Vegetable shortening
Fresh garlic
Onion
Bell pepper
Celery
Peeled shrimp (fresh is best, but frozen is ok)
Tomato sauce
Crab meat (claw meat is preferred)
Water
Thyme
Bay leaves
Okra
Oysters with juice
Love Cajun and Creole food? Try these recipes
More Fine Dining Seafood Recipes
Be sure to take a look at more of my easy seafood recipes and the best fine dining copycat recipes.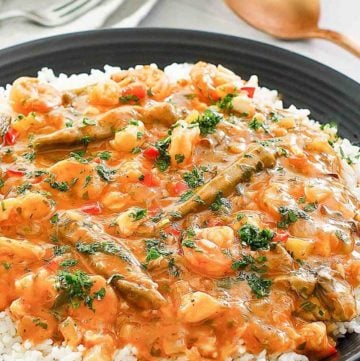 Ingredients
6

tablespoons

all purpose flour

1/2

cup

shortening

6

cloves

chopped garlic

1/2

cup

diced onion

1/4

cup

chopped bell pepper

1/2

cup

chopped celery

2

pounds

shrimp

peeled

8

ounces

tomato sauce

3

quarts

water

1

pounds

crabmeat

claw preferred

1

bunch

chopped Parsley

1/2

teaspoon

thyme

3

bay leaves

8

ounces

okra

frozen

1/2

pint

Oysters with Juice


salt and pepper to taste
Instructions
Make a roux with the flour and shortening. Cook flour and shortening in a large pot over medium-high heat until the flour turns brown and begins to smell nutty.

Add garlic and cook until golden brown. Add onion, bell pepper, and celery and cook until transparent.

Turn heat down to low, and add shrimp and tomato sauce, simmer 10 minutes, stir in water, and blend well.

Turn heat down to simmer and add all other ingredients except okra and oysters.

Cook for about 30 minutes add okra, and cook until the okra turns bright green.

Add oysters and cook 10 minutes longer. Serve in a soup bowl over steamed rice.
Recipe Tips for the Cook
Do not use a cast iron pot to cook the soup, it will discolor the soup.  Stainless steel, or a ceramic pot like Le Cruset is recommended.
Nutrition
Calories:
650
kcal
|
Carbohydrates:
21
g
|
Protein:
71
g
|
Fat:
30
g
|
Saturated Fat:
7
g
|
Cholesterol:
621
mg
|
Sodium:
3073
mg
|
Potassium:
969
mg
|
Fiber:
4
g
|
Sugar:
4
g
|
Vitamin A:
2225
IU
|
Vitamin C:
68.8
mg
|
Calcium:
497
mg
|
Iron:
8.2
mg