Chicken Gumbo is one of the South's favorite recipes during Mardis Gras. Gumbo is made with a wide variety of meats like chicken, ham, bacon, oysters, crab, shrimp, and beef.
This chicken gumbo a perfect gumbo soup recipe to try if you have never had this famous soup before.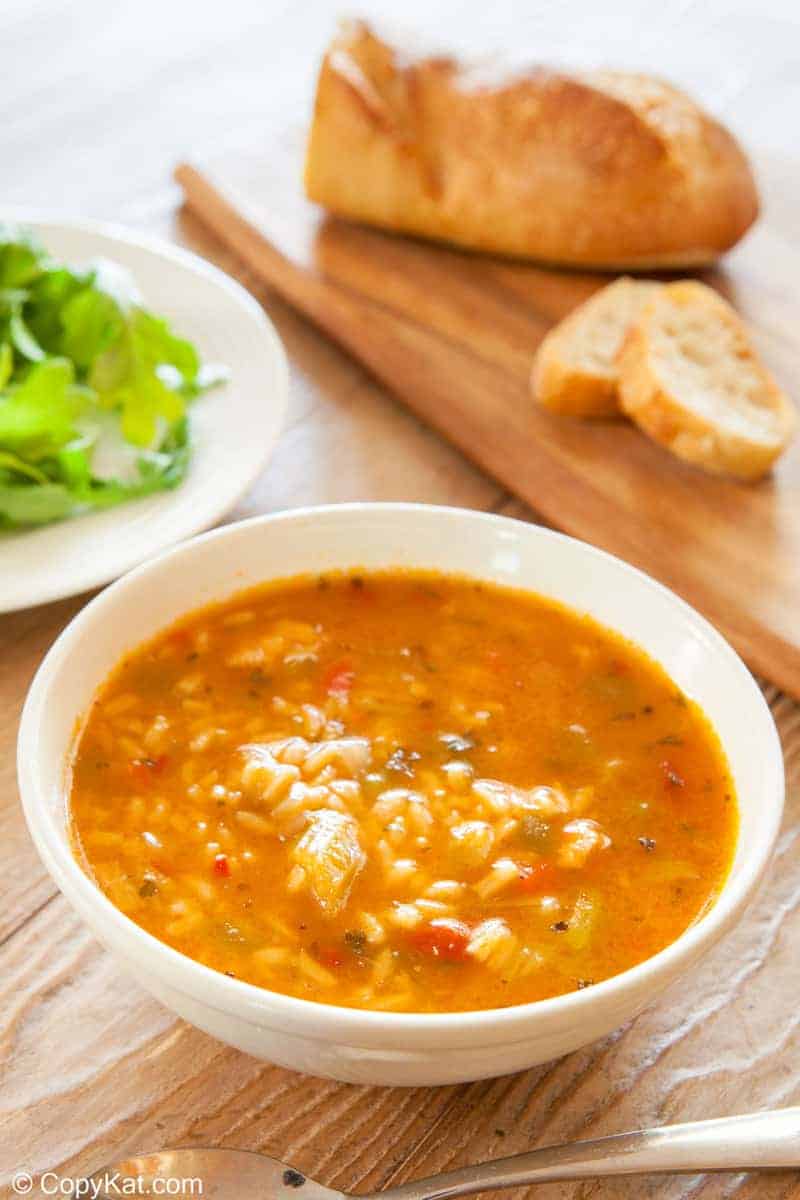 There are many different types of gumbos, but perhaps the most popular varieties are seafood and chicken. This recipe retains a traditional chicken gumbo flavor while modernizing the old school version slightly to appeal to modern tastes and cooking style. As a bonus, there is no need to spend all day over the hot stove since this chicken gumbo soup takes less than an hour to make! So, if you love gumbo or even if you never tried it before, this is an excellent place to get your Cajun fix.
Exploring the Holy Trinity
When it comes to cooking in Lousianna, three ingredients are so important that they have earned the nickname, the Holy Trinity. These essential ingredients are onions, bell peppers, and celery. While the importance of these vegetables in regional dishes ranging from étouffée to gumbo has a long history, the term only popped up in the early 1980s and is most likely created by Paul Prudhomme. He was a celebrity chef and owner of K-Paul's Louisiana Kitchen in New Orleans. Prudhomme was in large part responsible for spreading knowledge of classic New Orleans dishes to the rest of the US through multiple cookbooks and media appearances.
The Holy Trinity's importance in Cajun and Creole cooking is thanks to the large number of French descendants who ended up settling in Lousiana. French cuisine depends on mirepoix, which is onions, carrots, and celery, as a backbone of many recipes. But carrots tended not to grow well in the local area while bell peppers did, so the new arrivals substituted bell peppers for carrots in classic French recipes.
Thickening Gumbo
The most significant difference between traditional chicken gumbo and this recipe is the use of a thickening agent. Like many local specialties across the country, folks have their preferred way of preparing them. In Lousiana, there are three primary thickeners people generally view as acceptable to use in gumbo recipes. These thickeners are roux, file, and okra. Some gumbo recipes have up to two of these thickeners, but most include roux.
Roux is flour cooked in fat. There are different types of roux according to their color. In Creole cooking, the cooking style centered around New Orleans, the perfect roux color is similar to copper. Out in the countryside, Creoles prefer cooking the roux longer until it develops a dark reddish-brown hue. The problem with cooking roux is that it is extremely easy to burn and make your gumbo bitter.
The next thicken agent is okra, famous for its unique taste and slimy consistency. Okra is actually a fruit, but it is used as a vegetable. Some people despise it, but it is a common ingredient in gumbos. There are several ways to help reduce the dreaded sliminess of okra, from soaking it in vinegar to precooking okra over high heat before adding it to the gumbo.
The third type of thickener is filé powder. Filé powder comes from dried sassafras leaves and is more likely to show up in the rural Creole gumbos. Cooks don't cook with filé powder but stir it into the pot once removed from the heat.
Tips For Making and Serving Chicken Gumbo Soup
Try adding Andouille sausage. Andouille sausage is a smoked sausage made initially in France but very popular in Cajun cooking.
Serve with sliced scallions and a bottle of hot sauce on the side. Try a traditional Louisana hot sauce like The Original Lousiana brand for an authentic flavor.
Watch us make other Lousiana specialties on YouTube!
I love my reader's suggestions, and I look forward to the ways they would modify or make gumbo, so please be sure to read the comments on this blog post to hear their suggestions. I know gumbo is a dish that many people are passionate about.
Ingredients
Here's a list of what you need:
Boneless, skinless chicken breasts
Bacon
Canola oil
Chicken broth
Plum tomatoes
Corn kernels
Okra
Green bell pepper
Onion
Celery
Uncooked rice
Water
Hot pepper sauce
Black pepper
Cajun seasoning
Parsley
How to Make Chicken Gumbo
In a large pot, fry the bacon.
Remove the bacon and set aside.
Add oil to the bacon drippings that are in the pot.
Dredge the chicken in flour and brown them in the pot.
Pour the chicken broth over browned chicken and bring to a boil.
Add all remaining ingredients and simmer for 30 minutes.
Taste and season before serving.
You may add the bacon to the soup if desired.
How to Thicken Gumbo
You have three basic choices to thicken gumbo, you can use two of them, but no good check would use all three methods of thickening this soup.
Roux – Roux is likely the most well-known way to thicken gumbo. The roux is a paste of flour and fat that has been browned. How dark you like to prepare your roux is all up to you.
Okra – the original gumbo thickener.
File Powder – is made from ground sassafras leaves. File is generally added at the end of the cooking process. It is believed file became a thickener in gumbo when okra was not in season.
Love Cajun food? Try these recipes!
Popular Soup Recipes
Check out more of my easy chicken recipes and the best soup recipes here on CopyKat!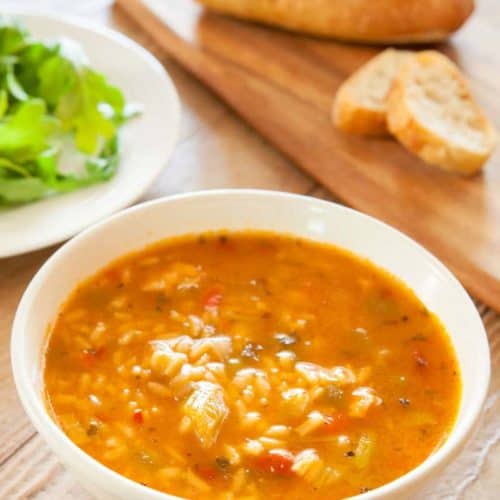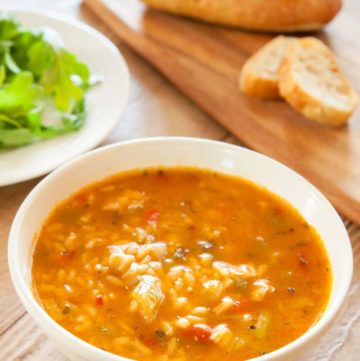 Ingredients
3

ounces

boneless, skinless chicken breasts

(cut into 1/2″ strips)

6

strips

bacon

cut into 1″ pieces

2

tablespoons

canola oil

1/2

cup

all-purpose flour

4

cups

chicken broth

6

plum tomatoes

chopped

1/2

cup

corn kernels

preferably cut from the cob

1 1/2

cups

okra

cut into 1/2 " pieces

1

chopped green bell pepper

1

cup

chopped onion

1

cup

chopped celery

1/3

cup

uncooked rice

5

cups

water

1

teaspoon

hot pepper sauce

1

teaspoon

black pepper

1

teaspoon

cajun seasoning

1

teaspoon

parsley
Instructions
In a large pot, fry the bacon. Remove the bacon and set aside. Add the oil to the bacon drippings that are in the pot.

Dredge the chicken pieces in flour and brown them in the pot. This may have to be done in several batches.

Pour the chicken broth over the browned chicken and bring to a boil.

Add all remaining ingredients and simmer for 30 minutes.

Taste and season before serving.

You may add the bacon to the soup if desired
Nutrition
Calories:
364
kcal
|
Carbohydrates:
15
g
|
Protein:
40
g
|
Fat:
15
g
|
Saturated Fat:
3
g
|
Cholesterol:
119
mg
|
Sodium:
792
mg
|
Potassium:
1033
mg
|
Fiber:
2
g
|
Sugar:
3
g
|
Vitamin A:
685
IU
|
Vitamin C:
35.3
mg
|
Calcium:
55
mg
|
Iron:
1.5
mg