Homemade lasagna tastes so much better than store-bought. Enjoy layers of rich tomato meat sauce, cheese, and noodles for an amazing dinner.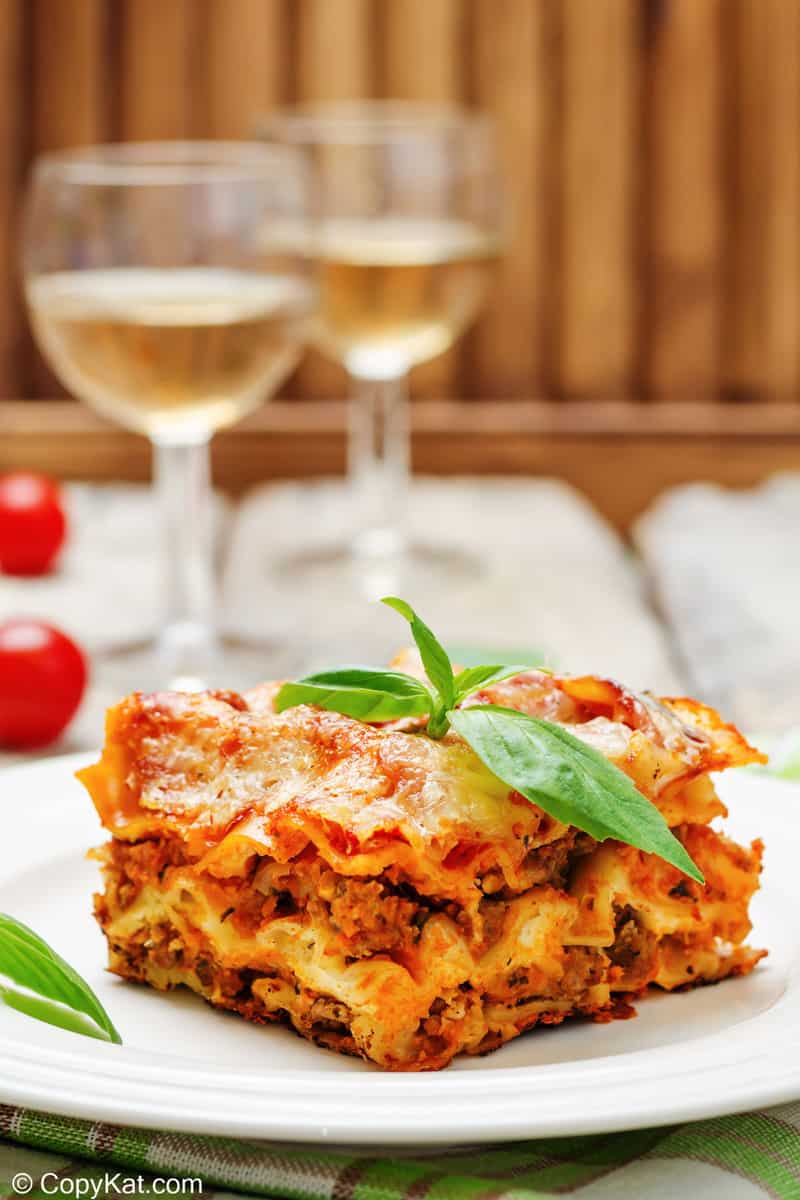 You can make this lasagna ahead of time and heat it when you are ready to eat.
Homemade lasagna tastes so much better than store-bought. I know that a lot of people think that making lasagna from scratch is a big production, but making this cottage cheese lasagna is a lot simpler. This recipe is by Lee Ann Russell. Springfield, Mo.
This is a lasagna recipe without ricotta cheese; cottage cheese is used instead. The ingredients are totally basic – noodles, ground beef, onions, garlic, tomatoes, cheese, and dried herbs. You don't have to hunt down fresh ricotta, fresh basil, or handmade Italian sausage. Anyone can make this lasagna, anywhere, anytime.
Lasagna is all about the cheese; in this case, cottage cheese and mozzarella. If you aren't a fan of cottage cheese, you won't really taste it. However, it gives the filling a less mushy, more creamy texture, which is something everyone will appreciate. Is it authentically Italian? No. Is it delicious? Absolutely. Of course, you can use ricotta if you want, but if you cannot find good ricotta where you live, cream cheese is an inexpensive and readily available substitute.
What's the Difference Between Ricotta and Cottage Cheese
Ricotta and cottage cheeses are different. Ricotta is a traditional Italian cheese made from whey with a smoother texture than cottage cheese. Cottage cheese is fresh unripened cheese that's made from curds, which are created when milk is separated into curds and whey. Cottage cheese has a very mild flavor and a lumpier texture.
I recommend using small curd cottage cheese (instead of large curd). The smaller curds will easily disappear into the cheese mixture and more closely mimic the smoothness of ricotta.
Lasagna Recipe Variations
There is no end to the variations of homemade lasagna, and you can
customize this basic recipe in any way you want. Here are some ideas:
Use half ricotta and half cottage cheese.
Go for a combo of ground beef with mild or spicy Italian sausage.
Use a combo of ground beef and pork.
Add a layer of mushrooms and pepperoni.
Toss in some cooked veggies – spinach, green peppers, or any leftover veggies.
How Many Layers Should Lasagna Have?
This comes down to your preference, but, personally, I think it needs to have at least three layers so you get that feeling of digging into a tall piece of pasta/cheesy goodness. Four layers are even better and work out with one box of lasagna noodles in a 10×16-inch pan.
Can I Use No-Boil Noodles?
This recipe uses traditional (you have to boil them first) lasagna noodles. Boiling the noodles really isn't that hard – you can boil them while you're cooking the meat. However, you can use no-boil noodles as there's enough liquid in this recipe so that the noodles cook in the pan without being boiled first.
Can I Make This Lasagna Ahead of Time?
If your family loves lasagna, but you sometimes lack the time for the long version, this is easy and satisfies everyone. This easy lasagna recipe with cottage cheese is perfect for busy weeknights because you can make it in advance.
You can assemble this lasagna then cover and refrigerate it for up to three days. Bring it up to room temperature one hour before baking. You can also bake it and then freeze it (or the leftovers), or you can freeze it unbaked. This easy lasagna recipe with cottage cheese will save the day when your college kid's friends drop by for dinner unexpectedly.
A pre-baked whole lasagna reheats beautifully covered in foil in the oven.
To reheat leftovers, unwrap as many pieces as needed and place them in a casserole dish with a little bit of water in the bottom. Cover the dish with foil and bake at 350 degrees until heated through.
For more details on reheating lasagna, click here.
Homemade Lasagna With Cream Cheese
This is an easy lasagna recipe without ricotta cheese. Grab your favorite people and treat them to this rich, creamy cottage cheese lasagna. Pair this comfort food with a simple tossed salad and some breadsticks.
Ingredients
Here's a list of what you need:
Vegetable oil
Onion
Garlic
Ground beef chuck
Canned tomatoes
Salt
Pepper
Dried basil
Dried oregano
Sugar
Cottage cheese
Sliced Mozzarella cheese
Grated Parmesan cheese
Lasagna noodles
How to Make Homemade Lasagna
Cook lasagna noodles according to the package instructions.
Brown meat in skillet with onion, and garlic, cooking slowly.
Add tomatoes, sauce, seasonings, sugar, and simmer for 30 minutes.
In separate bowl, beat egg and stir in cottage cheese.
In a greased casserole dish, layer the meat sauce, noodles, cottage cheese, and mozzarella cheese.
Sprinkle the top with Parmesan cheese.
Bake at 350 degrees for 30 to 40 minutes.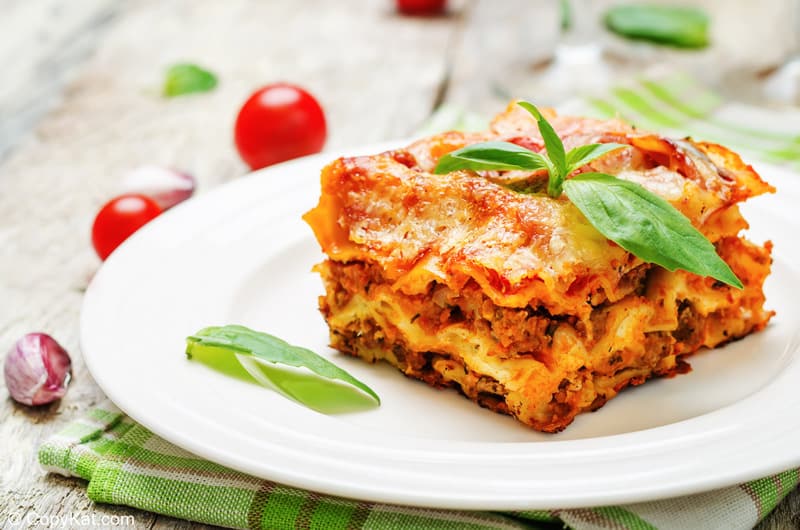 Love Italian food? Try these recipes!
Popular Main Dish Recipes
Check out more of the best Italian recipes and easy main dish recipes here on CopyKat!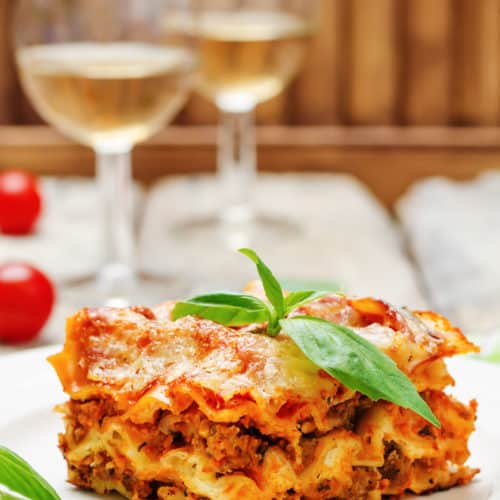 Ingredients
2

tablespoons

vegetable oil

1/2

cup

chopped onion

1

clove

garlic

chopped

1

pound

ground beef

chuck

1

pound

canned tomatoes

16

ounces

tomato sauce

1

teaspoon

salt

1/2

teaspoon

pepper

1/2

teaspoon

basil

1/2

teaspoon

oregano

2

teaspoons

sugar

1

pound

cottage cheese

1

egg

1/2

pound

mozzarella cheese

sliced

1/2

cup

parmesan cheese

10

ounces

lasagna noodles
Instructions
Cook lasagna noodles according to package instructions.

Preheat oven to 350 degrees.

In a large skillet, brown the ground beef with oil, onion, and garlic. Cook slowly. You want the garlic and onion to soften and for the flavor to bloom.

Add the tomatoes, sauce, seasonings, and sugar, and simmer uncovered for 30 minutes.

In a separate bowl, beat the egg and blend in thecottage cheese.

In a greased 2-quart casserole layer 1/2 of the meat sauce, 3 noodles, 1/2 cottage cheese, 1/2 mozzarella cheese.

Repeat layers and sprinkle Parmesan cheese on top.

Bake for 30 to 40 minutes.
Notes
This casserole has quite a bit of cheese and liquid. Allowing it to rest for 15 minutes or so will firm it up, and portions will be easier to slice and serve.
Nutrition
Calories:
519
kcal
|
Carbohydrates:
39
g
|
Protein:
32
g
|
Fat:
27
g
|
Saturated Fat:
13
g
|
Trans Fat:
1
g
|
Cholesterol:
97
mg
|
Sodium:
1195
mg
|
Potassium:
699
mg
|
Fiber:
3
g
|
Sugar:
9
g
|
Vitamin A:
720
IU
|
Vitamin C:
10
mg
|
Calcium:
317
mg
|
Iron:
3
mg
This recipe is by Lee Ann Russell. Springfield, Mo.