Chicken Cacciatore is a wonderful stewed chicken dish. Chicken is simmered with onions, mushrooms, tomatoes, white wine, and seasonings until tender.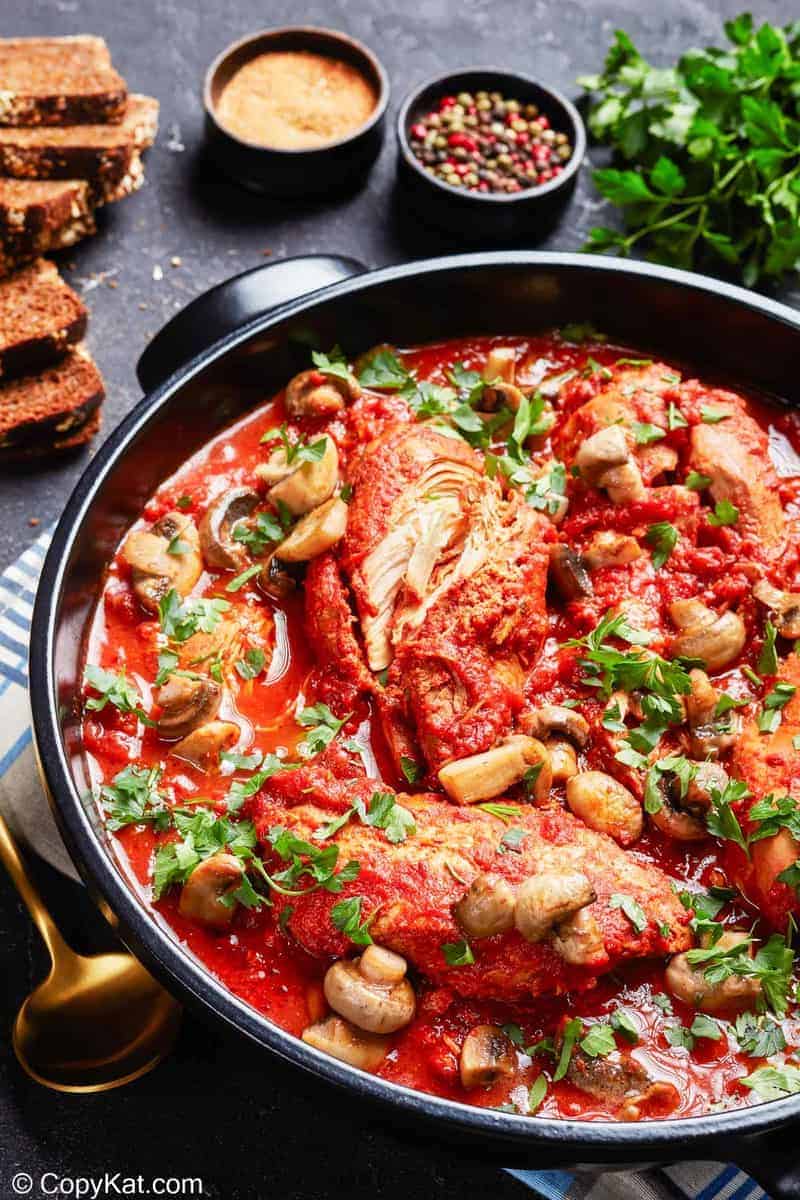 What makes this recipe unique is that you can use whole chicken pieces saving you money, and with some cooked pasta you will have a full meal. This Italian stew has a tomato sauce that is spicy and filled with wonderful vegetables.
Chicken Cacciatore is an Italian chicken recipe that most people love to order when they go out to eat but don't even think about making it at home. But the question is why when this Chicken Cacciatore recipe is such a simple and inexpensive way to cook enough food to feed a large group. Serve this healthy chicken recipe on top of a pile of pasta, and you have a complete dinner! It is the perfect dish to take your next potluck dinner or add to the pasta bar at your next celebration.
What is Chicken Cacciatore?
This dish comes from a classic Italian recipe that has been around for centuries in one form or another.
Cacciatore means 'huntsman' in Italian, and the dish originally was made with rabbit or other small wild game. Although today you are more likely to see Chicken Cacciatore than Rabbit Cacciatore on menus, the dish is still made in the traditional way by slowly simmering the meat in white wine and vegetables. The result is a tender, flavorful chicken stew that you can serve on its own or as part of the main course.
A natural side dish for Chicken Cacciatore is your favorite short pasta such as penne or rigatoni, but rice is a good option if you want to try something a little different. Rice is simple to make and helps to soak up the delicious juices. Alternatively, you may prefer to serve alongside soft or fried polenta, or maybe lightly seasoned roasted or mashed potatoes.
Can I Have a Little Wine with That?
Wine is an essential part of Italian cuisine, and Italians have been cooking with and sipping wine for centuries.
To make this Chicken Cacciatore recipe really shine, it deserves a good wine. Luckily, good wine doesn't automatically mean it has to be expensive, but the rule of thumb is that you should never cook with a wine that you wouldn't drink. So, make sure you like the taste of the white wine before adding it to this dish.
Most cooks prefer to use a dry white wine for cooking. Dry white wine won't add as much sweetness to the dish as fuller body wines. You can find a decent bottle of sauvignon blanc or chardonnay for less than 15 dollars.
If you are avoiding alcohol, don't worry. You can still make this recipe. Try substituting a half-cup of chicken stock and a tablespoon of lemon juice for the wine.
Tips for Making and Serving This Chicken Cacciatore recipe
Not everyone likes bones in their chicken stew, and that's okay. This recipe calls for chicken pieces, but you can feel free to use chicken breast or boneless chicken thighs instead.
Toss the pasta with butter. If you serve this Italian chicken recipe with pasta, butter is better at preventing the noodles from sticking together than olive oil.
Store leftover chicken stew covered in the fridge for up to three days. Let the chicken come to room temperature and then reheat in a covered baking dish at 325-degrees for about 20 minutes.
Keep up with all of our new recipes by friending us on Facebook!
Ingredients
Here's a list of what you need:
Chicken pieces
Olive oil
Sliced onion
Hot ground red pepper
Black pepper
Salt
Parsley
Garlic
Bay leaves
Dry white wine
Tomato pulp
Mushrooms
How to Make Chicken Cacciatore
Brown chicken parts in olive oil over low heat until golden brown.
Add onion, red pepper, black pepper, salt, parsley, garlic, and bay leaves.
Cover and cook for 10 minutes.
Add wine and cook for 15 minutes.
Add tomato pulp and mushrooms. Cook for 20 minutes or until mushrooms are done. Serve hot.
Favorite Chicken Recipes
Popular Italian Recipes
Be sure to check out more of my easy chicken recipes and the best Italian recipes here on CopyKat!
Ingredients
6

pounds

chicken pieces

1/2

cup

olive oil

3/4

cup

sliced onion

1

pinch

ground red pepper

1/2

teaspoon

black pepper

1

teaspoon

salt

1

tablespoon

chopped parsley

3

cloves

garlic

minced

2

bay leaves

1/2

cup

dry white wine

1/4

cup

tomato pulp

1 1/2

cups

sliced mushrooms
Instructions
Brown chicken parts in olive oil over low heat until golden brown.

Add onion, red pepper, black pepper, salt, parsley, garlic, and bay leaves. Cover pan and cook for 10 minutes.

Add wine and cook on low for 15 minutes.

Add tomato pulp and add sliced mushrooms and let cook slowly for 20 minutes or until mushrooms are done. Serve hot.
Nutrition
Calories:
645
kcal
|
Carbohydrates:
3
g
|
Protein:
44
g
|
Fat:
48
g
|
Saturated Fat:
11
g
|
Cholesterol:
173
mg
|
Sodium:
458
mg
|
Potassium:
567
mg
|
Fiber:
0
g
|
Sugar:
1
g
|
Vitamin A:
425
IU
|
Vitamin C:
7.2
mg
|
Calcium:
36
mg
|
Iron:
2.6
mg