Sweet and savory the Copycat Oriental Grilled Chicken Salad From Applebees is made with grilled chicken, crisp Romain lettuce, fresh carrots, crunchy noodles, and served with oriental salad dressing, it's hard to beat this lighter version of this well-known salad.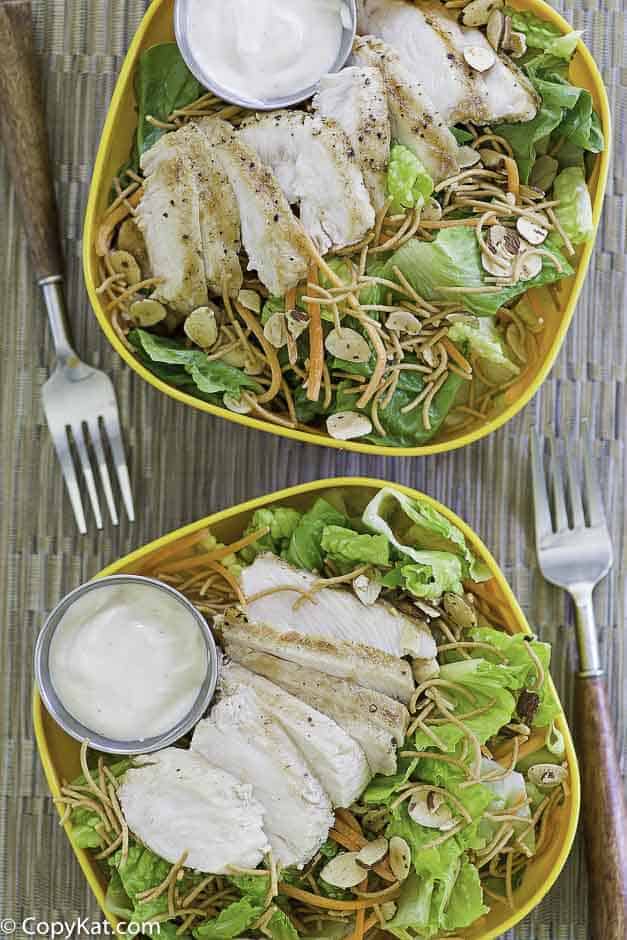 Are you looking for the best grilled chicken salad? It's hard to beat Applebees, for their much-loved Oriental chicken salad. Made fresh, and piled high full of fresh ingredients and tender grilled chicken this salad is filling and has fewer calories than the one with the fried chicken tenders.
Salad Ingredients you will need to make Oriental Salad
Make a delicious light Asian salad at home, it's really easy to do. You are going to need a few ingredients to prepare this salad at home. You will need:
Romaine lettuce
shredded carrots
crispy rice noodles
Chicken breast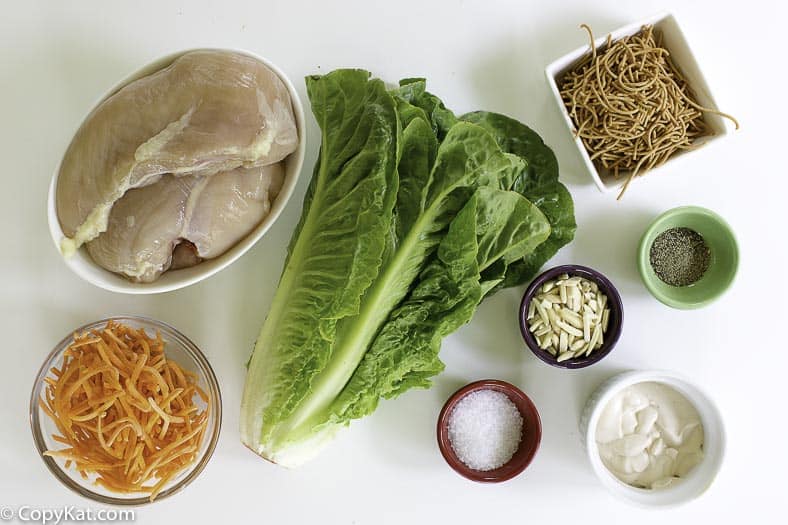 How to make this copycat Applebees Grilled Chicken Oriental Salad
Love a recipe that is easy to prepare? This recipe is oh so easy. If you do not have any grilled chicken on hand, simply season up the chicken, and saute it in a bit of olive oil. When the chicken cools off, assemble your salad. Grab a big bowl add lots of Romain lettuce, shredded carrots, lots of crispy rice noodles, and add your chicken. Add your salad dressing and you are ready to go!
Heck, you could use a bag or two of chopped salad if you want!
Can you make this salad ahead of time?
This salad is the perfect salad to bring for lunch! You can have one of Applebee's lunch menu items that you make yourself!
If you are going to make this salad ahead of time, it's a good idea not to assemble it fully. Make your chicken ahead of time, and you will want to store it separately from the Romain lettuce, almonds, and the carrots. I keep the crispy noodles separate as well so they do not get soft. When you are ready to serve top the salad with the noodles, chicken, and salad dressing.
I often bring salads to work in a lunch kit like this, so I can separate everything out.
You may want to make a few changes to your salad, here are a few ideas.
Asian Salad Variations
What is one of the best things about a copycat recipe? You can customize the recipe for what you really enjoy! Here are a few ideas for this recipe.
Add some sliced red onions
Add more sliced almonds
Swap the chicken for shrimp!
Swap the nuts for soy nuts, cashews, walnuts or even pecans
Add mandarin orange slices
Love salads? Try these salads with grilled chicken
Wendy's Summer Berry Chicken Salad
Mason Jar Grilled Chicken Salad
Arby's Grilled Chicken and Pecan Salad
Let me know how much you enjoyed this recipe! Leave me a comment down below of how you customize the salad blend to make it your own!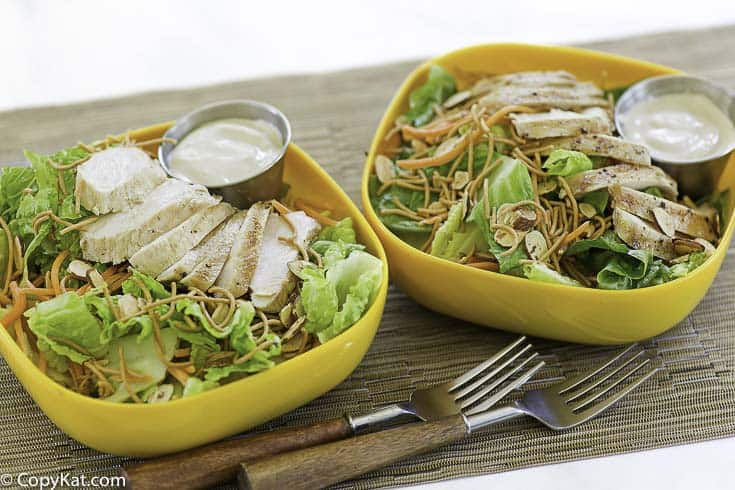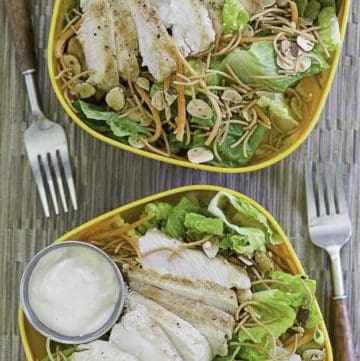 Ingredients
1

pound

skinless chicken breast

2 portions

2

tablespoons

olive oil

1/2

teaspoon

salt

1/4

teaspoon

black pepper

1/2

cup

sliced almonds

8

cups

romaine lettuce

1/4

cup

shredded carrots

1/2

cup

crispy rice noodles

4

tablespoons

Applebees Oriental Salad Dressing
Instructions
Heat the grill to medium, or heat a cast-iron skillet or grill pan over medium heat. Place the chicken breasts between two sheets of plastic wrap and gently pound them to 3/8-inch thick. Brush with the olive oil and season them with salt and pepper.

Grill for 5 to 7 minutes on each side, until cooked through. Transfer to a plate to rest for 4 to 5 minute before slicing.

Toast the almonds in a small dry skillet over medium heat. Watch them carefully—there is a fine line between toasted almonds and burnt almonds! Shake the pan gently. When you begin to smell the almonds, toast for a few seconds more, then immediately place the almonds on a paper towel. Allow them to cool for a moment or two.

Assemble salads by first putting down the lettuce, 3 to 4 cups per serving. Sprinkle each with 2 tablespoons of the carrots, 1/4 cup crispy rice noodles, and 1/4 cup toasted almonds. Arrange the chicken on top. Serve with plenty of the Applebee's Oriental Salad Dressing.
Recipe Tips for the Cook
Variations Now, Applebee's Grilled Chicken Oriental Salad is a delicious salad, but there are a few variations that I like to make. I like to change out the lettuce and use a mesclun mix. I also like to add a few mandarin orange sections and sprinkle some thinly sliced green onion or scallion on top, for my personal version of the Applebee's Grilled Chicken Oriental Salad. What changes do you like to make when you make a salad? Do you like any unusual ingredients on your salads? You can find many more copycat restaurant recipes that taste just like Applebee's Restaurant Recipes here at CopyKat.com.
Nutrition
Calories:
928
kcal
|
Carbohydrates:
65
g
|
Protein:
60
g
|
Fat:
47
g
|
Saturated Fat:
5
g
|
Cholesterol:
145
mg
|
Sodium:
974
mg
|
Potassium:
1606
mg
|
Fiber:
9
g
|
Sugar:
7
g
|
Vitamin A:
19115
IU
|
Vitamin C:
11.2
mg
|
Calcium:
183
mg
|
Iron:
4.4
mg