Panera Mediterranean Grain Bowl with Chicken is the perfect healthy option to make at home. Packed full of fresh grilled chicken, healthy protein-packed quinoa, this Panera warm grain bowl is perfect for lunch or dinner. Best of all you can prepare it at home and customize it the way you love.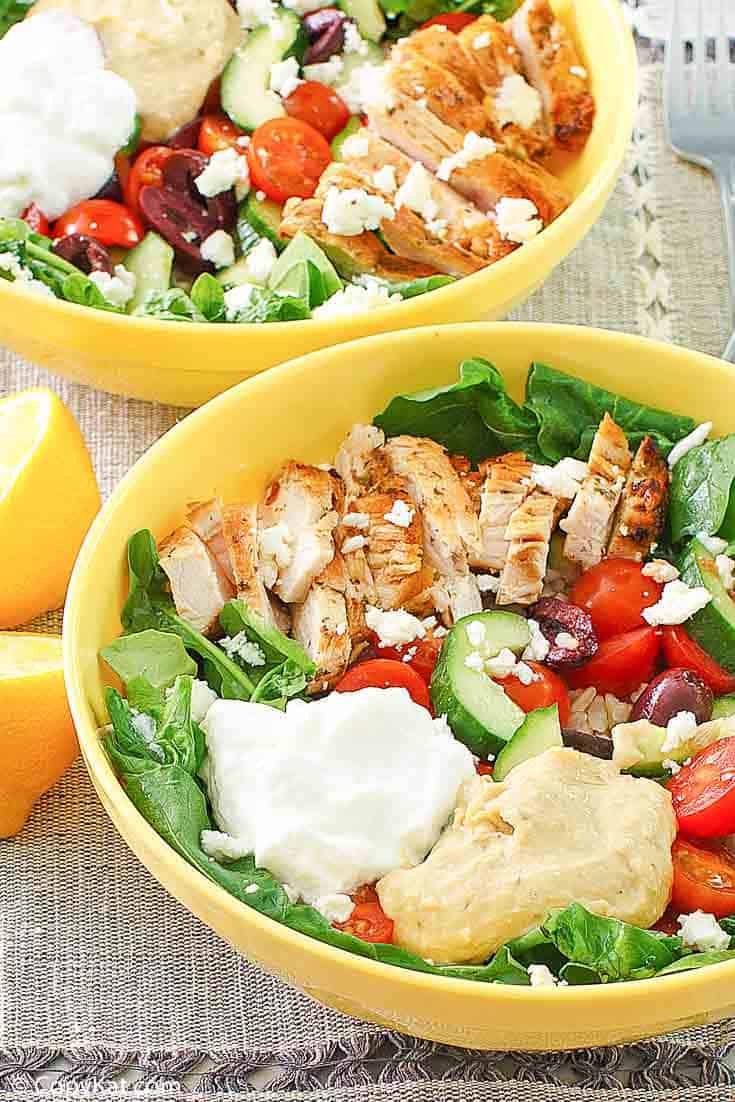 Healthy Grain Bowl Recipe
Grain bowls are healthy, delicious, and come in an almost endless number of varieties. This convenient, complete meal in a bowl is rapidly becoming a popular choice for a quick lunch or light supper. Therefore it is no surprise to see this menu option popping up in a variety of restaurants.
One of the most popular options available is Panera Mediterranean Grain Bowl. They combine a mixture of brown rice and quinoa with tart citrus garlic chicken, creamy hummus, and other Greek-inspired ingredients.
Easy to make and perfect for packing as a meal on-the-go, give this Panera Mediterranean Grain Bowl recipe a try.
Recipe Ingredients
This is what you need to make this famous grain bowl.
arugula
cooked brown rice and quinoa (find in your freezer section)
two chicken breasts
grape tomatoes
kalamata olives
cucumber
hummus
feta cheese
plain greek yogurt
lemon
tahini salad dressing – optional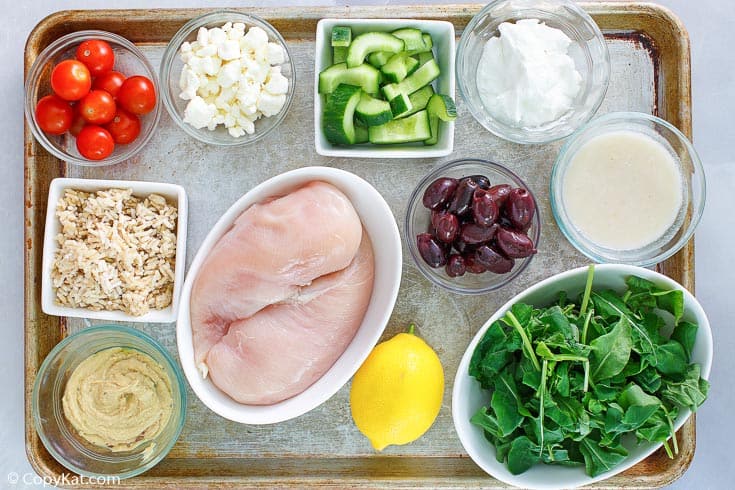 What is Quinoa Anyway?
You probably have already heard of quinoa (KEEN-wah), but perhaps you feel a little reluctant to give it a try. While the health-conscience gurus out there promote quinoa as the next 'superfood' because it provides high nutritional value, don't let that scare you.
If you never tried it before, you might be surprised at just how delicious it tastes. Quinoa has a unique texture and nutty flavor, making it a good substitution for rice or, as in this recipe, a healthy and taste-boosting mix-in for other grains.
Although many people wind up loving quinoa the first time they try it, one of the biggest complaints some have is the bitter taste quinoa sometimes has. Although this recipe calls for bitter-free pre-cooked frozen quinoa, if you can't find frozen quinoa in your supermarket or prefer to cook your own, there is a secret to eliminating the bitterness: give it a good rinse.
How to Rinse Quinoa
Empty the quinoa into a fine-mesh strainer and rinse it under a running tap for around a minute. Make sure the water is cold, and the flow of the faucet is set at a little more than a trickle. Otherwise, you are likely to wash the tiny floating grains over the edge of the strainer.
Use your finger to gently stir the quinoa until the water runs clear. Wet quinoa has the tendency to stick to the inside of the strainer, so use the water you will boil the quinoa in to rinse out any stuck-on grains.
How to Make Panera Mediterranean Grain Bowl with Chicken
If you do not already have grilled chicken breasts, go ahead and pan-sear or grill them for additional flavor.
Heat the brown rice and quinoa. I like to use the frozen brown rice and quinoa packets you find in the freezer section of your grocery store.
Then you will need to prepare all of your vegetables. Wash the arugula. Peel, seed, and slice the cucumber. Cut the tomatoes in half. It is a good idea to go ahead and make a few bowls at a time, so you can enjoy them later.
Assemble the bowls. Place brown rice and quinoa in the bottom. Top with sliced chicken, hummus, yogurt, arugula, cucumber, olives, and tomatoes. Drizzle tahini dressing on top.
Tips for Making and Serving Panera Warm Grain Bowls
A Panera Grain Bowl should be warm, not hot. Let your grains and chicken cool off for a minute or two before putting into the bowl. If it is too hot, your vegetables will wilt.
Premix the tahini dressing with the grains. If you are using the optional tahini dressing, try mixing it in with the quinoa and brown rice, before adding the grains to the bowl. This will provide you with the flavor of the dressing without turning your Panera grain bowl in a soupy mess.
Panera Mediterranean Grain Bowls make a wondering make-ahead meal. When you are planning to take the grain bowl with you, pack the chicken and grains in a microwavable bowl with a lid and put the remaining ingredients in a separate container. This way, you be able to enjoy warm chicken and grains without nuking your veggies.
I hope you enjoy this salad, it is less expensive to make this grain bowl at home, than going out to the restaurant, and you can still enjoy the great flavor and the healthy dish at home.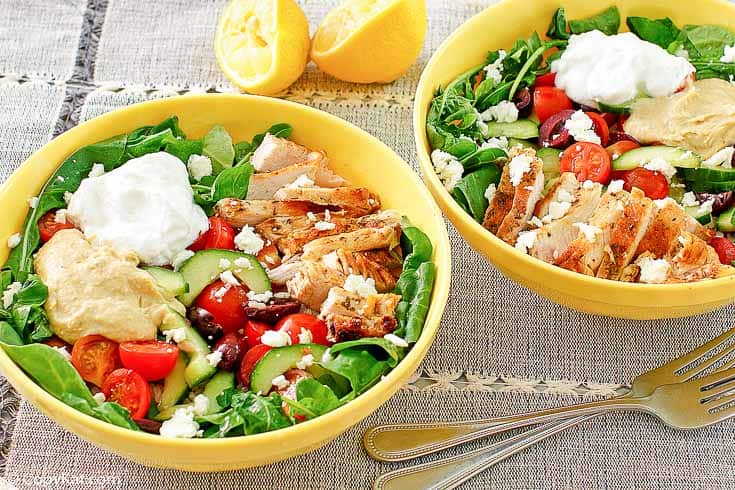 Love Panera Bread? Try these copycat recipes:
Delicious Mediterranean Recipes
Find more restaurant salads recipes and copycat soups.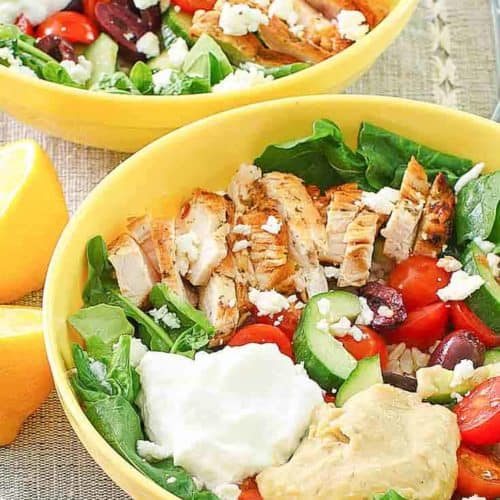 Panera Mediterranean Grain Bowl
Make Panera Mediterranean Grain Bowl with Chicken at home with this easy copycat recipe. It's delicious, healthy, hearty, and great for lunch or dinner.
Print
Pin
Rate
Add to Collection
Go to Collections
Ingredients
2

chicken breasts

cooked

2

cups

arugula

2

cups

cooked brown rice and quinoa

10

grape tomatoes

sliced

1/3

cup

kalamata olives

1/2

cup

sliced cucumber

remove seeds

1/3

cup

crumbled feta cheese

1

tablespoon

lemon juice

1/3

cup

greek yogurt

1/2

cup

hummus

1/4

cup

tahini salad dressing

optional
Instructions
Grilled Chicken
Marinate chicken breasts in your favorite marinade for a few hours before cooking.

Saute chicken breasts in a pan with two tablespoons of olive oil over medium heat. Cook on both sides until done, this should take 5 to 7 minutes on each side.

Heat brown rice and quinoa in the microwave until warm.
Prep Fresh Vegetables
Slice cucumber in half, and scoop out the seeds with a spoon. Slice cucumber.

Slice grape tomatoes in half.
Assemble Grain Bowls
Divide brown rice and quinoa between two bowls.

Slice cooked chicken and place on top of brown rice and quinoa.

Add 1/4 cup of hummus to each bowl. Add half of the yogurt to each bowl.

Top each bowl with equal amounts of arugula, tomatoes, cucumbers, and olives.

Top with tahini dressing if desired.
Nutrition
Calories:
777
kcal
|
Carbohydrates:
59
g
|
Protein:
66
g
|
Fat:
31
g
|
Saturated Fat:
8
g
|
Cholesterol:
167
mg
|
Sodium:
1439
mg
|
Potassium:
1640
mg
|
Fiber:
11
g
|
Sugar:
9
g
|
Vitamin A:
1444
IU
|
Vitamin C:
21
mg
|
Calcium:
242
mg
|
Iron:
6
mg