Are you looking for a delicious twist on traditional pasta? Try this Greek pasta with lemon alfredo sauce recipe! The addition of lemon to alfredo brightens the creamy sauce and gives it a tangy flavor. It's quick and easy to make, perfect for busy weeknights or weekend dinners. Your family and friends will love this tasty and refreshing twist on classic pasta!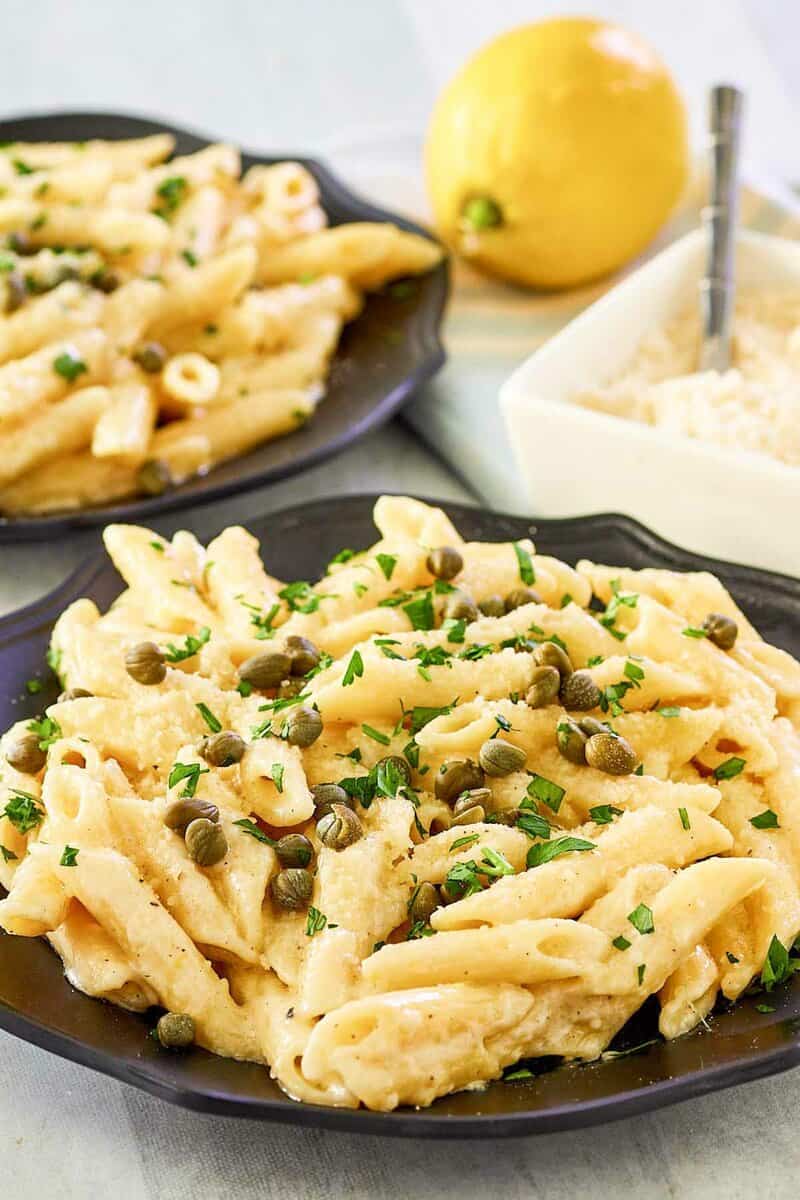 This post contains affiliate links. As an Amazon Associate, I earn from qualifying purchases.
Homemade Pasta Sauce
Whenever you make up a fresh pasta sauce, it just tastes better. I promise once you begin to make your own pasta sauces at home, picking up a jar of the premade stuff, won't be what comes to mind.
You may be asking yourself, what makes this sauce so good? If you like Alfredo sauce, this is a wonderful change. Sometimes during the winter, if you are lucky enough to get a Meyer lemon, I would use one of those lemons if you have them available, but honestly, any fresh lemon will do.
Cheesy pasta sauce is what made me start making Copykat recipes years ago, so my heart always has a special place for a nice creamy pasta sauce.
The lemon Alfredo sauce is gluten-free. If you want a gluten-free meal, use gluten free pasta.
What Makes Greek Pasta With Lemon Alfredo Sauce So Good?
Alfredo sauce is delicious, but it can feel more than a little bit heavy on the tongue. This Greek style pasta sauce uses citrus to lighten up an Italian classic with spectacular results.
Far from being overly acidic, the lemon juice in this Greek pasta dish helps to balance out the more decadent characteristics of traditional Alfredo sauce, giving it a distinct and refreshing summery brightness.
Why You Should Try This Greek Alfredo Pasta
While not a real avgolemono, the famous Greek egg and lemon juice sauce, lemon Alfredo sauce certainly has some similarities regarding the flavor. It is a very quick and simple cream sauce to make, guaranteed to impress diners. What more could you want from a pasta sauce?
Greek Penne Pasta Ingredients
For the sauce, you'll need:
Heavy cream
Unsalted butter
Parmesan cheese, grated
Lemon juice
Lemon zest
Black pepper
Salt
For completing the Greek pasta recipe, you'll need:
Penne pasta
Parmesan cheese, grated
Capers (optional)
Parsley (optional)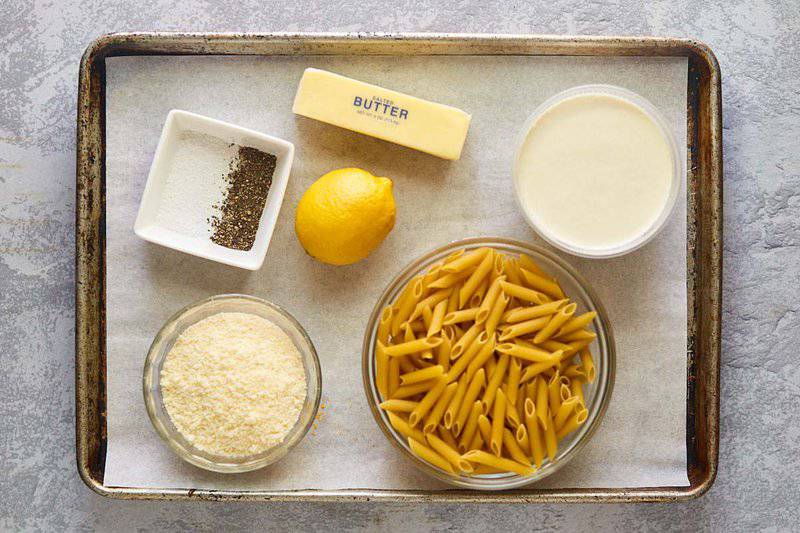 Ingredient Notes
Grate your Parmesan cheese fresh if you can, don't use the stuff in the green jar. Often pre-shredded cheese doesn't melt quite as well. Special ingredients are added to shredded cheese to keep it separated, making the sauce lumpy and causing the cheese not to melt smoothly.
Freshly squeezed lemon juice will give you the best flavor for this dish. Since you will be zesting it, try to use an organic lemon.
To cook the pasta:
Prepare the pasta to al dente according to the package instructions.
Five minutes before the pasta is ready, it is time to start preparing the sauce. See below.
Drain the pasta.
To prepare the lemon Alfredo sauce:
Wash the lemon well and dry it with a clean kitchen towel.
Zest the lemon with a microplane. Be sure to zest only the outer skin and leave the white pith alone. Put the zest aside.
Juice the lemon and reserve the lemon juice for later.
In a saucepan or large skillet over medium-high heat, melt the butter.
Stir in the heavy cream.
Continue stirring, and when the first bubbles appear, add the grated parmesan cheese.
When the cheese melts, turn off the heat and stir in the lemon juice and zest.
Season with salt and pepper to taste.
Remove the saucepan from the stove and cover it to keep the sauce warm.
To plate the pasta with lemon Alfredo sauce:
Return the drained pasta to the pasta pot.
Pour the warm sauce into the pasta pot.
Toss gently to coat the pasta and plate.
Garnish with parmesan cheese and optional fresh parsley and capers.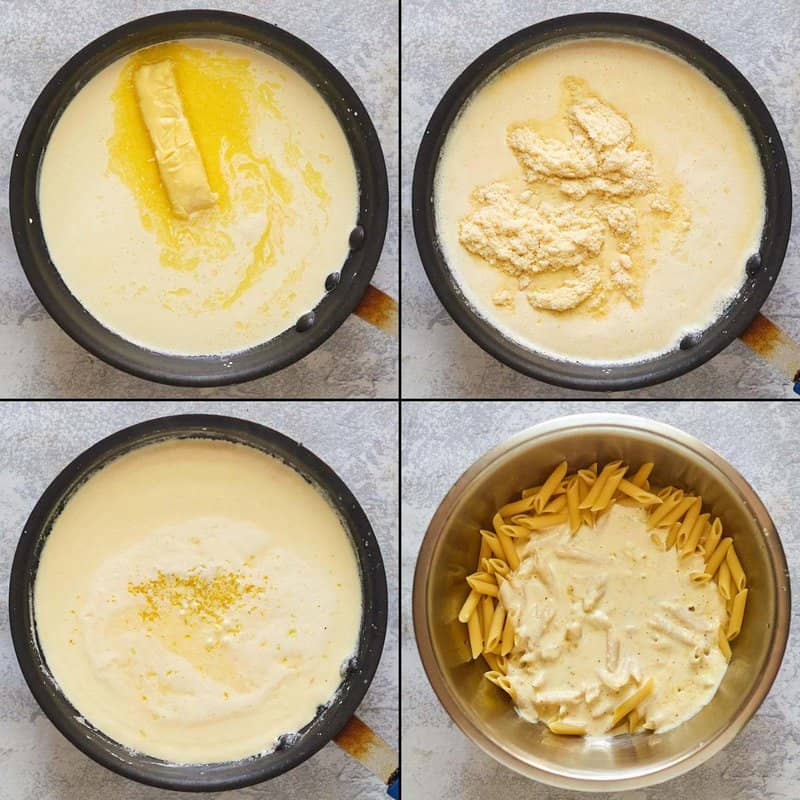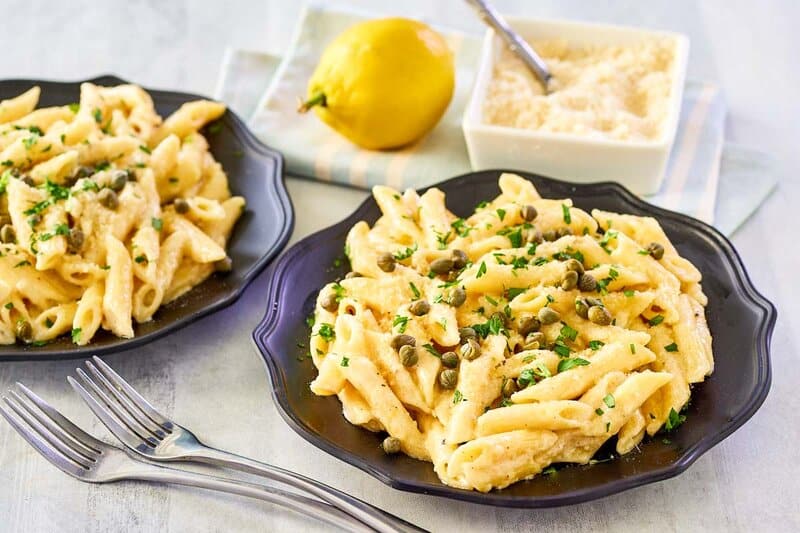 What to Serve With It
Pair the pasta with garlic bread or a mixed salad with a simple Italian salad dressing.
Feel free to add a few extra ingredients to your pasta sauce. Cooked veggies such as asparagus, broccoli, spinach, peas, or zucchini are lovely. You may also consider topping the pasta with chunks of grilled chicken or shrimp.
How to Store the Leftovers
Although it is best to use this sauce soon after making it, you can save it in the refrigerator for a few days. Keep the sauce and pasta in two separate airtight containers to prevent the pasta from getting soggy. The sauce will thicken and may form a skin on the surface. That is okay.
Do not freeze pasta with lemon Alfredo sauce.
What's the Best Way to Reheat Greek Lemon Pasta
The best method of rewarming the sauce is in a saucepan over low heat. You will need to add some more heavy cream to help thin out the sauce. You can use whole milk if you don't have any more heavy cream.
Heat the sauce slowly and stir continuously to prevent the sauce from burning. You don't want it to simmer.
To reheat the pasta, boil water and dump the pasta in the water for about 45 seconds. Drain and toss with warm sauce.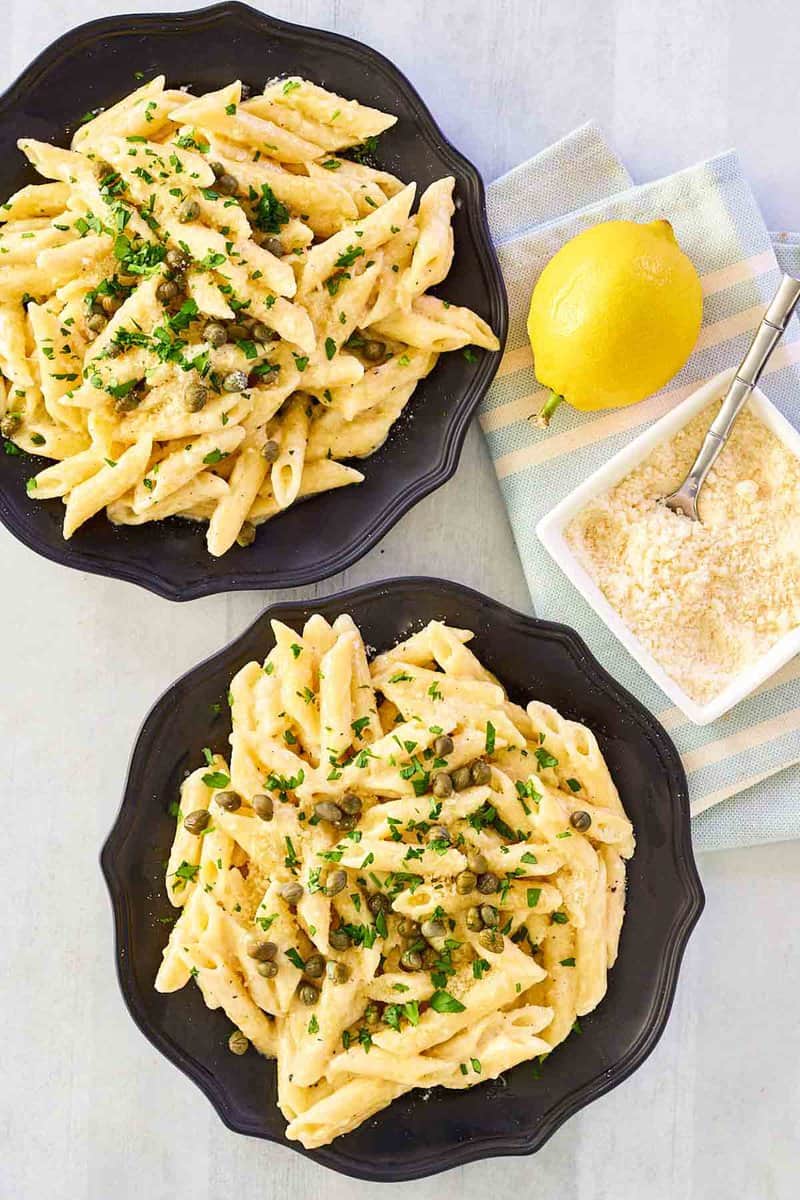 More Greek Recipes
Favorite Alfredo Sauce and Pasta Recipes
Check out more of my easy pasta recipes and the best recipes for sauces on CopyKat!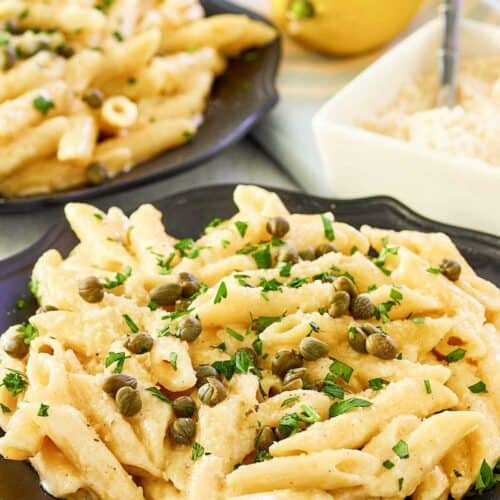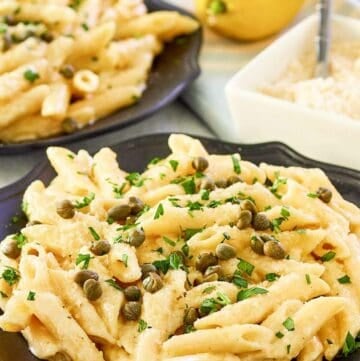 Ingredients
1/2

cup

butter

1

pint

heavy cream

1

cup

Parmesan cheese

plus more to garnish

1 1/2

tablespoons

lemon juice

1/2

teaspoon

lemon zest

salt

to taste

pepper

to taste

12

ounces

penne pasta

cooked according to package directions

parsley

to garnish (optional)

capers

to garnish (optional)
Instructions
Melt the butter in a medium saucepan over medium-high heat. Add the heavy cream.

When the mixture begins to bubble, add the Parmesan cheese and stir until the cheese has melted and the mixture is well blended.

Mix in the lemon juice and lemon zest and season with salt and pepper to taste.

In a bowl, combine the cooked pasta with the prepared sauce and mix well.

Garnish with some additional Parmesan cheese, parsley, or a few capers, if desired.
Notes
This dish does not reheat well, so plan to enjoying it in one sitting. You might choose to serve it with some fried chicken cutlets and a glass of white wine.
Nutrition
Calories:
684
kcal
|
Carbohydrates:
45
g
|
Protein:
15
g
|
Fat:
49
g
|
Saturated Fat:
30
g
|
Cholesterol:
160
mg
|
Sodium:
629
mg
|
Potassium:
200
mg
|
Fiber:
1
g
|
Sugar:
1
g
|
Vitamin A:
1760
IU
|
Vitamin C:
2.1
mg
|
Calcium:
265
mg
|
Iron:
0.9
mg