This is a recipe from a fellow viewer. Her favorite restaurant, Luigetta's, is located in Altoona, PA. I hope you enjoy this vinaigrette as well. This Italian salad dressing tastes just like it does at the restaurant.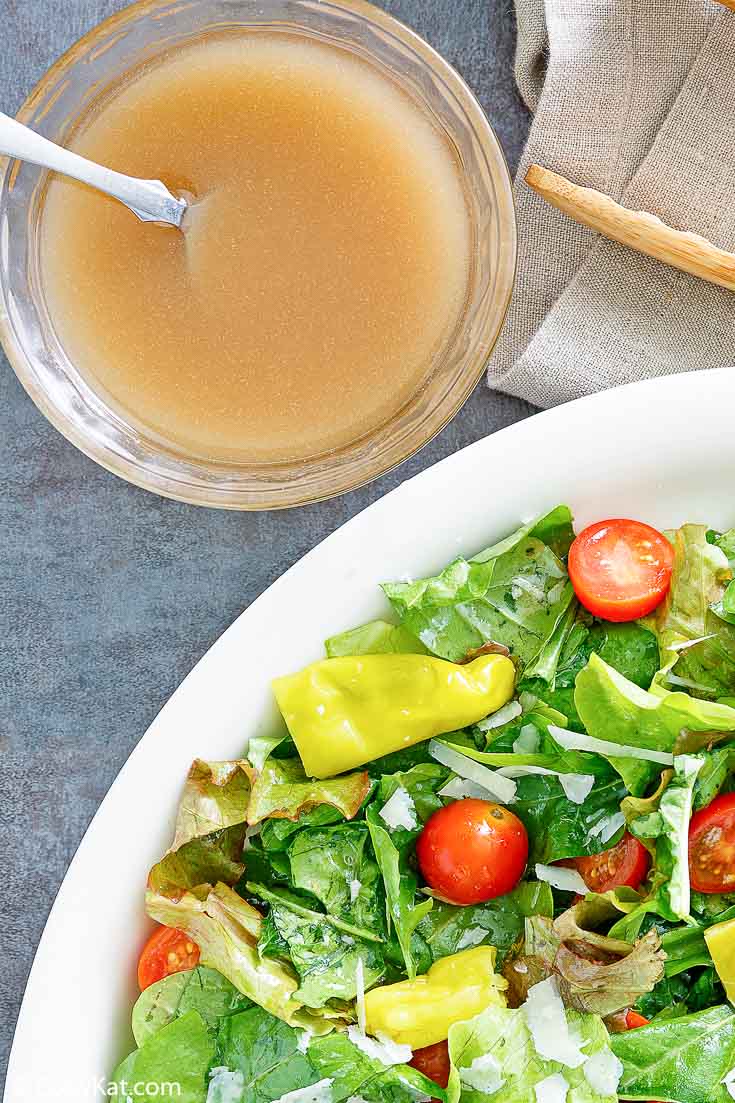 This is a recipe from a viewer based on an Italian salad dressing from her favorite restaurant located in Altoona, PA. Now you can also enjoy this zesty Italian dressing.
It seems that this 50-year old restaurant is now just named Luigetta's and has been owned and operated by the Luigetta family for 22 years. It's an Italian eatery that is also well known for its hoagies.
This Italian dressing recipe has many ingredients – oil and vinegar, beef base, soy sauce, mustard, garlic and onion powders, and pepperoncini juice. However, don't let that put you off – this dressing is wonderful and all you have to do is mix everything together. Let's talk about a couple of ingredients that you may be unfamiliar with.
Beef base is like beef bouillon, but it comes in a paste. It is sold in the same section of the grocery store as bouillon.
Pepperoncini juice – Pepperoncini is a type of chili pepper that is a blend of hot and sweet. This pepper is a staple of the Mediterranean diet and is very popular in Greece and Italy, where it is known as both peperone and friggitello. This pepper adorns antipasto platters, imparts heat to arrabbiata sauce, and adds a sweet crunch as a pickled condiment on sandwiches.
You can find pepperoncini in stores such as Walmart. Of course, you need a jar of these peppers in order to have pepperoncini juice. If you are not acquainted with these golden-colored and mildly piquant peppers, click here for some ways to use them. And, of course, you can put them on your salad. BTW, did you know that you can also make a pepperoncini martini!!
Tip: This dressing is even better if you let it sit overnight for all the flavors to meld together.
Tip: It's also great on hoagies and french fries.
Italian dressing Ingredients
Oil
White vinegar
Balsamic vinegar
Beef base
Soy sauce
Dry mustard
Garlic powder
Onion powder
Pepperoncini juice
Salt and pepper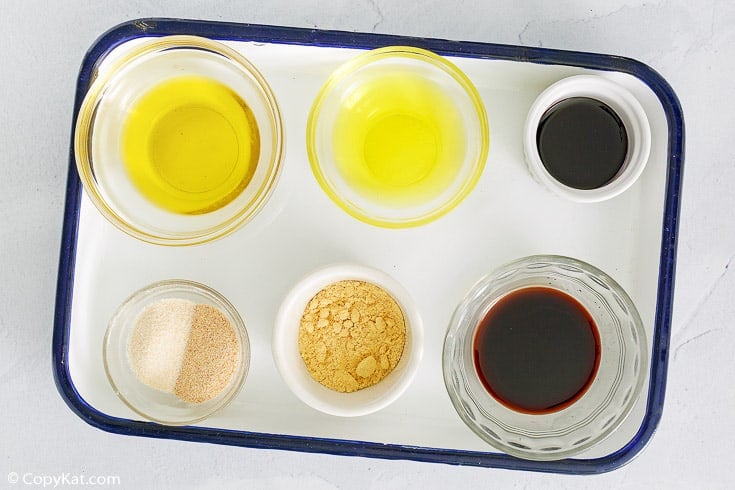 Why we love this recipe
Homemade salad dressing always tastes better than storebought. This recipe has beef base to give it some depth, and pepperoncini juice to give it a bit of spice. These two elements along with a touch of soy sauce for some salt make it simply divine.
How to make Italian dressing it's Super easy to make!
Simply mix together all ingredients in a bowl.
Serve immediately or allow to sit overnight.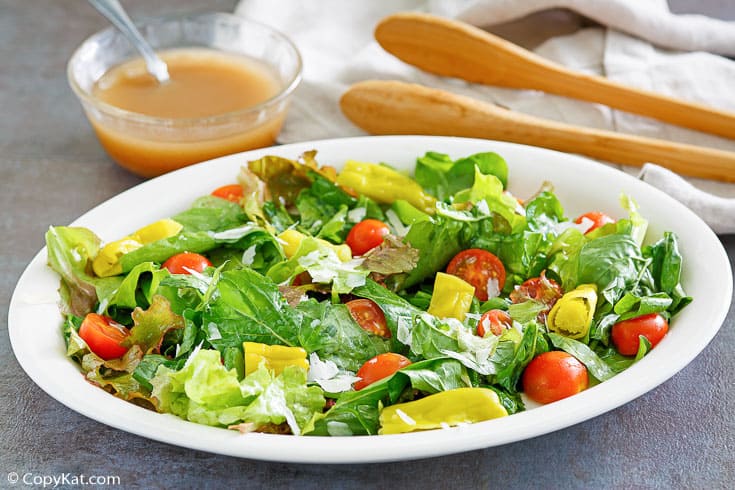 Best Salad Dressing Recipes
Favorite Salad toppings
Be sure to take a look at even more restaurant salad dressings and easy copycat salad recipes.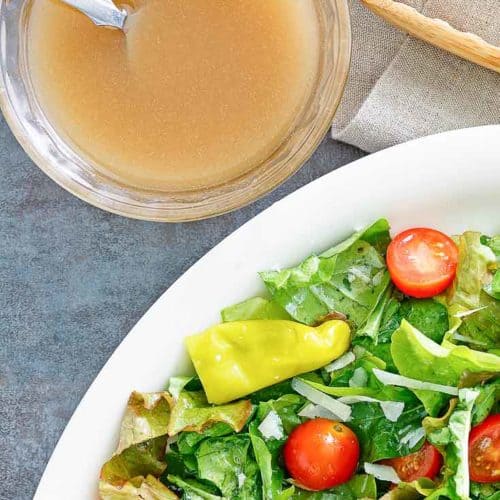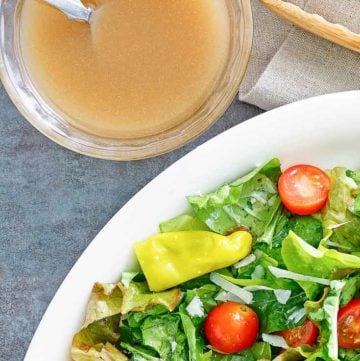 Ingredients
1

cup

oil

1/2

cup

white vinegar

1

tablespoon

balsamic vinegar

1

teaspoon

beef base

1

teaspoon

soy sauce

1/8

teaspoon

dry mustard

1/8

teaspoon

garlic powder

1/8

tsp.

onion powder

1

teaspoon

pepperoncini juice

salt and pepper to taste
Instructions
In a bowl blend all ingredients together well. You can allow this to sit overnight before serving. Mix with salad putting pepperoncini peppers and cheese on top.
Nutrition
Calories:
30
kcal
|
Carbohydrates:
0
g
|
Protein:
0
g
|
Fat:
2
g
|
Saturated Fat:
0
g
|
Cholesterol:
0
mg
|
Sodium:
112
mg
|
Sugar:
0
g